1,000x Leverage Crypto Futures 🚀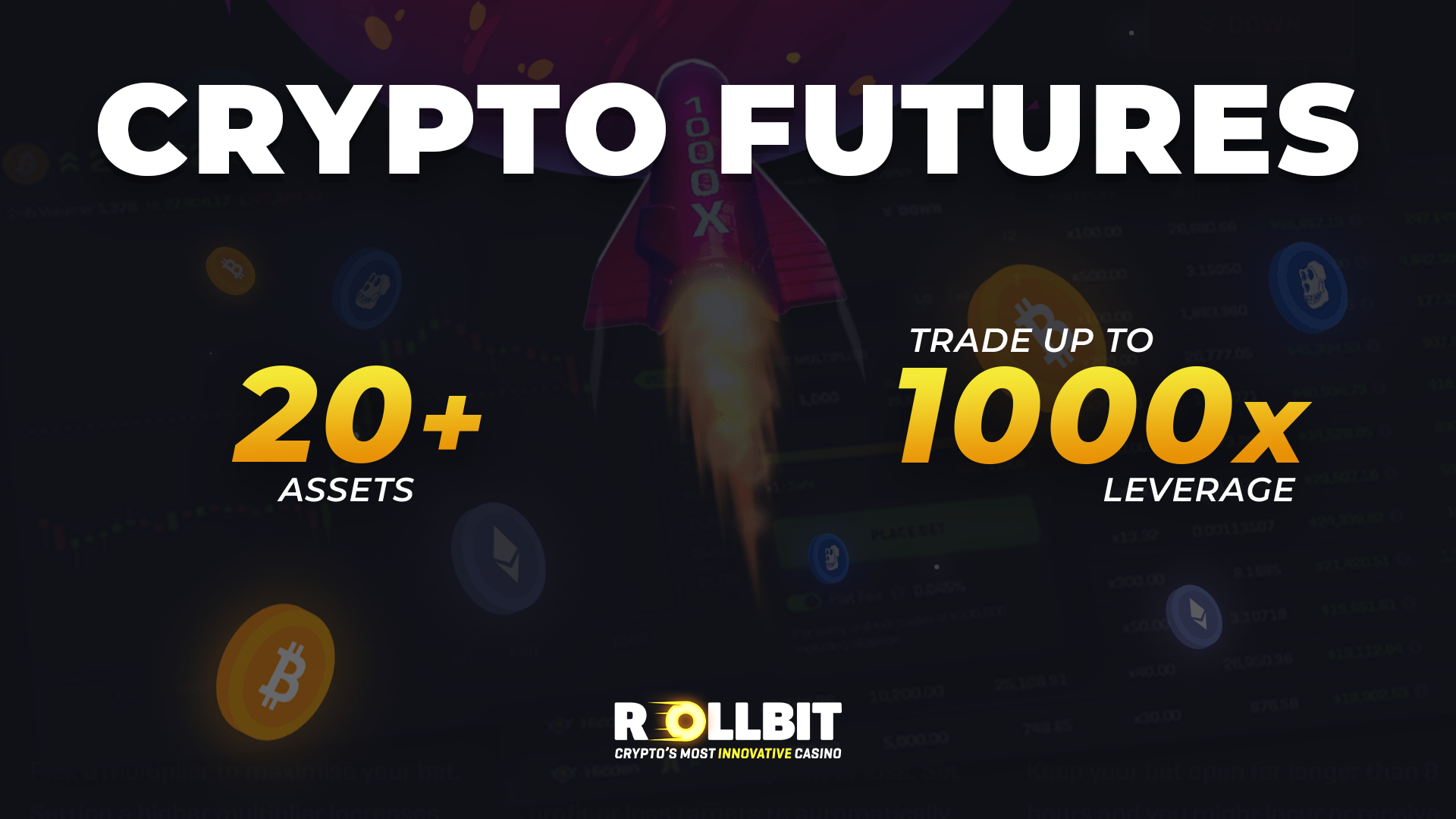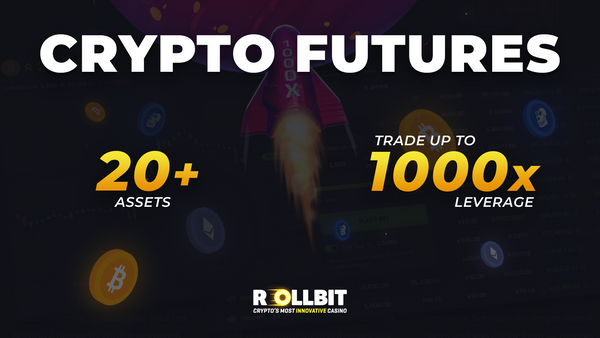 The popularity of cryptocurrency trading on Rollbit has exploded in the past few months. Find out how to trade with up to 1000x leverage on Rollbit!
How to get started:
To get started, simply go to the Crypto Futures page on Rollbit! In addition to the direct link, users can also navigate there through the sidebar on the left side of the website.
💡
You can view and manage trades via the 'Trades' tab above the chat!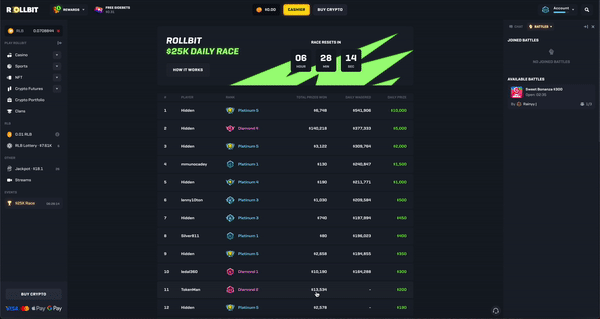 To place a bet, simply select whether you think the price of the cryptocurrency will go 'Up' or 'Down', enter your chosen leverage (up to 1000x!) and then click 'Place Bet'.
Upon placing your bet, the open trade will appear beneath the chart under the 'Active bets' tab. Here, you will be able to see the entry price, the amount you have bet, the bust price at which your bet would lose, your chosen leverage, the funding payments you may need to pay, and also your current profit and loss for the trade!
Funding payments do not have to be made for the first 8hours of a trade being opened!

Wanting to show off your most profitable trade?

Clicking the 'details' button shows a pop up with all the information about your trade, and allows you to share the trade with friends!

Want to set an automated cash out once in profit?

Clicking the cog button next to details will allow you to set a 'Take Profit' or the ability to close the bet at a certain price or loss!
Frequently Asked Questions:

Is there a more advanced chart?
- Yes! Simply click the settings icon on the top right of the chart, and toggle 'Advanced Chart' on!
"I can't see the chart as there is a tab with my current profit on it in the centre of the screen, what can I do?"
- Simply click the settings icon on the top right of the chart and ensure that 'show my bets on chart' and 'show public bets on chart' are toggled off!
What are 'funding payments'?
- If you keep your bet open for longer than 8 hours you might incur or receive hourly funding payments, depending on market conditions. When the market is bullish, the funding rate is positive and long traders pay short traders. When the market is bearish, the funding rate is negative and short traders pay long traders.
Funding payments are paid directly from your balance. Make sure you have enough to cover your bets if you're planning to have them open for longer than 8 hours. Otherwise your bets might get closed automatically.
Price Formulation:
Rollbit uses a unique price-formulation strategy, which makes the Rollbit index robust to market manipulation, technical issues, and other anomalous trading activity that may occur on individual exchanges from time to time.

More information regarding Rollbit's price formulation can be found on-site here!
Trading Limits:
Each user and cryptocurrency have different limits when it comes to the maximum position that can be opened on Rollbit's Crypto Futures. Most users will have a default, aggregate limit of $1,000,000 - meaning the maximum size of open positions at any one time is capped at $1,000,000.
Cryptocurrencies such as Bitcoin and Ethereum match the aggregate limit of $1,000,000 whereas others such as Apecoin or Pepe have limits of $300,000.

Users can now request a limit change for their aggregate limit or for individual cryptocurrencies directly within the on-site UI here!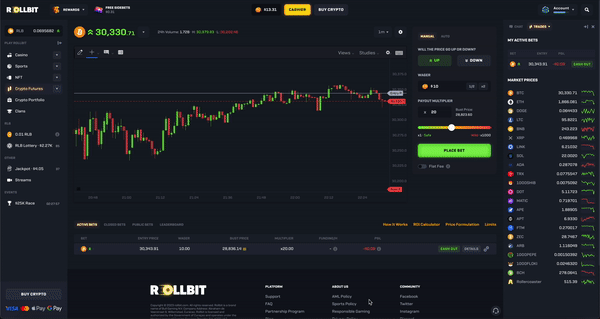 As shown in the GIF above, requesting a limit raise is simple!
Each request is sent directly to our trading team, who will review it within 24 hours (usually much sooner).
Leverage:
Rollbit is becoming well-known for offering up to 1000x Leverage on its Crypto Futures, with the majority of cryptocurrencies having this maximum leverage!
During periods of higher volatility, the maximum leverage may be reduced on certain cryptocurrencies, however these limits are often increased again shortly after.

Fees:
Rollbit offers it's users two different options for paying fees; the 'PnL Cut' fee structure, and the 'Flat Fee' structure!

Under the PnL Cut fee structure, users don't incur any fees to open or close their trades. Instead, they pay a percentage of their profits depending on factors such as position size, holding time, and leverage used.
You can calculate the fee you would expect to pay on a profitable trade via the ROI Calculator: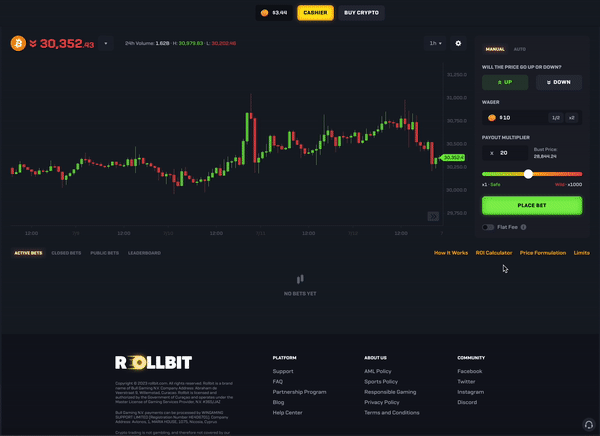 We have also recently introduced the Flat Fee structure in which users prepay a fixed fee upon trade execution which covers their entry, exit, and slippage, similar to a regular exchange. This fee equates to 4 bps (0.04%) for entry/exit, with an additional fee for slippage depending on the position size displayed upfront
⏳
Want to open a long-term position with high conviction? The Flat Fee may be best for you!
🚀
Want to scalp/enter dozens of positions quickly? Maybe you would prefer the PnL cut structure!
Reduced Fees:
Rollbit has recently introduced a way to reduce fees for their Crypto Futures holdings via using $RLB!
RLB can now be used to cover trading fees & unlock discounts of up to 60% on fees under the Flat Fee structure based on the USD value of the users' RLB holdings at the time of the trade!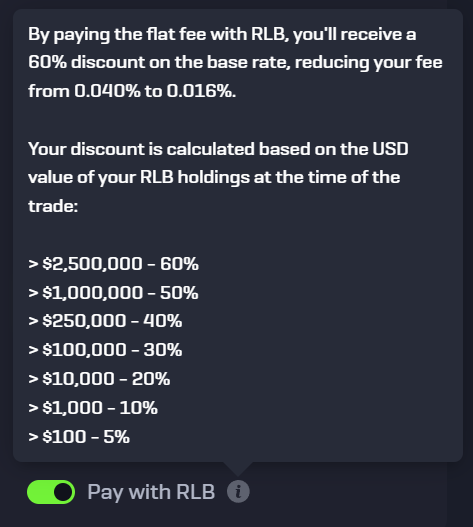 RLB can also be used to give up to a 60% discount on the PnL Cut fee structure upon the closure of any profitable trade!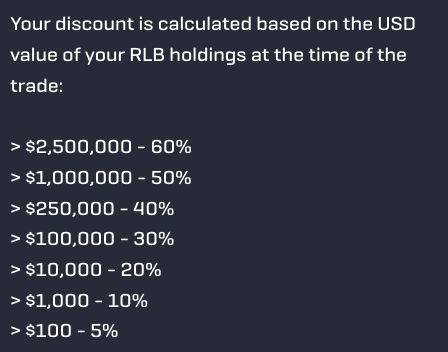 Trading Leaderboards:
Ever wanted to see the insane trades other people are making? Well, now you can! Simply go to the 'Leaderboard' section below the chart and have the ability to view the most profitable trades or the trades with the highest ROI on any instrument over the past day, week, or month!

For an even more in-depth look, simply click any of the trades, and their entry price, bust price, and where they took profit will be displayed on your chart.

For example, take a look at 'gainzy222's' trade below:🤯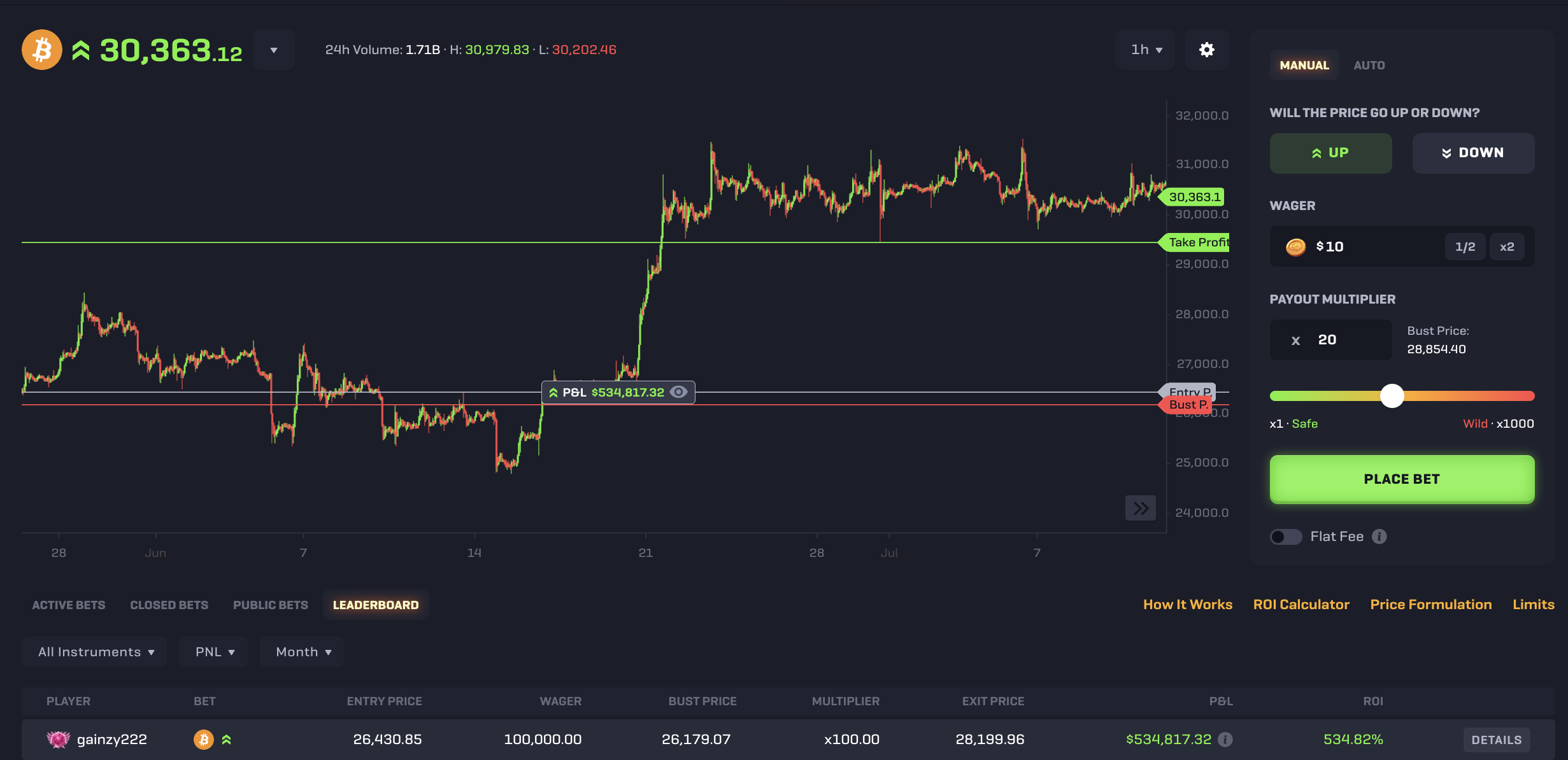 Have any more questions regarding our Crypto Futures or Rollbit in general?
Join the Discord or reach out to our on-site support team!
---
-The Rollbit Team