The Crypto Pulse: June 26th
Rollbit's weekly analysis and review of the news in bitcoin, ethereum and cryptocurrency markets.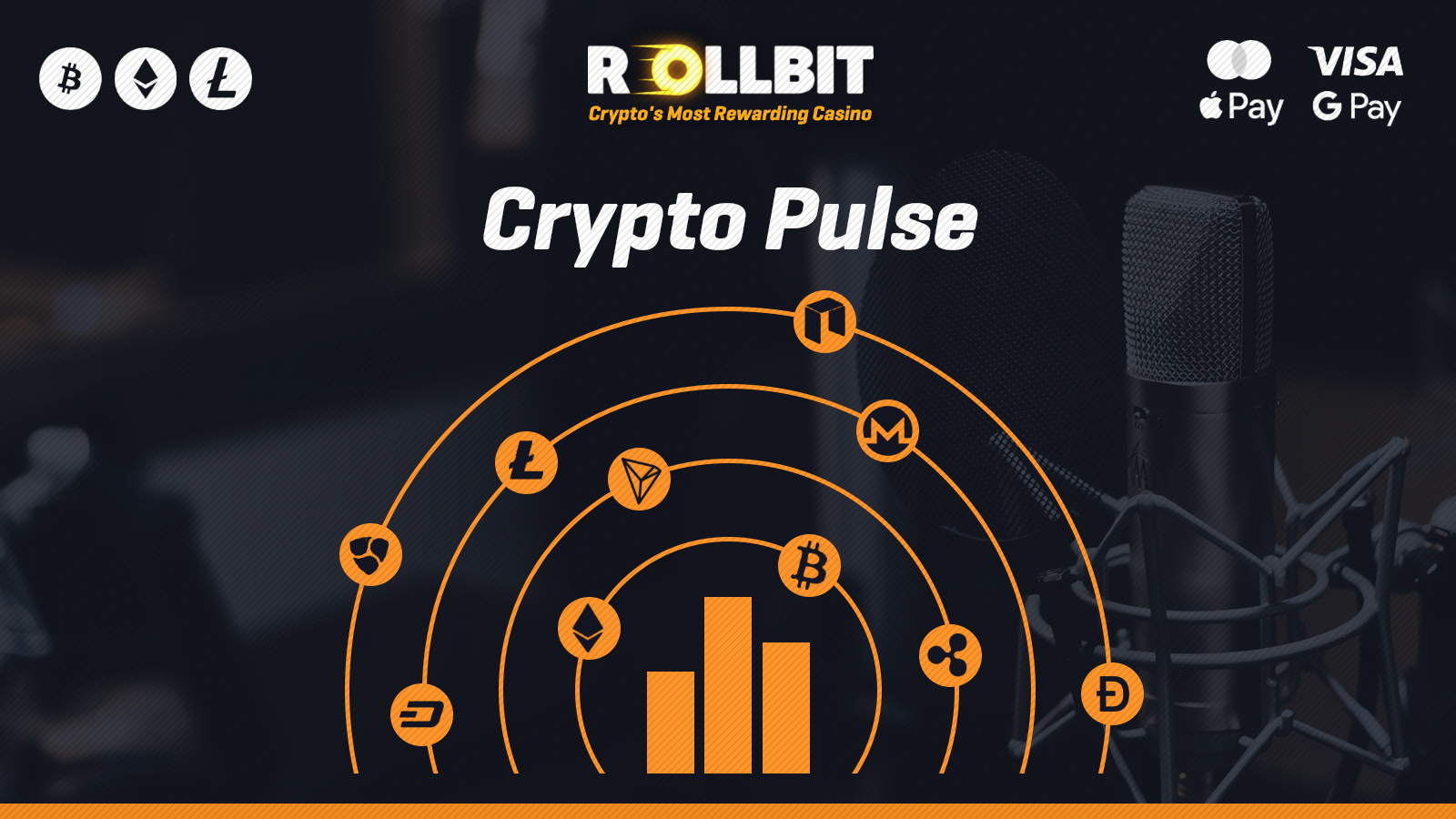 Rollbit's weekly analysis and review of the news in bitcoin, ethereum and cryptocurrency markets.
News 📰
Bitcoin hit 5-month lows on June 22nd following reports out of China that indicated the People's Bank of China had instructed financial institutions to stop facilitating cryptocurrency-related transactions.
China's central bank also urged financial institutions, including Ant Group's Alipay, Industrial and Commercial Bank of China, and Agricultural Bank of China, to cease offering other services such as account opening, registration and trading for any cryptocurrency-related activities.
This development follows on from a clampdown on cryptocurrency miners operating within China, which saw Bitcoin's hash rate drop to a 6-month low.
An Ethereum developer call took place on June 23rd, which revealed that the specification for Ethereum's transition to Proof of Stake had been finalised.
Ethereum has already begun the multi-year process of switching from Proof-of-Work to Proof-of-Stake with the launch of the beacon chain on December 1st, 2020, and has so far attracted almost 6 million ETH in deposits to the ETH 2.0 contract.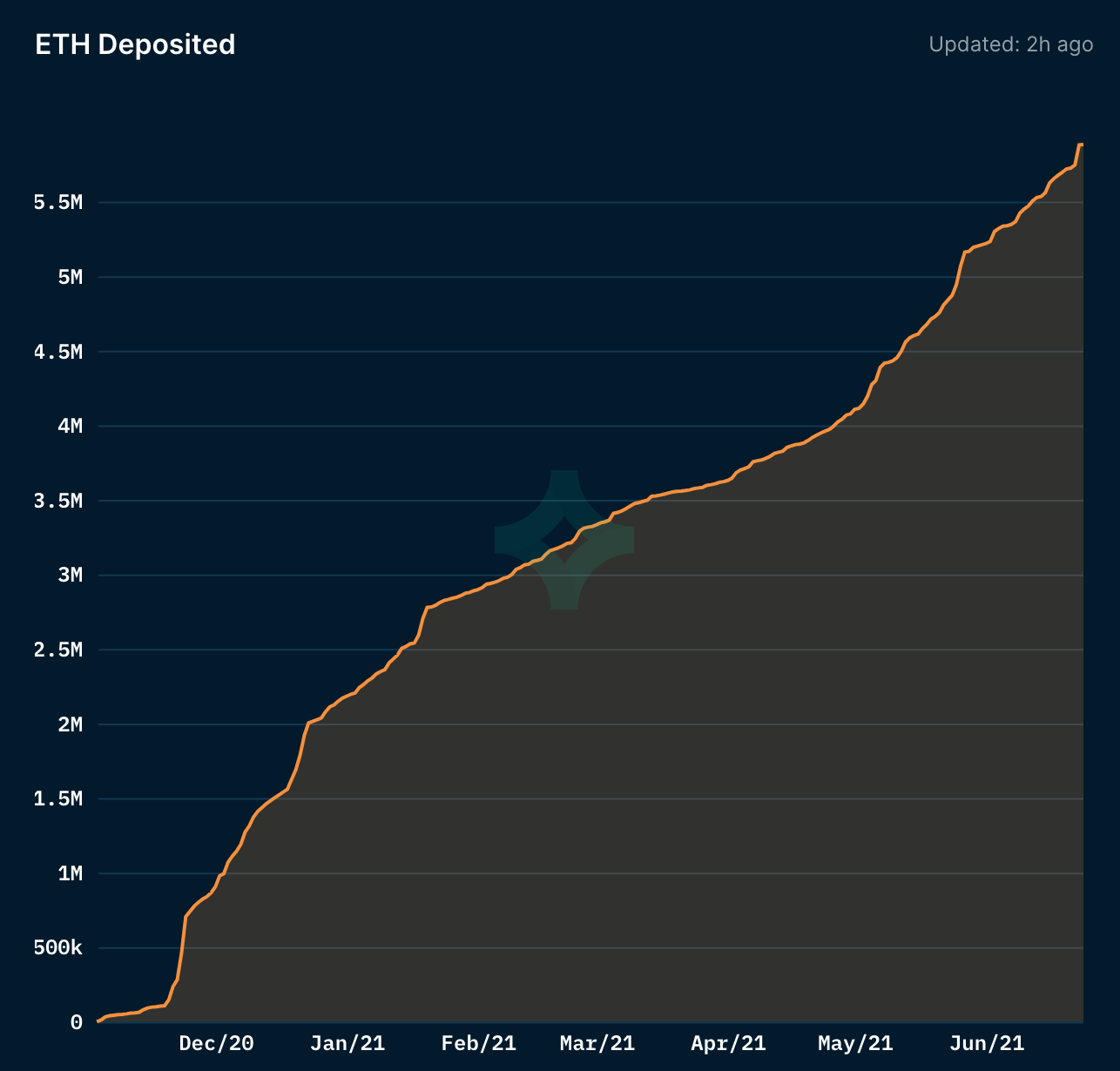 Source: Nansen.ai.
Ethereum's ether (ETH) is currently based on Proof-of-Work, where miners expend energy to secure the blockchain, have a shot at creating new blocks and earn a share of the block rewards. Ethereum's vision is to become less energy intensive and exceed the scalability of existing payment networks like VISA by moving to Proof-of-Stake.
In a Proof-of-Stake system, validators replace miners and these validators must stake at least 32 ETH to take part in the consensus, secure the blockchain and earn rewards. Individuals with less than 32 ETH can join staking pools to earn yield on their ether holdings. The shift to Proof-of-Stake could also make ETH more desirable to investors, since the cryptocurrency will then have a yield that they can capitalise on.
Vice's Motherboard released a short documentary on June 24th detailing the story of the 'Bitcoin Beach' and El Salvador's recent adoption of bitcoin as legal tender:
El Salvador has also become the first country to airdrop bitcoin to each of its citizens, who will all receive $30 worth of coins through the government's Chivo e-wallet.
Ever since El Salvador's 'Bitcoin Law' passed on June 9th (which comes into effect on September 7th), officials from other Latin American countries have also expressed interest in replicating the move. For example, Paraguay will pass a similar law that will make bitcoin legal tender in July:
Dogecoin developer Ross Nicoll tweeted on June 22nd a live walkthrough on Twitch of the new testnet code that will reduce transaction fees for Dogecoin by 90%:  
Dogecoin has always been advertised as a cheap and fast transactional currency and gained a following due to the community's focus on tipping in DOGE.
Historically, DOGE transactions fees have been relatively low compared to other cryptocurrencies. But with the "Elon effect" and the surging popularity of Dogecoin earlier this year, the typical fee for a DOGE transaction now exceeds that of a Litecoin transaction: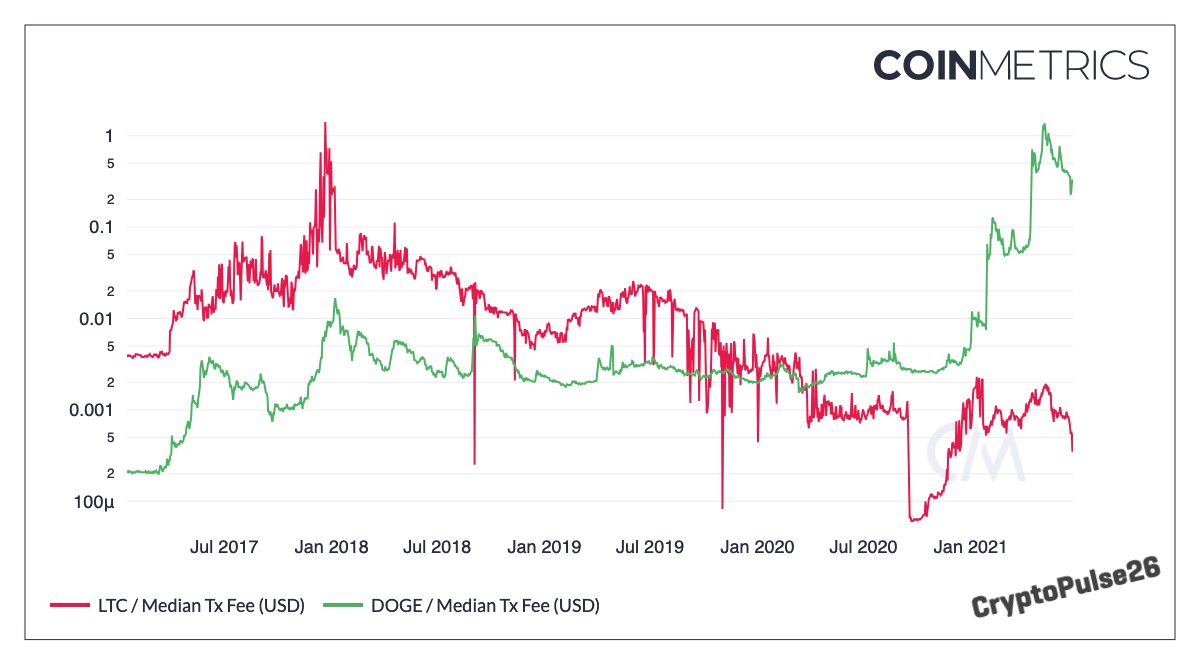 Source: CoinMetrics.
A typical DOGE transaction cost over $1 during early May, but the fees have fallen as hype around the cryptocurrency market has settled. The recent run up in the price of dogecoin has meant that the mandatory 1 DOGE fee per transaction could become unsustainable for tipping and smaller purchases in the future. To return to DOGE's heyday where it was used as a tipping currency, the developers want to reduce transaction fees.
Currently, 1 DOGE is enough to get a transfer confirmed. But as part of Dogecoin Core 1.21 release, this will be reduced 90% to 0.10 DOGE. Unlike Bitcoin or Ethereum, there's no fee market for transactions in Dogecoin as there's more than enough block space for all transactions. Once the developers push the Dogecoin Core 1.21 release, it's then up to miners and node operators to adopt the upgrade.
Rarible has raised $14.2 million to launch an additional marketplace on the Flow blockchain. The non-fungible token (NFT) marketplace, which has exceeded $150 million in NFT sales over the past year, is currently based on Ethereum.
The Flow blockchain was built by Axiom Zen, the team behind the massively successful CryptoKitties project, after their frustration with Ethereum's inability to handle the explosion of activity witnessed by the blockchain-based collectibles game during late 2017.
The Flow blockchain is home to the most popular NFT project by all-time volume and number of collectors, NBA Top Shot. This funding round implies that NFT collectors will eventually be able to buy and sell NBA Top Shots on the new Rarible marketplace based on Flow.
Aavegotchi, the first project that's a crossover between DeFi (Decentralised Finance) and NFTs, released a sneak peek of the 'Gotchiverse' which is a gamified metaverse that can be thought of as a role-playing game infused with DeFi.
The litepaper for the Gotchiverse was released on June 23rd and introduces REALM, plots of land in the Gotchiverse which can be utilised by players to farm an ERC-20 token known as 'Gotchus Alchemica'.
The Gotchiverse is expected to launch in Q3 2021, which will also provide a chance for players who do not own any Aavegotchis to take part and earn rewards.
Other News
RIP to cryptocurrency enthusiast and cybersecurity expert John McAfee,
MicroStrategy purchase an additional 13,005 BTC, bringing total holdings to 105,085 BTC,
The Securities and Exchange Commission delays decision on Valkyrie Digital Assets' Bitcoin Exchange-Traded Fund.
Market Analysis 📈📉
Bitcoin has defended the $30,000 psychological level six times so far in 2021 since crossing this milestone, with the most recent dip being bought up and creating a Hammer candlestick pattern on June 22nd:

From Rollbit's candlestick cheat sheet, we can see that a Falling Three Method pattern formed on June 25th's close, with the price of bitcoin closing at $31,577. At the time of writing, the price of bitcoin is trading below the opening price of June 22nd's Hammer candlestick (around $31,700), which suggests a bearish outlook.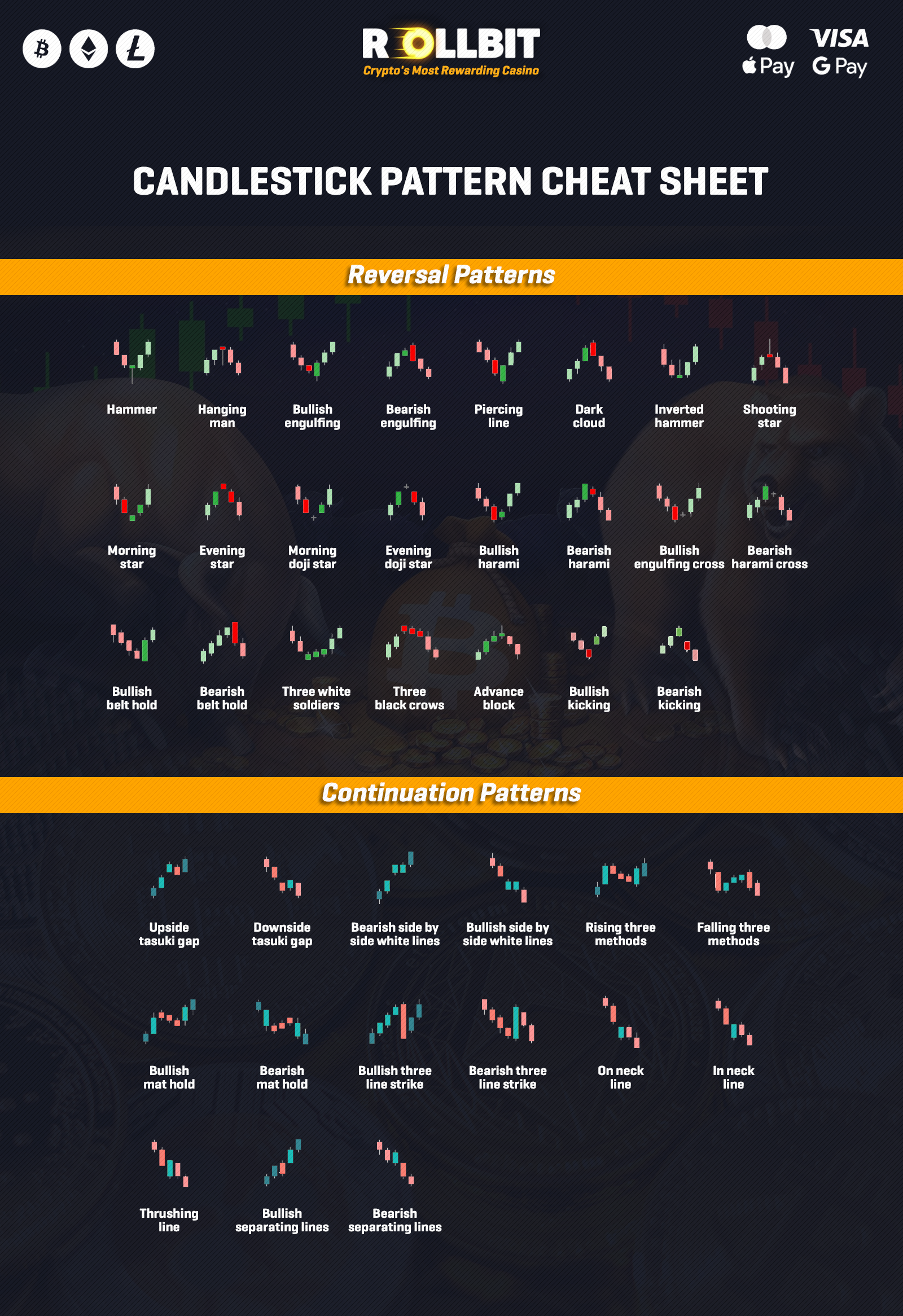 Altcoins saw larger declines on June 21st with Ether, Dogecoin and Litecoin falling by -16%, -36% and -19% respectively. It is key for the market to regain the June 21st highs for a greater chance of an upward trajectory for cryptocurrency prices. However, a failure to regain these levels would suggest that sellers are in control for now in the cryptocurrency market and perhaps another test of the $30,000 level for Bitcoin.
Have a great weekend!
---
-The Rollbit Team