Dream Drop Weekly Event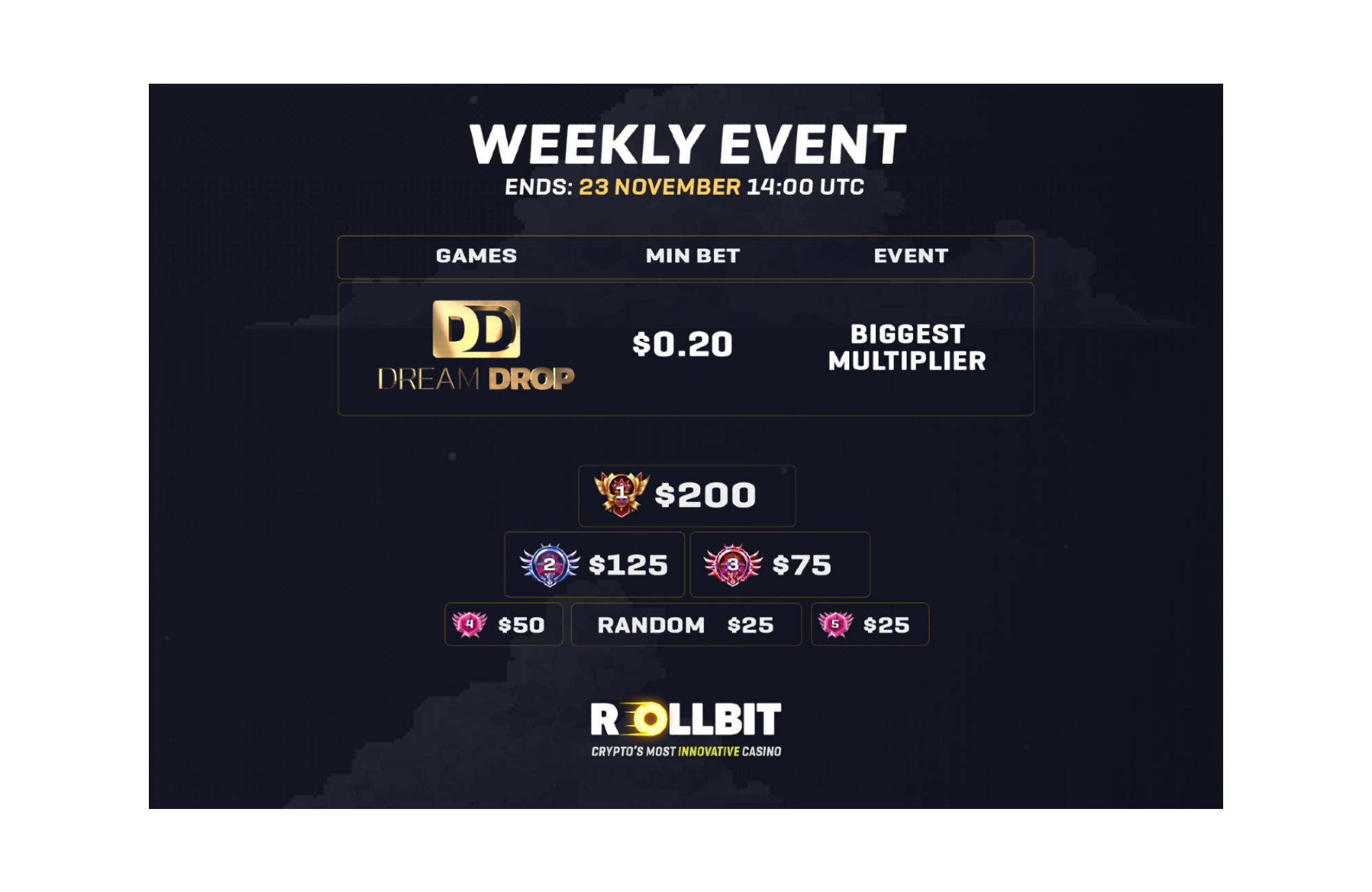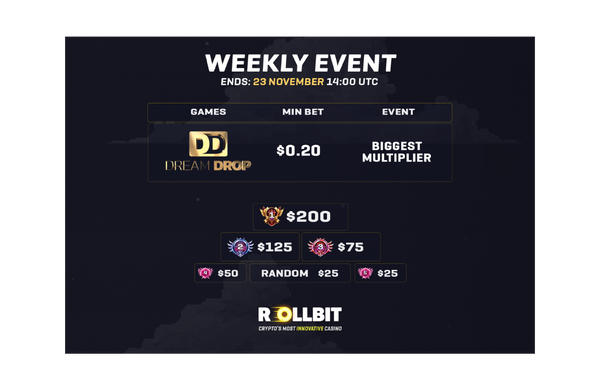 ‌‌This week, Rollbit's Weekly Event will be across an entire mode of games: Dream Drop - Relax Gaming! Participants will be able to submit their wins on 8 different slots, and compete for prizes for getting the highest multiplier. ‌‌‌‌
Slots:


This week, the 8 slots that will be valid are:

Dream Drop Diamonds
Neko Night Dream Drop
Snake Arena Dream Drop
TNT Tumble Dream Drop
Wild Chapo Dream Drop
Templar Tumble 2 Dream Drop
Temple Tumble 2 Dream Drop
Volatile Vikings 2 Dream Drop

What is Dream Drop?
Dream Drop is a relatively new gamemode by Relax Gaming, that uses some of their most popular slots, and implements a jackpot feature within the slot!
Dream Drops is a massive progressive jackpot offering five tiers called the Rapid, Midi, Maxi, Major, and Mega, with each tier leading to a guaranteed win!

Every 2 wins, Mega Jackpot is boosted with an increase of 500,000 Euro up to a cap of 10,000,000 Euro providing huge wins and marketing capabilities.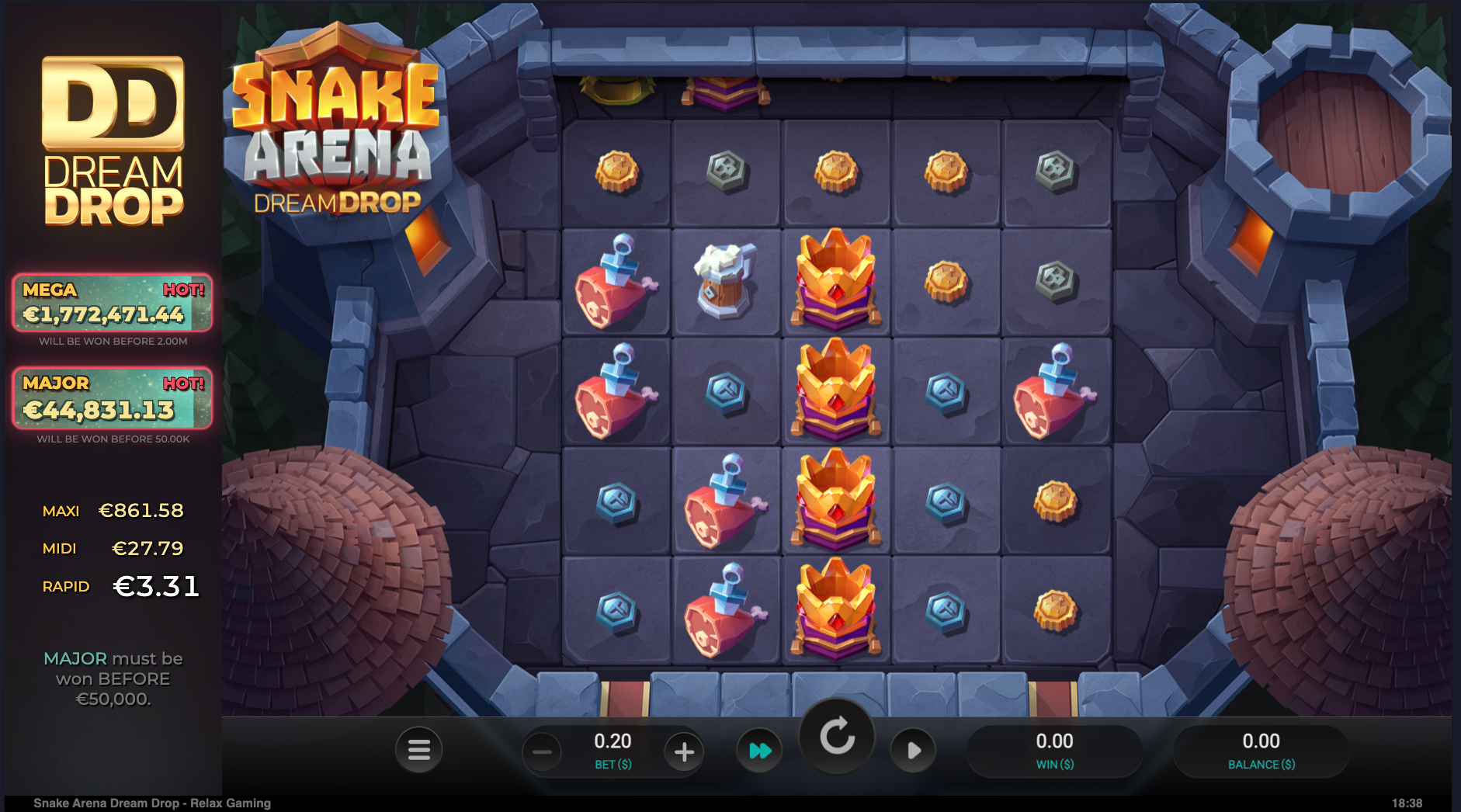 As seen in the image above, the different jackpot amounts are shown on the left hand side of the screen. Once any of the Rapid,Midi or Maxi jackpots are won, the figure will glow white [see rapid], before going to 0.
For each bet placed on the game, a portion of the bet automatically gets added into each of the jackpot amounts, which is why you will see the prizes increasing at a fast rate!

The Rules:

Minimum bet: $0.20
No Maximum bet
Lowest valid multiplier: 25x
Prizes:

The users with the top 5 highest multipliers will receive a share of a prize pool of $475, with an additional $25 going to a random participant who submits a valid entry! - [users in the top 5 can also win this extra $25] Bringing the total prize pool to $500!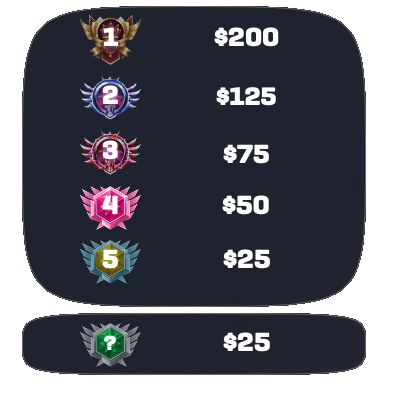 Prizes will be paid to accounts, where display names were provided, as Bonus Balance for Rollbit's Casino!
👀
Last week, users who didn't place in the top 5 had a 1 in 8 chance of winning the random participant prize!!

How To Enter:
Place a bet of over $0.20 or more on any of the Dream Drop games
Provide your Rollbit display name & screenshot of multiplier win
Reply to thread that is posted alongside the event announcement in the #casino-events discord channel
Entries close 23/11/2022

Terms and Conditions:
- You must have a verified email - https://rollbit.com/account/settings
- You can edit your post if you get a higher multiplier during the week.
- 1 entry per household, unless KYC has been submitted.
- We reserve the right to request KYC verification from the winners before paying out prizes.
- In the event of a draw, prizes will be shared.
- The prizes will be paid to accounts where usernames were provided as Bonus Balance
- Entries must be in before 23rd November 2022 - 14:00 UTC!
- Entries will be checked before being announced.
- Multipliers are based on your actual bet size and outcome. This can differ from multipliers displayed within third-party games. For example, a $100 bonus buy on Fruit Party that pays $200 would be a x2.00.
- Rollbit employees can not participate in weekly events. This does not apply to discord community moderators.
If you have any event suggestions, feel free to let us know in the Discord, or my Twitter DM's!

---
-The Rollbit Team