EPL Fantasy League
Take part in the Rollbit Fantasy Premier League for the chance to win free sports bets through the season!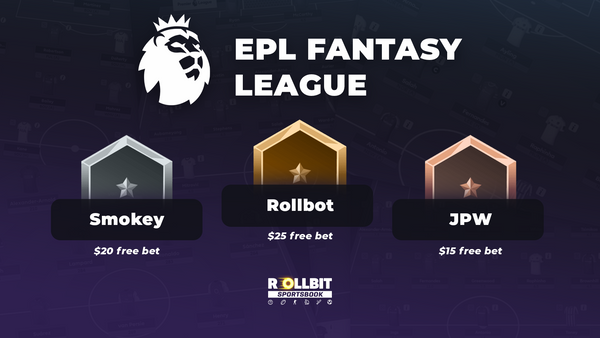 Hello Rollbit Enjoyers! We are thrilled to announce the launch of our Fantasy League for the upcoming English Premier League season!
This is an opportunity for all football enthusiasts to compete, strategize, and win amazing prizes throughout the season.
How it Works:
For each game week, participants will aim to earn the highest number of points based on the performance of the players within their selected teams. Please note that there might be certain game weeks where players won't be able to participate due to postponed games, national team commitments, or other reasons. Conversely, some game weeks might offer the chance for your players to compete twice, increasing your chances to score big!
Weekly Prizes:
At the end of each game week, the top 3 highest point earners will receive Free Bets for our Sportsbook, with the amounts as follows:
🥇 $25 Free Bet
🥈$20 Free Bet
🥉$15 Free Bet
Remember, each Game week's results are independent of the previous week, so the competition remains open and exciting every week!
Season-End Prizes:
We have some fantastic prizes for the top 5 users with the highest overall points at the end of the season:
🥇 $300 Free Bet
🥈$200 Free Bet
🥉$150 Free Bet
🏅$75 Free Bet
🏅$75 Free Bet
⚽
Users with the Rollbit Enjoyers role who win will receive 120% of any prizes mentioned above. e.g: $300 would become $360!
How to Participate:
Create a Fantasy Premier League (FPL) account if you haven't already.
Join the league using this link: https://fantasy.premierleague.com/leagues/auto-join/1il3my
Create your dream team with the players you think will shine this season.
Important: Your Team Name must be your Rollbit username to be eligible for the prizes.
Important: Use a Manager Name that is not your real name to keep your identity private within the league.
Double-check your team to ensure you have selected the players you want to represent you throughout the season.
Get ready to watch your points rise as the drama of the Premier League unfolds!
Terms and Conditions:
Make sure your Team Name matches your Rollbit username to qualify for the prizes.
Only one entry per household is allowed.
Users with the 'Rollbit Enjoyers' role will receive 120% of any prizes they win, adding even more excitement to the competition!
If you have any questions or need assistance, feel free to reach out to us. Let the games begin! 🥅🏆
---
-The Rollbit Team