NFT Loans: Get the highest LTV and 0% fees on Rollbit 💸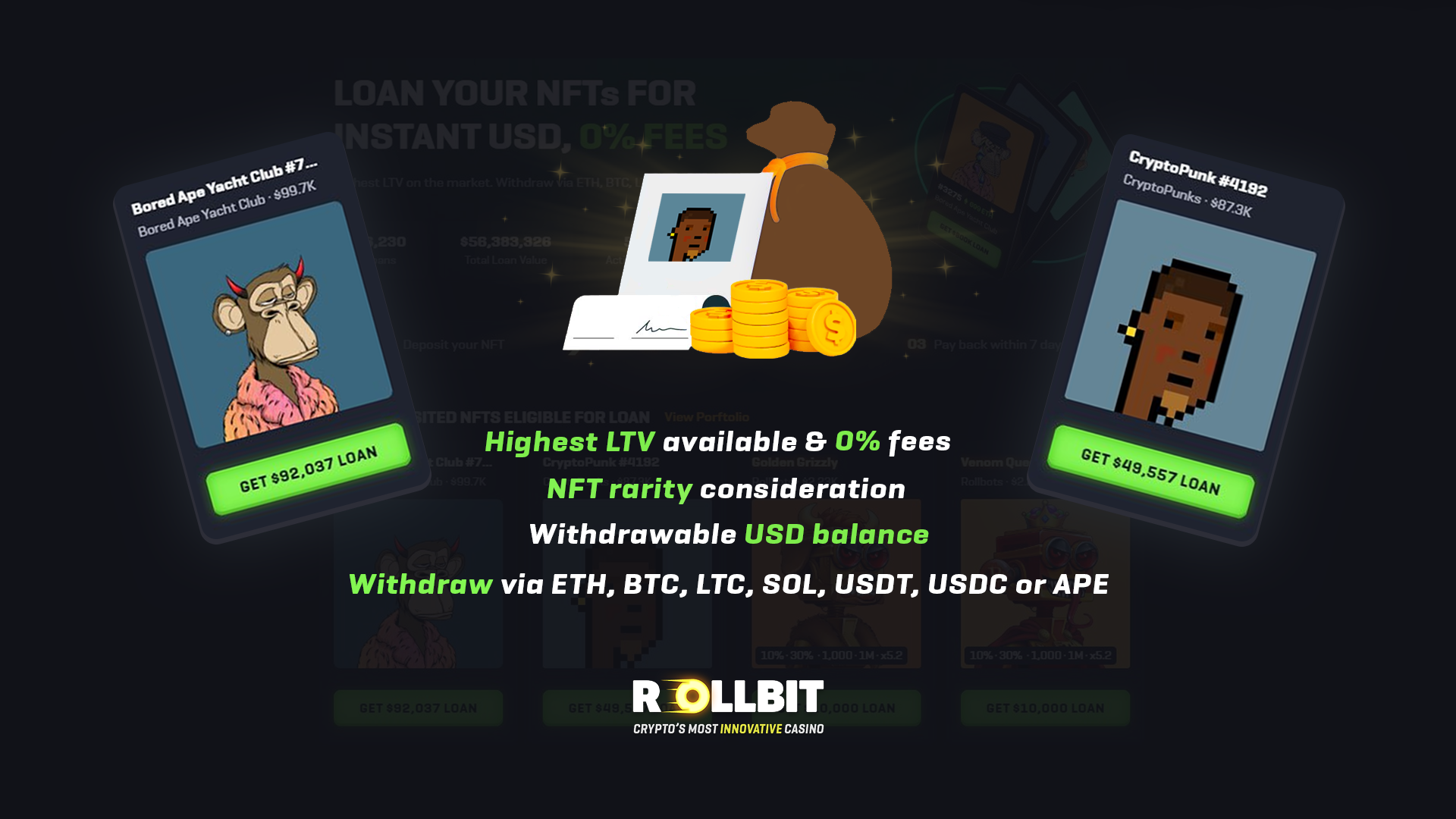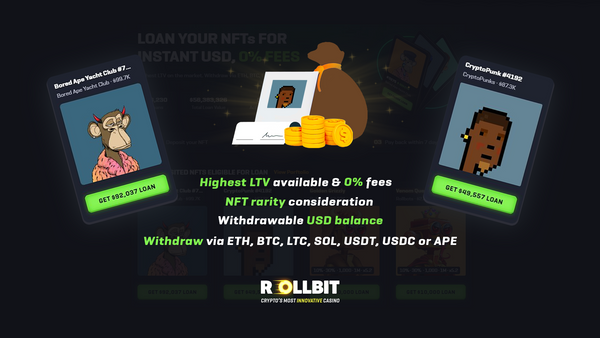 Rollbit has recently overhauled their NFT Loans product. We now offer the most competitive borrowing rates for popular, blue-chip NFT collections.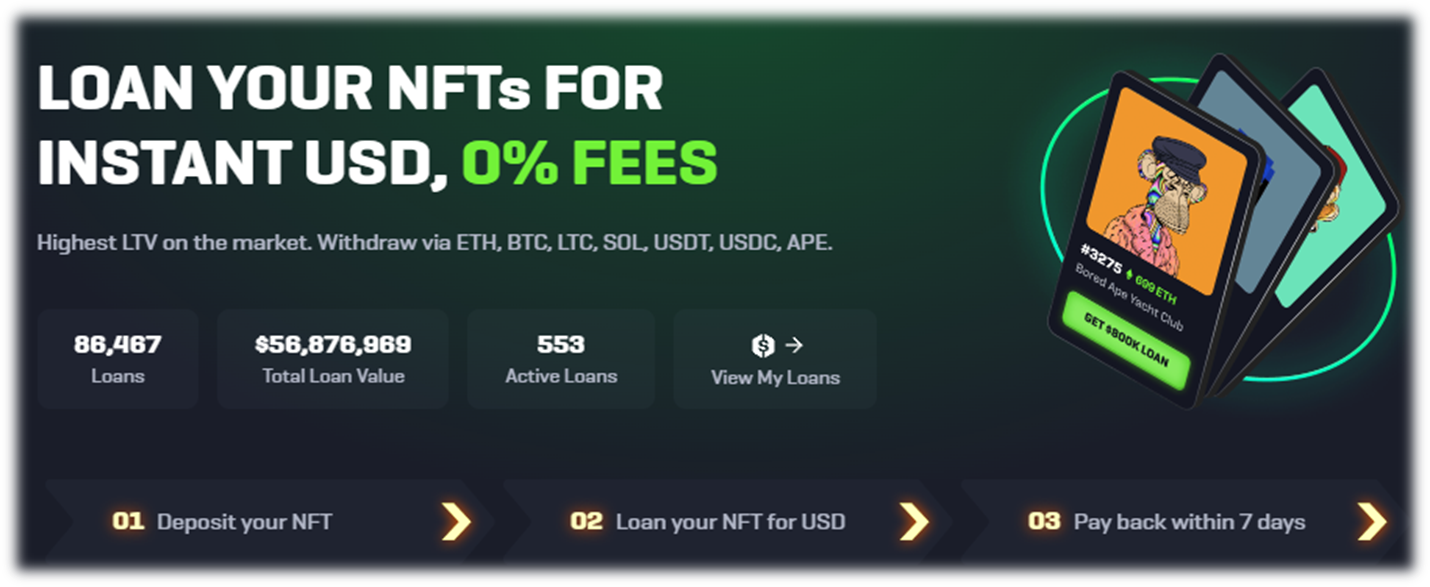 Rollbit offers collateralised NFT (non-fungible token) loans. This allows NFT holders to borrow cash against NFTs they hold.
By default, every user can borrow up to $100,000 from Rollbit, when using their NFT as collateral. For NFT holders that wish to borrow more, they can reach out to our 24/7 live support to request a limit raise.
Rollbit users do not need to deposit their NFTs before being able to see the value they can borrow utilising their NFTs. On the NFT Loans page, users can view the loan values that Rollbit offers for their NFTs.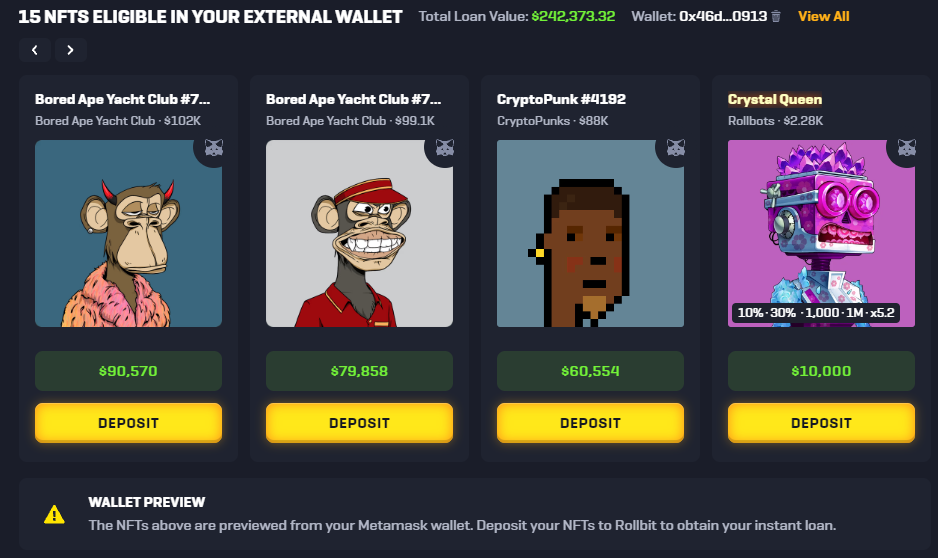 The above screenshot is an example of an external MetaMask wallet with 15 NFTs that are eligible for Rollbit's NFT Loans. The user is able to input their NFT wallet without creating an account and can see the value Rollbit would offer them if they were to use their NFTs as collateral in a loan. This user could get $242,373.32 for their NFTs!
Why should I choose Rollbit for my NFT loans?
We offer the best value proposition to borrowers. We'll break down why below!
Highest LTV
We're confident that Rollbit offers the highest LTV (loan-to-value) ratio on the market. LTV ratio determines how much value is available to the borrower, for the asset they're using as collateral.
As an example, you can currently borrow $79,858 for BAYC #7832. This BAYC is likely to be considered a "floor Ape". When comparing the current loan value to the BAYC floor, it's roughly 82%.
The same BAYC on a dedicated NFT Loans platform offers only $66,774. Rollbit offers a staggering $13,084 more!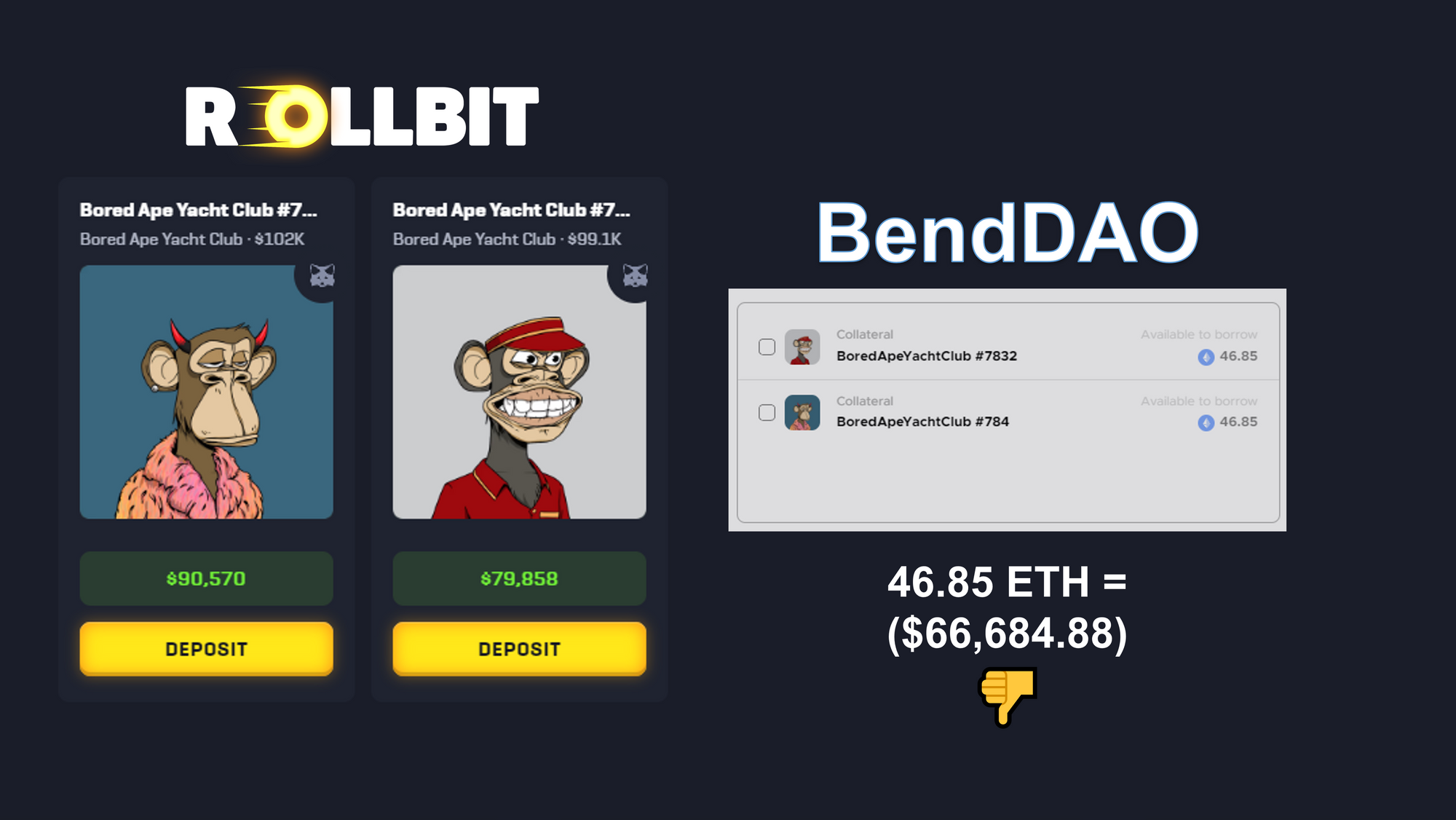 Instant & withdrawable USD balance
With Rollbit NFT Loans, they're instant. No waiting for reviews or on-chain transactions to complete. ⚡
The balance is made available directly within your Rollbit account. Rollbit balance is 1:1 with USD so there's no tedious calculations required to work out your final loan value. Rollbit also doesn't give you any token equivalents, it's cold hard cash!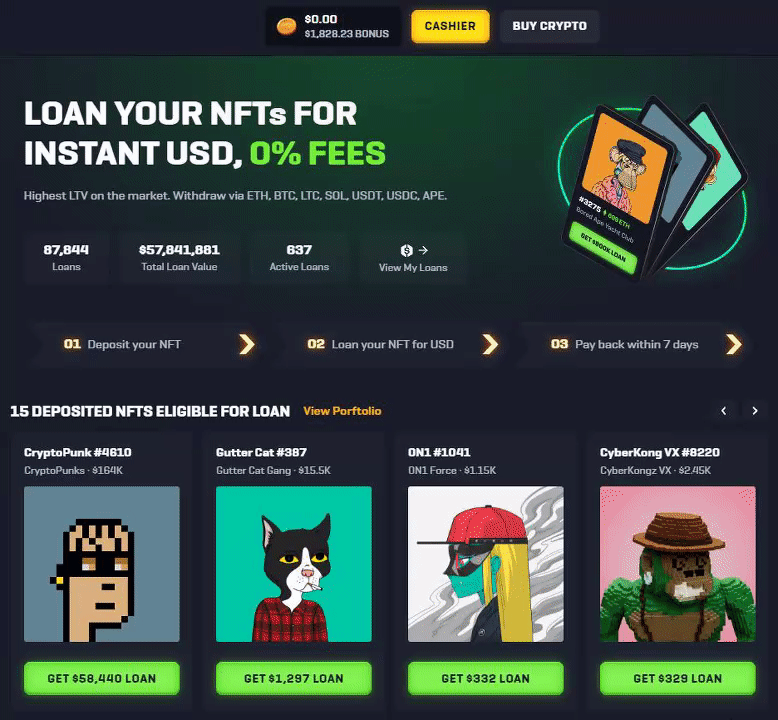 Rollbit balance can then be instantly withdrawn or utilised on Rollbit's many features including 1,000x leverage Crypto Futures, NFT Lootboxes, Sportsbook or our industry leading casino!
0% Fees
Rollbit does not charge any fees for it's NFT Loans offering. This is a industry first, until Rollbit's offering no one has offered 0%, interest-free NFT Loans!
Enjoy no penalties or boring APR rates during the 7-day loan period!
Offering 0% fees allows Rollbit to offer more loan value to the borrower. In other words, more cash in your pocket!
Biggest selection of supported collections
Rollbit offers the very best selection of supported collections for our NFT Loans!
At the time of writing, our NFT Loans offering supports more than 30 of the top NFT collections on Ethereum. From Bored Ape Yacht Club, Doodles, Pudgy Penguins and mfers, Rollbit has them all!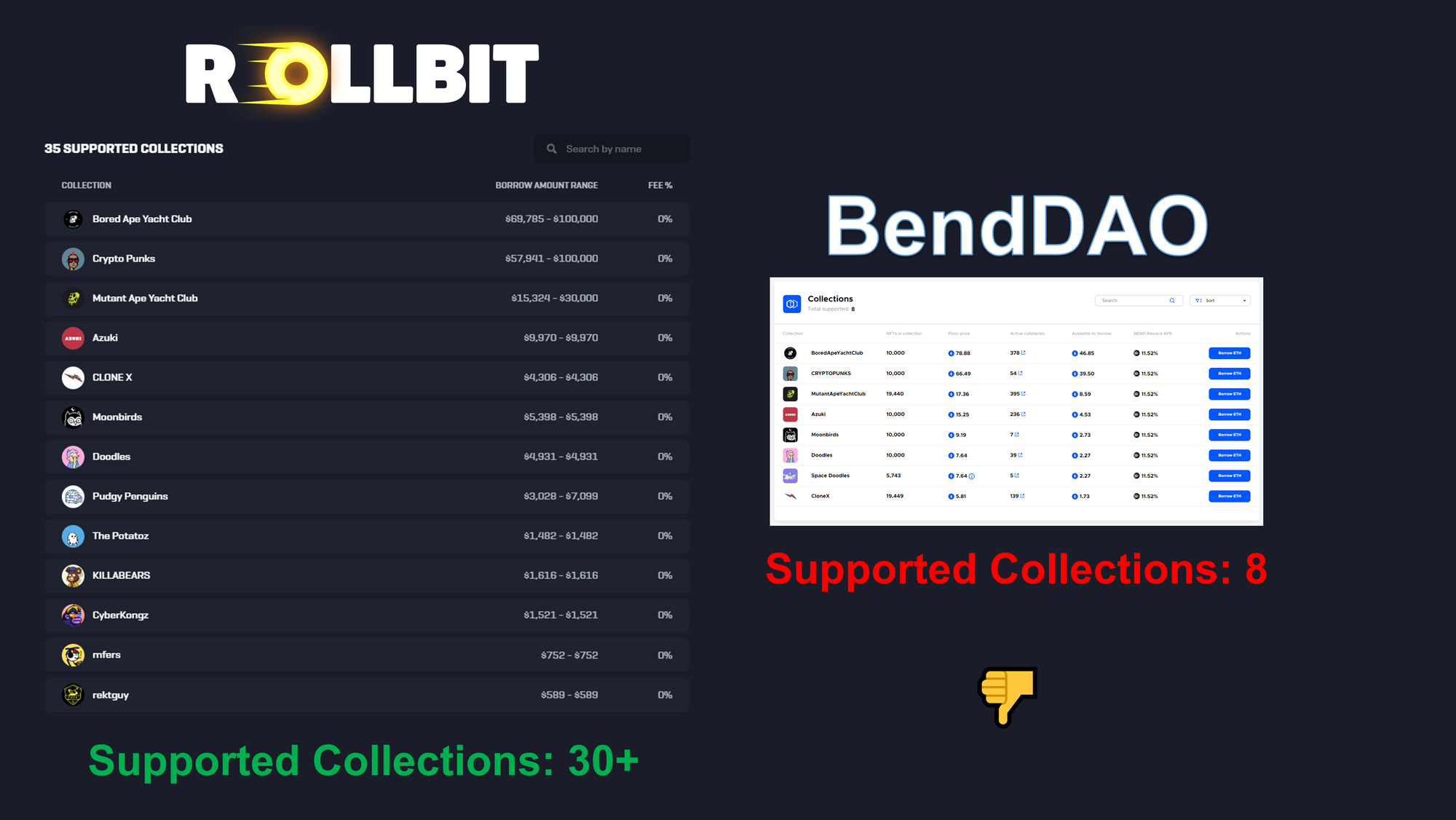 If you have any recommendations for NFT collections that we should support. Be sure to suggest them via our Discord!
Withdraw loan via ETH, BTC, LTC, SOL, USDT, USDC or APE
Ever wanted to withdraw the value you borrowed via Bitcoin from a NFT lender? Now you can thanks to Rollbit's balance system.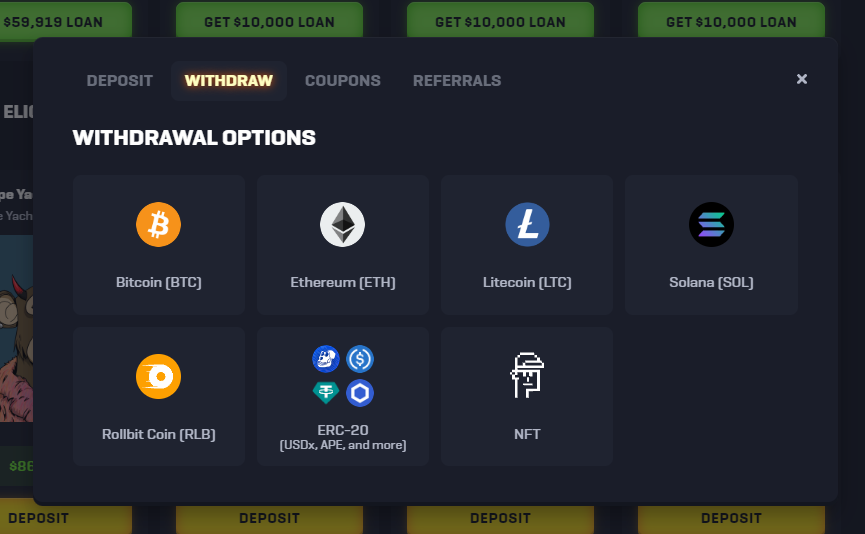 When you claim your loan amount, the balance can be instantly withdrawn via any of Rollbit's supported withdrawal currencies. These include:
Ethereum (ETH)
Bitcoin (BTC)
Litecoin (LTC)
Solana (SOL)
Tether (USDT - stablecoin)
USD Coin (USDC - stablecoin)
NFT rarity consideration
Most NFT Loan platforms offer a fixed value for all NFTs within a collection. We weren't fans of this as many collections have rarities, which can increase the price of a individual NFT significantly.
We wanted to respect rarity when looking at NFT appraisals. We're proud to announce that Rollbit considers NFT rarity when arriving at a loan value.
When looking at a collection such as Bored Ape Yacht Club, this allows Rollbit to offer considerably more for a BAYC with Gold fur in comparison to a floor BAYC.
The difference can be seen below. Rollbit beats the other NFT Loan platform not just by overall LTV, but also fairly considers the NFT rarity!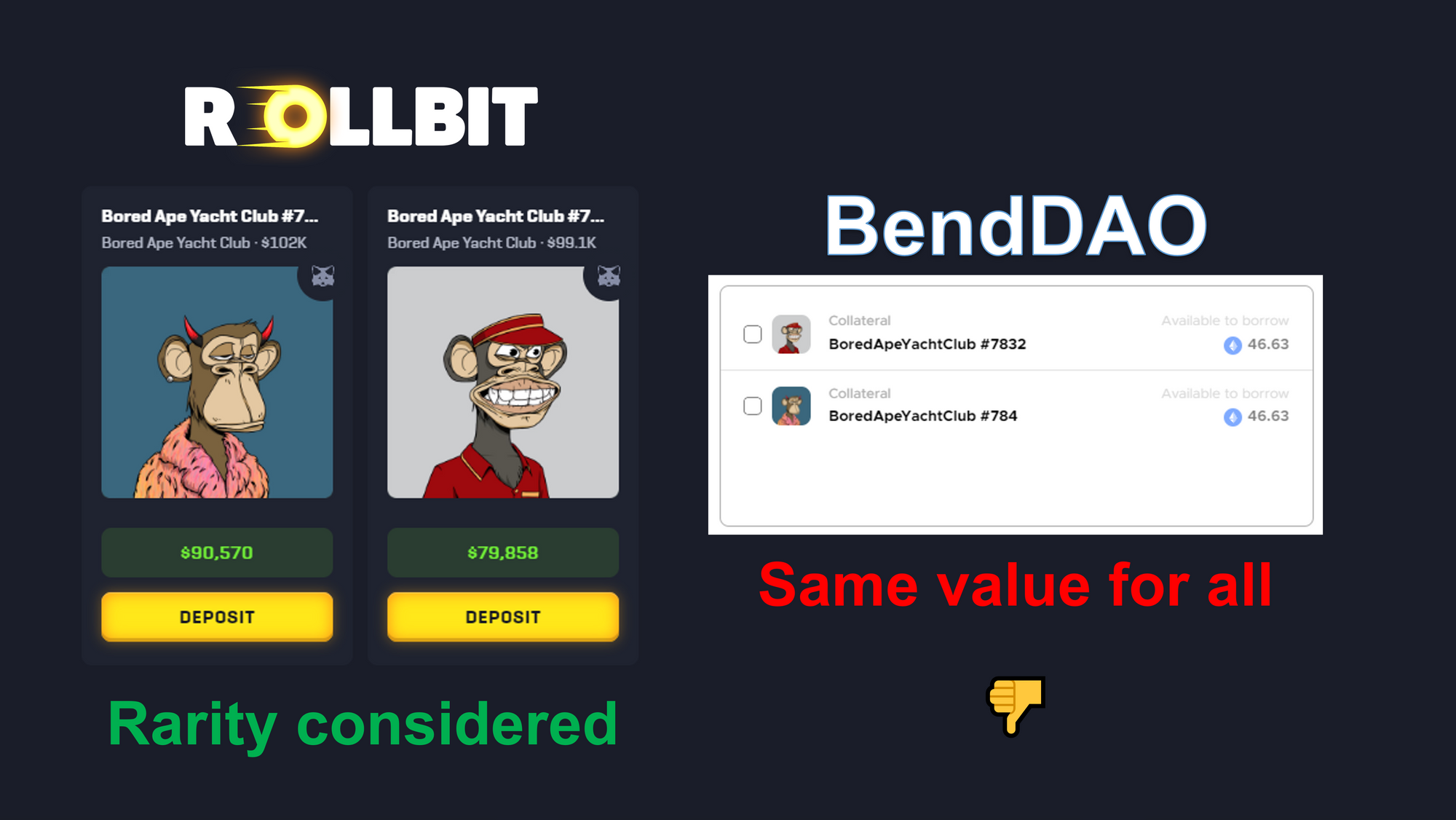 What will Rollbit offer me for my NFTs?
We've made the process of checking this super easy!
Head over to the NFT Loans page
Click 'Connect MetaMask Wallet'.
Click 'Sign' for the signature request generated by MetaMask (this is just to prove you own the wallet and doesn't give Rollbit any special powers!)
Your eligible NFTs will be shown before your eyes!
Any questions?
If you'd like to learn more, be sure to join our Discord or reach out to our 24/7 live support team!
---
-The Rollbit Team