Sidebets: Bet on the outcome of Slot spins 🎰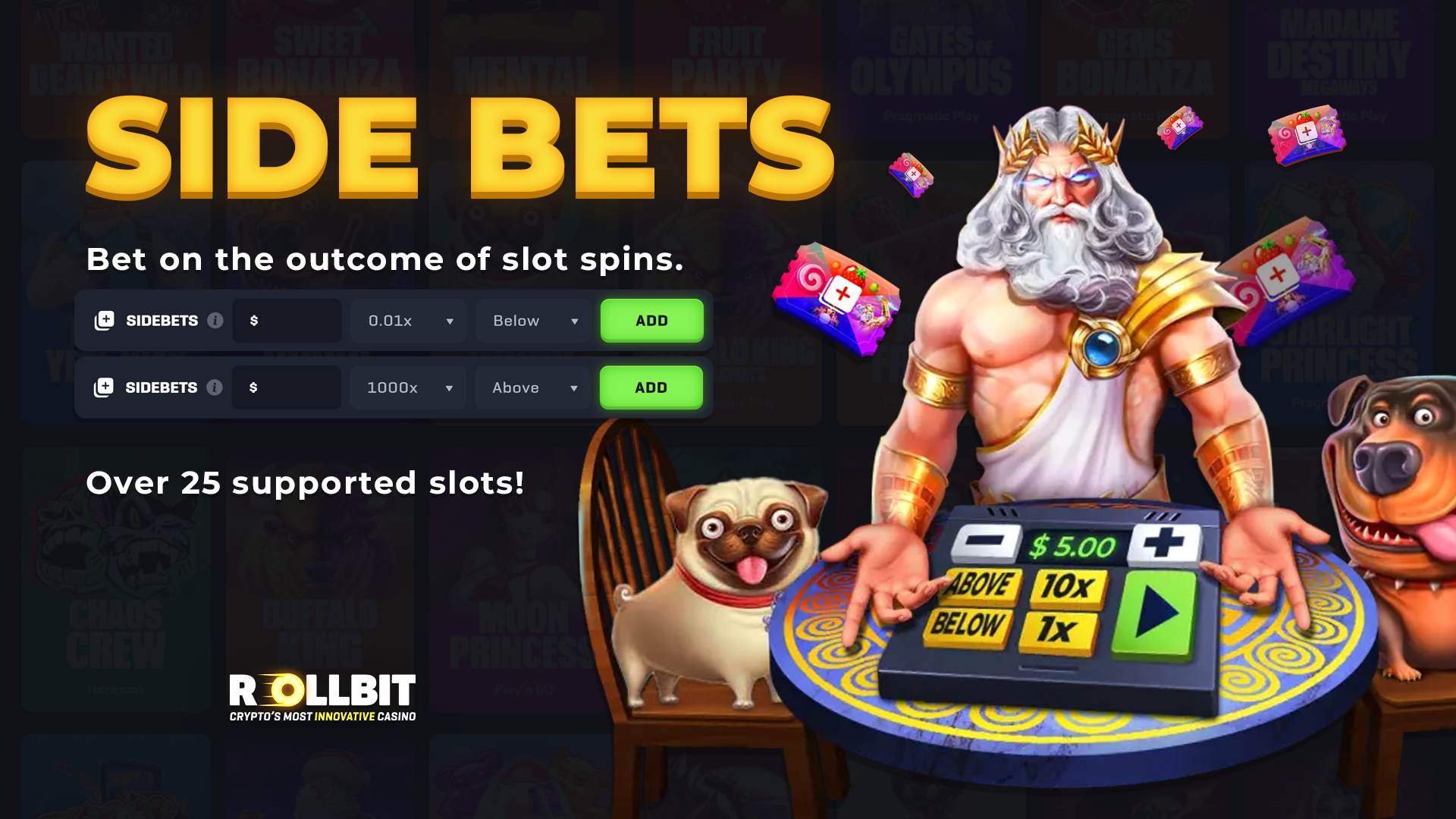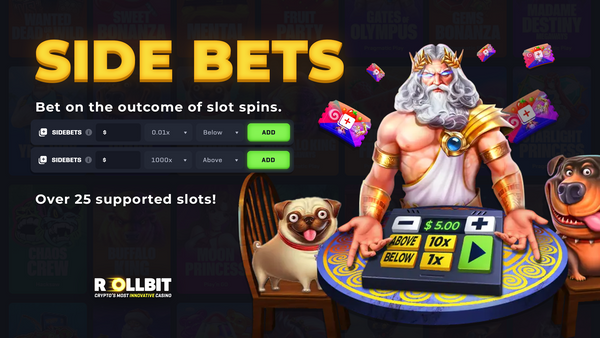 Never before have you been able to place bets on the outcome of a slot spin... until now! In this blog post, we'll break down the brand new feature that Rollbit has been working on.
‌‌What are sidebets?
The newest feature that Rollbit has been working on, Sidebets will allow users to wager balance alongside the underlying bets themselves on whether or not they think the spin will payout above or below specific multipliers. ‌‌The Sidebet is a seperate bet placed at the start of each round - the sidebet amount will be taken alongside every eligible spin.
🤨
Users are able to bet on whether each slot spin or bonus will pay above or below the following multipliers: 0.01×,0.2×,0.5×,1×,10×,20×,50×,100×,500×,1000×
How do Sidebets work?

Before spinning on any of the allowed slots, users can select the amount of balance they want to place on the Sidebet, the multiplier they want, and whether they want their spin to pay above or below the specified multiplier! ‌‌Then once they click the 'Add' button, this Sidebet will be applied for all eligible game rounds until it is disabled or deleted.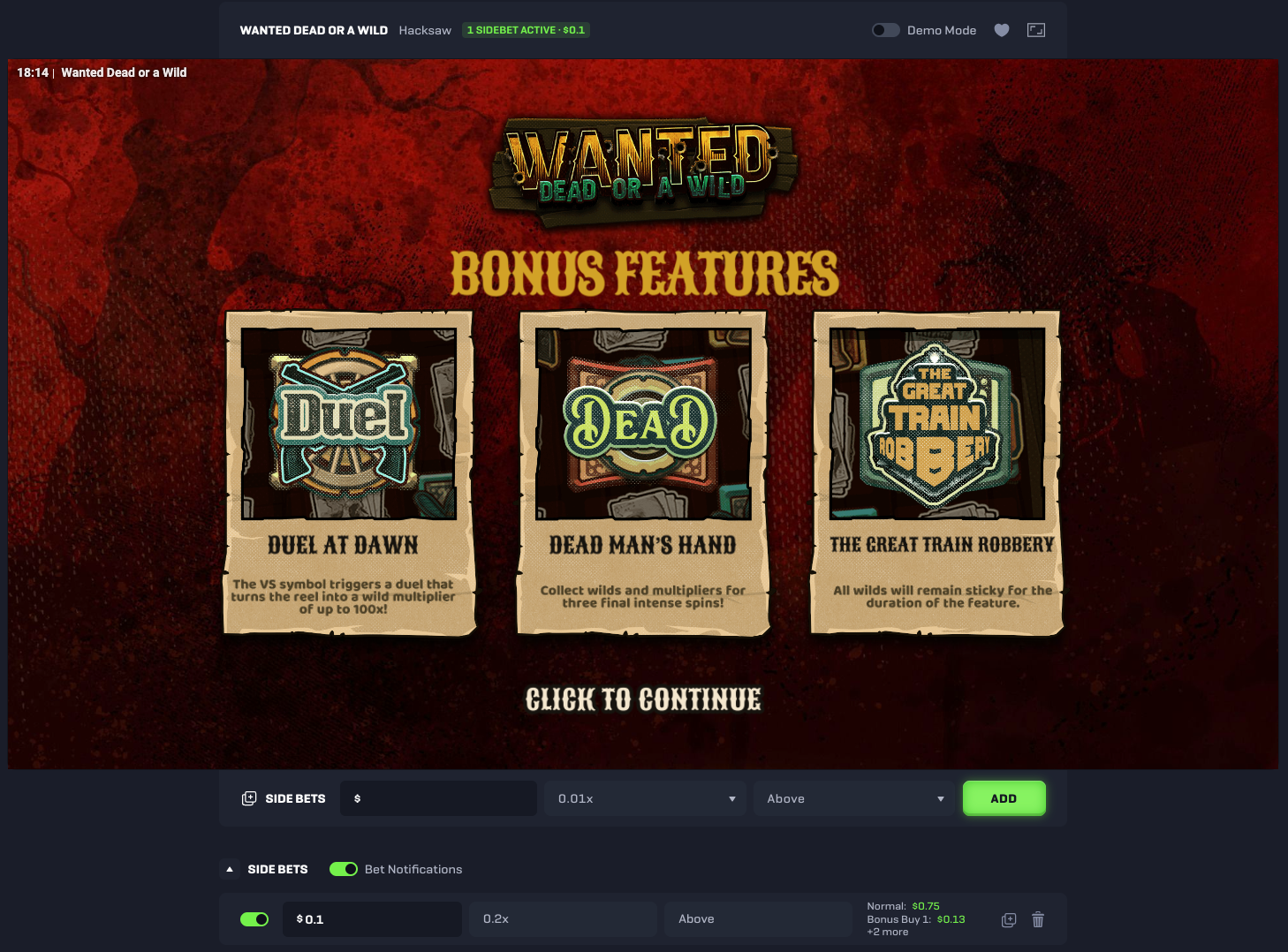 All active Sidebets are shown beneath the slot, as well as a notice at the top saying how many Sidebets are active. This notice will change during the spin to notify users of how many of the Sidebets are in play for that specific game round. In the case of the Sidebet being a winner, the notice will change to '1 Sidebet won'.
For each slot, the payout that a Sidebet offers for each multiplier varies. For example, a $1 Sidebet on Sweet Bonanza paying over 10x would pay $88.72 however on Wanted Dead Or A Wild, that same $1 Sidebet would pay $95! ‌‌‌‌Users can also use Sidebets on Bonus Buys, however keep in mind, the multipliers are based on your bet amount and the total payout, not the base-bet size. ‌‌For example: Purchasing a $20 Bonus Buy and it returning $40 would count as a 2× multiplier on the users bet.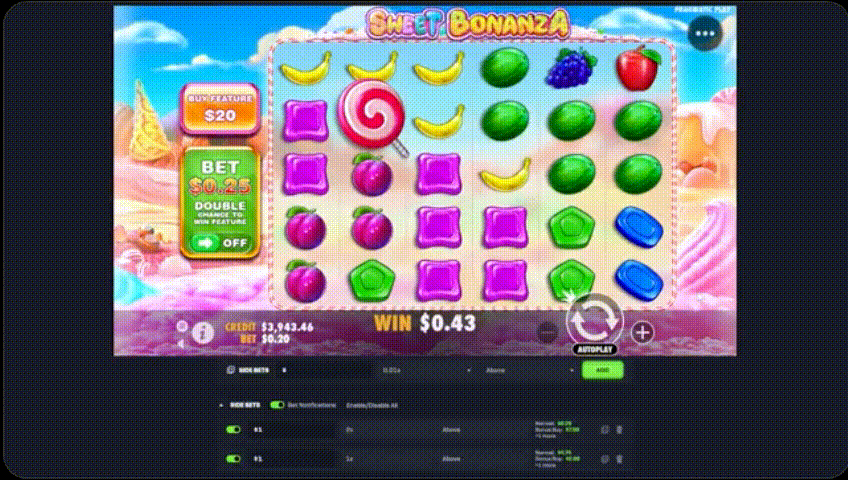 Showing of notification of Sidebet winning
‌‌Bet sizes:
For certain Sidebets, there are limits on what size bets you can place in the game round. For higher Sidebets, it is likely there will be a restriction on the spin size for each game round.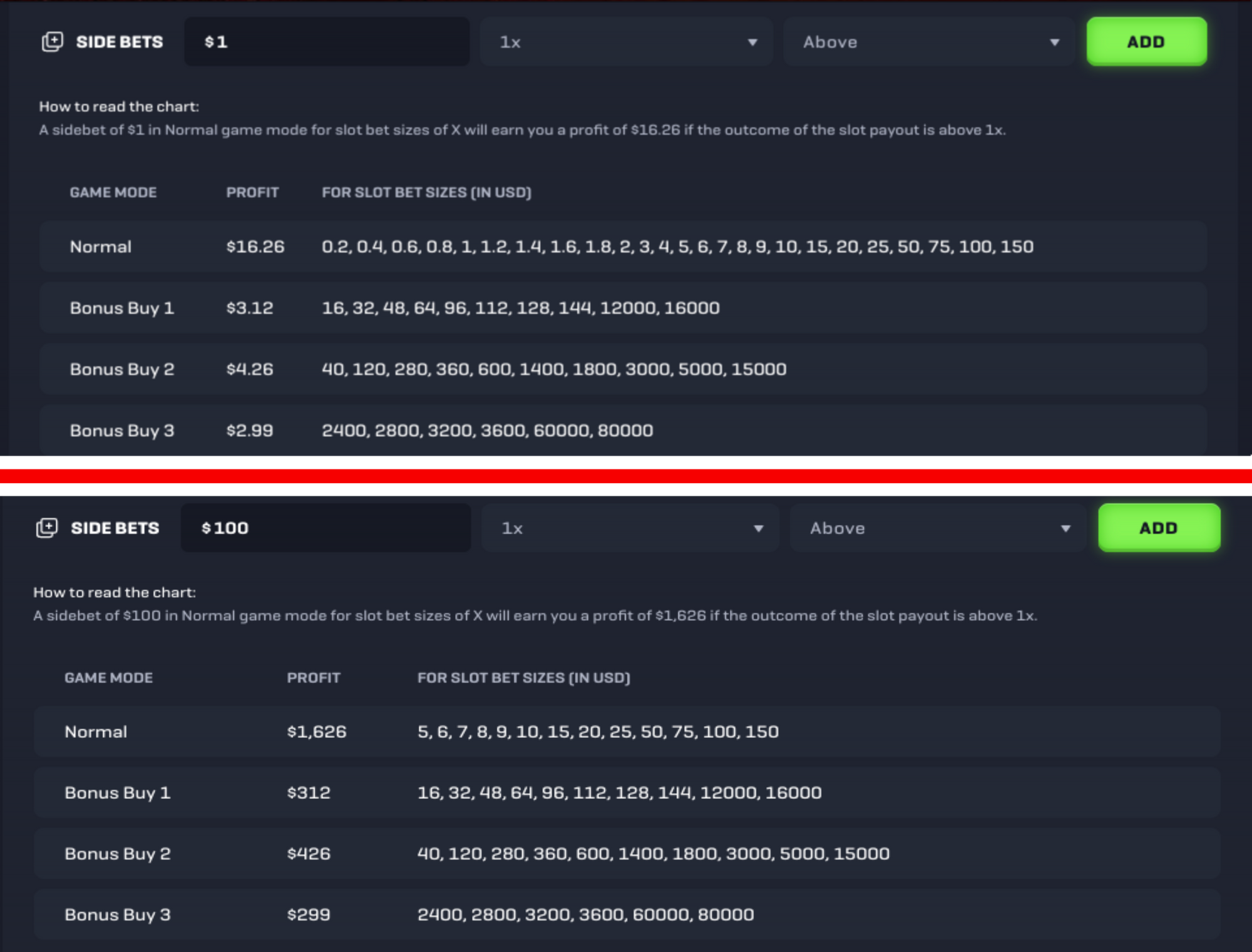 The difference in valid bet sizes for different Sidebet amounts!
There may also be restrictions on the minimum Bonus Buy amounts a user can place a Sidebet on. For example, on Fruit Party the minimum valid Bonus Buy is $1,200. This restriction is due to overlapping in bet sizes between a base game spin, and a bonus buy round.
🤫
It may be possible in the future for smaller bonus buys to be allowed!
Frequently Asked Questions:
"Can I place a Sidebet on any game?"‌‌‌‌
Currently Sidebets are only available on a handful of games. All games can be found here! We'll continue to support more games for Sidebets in the future.
"My Sidebet won, how do I claim my winnings?"
Any winnings will be automatically credited to the users account at the end of the game round. Balances within a slot may not automatically update so the user may need to refresh the page or simply spin the slot again to see their balance change!

"Are Sidebets a one-time fee?"
No, the Sidebet amount is taken at the start of each eligible game round until it is disabled.

"What do the different game modes mean?"
Normal: Base game spin
Normal x2: Base game spin with double chance
Bonus Buy: Bonus/feature round purchase
Bonus Buys 1,2,3: Games with multiple Bonus modes (often volatility-related), will show like this. Users should compare the bet sizes available within each of the bonus mode to understand which number correlates to which bonus.
Example:
Wanted Dead Or A Wild has 'Bonus Buy 1', 'Bonus Buy 2' and 'Bonus Buy 3' options.
Bonus buy 1 would be for 'The Great Train Robbery' bonus
Bonus buy 2 would be for 'Duel At Dawn' bonus
Bonus buy 3 would be for 'Dead Man's Hand' bonus‌
Want a simple rundown on Sidebets?
Check out TwitterGuy's thread here!
---
-The Rollbit Team!