What are the Best Ethereum Wallets?
In this article, we'll introduce you to some of the best Ethereum wallets.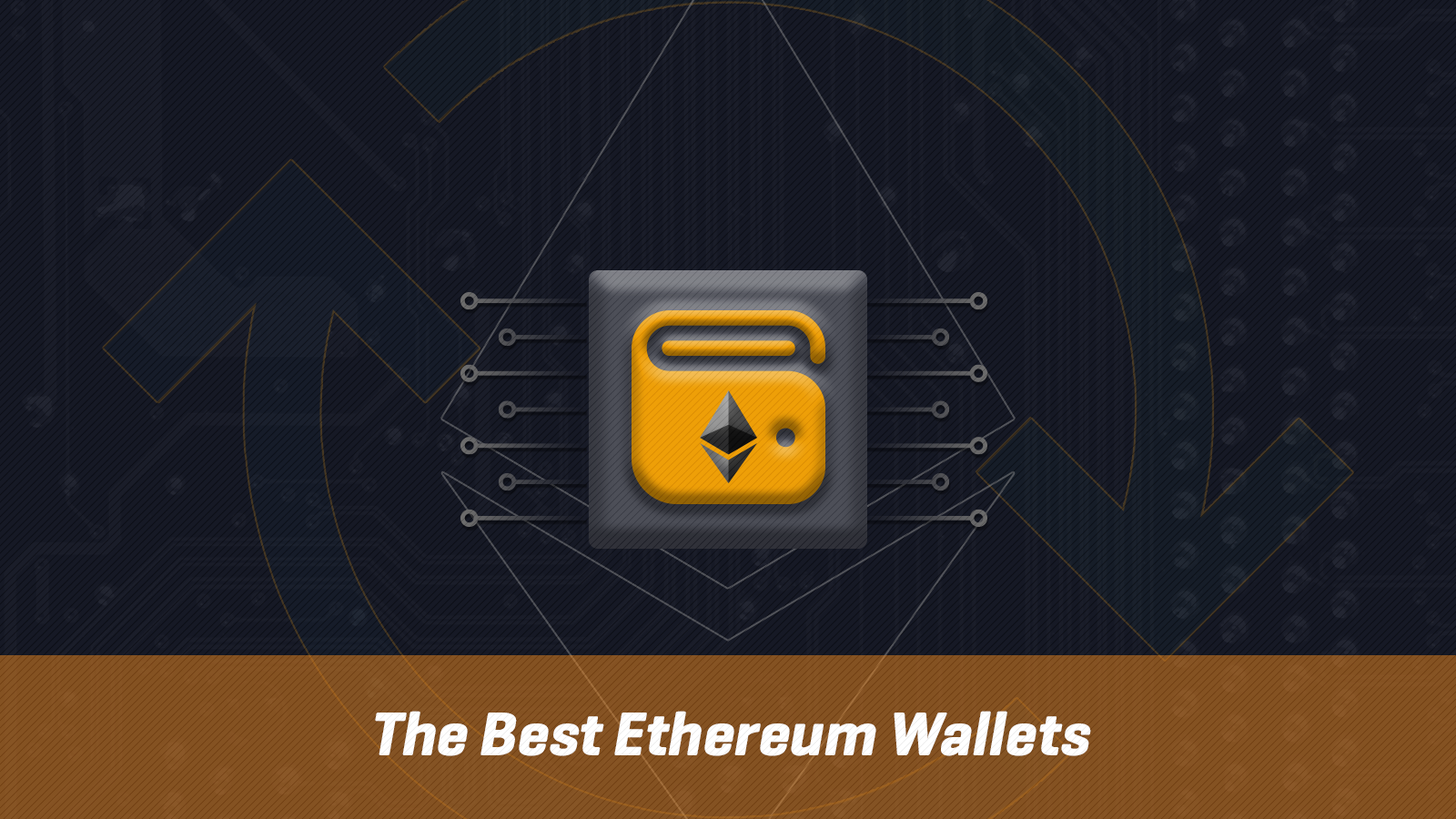 With Ethereum's ether (ETH) rapid increase in value, it's a good time to learn about how to secure your crypto-assets for yourself if you haven't done so already. If you win big on Rollbit and you want to withdraw your ETH, it's useful to know which wallets are reliable, have an excellent reputation and plenty of features.
Unless you control the private keys to your coins, they're not technically yours. So it's a good idea to take custody of any cryptocurrencies you plan to HODL for the long-term and to bank your profits from betting.
As you may know already, cryptocurrencies are based on public-private key cryptography. Something called a private key is generated and can be used to create a public key, where the cryptography involved ensures that we can only derive a public key from the corresponding private key (and not the other way around!). A part of the public key is then used to create your address, which you can then give out to people so they can send you ETH.
Only the private key is required to spend funds from an address, so it must be kept secret (otherwise whoever knows it can also spend the funds held in that address). Most wallets give you a seed phrase, which is essentially equivalent to your private key, that you must write somewhere and keep safe. A seed phrase is a list usually containing 12 or 24 words: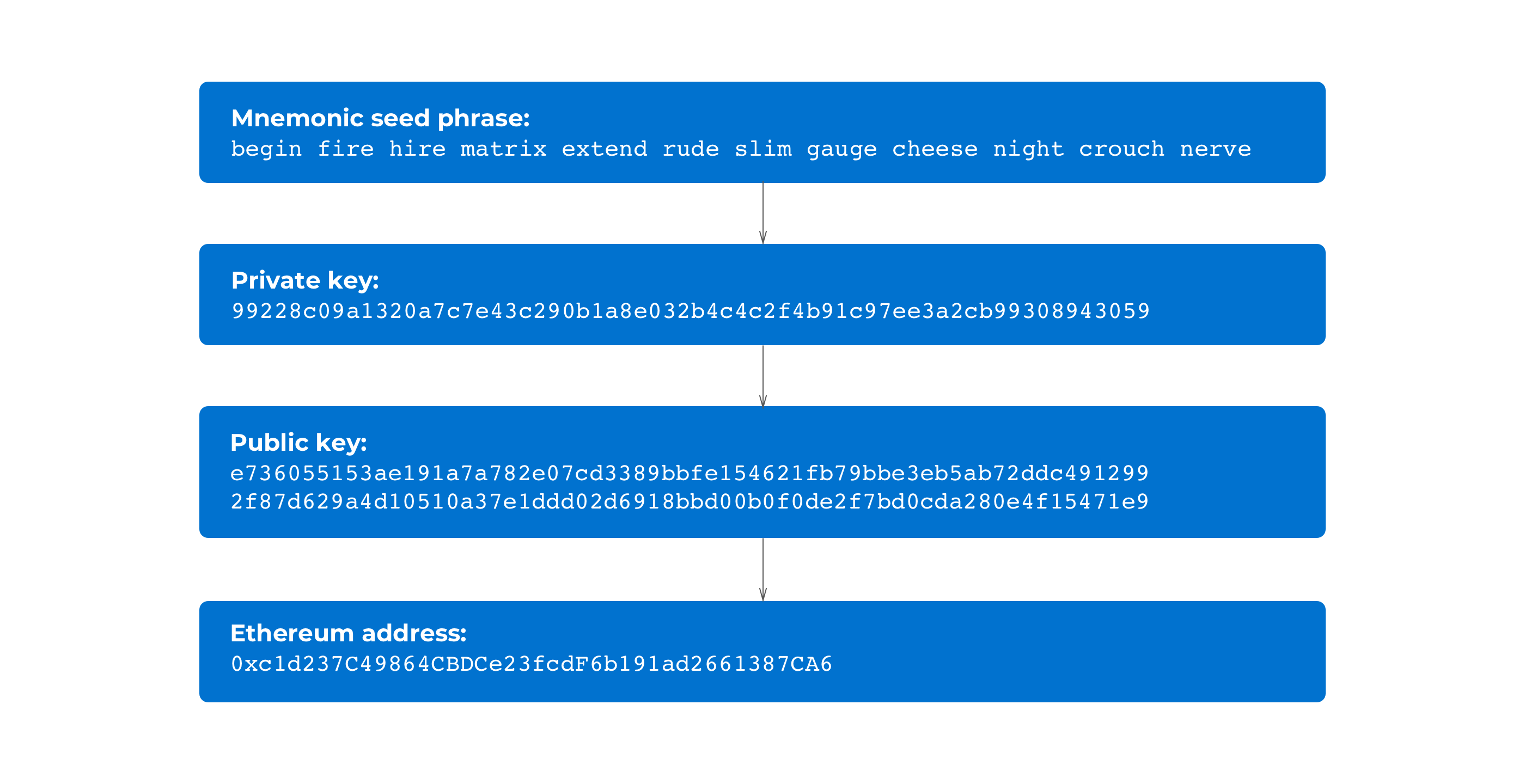 Source: Consensys.
You can get creative in how you safeguard your seed phrase. You could split up the list of words into 3 or 4 parts and store them in different locations, encrypt the seed phrase, and/or even engrave the seed phrase into some metal instead of writing it on paper so it's more durable. After doing this, the seed phrase in a safe at home or another secure location.
Whatever you do, do not destroy or lose the mnemonic seed phrase, as it's the only way you'll be able to recover your wallet!
It's also important to choose a wallet suited to your needs with a range of features including access to Decentralized Finance (DeFi), various security measures, portfolio tracking, and more. In this guide, we'll give you an overview of several options for storing your ETH to help you decide on which wallet to use.
Geth
Geth is an official Ethereum client, which is one of the most secure ways of storing Ether, and you have the option of validating every transaction on the blockchain for yourself.
However, there are some minimum requirements to run Geth on your device, which are listed below:
CPU with 2+ cores
4GB RAM
320 GB free storage space to sync the Mainnet
8 MBit/sec download Internet service
For optimal performance, it is recommended to download Geth on a device with fast CPU with 4 or more cores, 16GB+ RAM, fast SSD with at least 500GB free space and 25+ MBit/sec download Internet service.
You can also run a light node with Geth if you have a device with low bandwidth or memory. The requirements are much lower, as you will store less information (only the block headers and small state updates).
You can download the Geth client here!
Once you have downloaded Geth, you can start syncing the blockchain, and there are three options: fast, full, and light. The advantages of Geth include better security and more sovereignty, however, the initial block download may be too long for most users. Depending on your hardware and internet connection, it may take anywhere between 3-12 hours to fast sync an Ethereum node.
If you do not meet the requirements to run Geth or want a much easier and quicker way of setting up a wallet to store your ETH and Ethereum tokens, there are other types of wallets available, including:
Hardware wallets: such as Trezor,
Mobile wallets: such as Argent and Atomic Wallet,
Desktop wallets: such as Exodus, Guarda, and Gnosis Safe,
Web wallets: such as MetaMask and MyEtherWallet.
Hardware Wallets
Hardware wallets can store ETH (and other cryptocurrencies) securely, and are typically used for funds you intend to HODL for the long term. Since these wallets are not connected to the internet all the time (only when you want to make a transaction), they are less vulnerable to hacking and theft.
Trezor
Trezor is produced by the leading hardware wallet manufacturer SatoshiLabs, one of the first Bitcoin companies, which offers support for Ethereum and Ethereum-based assets.
To better manage your Ethereum or Ethereum-based assets, you can download the Trezor Suite: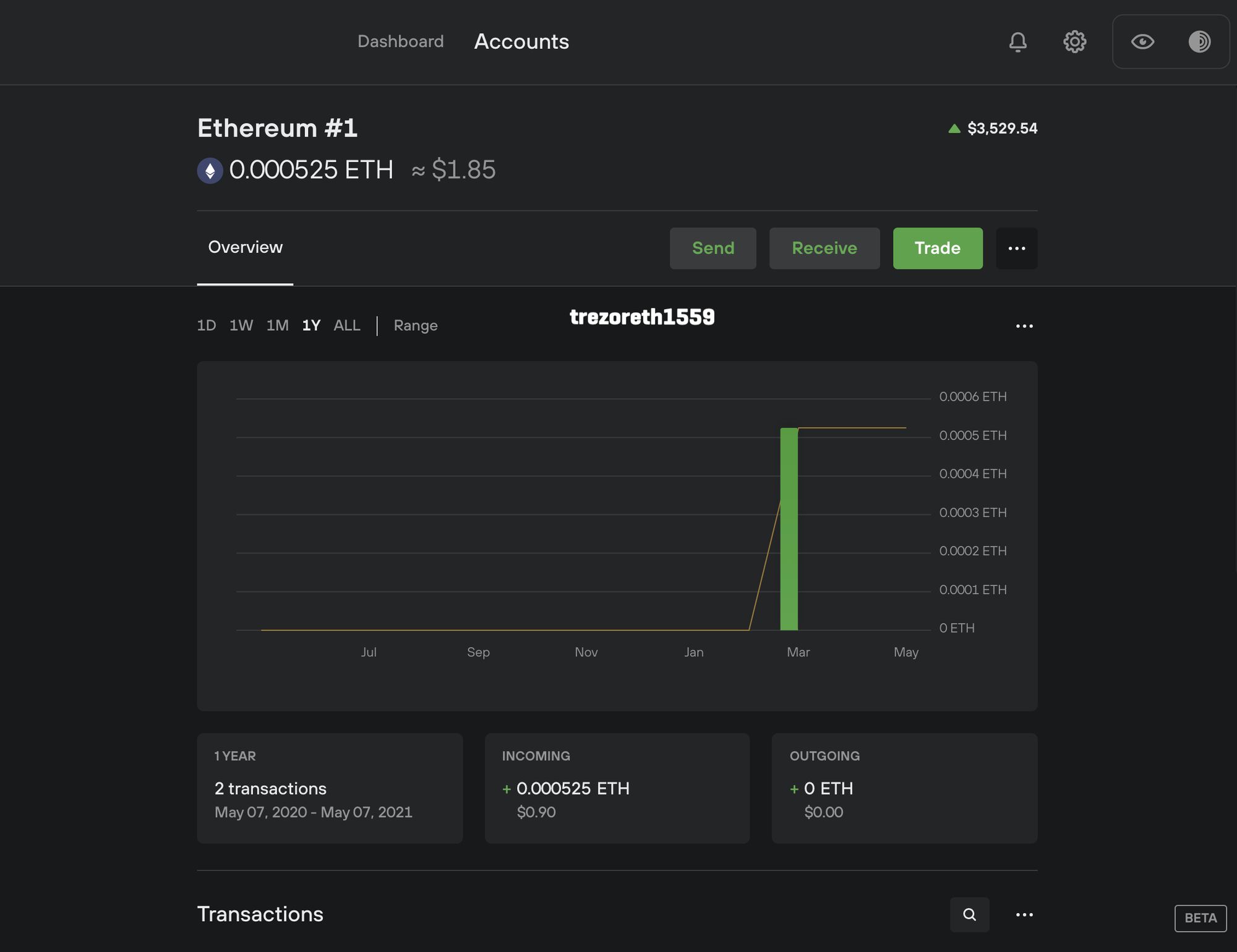 You can also access ETH through either your MyCrypto or MyEtherWallet web wallets via the hardware wallet device. The Trezor wallet for ETH is currently in beta (shown below):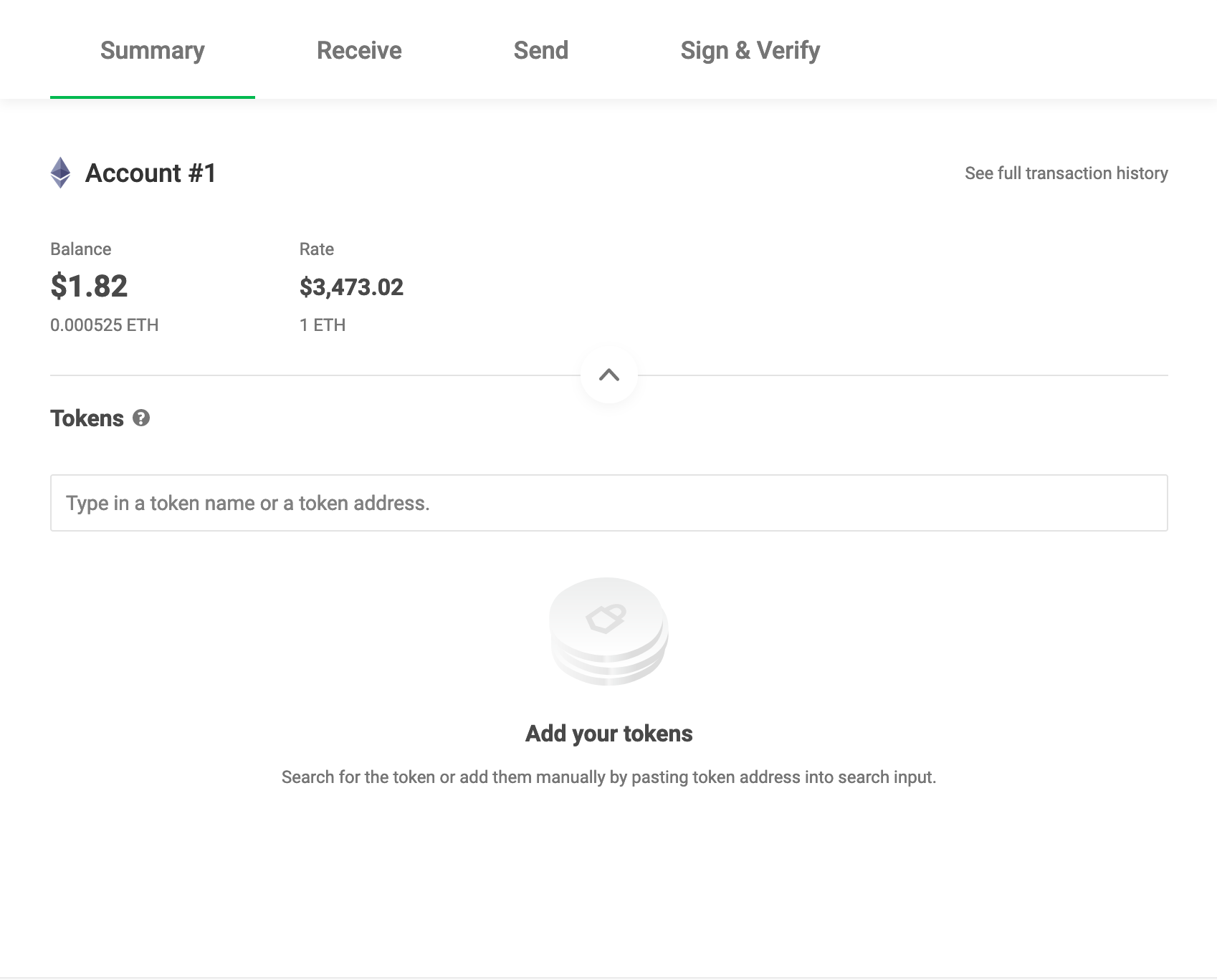 However, Trezor's hardware wallet is limited in its features, as you do not have access to DeFi services or the ability to browse Ethereum's Decentralized Applications (Dapps). This wallet is best used a vault for your digital assets that you want to HODL for the long term.
You can purchase a Trezor for yourself via the official shop here!
Mobile Wallets
Some of the most popular mobile wallets for Ethereum are detailed below:
Argent
Argent (available on the App Store and the Google Play Store) is an open source, mobile smart contract wallet with support for multisignature transactions. Multisignature addresses require more than one signature from different private keys to include the funds in a transaction, which provides greater security.
There's a onetime fee to create the wallet, which is taken from your first ETH deposit. You'll also need to provide a mobile number and email address, then create your own personalised '.argent.xyz' user name. Once you've set a passcode to protect your vault and created a wallet, you can buy larger quantities of ETH (over $2,000) as compared with most other mobile wallets.
Your vault, which is an Ethereum smart contract, is then set up which comes with a useful social recovery feature, plus you can interact with smart contracts on the Ethereum network. Just by depositing cryptocurrencies into Argent, you can earn interest on them with DeFi protocols such as Aave, Compound and Yearn:
By depositing cryptocurrencies into Argent, you can easily earn interest on them with DeFi protocols such as Aave, Compound, and Yearn: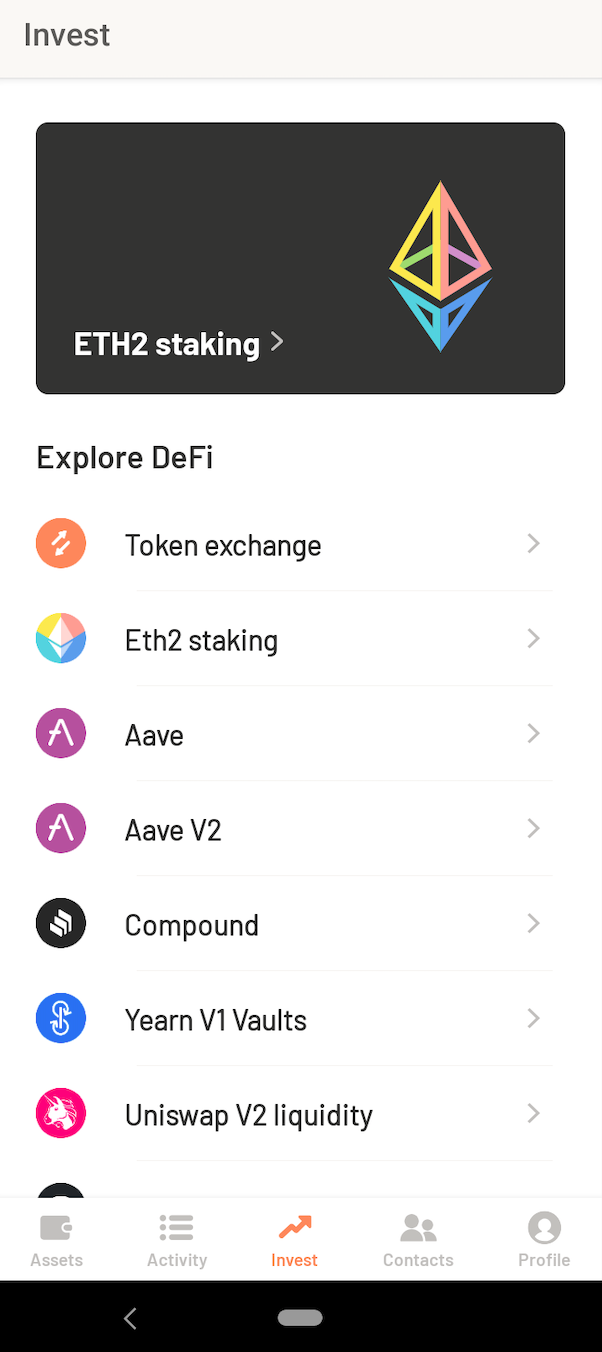 Another cool feature about the Argent wallet is that you can set 'guardians' (i.e., friends and family) that can help you recover your wallet in case you forget your password.
Get the Argent wallet here!
Atomic Wallet
The Atomic Wallet provides access to over 500 cryptocurrencies, including Ethereum and Ethereum tokens, and there's no need to verify your identity or provide sensitive personal information to create a wallet.
You are fully in control of your private keys, which are encrypted and stored locally on your device. The wallet can be restored with a 12-word seed phrase in case you lose your device.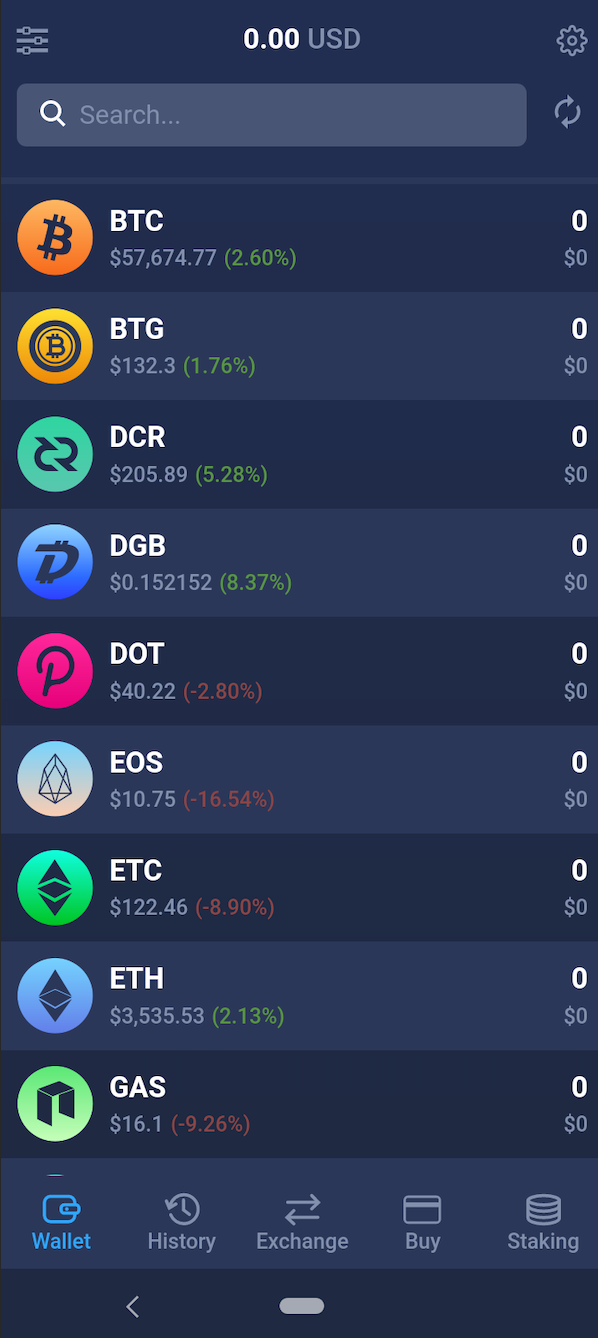 However, if you want to buy ETH through Atomic Wallet, you have to do it through a third-party provider and verify your identity. You can also stake 12 different tokens including Cardano (ADA), Tron (TRX), and Tezos (XTZ):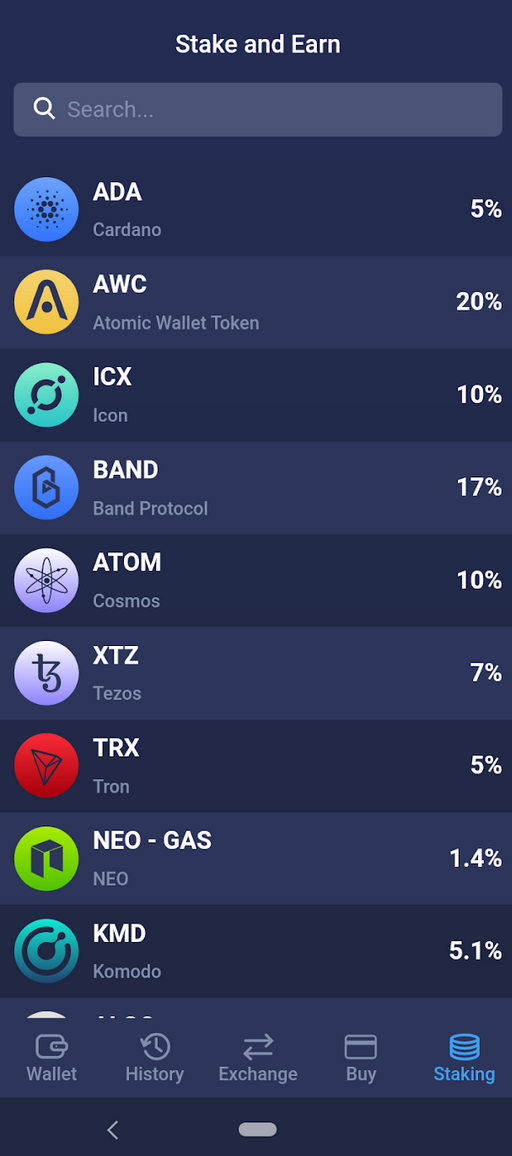 Get the Atomic Wallet for your mobile device on the Google Play Store or the Apple App Store.
Desktop Wallets
A couple of decent desktop wallets for Ethereum include:
Exodus
Exodus is a slick, easy-to-use desktop wallet built on open source components which supports Ethereum and ERC-20 tokens. The wallet is available across all operating systems.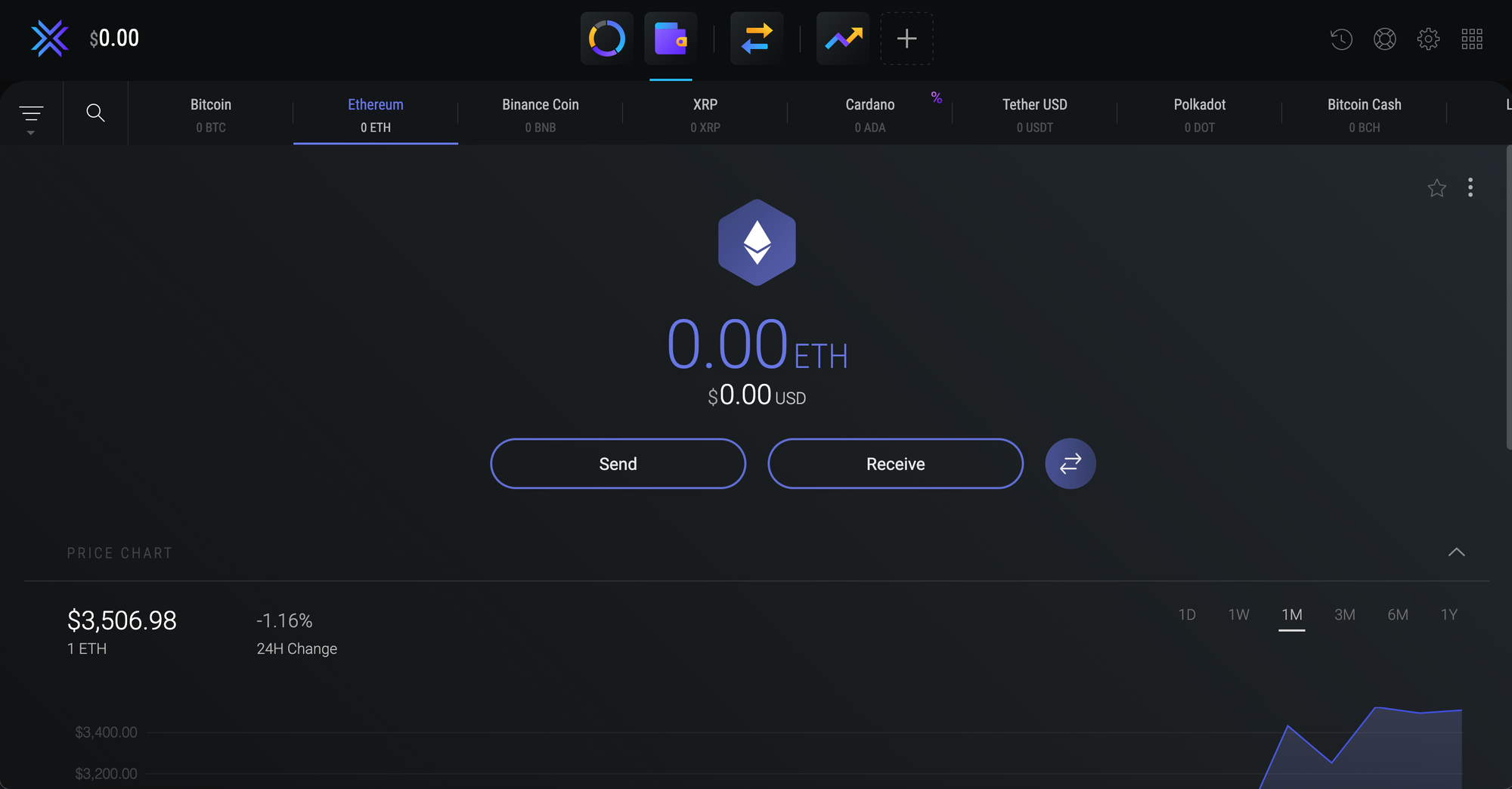 Some of the useful features of this wallet include the ability to swap cryptocurrencies within the wallet, track your portfolio, and earn staking rewards.
Rewards are only available for certain cryptocurrencies, such as Cardano (ADA) and VeChain (VET), but it does not support Ethereum 2.0 staking just yet. Similar to the Argent mobile wallet, Compound Finance is also integrated within the Exodus wallet as an add-on (which you have to download):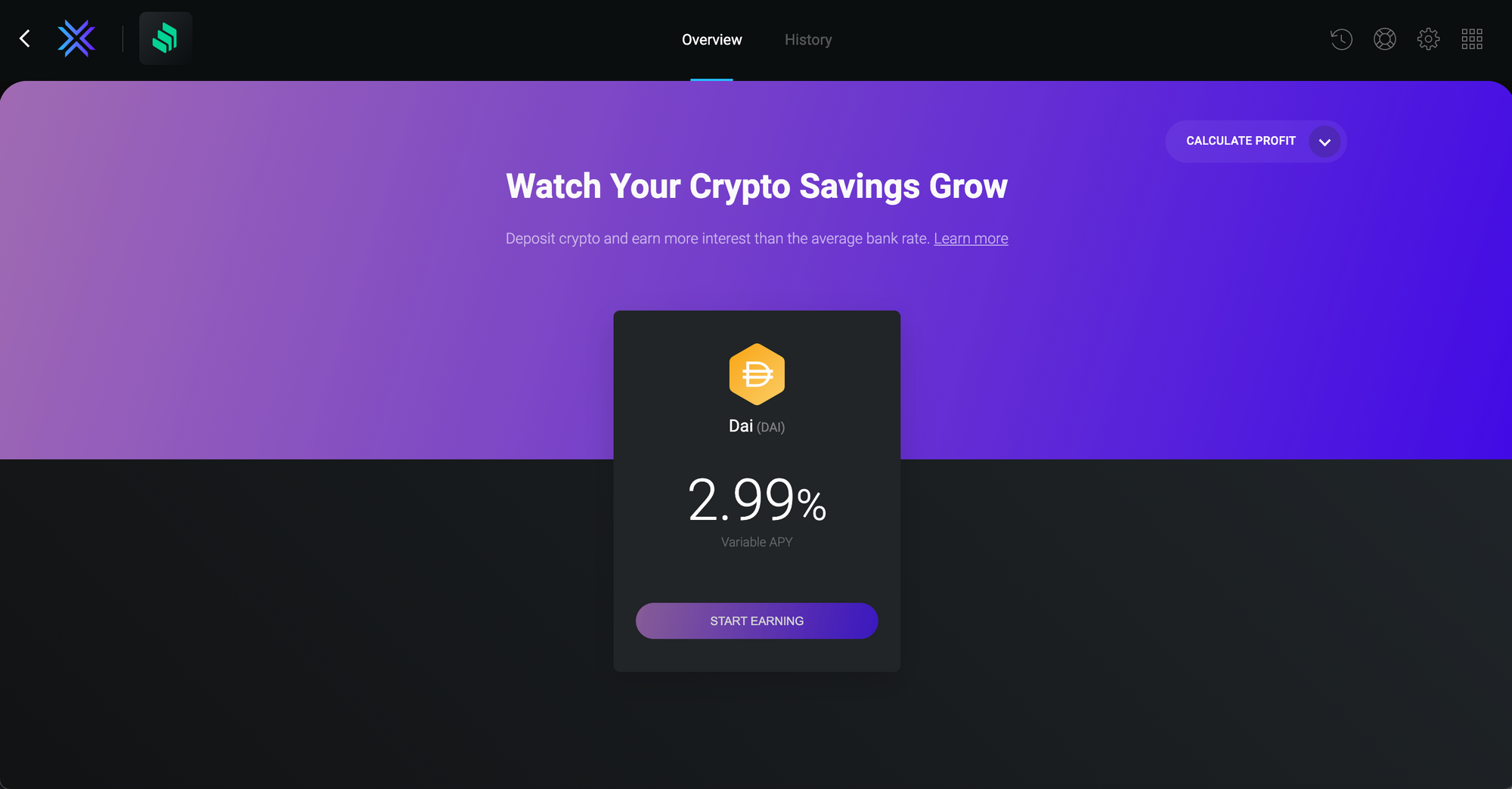 For greater security, you can also connect your Trezor hardware wallet device to Exodus, and set an auto-lock so that the wallet locks automatically after a specified duration.
Download the Exodus wallet for your desktop here!
Guarda
Guarda is an open source, non-custodial desktop wallet that supports Ethereum, Ethereum-based assets and Ethereum 2.0 staking (with an annual yield of approximately 7.24% at the time of writing):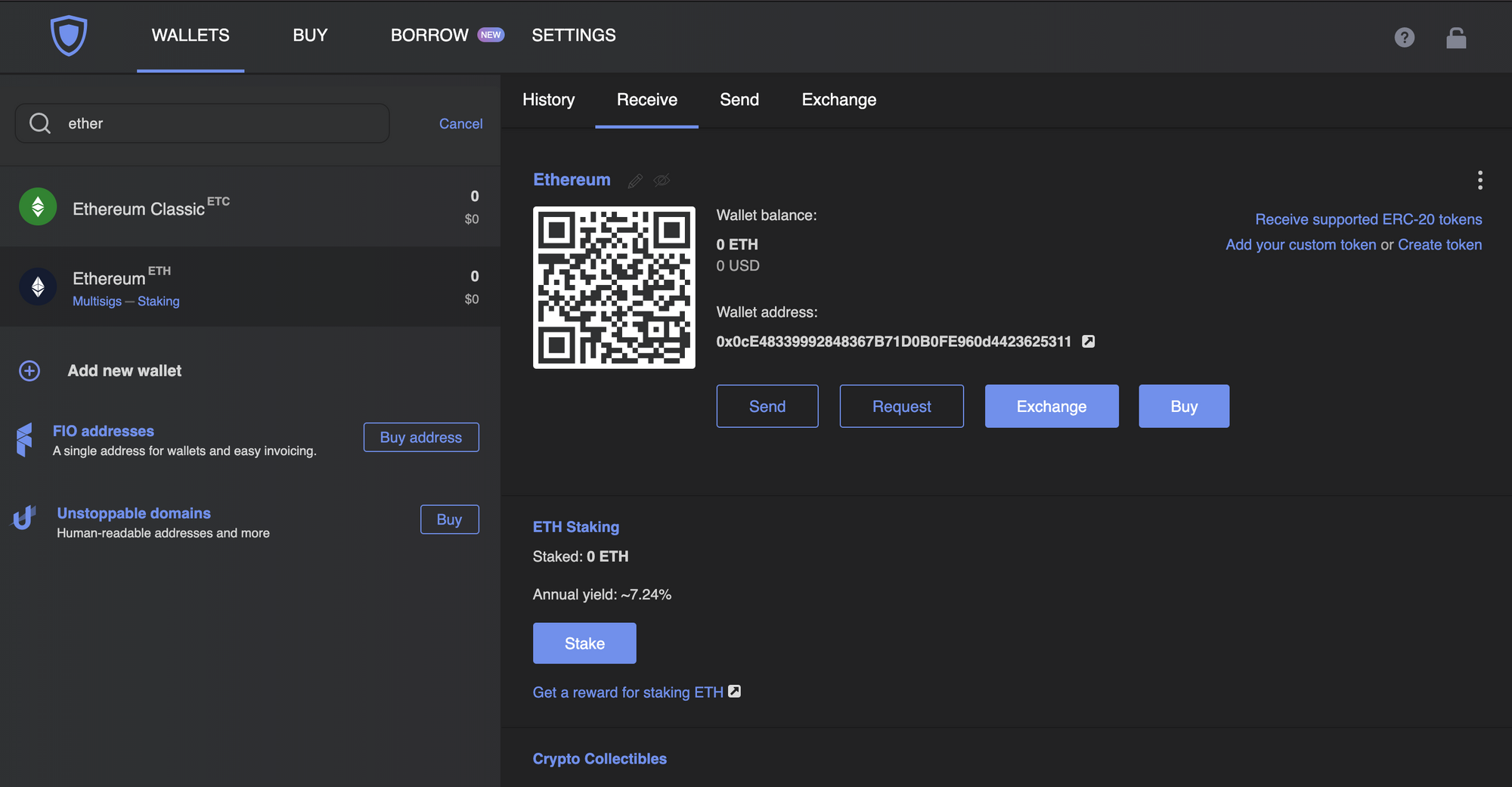 Instead of securing your wallet with a seed phrase, you'll have to download an encrypted backup of your Guarda wallet file in case you lose access to your device. So it's important to keep your password safe, as you can use it to restore your wallet on another device (including mobiles).
You can also set up multisignature addresses, which provide better security since more than one signature will be required to transfer any funds held in this address. Other security features offered by Guarda include a password specifically for sending transactions and a session timeout that locks your wallet after 15 minutes of inactivity.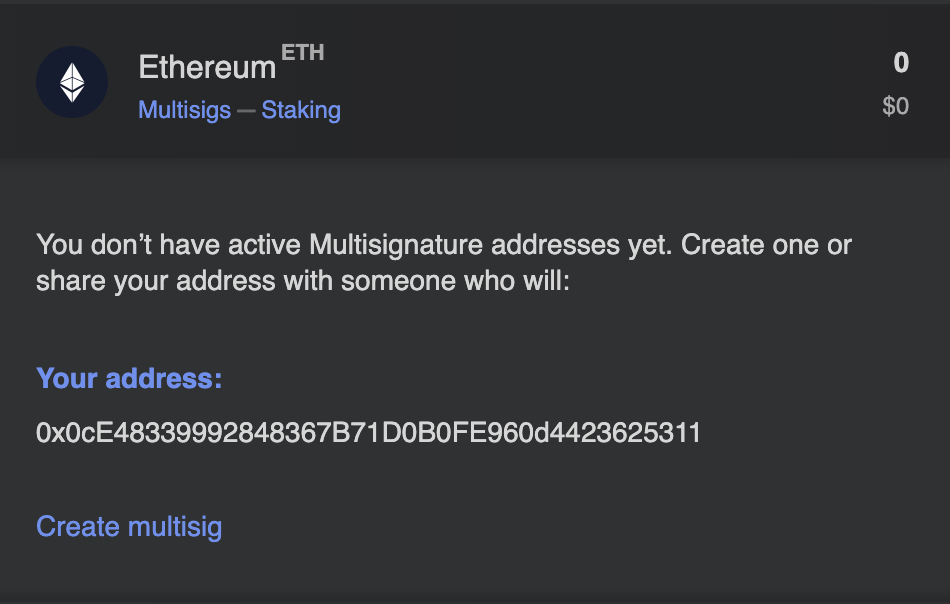 You can also buy cryptocurrency through the Guarda wallet using a debit/credit card and there's even a service that enables you to borrow cryptocurrency, including instant crypto loans.
You can download the Guarda desktop wallet here!
Gnosis Safe
Gnosis Safe's desktop wallet, known as Safe Multisig, is one of the most popular open source Ethereum wallets, offering support for multisignature addresses, ERC-20 tokens built on Ethereum and ERC-721 assets (Non-Fungible Tokens).  
A standout feature of Safe Vault is gasless transactions, which is where multisignature transactions can be signed off-chain, saving you from spending ETH on network fees. As with other wallets in our list, you can access DeFi services to invest and manage your cryptocurrencies.
To create a safe, you have to connect with one of the wallets shown below: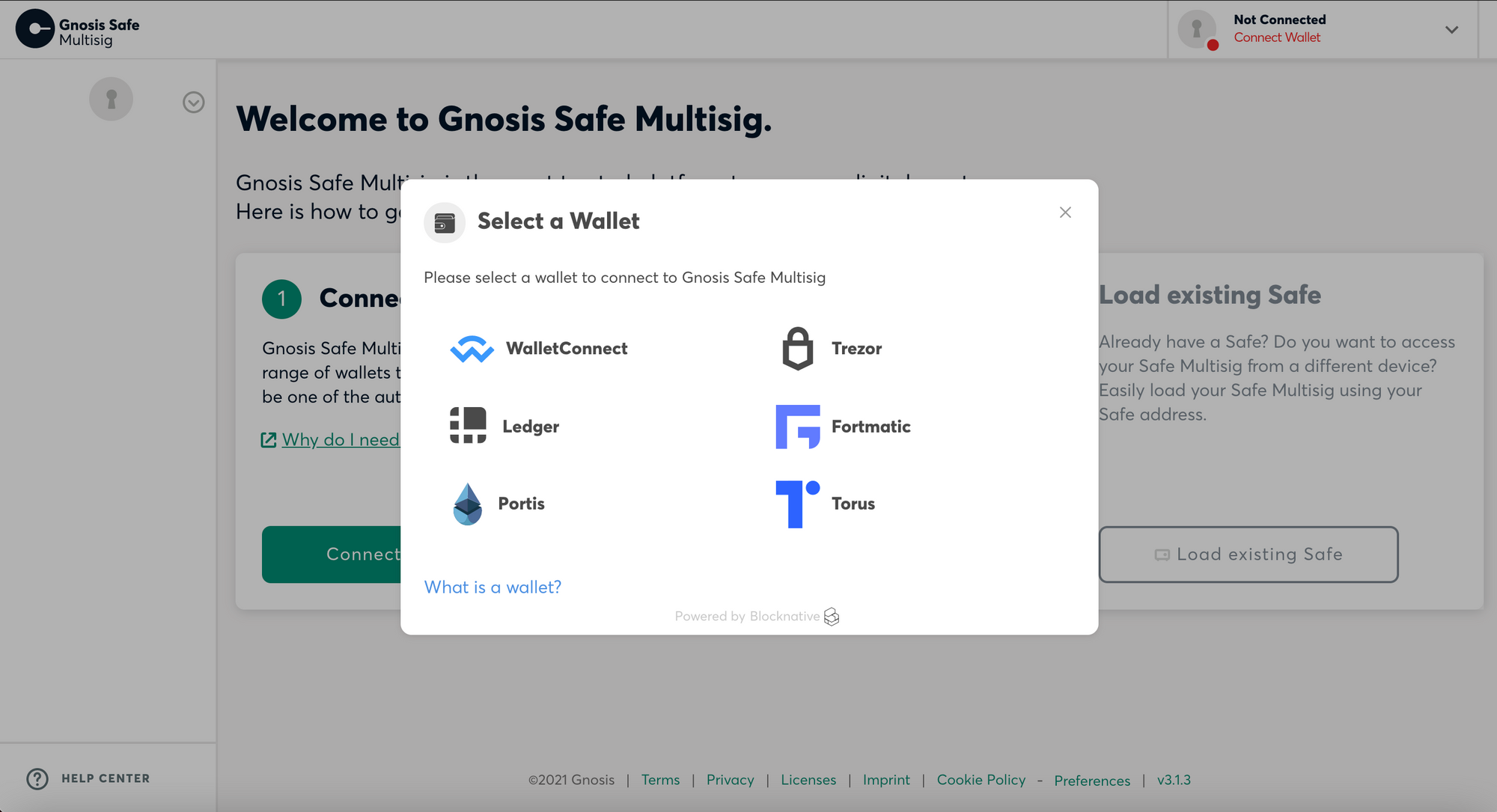 You can then export your Ethereum accounts, although a fee will be required to create a safe. Once the safe is set up, you can access it from a variety of devices, including the mobile app.
Download the Gnosis Safe Multisig wallet for your desktop here!
Web Wallets
The two most popular web wallets for Ethereum are MetaMask and MyEtherWallet:
MetaMask
MetaMask is the most popular browser wallet, which allows you to transfer ETH, interact with smart contracts, and manage ERC-20 tokens. You can also connect to networks other than the Ethereum Mainnet, such as Ethereum's testnets or the Layer 2 Matic Network: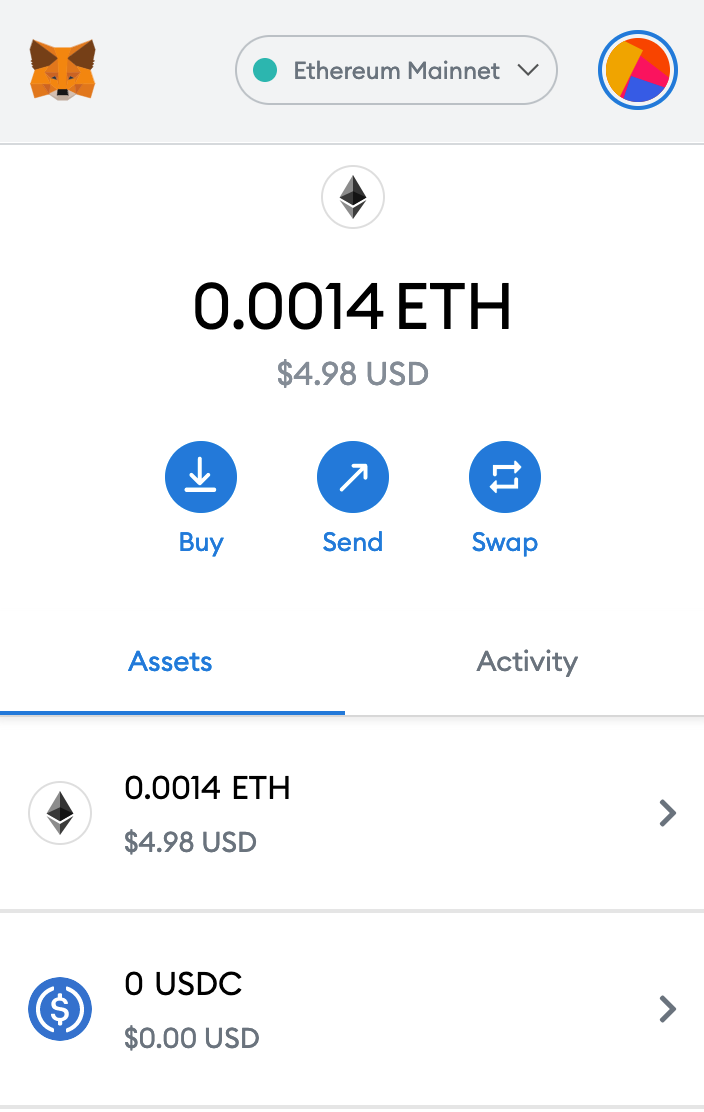 One of the great things about MetaMask is the ability to add any tokens using a contract address.
If you scroll to the bottom, click on 'Add Token', then go to 'Custom Token', then you can paste the contract address of the asset you want to add to MetaMask (it can be copied from EtherScan). MetaMask will automatically fetch the token symbol and the number of decimals. Click on 'Next' and then 'Add Token' to add this token to your wallet.
You can add MetaMask to your browser here!
MyEtherWallet
MyEtherWallet is another web wallet (also available on mobile devices) that is popular, allowing you to send/receive ETH, swap between Ethereum-based tokens, buy ETH with your credit card, interact/deploy contracts on Ethereum as well as manage your NFTs!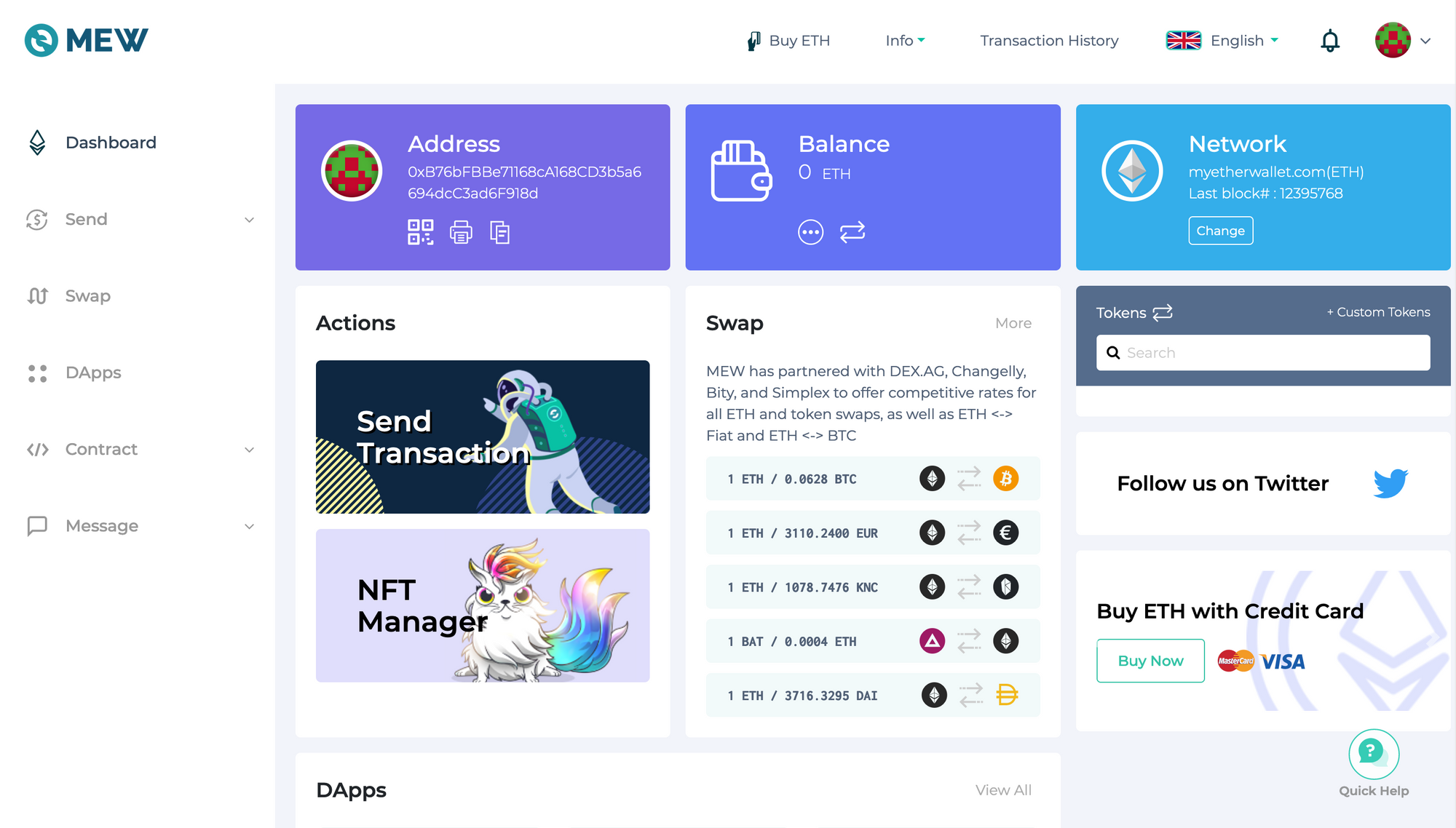 To create the online wallet, enter a strong password and download the keystore file. You must keep the file secure to ensure you can access your funds and you can use it to sign into the web wallet. Alternatively, you can use the mobile app or connect a hardware wallet like Trezor to access MyEthereumWallet through your browser.
Get MyEthereumWallet here.
What's your favourite Ethereum wallet?

Let us know by commenting in our Discord or via Twitter!
---
-The Rollbit Team