The Crypto Pulse November 23rd
Rollbit's weekly analysis and review of the news in Bitcoin, Ethereum, NFTs and cryptocurrency markets.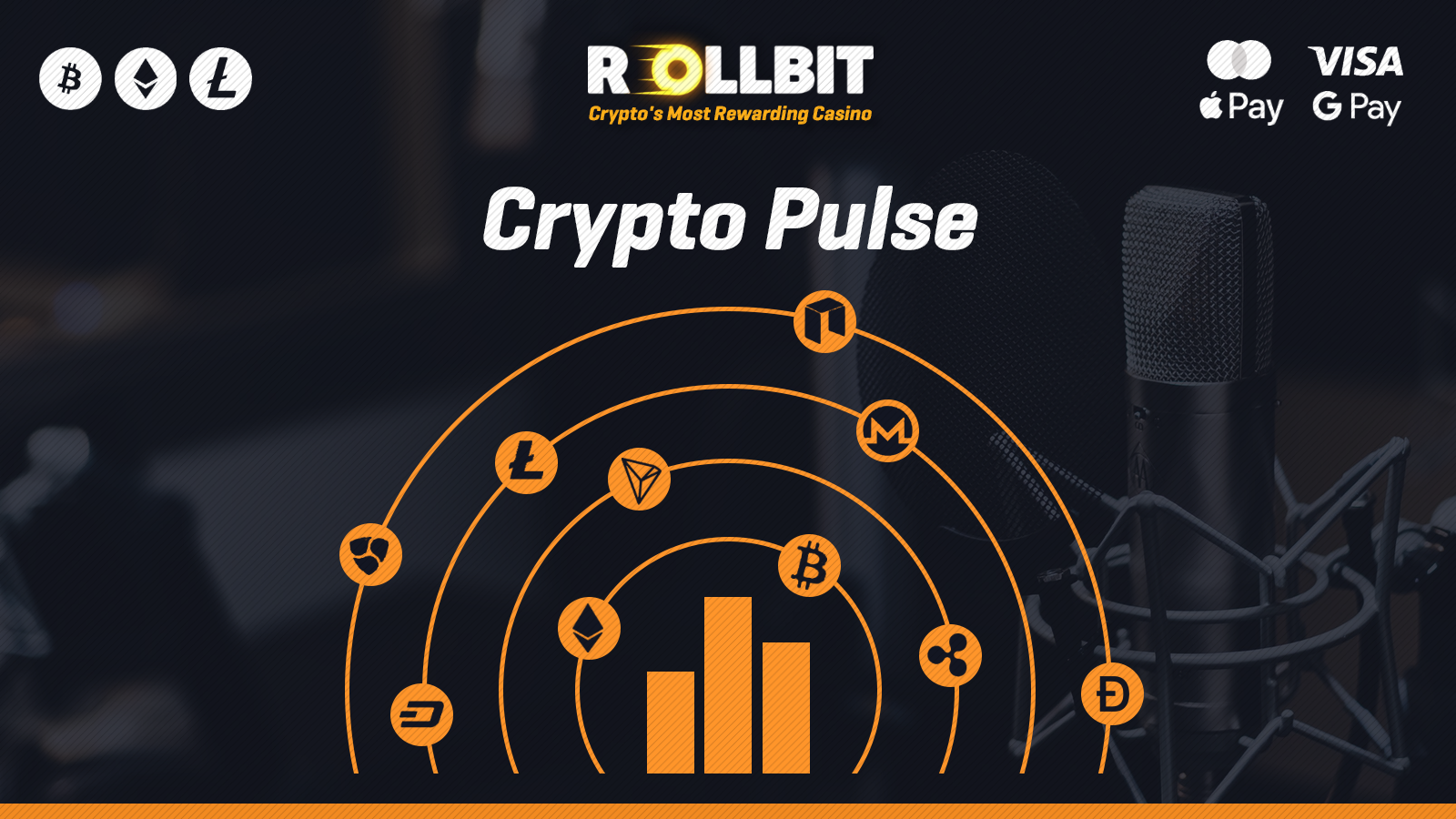 Rollbit's weekly analysis and review of the news in Bitcoin, Ethereum, NFTs and cryptocurrency markets.
News 📰
On November 21st, Avalanche's AVAX token reached an all-time high of $144.96 and burst into the top 10 cryptocurrencies by market cap, displacing DOGE. However, as of November 23rd, AVAX's price has fallen to $128 at the time of writing and has dropped one place in the rankings.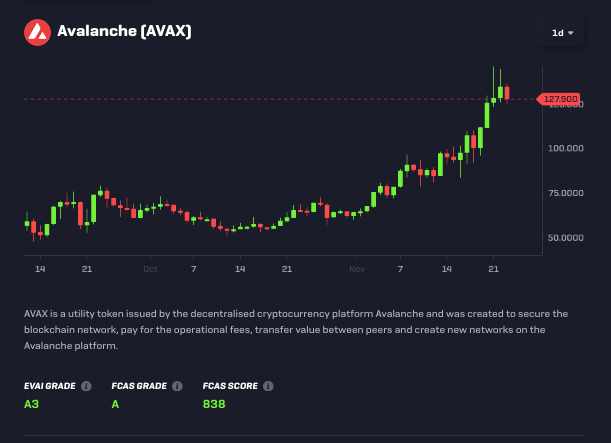 Some catalysts for the appreciation in AVAX include high gas fees on Ethereum and a deal between Ava Labs and Deloitte to use Avalanche's blockchain to support Deloitte's work with the U.S.'s Federal Emergency Management Agency (FEMA). A new 'Close As You Go' platform that will help streamline FEMA's processes for aggregating and validating federal disaster claims.
Gain exposure to AVAX via Rollbit's Crypto Portfolio feature!
Polygon network, a multi-faceted layer 2 scaling solution for Ethereum, announced the launch of Miden on November 16th.
Miden is a STARK-based, EVM-compatible scaling solution, as well as the early prototype release of its core component, the Miden Virtual Machine. The project is led by former Facebook's Core ZK Researcher, who previously led the development of Winterfell.
Trade Polygon's MATIC with up to x400 leverage on Rollbit!
TIME is rolling out a TIME 100 Companies list for the metaverse and weekly newsletter called 'Into the Metaverse' as tokens like SAND and MANA reach all-time highs.
TIME Magazine will hold ether (ETH) on its balance sheet for the first time as part of a deal with crypto investment firm Galaxy Digital to educate readers about the metaverse. TIME has also been holding BTC since April after a deal with Grayscale.
On November 18th, former Presidential candidate Hillary Clinton warned about Bitcoin and cryptocurrency's ability to undermine nation states at a video panel discussion from the Bloomberg New Economy Forum in Singapore.
About Bitcoin and cryptocurrency, Clinton stated, "What looks like a very interesting and somewhat exotic effort to literally mine new coins in order to trade with them has the potential for undermining currencies, for undermining the role of the dollar as the reserve currency, for destabilizing nations, perhaps starting with small ones but going much larger."
Following Quentin Tarantino's announcement to sell seven NFTs based on his 1994 film Pulp Fiction, Hollywood studio Miramax has sued the director as the offerings are claimed to violate the copyright it holds.
The Pulp Fiction NFTs, which were meant to go on sale next month, include the uncut first handwritten scripts of the popular film and exclusive custom commentary from Tarantino himself. The NFTs were built on the Secret Network, a privacy-focused blockchain, and each individual item contains secret content accessible only to the token's owner.
Tarantino's attorney, Bryan Freedman, said in a statement to NBC News, "Miramax is wrong, plain and simple. Quentin Tarantino's contract is clear: he has the right to sell NFTs of his hand-written script for Pulp Fiction and this ham-fisted attempt to prevent him from doing so will fail."
Other News
Market Analysis 📈📉
7-day Price Change
Data as of November 23rd, 19:00 UTC
Let's look at the Bitcoin chart.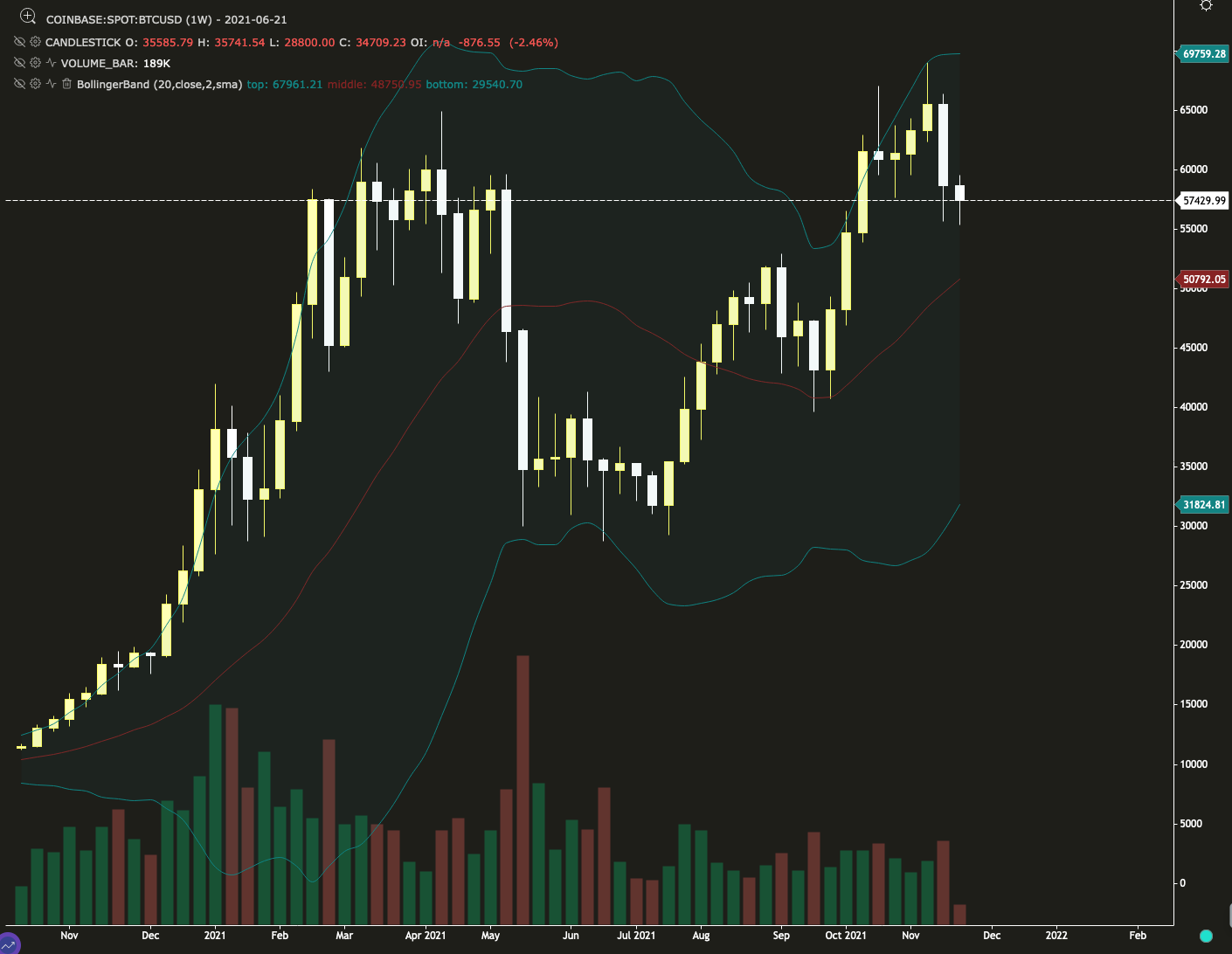 The weekly chart above shows that last week's close engulfed the previous three weeks of gains, suggesting there's a greater likelihood of the market going further south. The middle Bollinger Band currently provides support at $50,729.
The daily chart below shows that a bottom may be in for BTC-USD with the price trading near the lower Bollinger Band. The leading cryptocurrency has pushed to lows near $55,500 but has bounced from this level several times in recent days.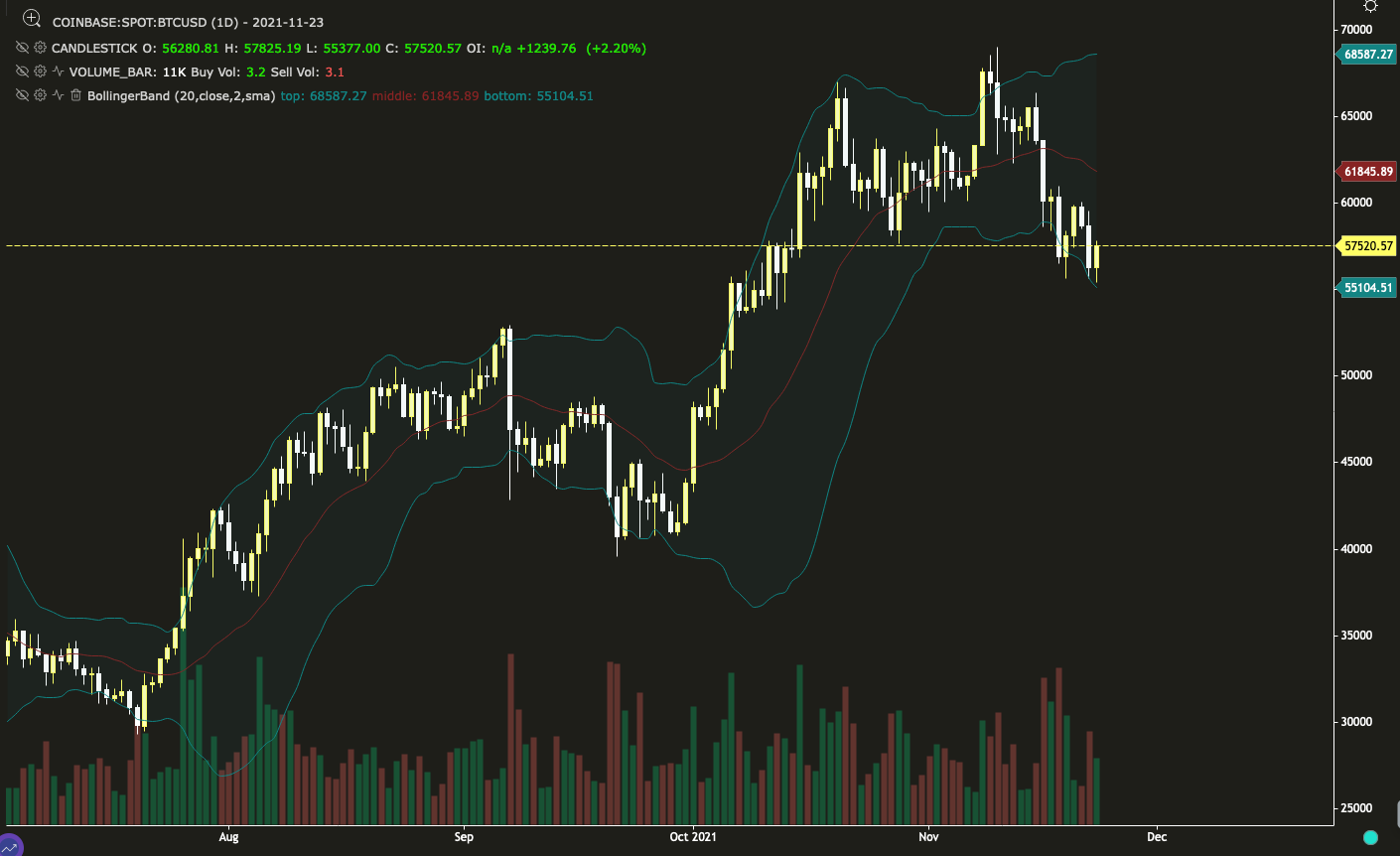 Therefore, as long as we don't see any new lows, we could see a short-term move towards the middle band, currently at $61,845. However, on the 4-hour timeframe, shown below, resistance is seen at the middle band ($57,826) and the upper Bollinger band ($60,313).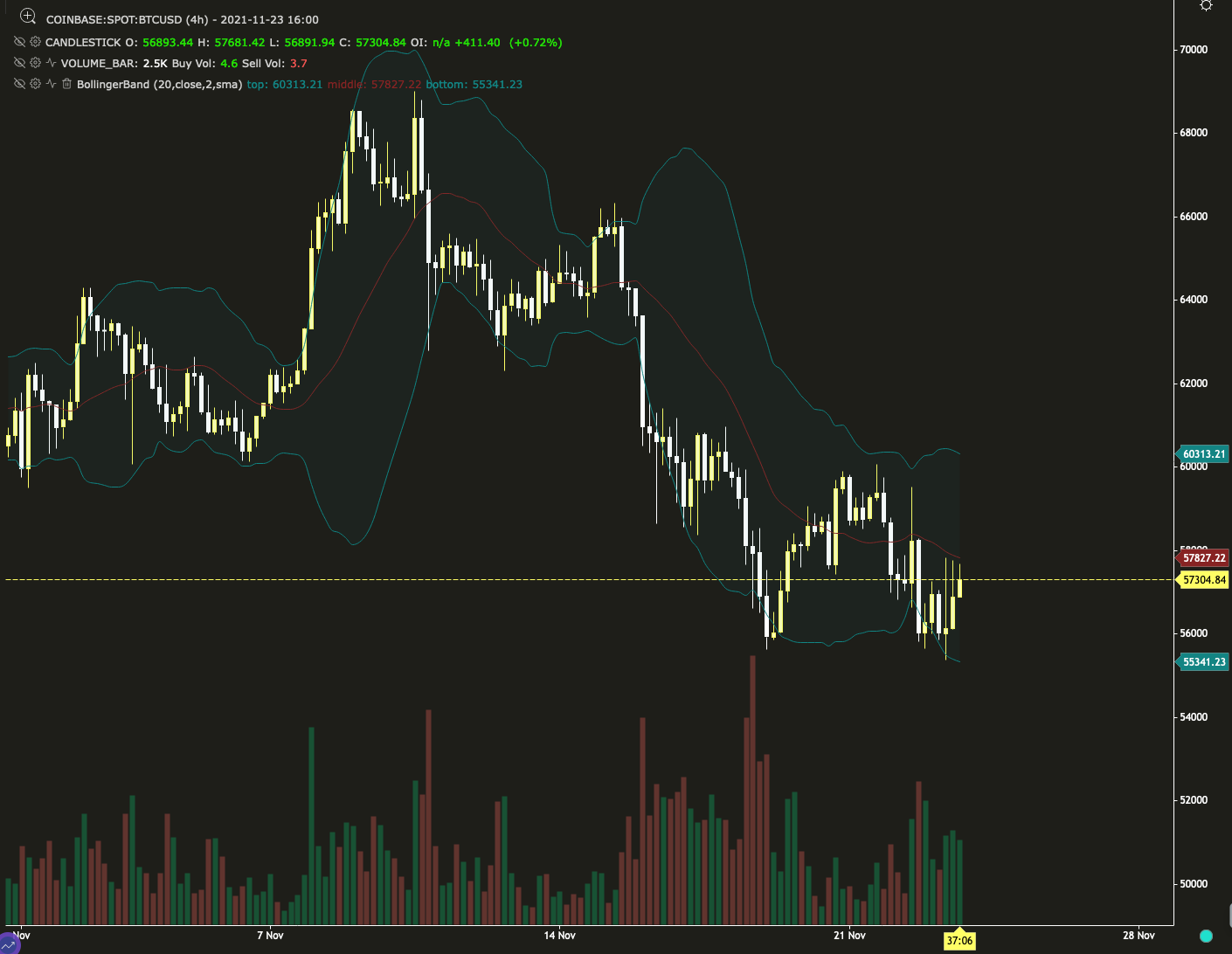 Looking at the daily chart for ETH-USD below, we see that there's a greater chance of a bottom being in as compared to Bitcoin, as we have a bullish engulfing candlestick pattern forming near the lower Bollinger band. With a daily close above $4,362, the bullish engulfing pattern will be confirmed and we'll likely see a move towards the middle or upper bands (at $4,472 and $4,924, respectively).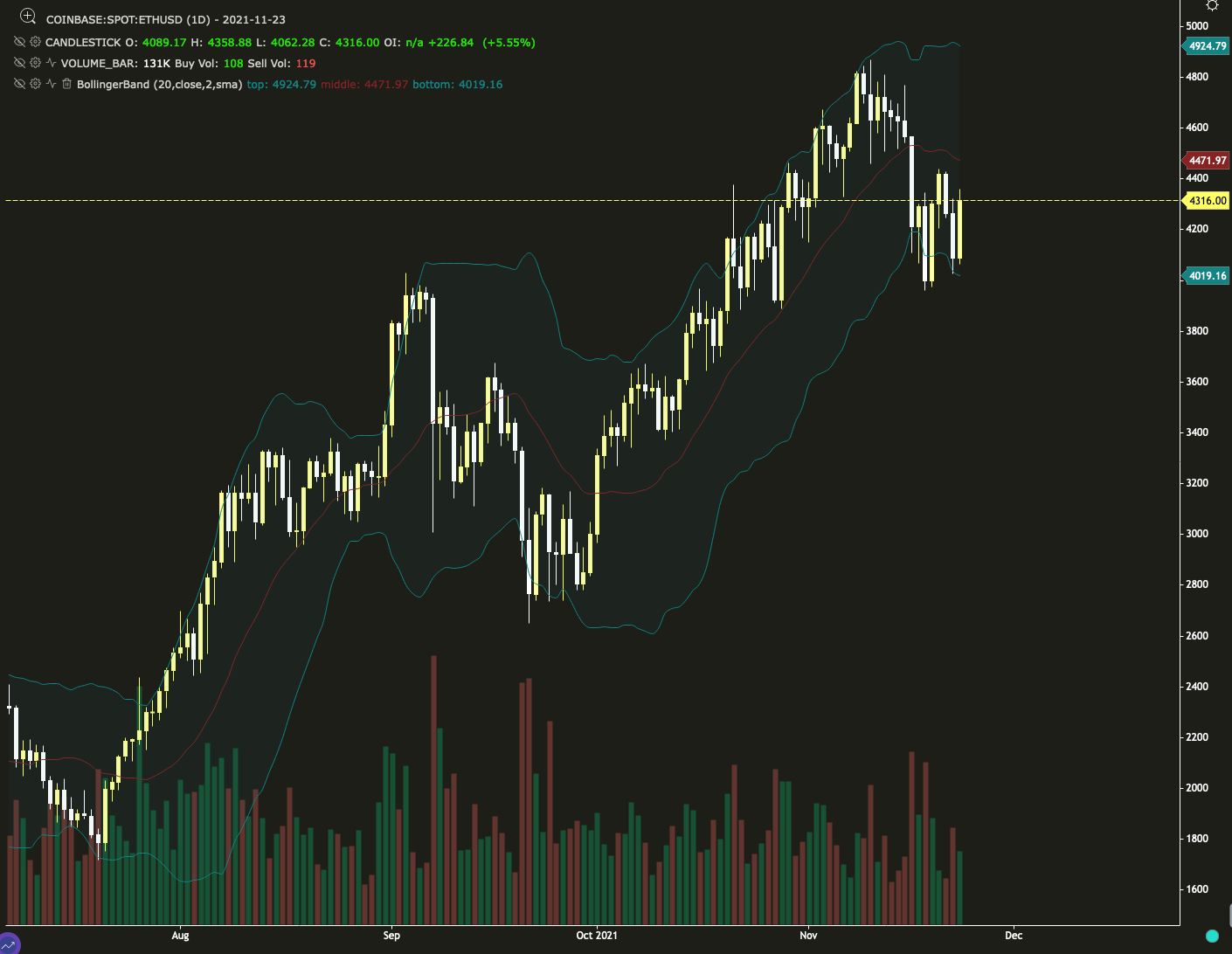 Solana dropped below the previous all-time high of $216 last week and fell to a low near $186. However, since November 19th, the downward reversed and Solana is now trading above $220.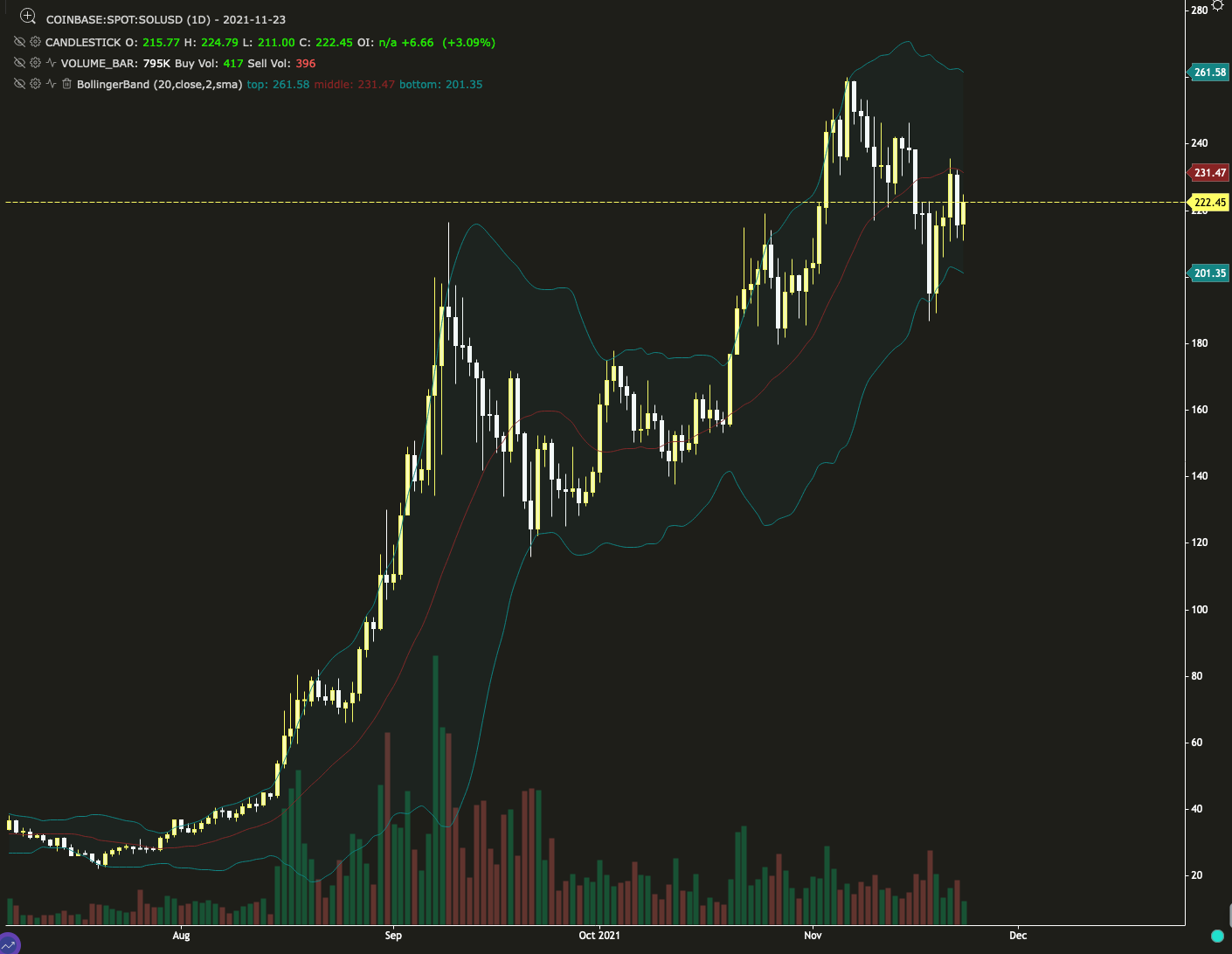 The daily chart above shows that a bottom was found as the price hit $186 and tapped the lower Bollinger band. Traders should now look for a move above the middle band at $231 and target the upper Bollinger band at $261. However, if the market rejects an advance at $231, then we could see a re-test of the psychological $200 level.
Have a great week!
---
-The Rollbit team