The Crypto Pulse November 2nd
Rollbit's weekly analysis and review of the news in Bitcoin, Ethereum, NFTs and cryptocurrency markets.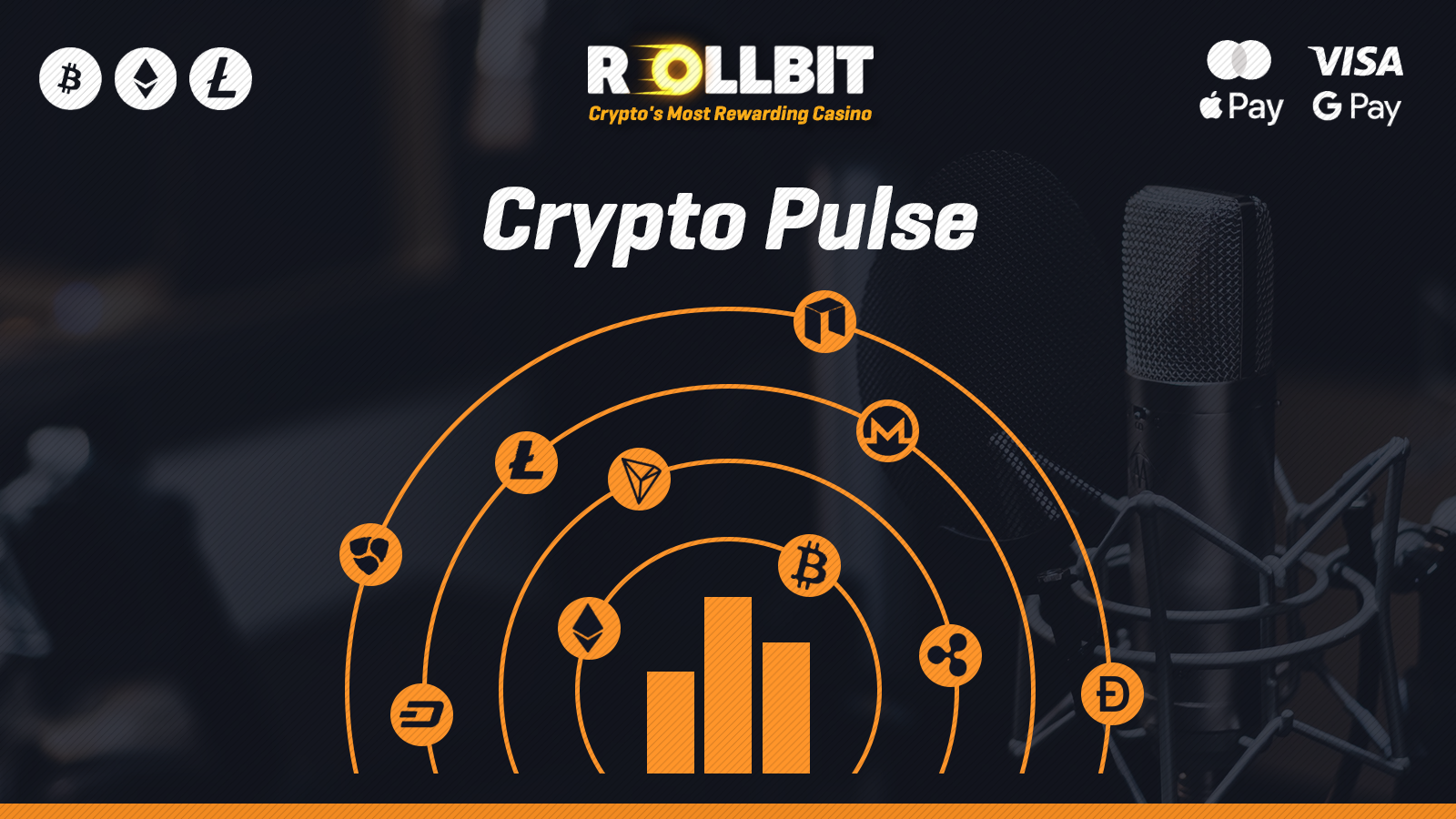 Rollbit's weekly analysis and review of the news in Bitcoin, Ethereum, NFTs and cryptocurrency markets.
News 📰
On October 28th, Facebook CEO Mark Zuckerberg revealed the social media giant's new name of Meta at Connect 2021, with the focus of this new umbrella company being squarely on the concept of the metaverse to help people connect, find communities and grow businesses.
Meta will support non-fungible tokens (NFTs) in a possible boost to Ethereum. Facebook Head of Metaverse Products Vishal Shah said, "This will make it easier for people to sell Limited Edition digital objects like NFTs, display them in their digital spaces and even resell them to the next person securely."
Following Zuckerberg's announcement, the price of metaverse-related crypto-tokens experienced massive increases in trading volume and price appreciation over the past 7 days, with the price of CEEK Smart VR Token, Decentraland's MANA, and The Sandbox's SAND token rising by +862%, +265%, and +245% respectively.
Source: Santiment
CME Group, the world's leading derivatives marketplace, announced on November 2nd that it will expand its cryptocurrency offerings with the introduction of Micro Ether futures on December 6.
"Since the launch of Ether futures in February, we have seen steady growth in liquidity in these contracts, especially among institutional traders," said Tim McCourt, CME Group Global Head of Equity Index and Alternative Investment Products. "At the same time, the price of ether has more than doubled since these contracts were introduced, creating demand for a micro-sized contract to make this market even more accessible to a broader range of participants."
Polkadot's native token DOT reached a fresh all-time high above $50 ahead of the parachain auctions.
Get exposure to DOT using Rollbit's Crypto Portfolio feature.
The amount of ether burned on a daily basis has set new records for two days in a row with over 30,000 ETH burned between October 27th-29th, data shows. The Block's Data Dashboard shows that about 14,820 ETH were burned on October 27th as a result of the EIP-1559 proposal that went effective in early August.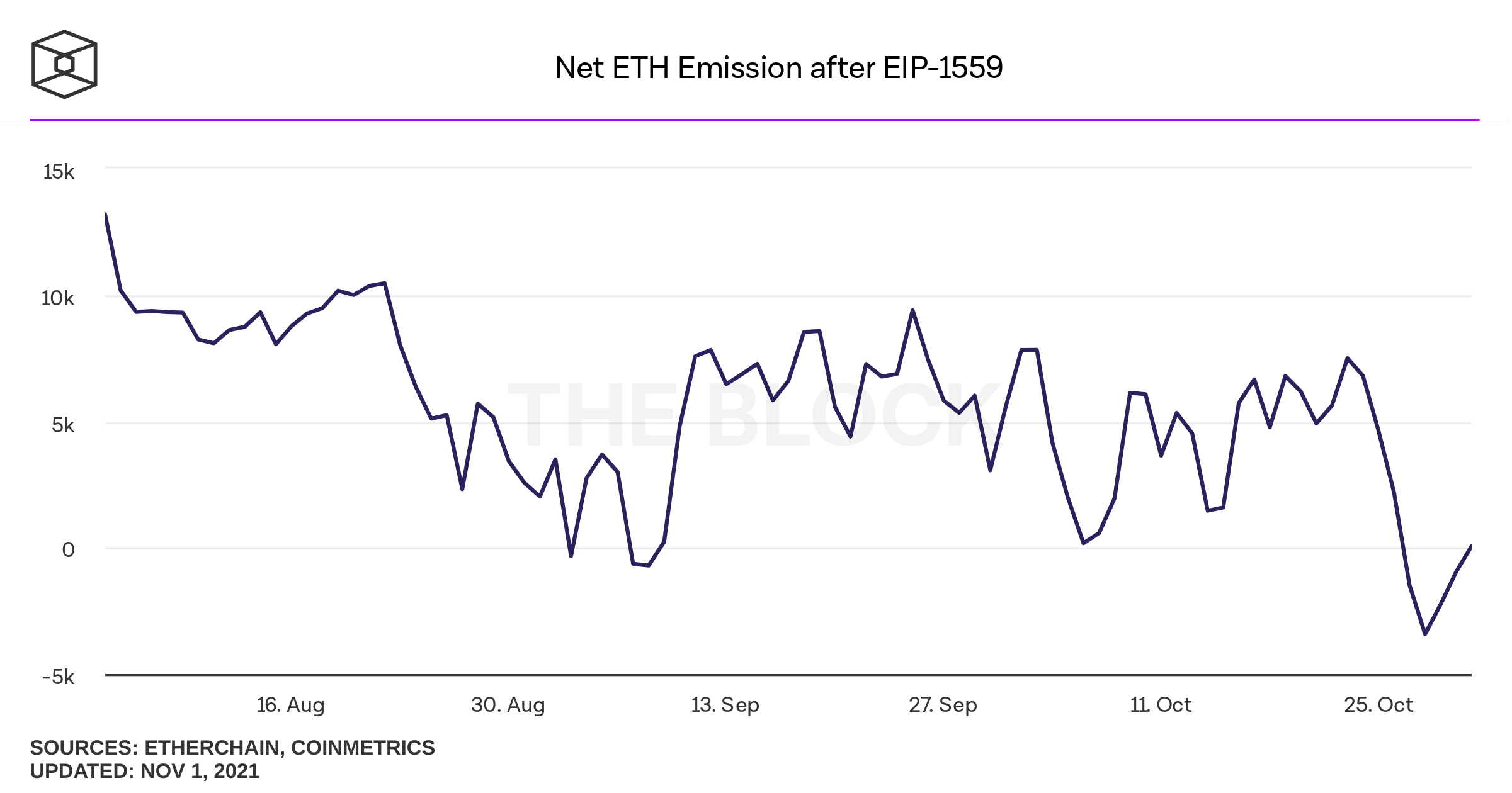 Source: The Block Data Dashboard
CryptoPunk #9998 was seemingly sold for over half a billion dollars as the most expensive Punk in history, but blockchain analysts believe that this was nothing more than a publicity stunt.
The CryptoPunk purchase was actually executed using a flash loan contract deployed by an address that's been identified by wallet profiler Nansen as a prolific decentralized finance (DeFi) user and NFT collector.
The top 10 CryptoPunk sales according to data provided by CryptoSlam (excluding off-chain sales and the recent flash loan sale) are shown below.

Ubisoft CEO Yves Guillemot expressed intentions for investment in and adoption of blockchain-centric gaming companies on the platform during an earnings call this week. The gaming firm is backing Animoca Brands, creator of popular metaverse game The Sandbox.
Other News
Market Analysis 📈📉
7-day Price Change
Data as of November 2nd, 23:30 UTC
Let's look at the Bitcoin chart.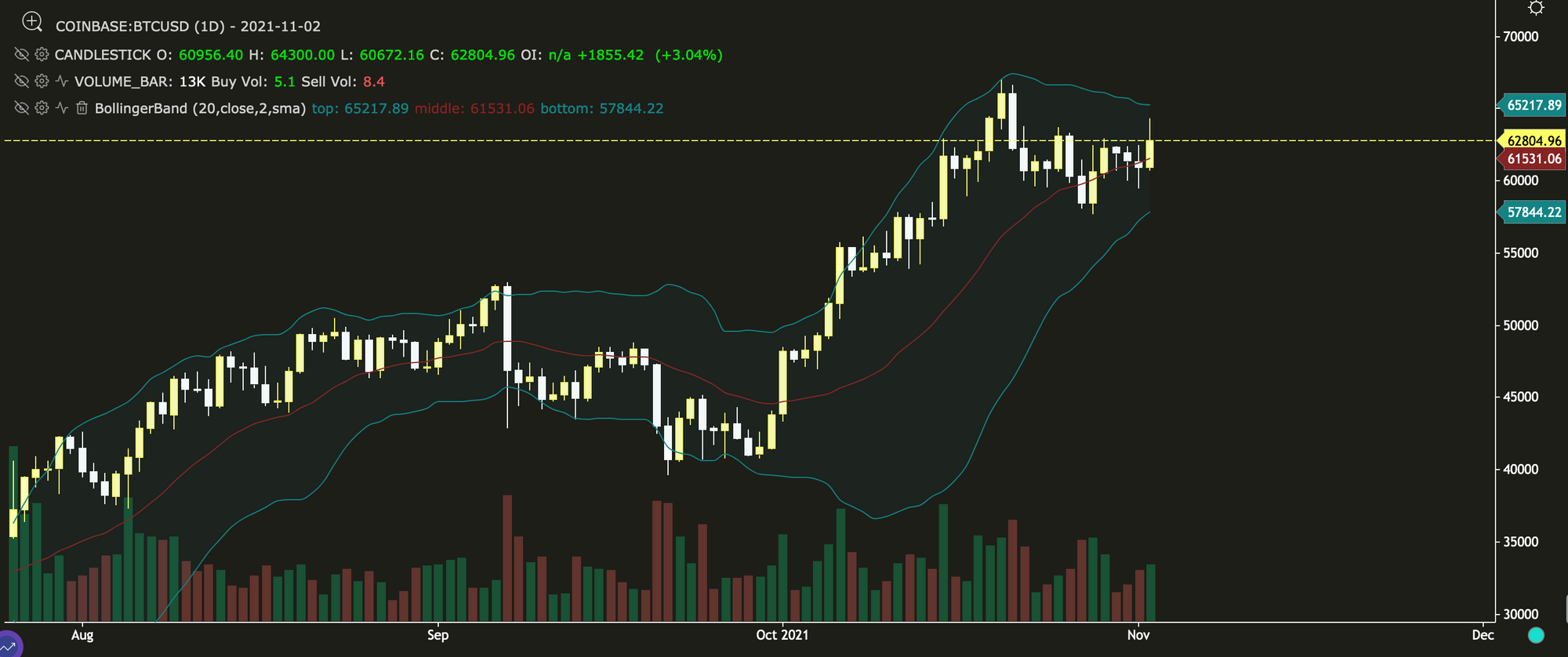 The daily chart for BTC-USD shows that the market reached the highest price since October 21st and is approaching the resistance provided by the upper Bollinger Band at $65,217.89. Support is seen at the middle band ($61,531.06) and the lower band ($57,844.22).
The 4-hour chart for Bitcoin is displayed below and shows that a move to the downside is more likely over the medium-term. The price is retreating from the upper band after posting a daily high at $64,300 with the price currently trading at $62,780.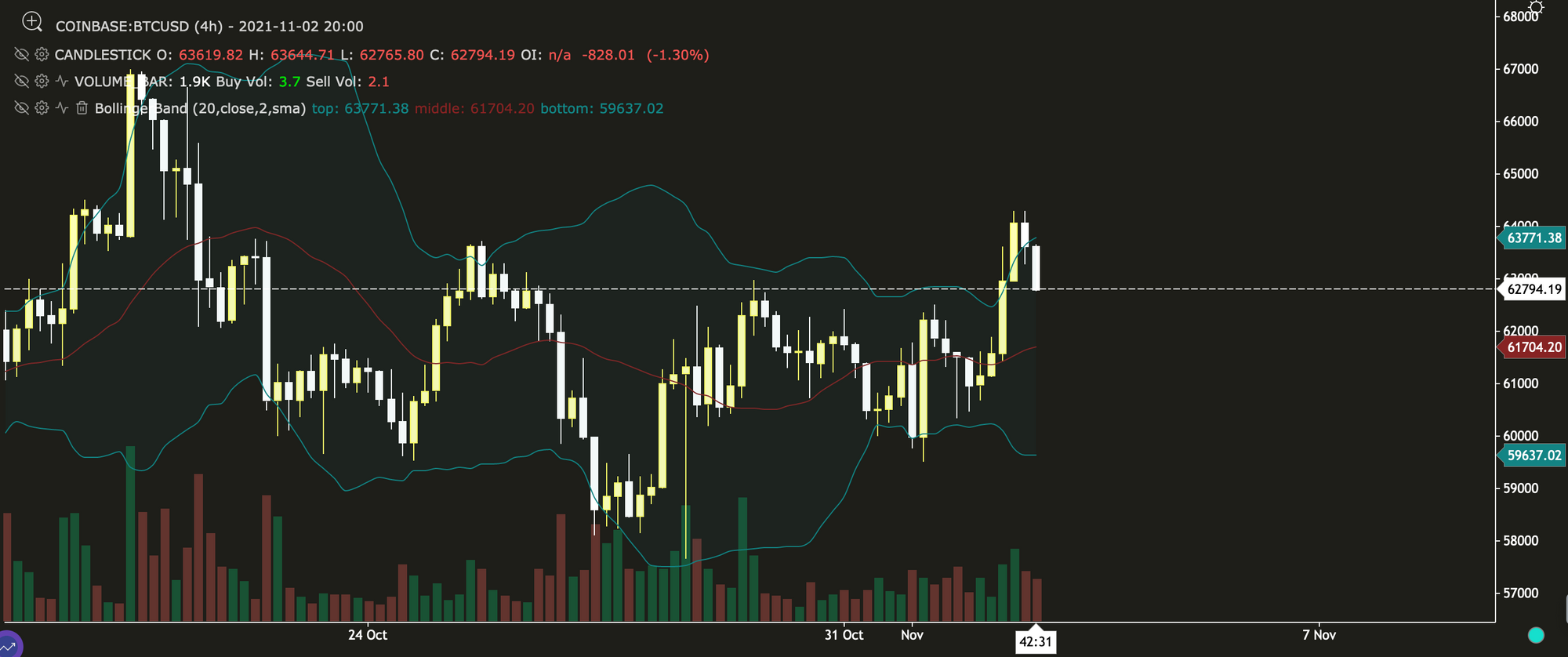 As with the daily chart, the middle and lower bands provide support at $61,703 and $59,637 respectively.
The weekly chart for ETH-USD is shown below with the second largest crypto reaching a fresh all-time high above $4,500 on November 2nd. With a strong break of the all-time high, this suggests the price of ether is likely to trend towards $6,138, the first Fibonacci extension level.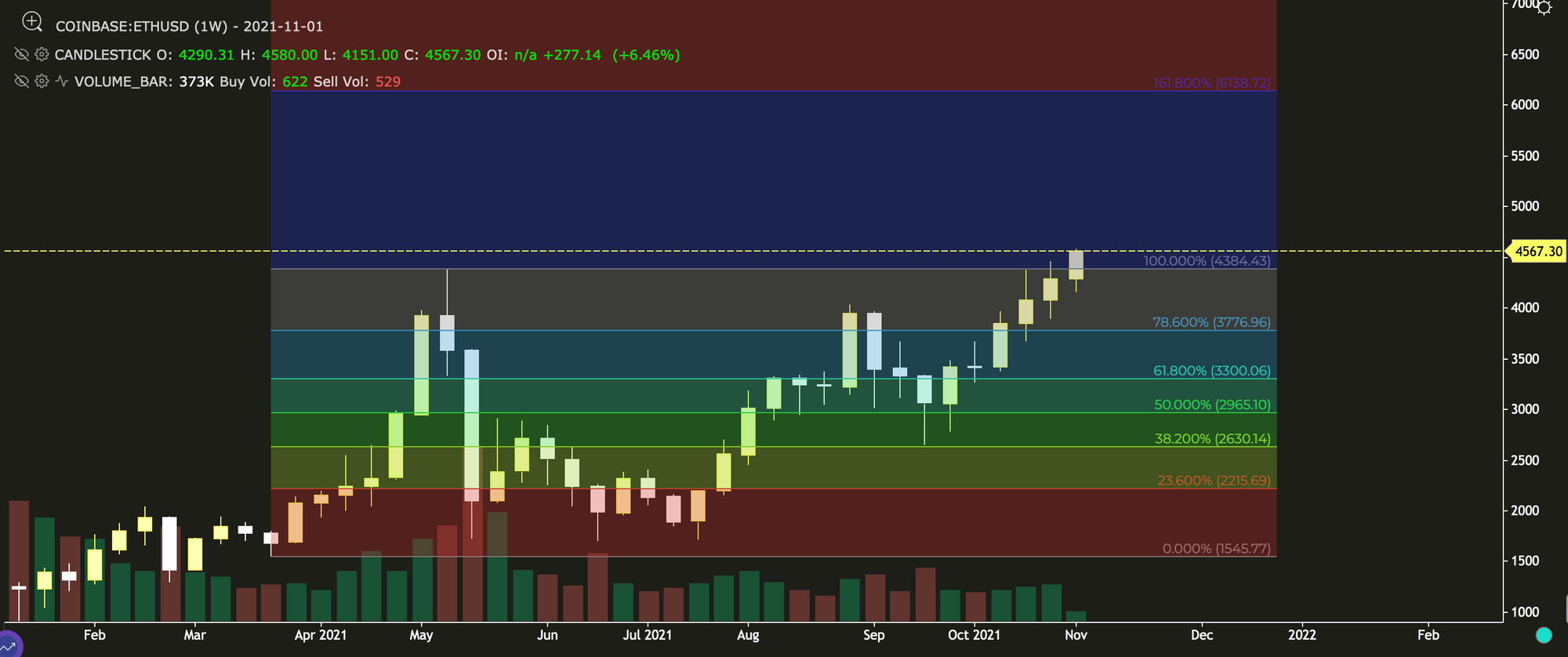 Solana is flirting with fresh highs but has yet to sustain itself above the $216 level. However, a strong break of the $216 level should see a tendency towards the first Fibonacci extension level at $309 (as shown by the chart below).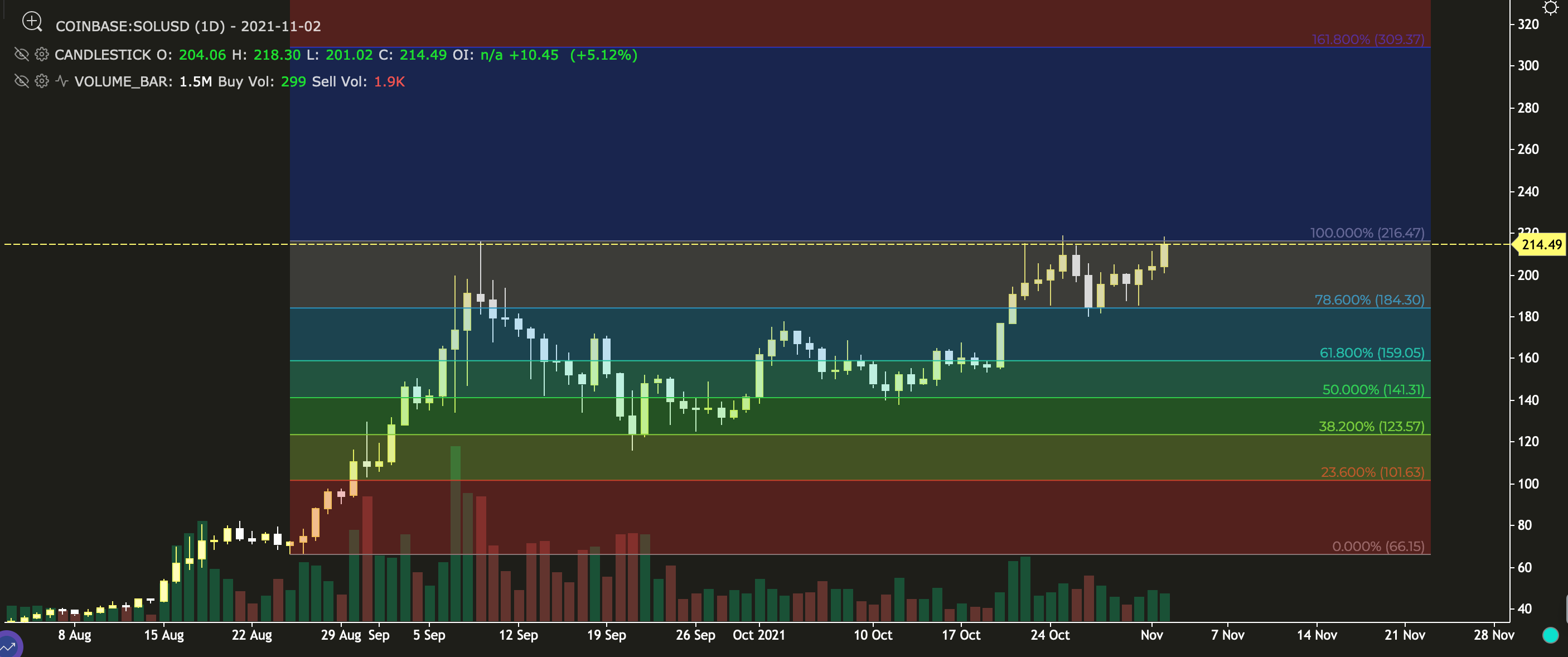 Have a great week!
---
-The Rollbit team