The Crypto Pulse September 27th
Rollbit's weekly analysis and review of the news in Bitcoin, Ethereum and cryptocurrency markets.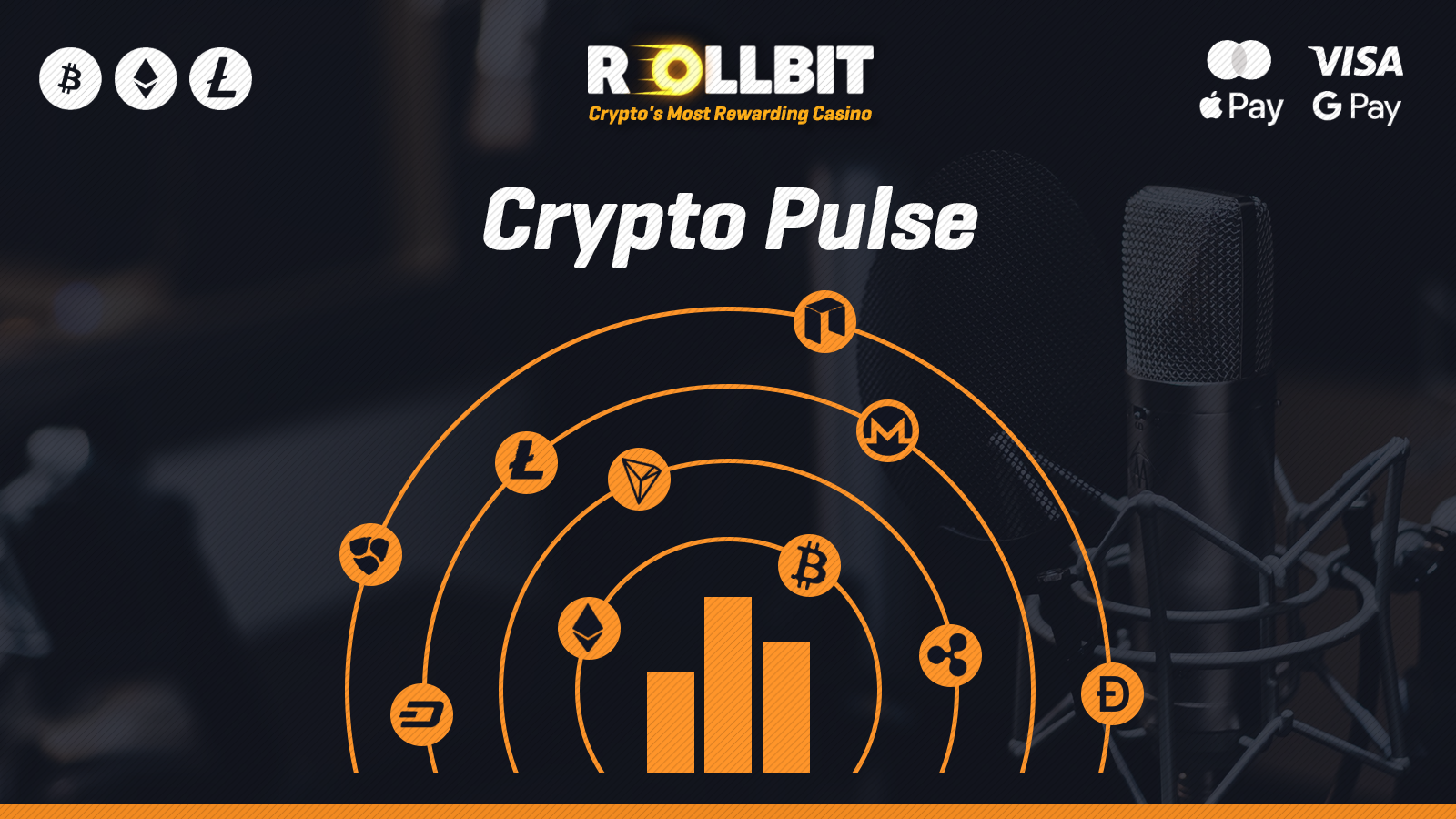 Rollbit's weekly analysis and review of the news in Bitcoin, Ethereum and cryptocurrency markets.
News 📰
Bitcoin suffered a large drop on September 24th, totally erasing the gains made on September 23rd, as China's central bank issued a detailed notice stating that cryptocurrencies and stablecoins like Tether USD do not qualify as legal tender.
All cryptocurrency-related activities are illegal in China according to the notice. The country's governments and regulators have taken aim at bitcoin and the cryptocurrency market several times since 2013. The latest move is likely motivated by the development of a digital yuan.
On Wednesday, September 22nd, the Federal Reserve indicated that they're ready to begin tapering, referring to the reversal of the stimulus measures that were provided during the pandemic.
The panel of policymakers stated that tapering the central bank's bond purchases "could be warranted soon" as the economy recovers. The process of tapering, anticipated to end by mid-2022, opens the door to rising interest rates and hence a strong US Dollar, may be a bearish development for Bitcoin as investors shift away from risk-on assets like cryptocurrencies.
Twitter has let its users on Apple's iOS connect to third-party tipping services to their profiles, letting them link Bitcoin (BTC) and Lightning Network addresses. Twitter will not take a cut of tips made using Bitcoin or the Lightning Network, and will rely on services such as the Strike app.
Twitter also stated that they will become more involved in Non-Fungible Tokens (NFTs) by developing a feature to authenticate avatars. By verifying the ownership of NFTs, the social media giant's move is likely to boost the popularity of NFTs and benefit the wider ecosystem.
The company that built the Flow (FLOW) blockchain has raised $250 million to bolster their Non-Fungible Token (NFT) offerings such as NBA Top Shot. A partnership with Spain's top-flight football league, LaLiga, was also announced.
Coatue led the investment round with participation from existing investors such as Andreessen Horowitz, GV and Version One Ventures. A host of new investors joined as well, including Bond and Government of Singapore Investment Corporation.
Dapper Labs is expected to launch NFTs for LaLiga next summer and they will be like NBA Top Shot's moments. Caty Tedman, head of partnerships at Dapper Labs, told GameBeat, "We're extremely excited to have LaLiga join the Dapper Labs family of products. We've been in conversations with them for a very long time. They needed to vet the technology. The product is really about engaging fans across the world. We think about NFT's as really a unit of fandom. And so this is a great way to reward fans based on the depth of their fandom."
Other News
Market Analysis 📈📉
7-day Price Change
Data as of September 27th, 20:15 UTC
Let's look at the Bitcoin chart.
The weekly chart below shows that BTC-USD tested the middle Bollinger Band just above $40,000 but closed the week higher, near $43,200. For the week ahead, traders should look for opportunities to buy near the middle Bollinger Band, which stands at $40,624 this week.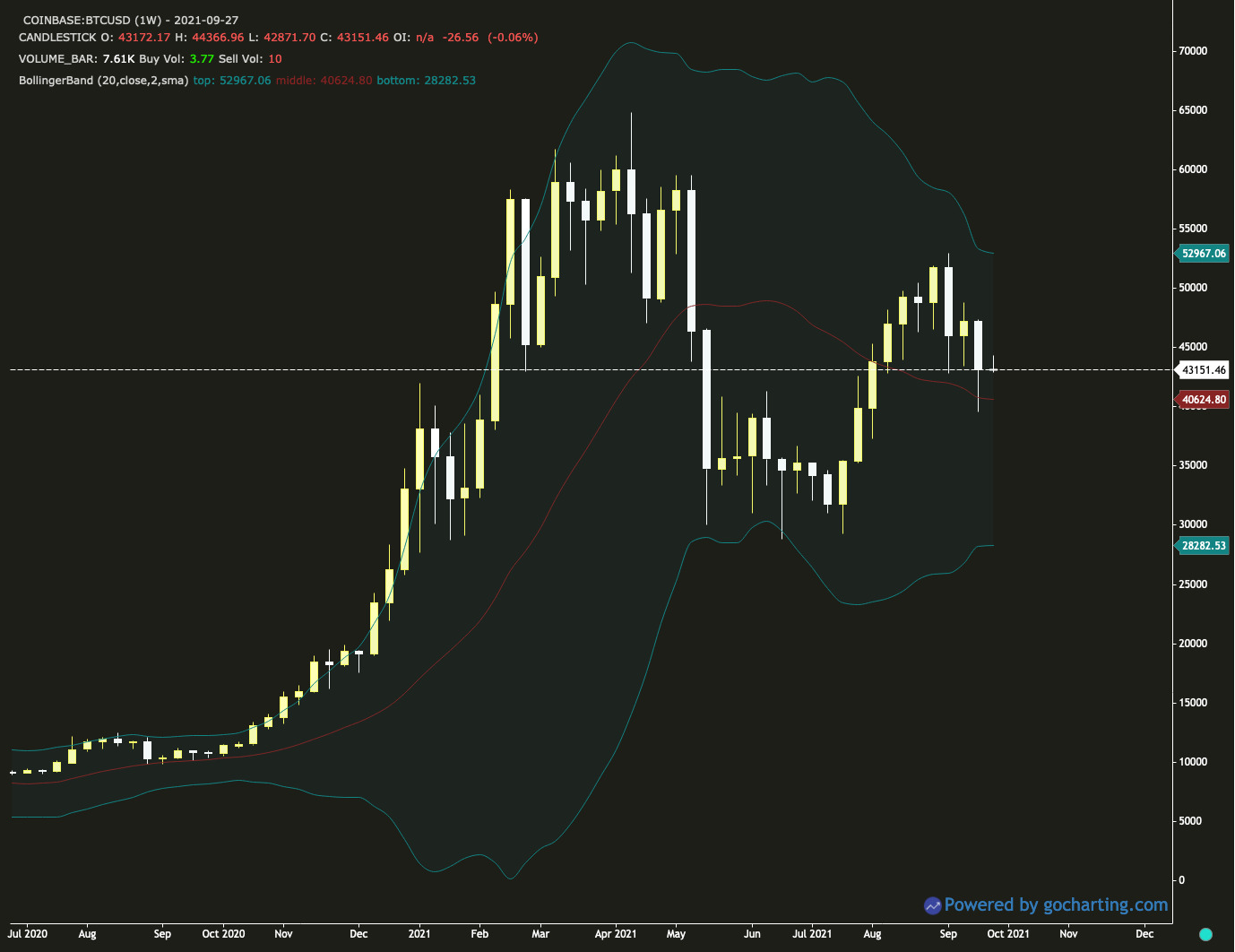 The daily chart for Bitcoin is displayed below. Over the past few days, buyers have pushed the price higher after testing the lower Bollinger Band near $41,000 with long lower wicks on these candles. The buying interest around $40,000-$41,000 suggests the market has found support around this level and is likely to target the middle Bollinger Band near $45,116 next. As long as BTC-USD holds the key psychological level at $40,000, then the long-term bullish trend should remain intact.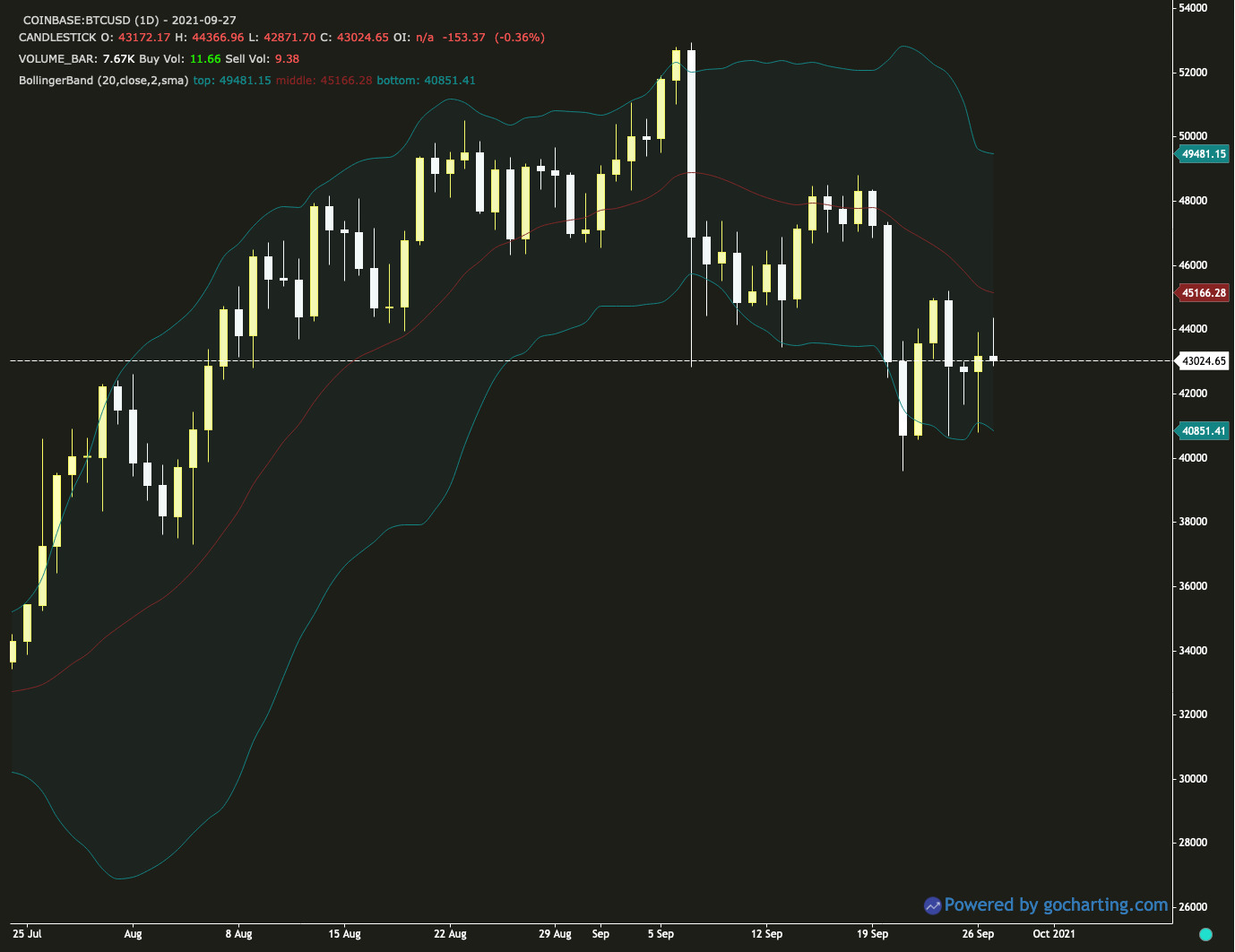 Looking at the weekly chart for ETH-USD, we see that the middle Bollinger Band provided support last week around $2,760 and has displayed three weeks of back-to-back losses. The middle Bollinger Band now lies near $2,730, which should see buying interest if the market heads lower.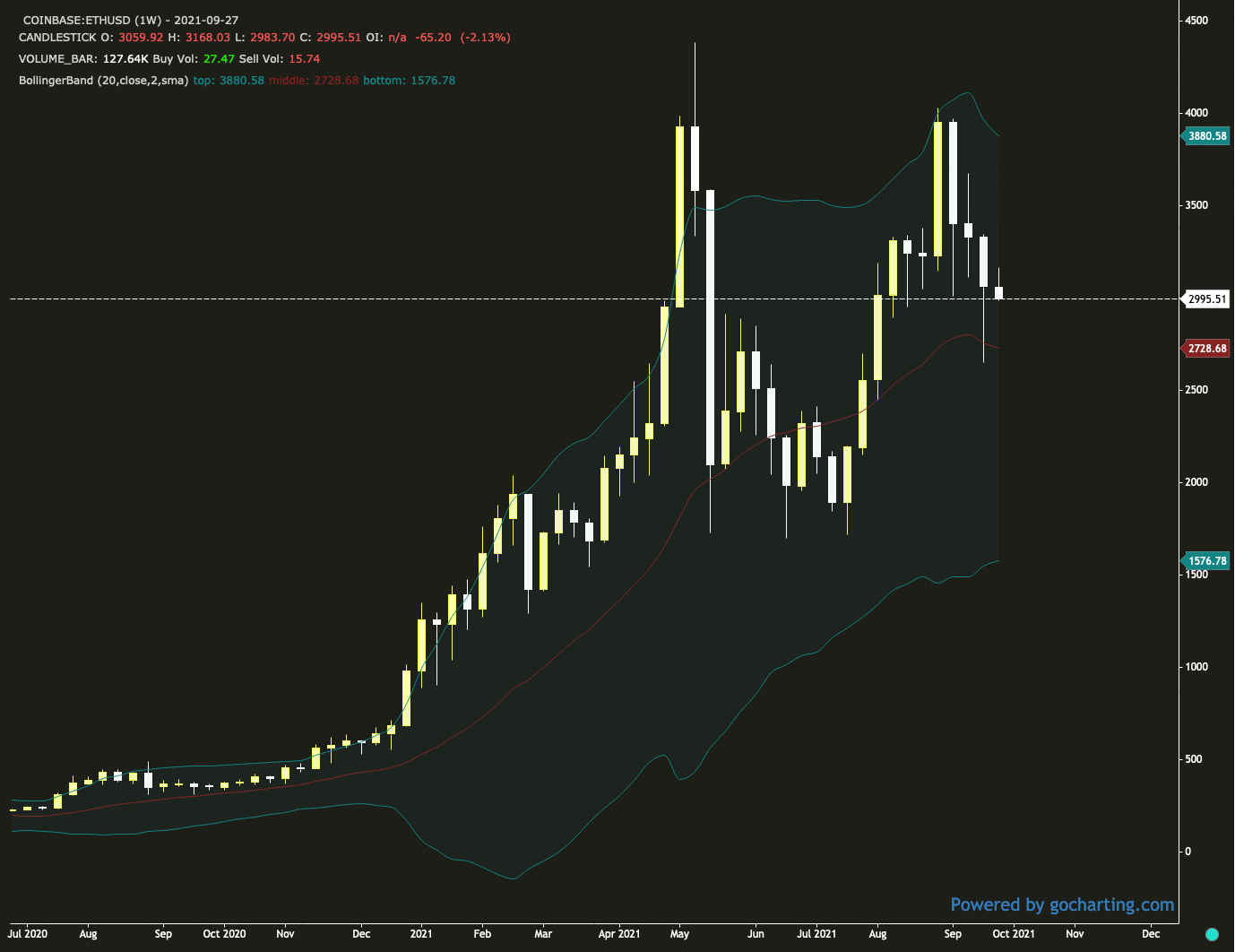 The daily chart for ETH-USD shows buyers reversed the downward momentum around the $2,800 level. The middle Bollinger Band provides resistance near $3,240 and traders should key an eye on this level, as a daily close above $3,240 should open up an attempt at the middle Bollinger Band and September 16th's high of $3,674.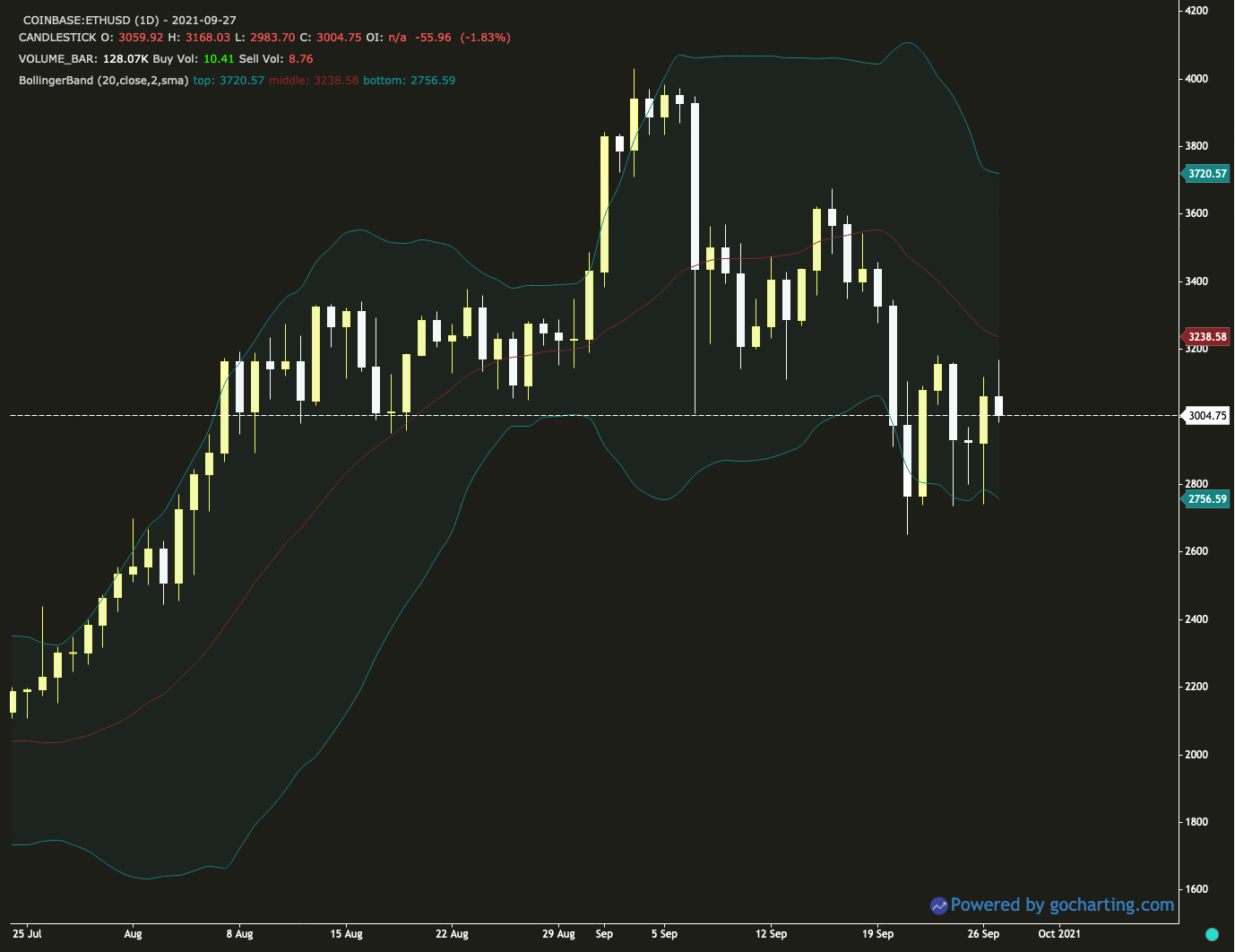 Solana's SOL token seems to have bottomed around $116 after tagging the lower Bollinger Band on September 21st and moving higher from there, currently trading near $140. The next key level to watch is $152, as a break above this level would likely see a long-term drift towards the upper Bollinger Band just below $200. The lower Bollinger Band provides support near $117 and traders should look for buying opportunities if there's a return to this area.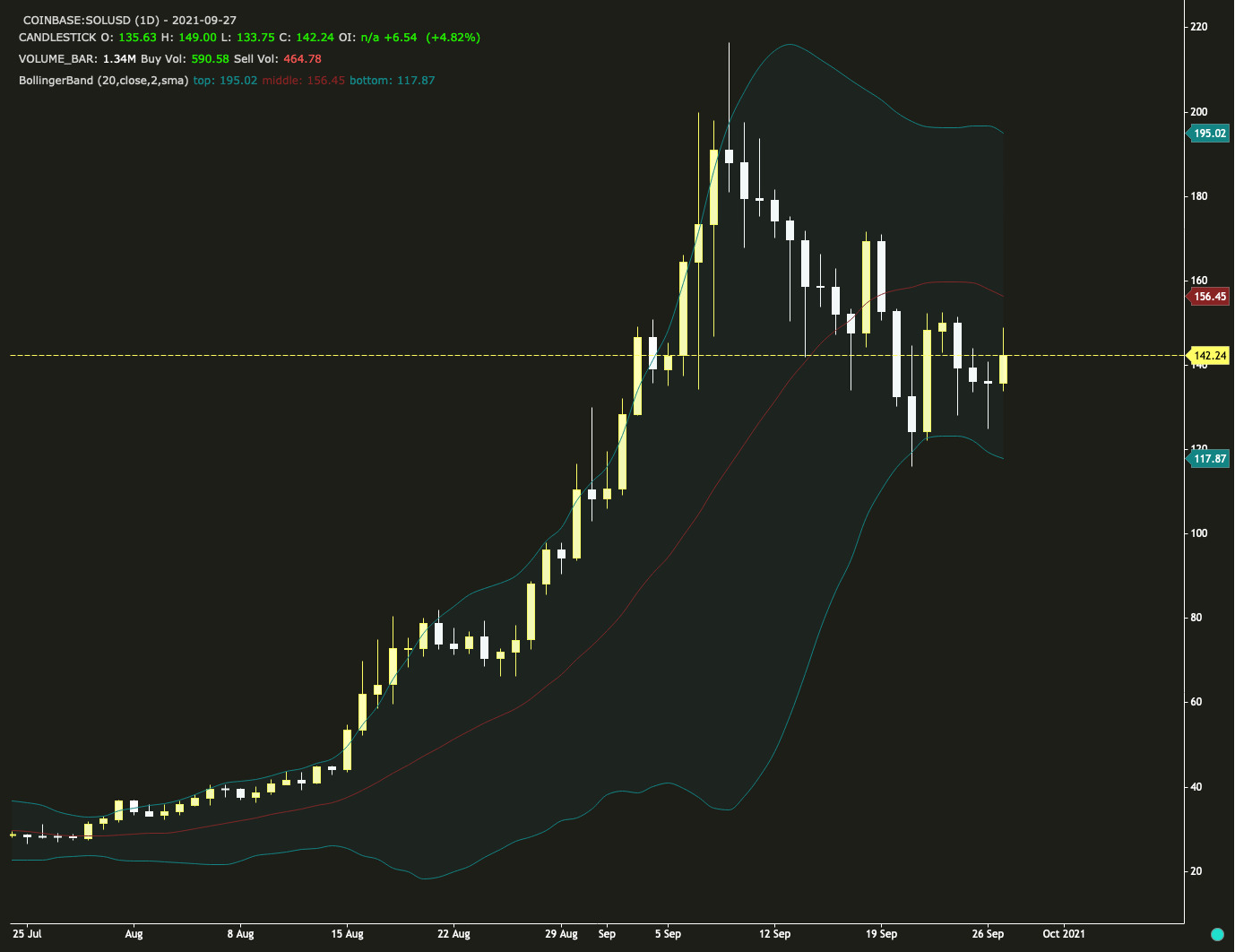 Have a great week!
---
-The Rollbit team