What Can You Buy with Bitcoin?
Satoshi Nakamoto outlined Bitcoin as a 'peer-to-peer electronic cash system' in October 2009. Since then the digital currency has become widely adopted by a variety of merchants.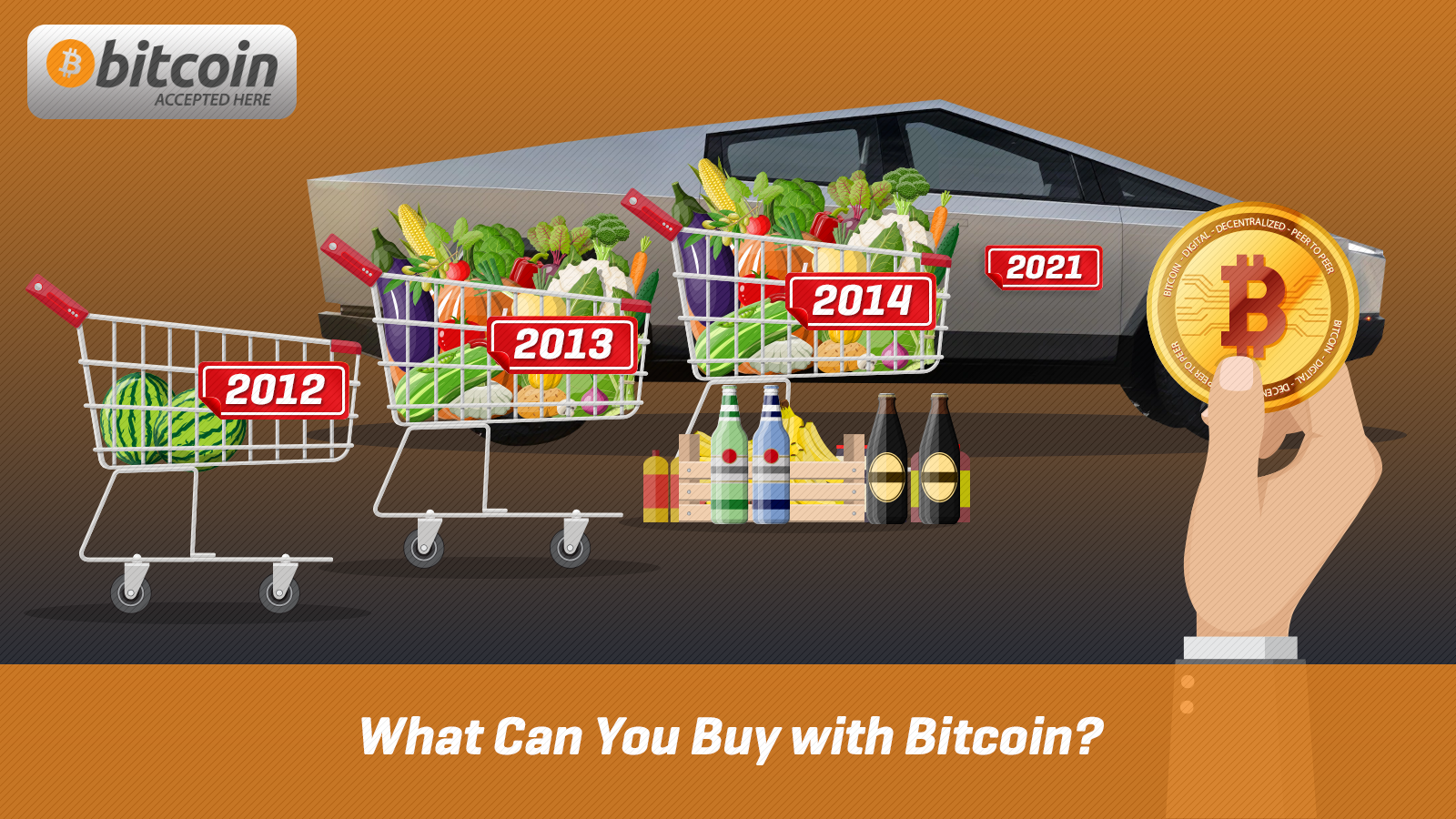 As more people have awakened to the ongoing digital gold rush, a greater number of shops have embraced Bitcoin and other cryptocurrencies.
One of the first places where items were offered for sale with Bitcoin was the infamous Silk Road marketplace, which launched in April 2011 and used the digital currency to facilitate the purchases of illegal goods and services. This ended up generating a negative association between Bitcoin and crime.
But following the takedown of The Silk Road, Bitcon's image problem became less of an issue. Since then a variety of online merchants and in-store retailers have accepted the digital currency. Businesses, both large and small, have recognised an opportunity in Bitcoin and sought exposure to 'digital gold'. And one of the best ways to get exposure to Bitcoin is to use your existing business to stack some coins.
Aside from being a store of value, merchants also benefit from the lower fees (as compared to traditional payment processors) and accepting Bitcoin eliminates the possibility of any chargebacks or fraud, making it a more attractive option than debit/credit cards.
Even by the first decade of Bitcoin's existence, merchants that adopted the cryptocurrency had already sprung up in pretty much every major city in the world, as Bitcoiners have sought out places to spend their sats. The hotspots for bitcoin adoption (as of July 2021) are illustrated by the heatmap below: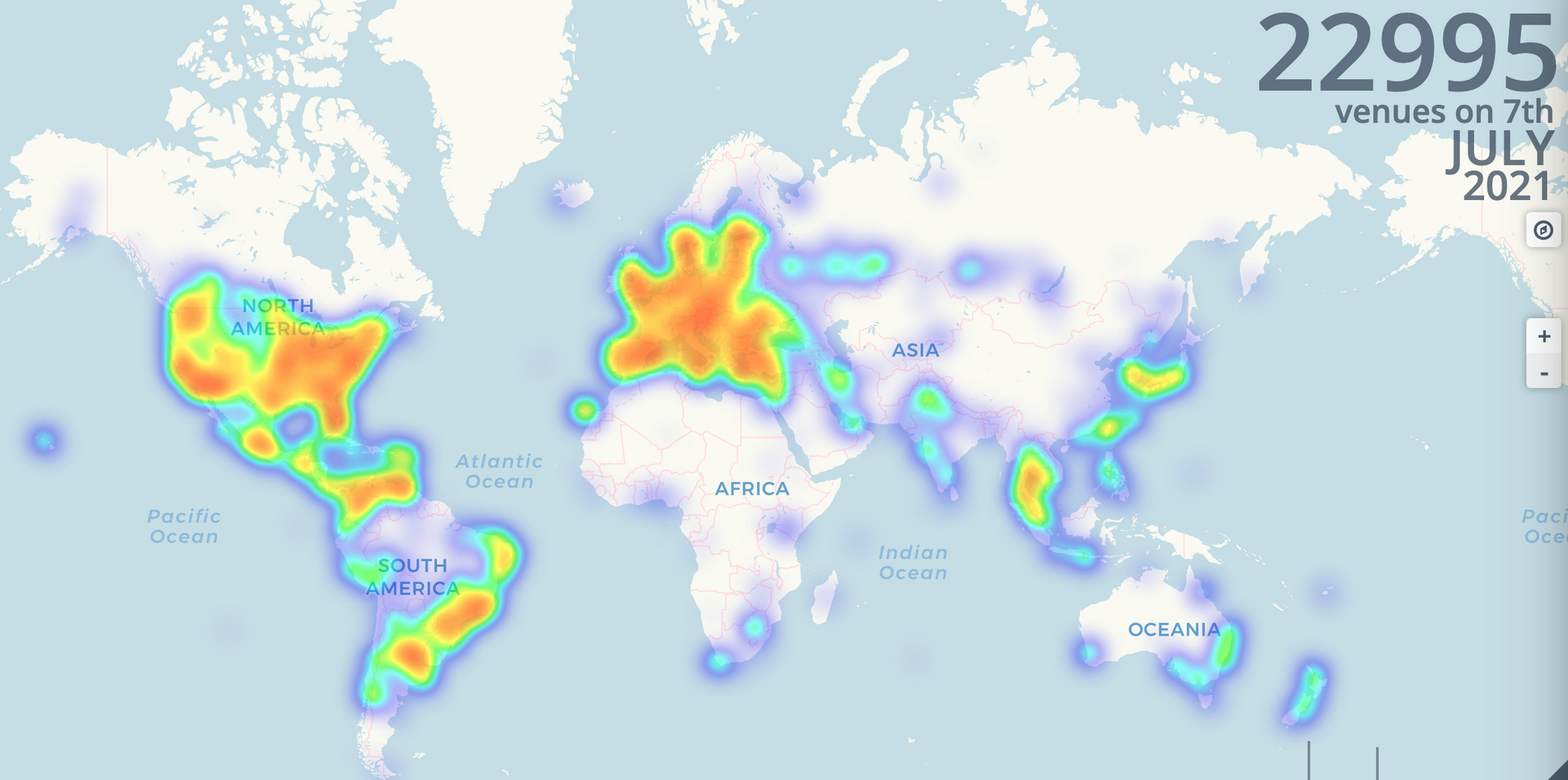 You can find out if there are any bitcoin merchants near you with coinmap.org.
The cities with the highest concentration of Bitcoin-friendly merchants in Europe are Amsterdam, Arnhem, Berlin, Ljubljana, London, Madrid, Prague and Vienna. Miami, New York, San Francisco and Toronto are some of the top bitcoin hotspots in North America. In Latin America the main Bitcoin cities are Bogota, Buenos Aires and Sao Paulo. As the map above shows, there's also a lot of merchant adoption across the Far East and Australia.
Arnhem is known as the 'Bitcoin Stad' and the world's most bitcoin-friendly city. Since 2014, payment processor BitKassa partnered with various shops to allow bitcoiners to pay for everyday items. Arnhem is one place where you can buy almost anything with Bitcoin!

Source: arnhembitcoinstad.nl.
But you don't need to live in these major cities to spend your sats at stores. You may be asking, 'why would I spend Bitcoin?'
Well, there can be many good reasons: whether it's making an investment to diversify your holdings, locking in some profits to buy something that you need or want, or perhaps you think the price is going to fall over the long term, or even to avoid the fees (and time spent) involved exchanging to a fiat currency.
So what exactly can you buy with bitcoin? Read on to find out more.
Online Services💻
Bitcoin is 'magic internet money' and some of the first businesses to adopt cryptocurrency provide online services, such as domain names, online retailers and VPNs.
Travel✈️
Bitcoin is a global and borderless currency, so it's not surprising that many travel-related companies have embraced it.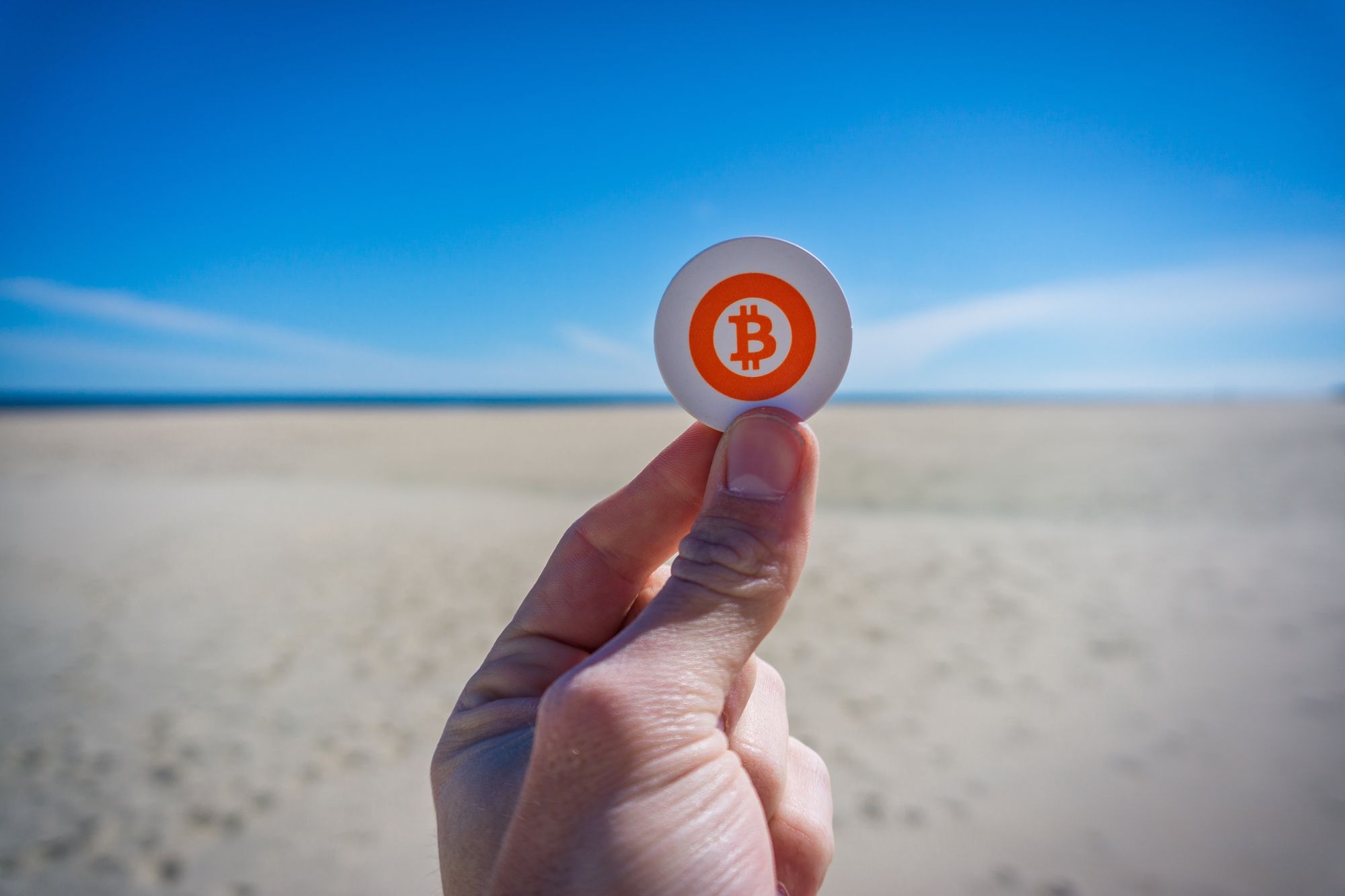 Source: Harrison Kugler via Unsplash.
Food & Restaurants🍲
The first ever Bitcoin transaction for a real world item was 10,000 coins for two Papa John pizzas. Nowadays, you can enjoy almost any cuisine you can think of with cryptocurrency.
In most of the large metropolitan cities of the world, you can find somewhere to eat and pay with Bitcoin, whether it's Amsterdam, Bogota, Los Angeles or Tokyo. Most of the cafes and restaurants accepting Bitcoin are independent business owners who have seen an opportunity in cryptocurrency and adopted it.
We can't talk about paying for food or drinks with Bitcoin without mentioning a cafe in Prague, the Czech Republic that ONLY accepts cryptocurrencies! Bitcoin Coffee, which is located within Paralelni Polis, only accepts Bitcoin or Litecoin. Fiat currencies are not accepted but there's a cryptocurrency ATM so you can ditch your banknotes for some crypto!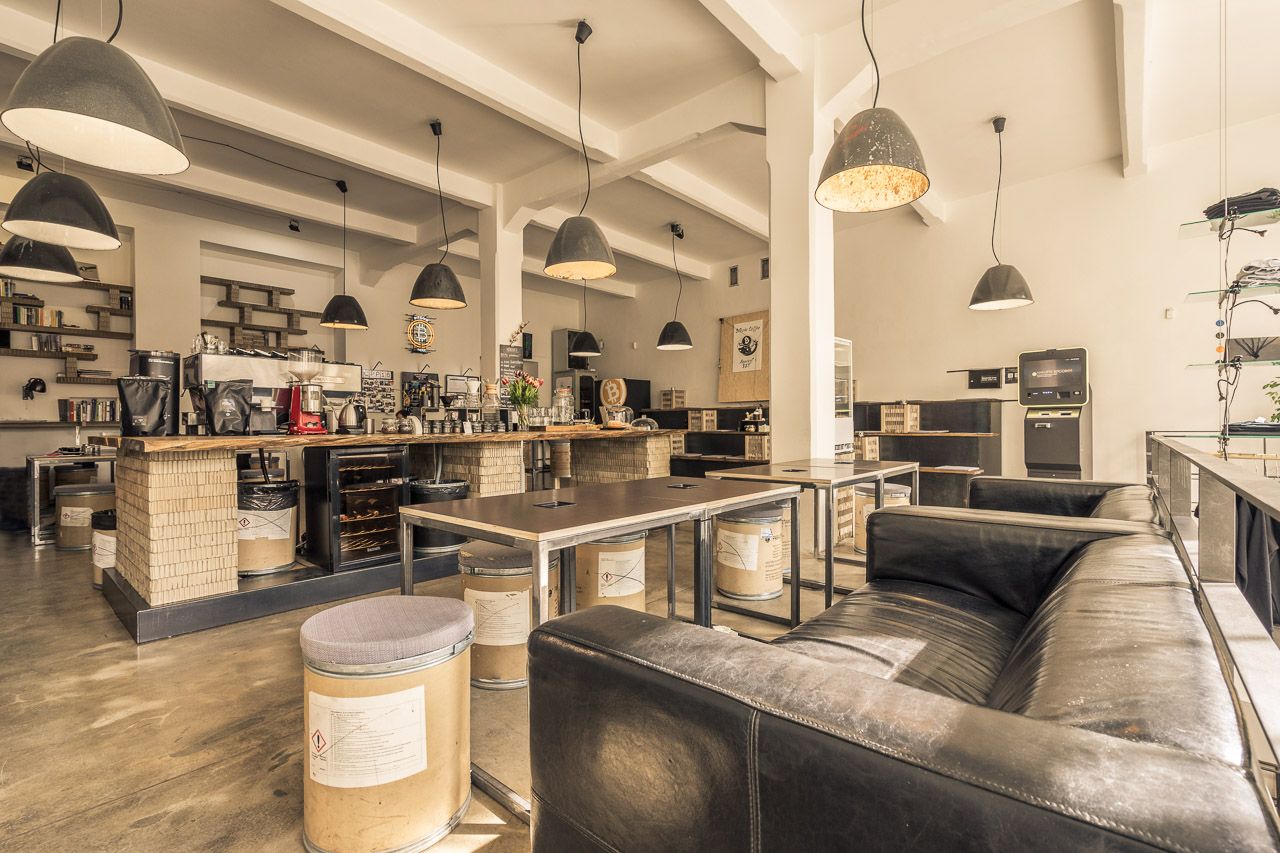 Source: Paralelni Polis.
If you're feeling peckish, you can also use BitRefill to buy gifts cards with Bitcoin to shop at major supermarkets like Whole Foods or Tesco to buy groceries, or large brands like Domino's Pizza, Pizza Hut and Starbucks. You can even buy gift cards for takeaway services like Deliveroo, DoorDash, Just Eat and Uber Eats.
Real Estate🏠
An interesting fact: if the Earth's habitable land mass represented the total supply of Bitcoin, each coin would be equivalent to 700 acres.
As the price of Bitcoin has been on an upward trajectory over the years and established itself as 'digital gold', many individuals involved in the property business have sold some of their portfolio to diversify and get exposure to cryptocurrency.
Several platforms have also popped up that enable you to buy real estate with Bitcoin including:
Luxuries⌚
Bitcoin has made some individuals fabulously wealthy. The question then is not 'when lambo?' but 'where lambo?'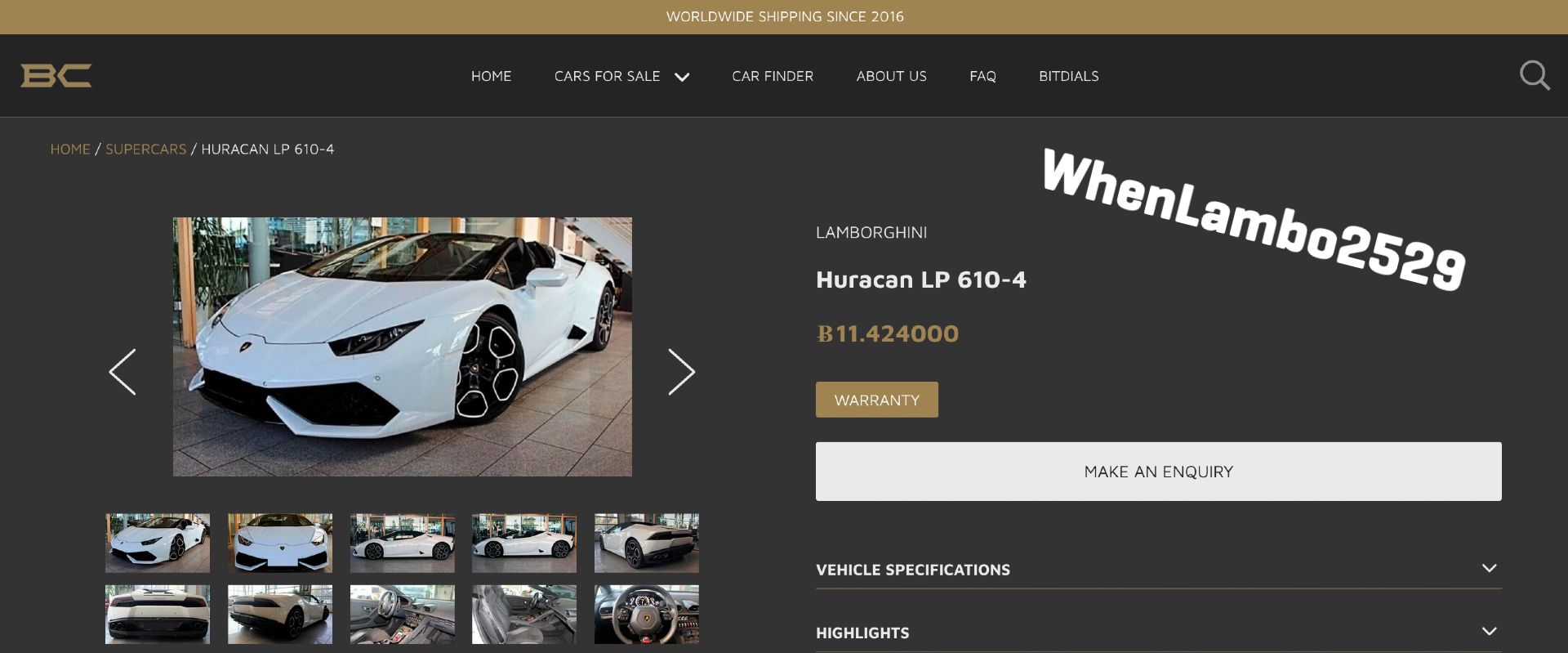 Source: BitCars.
Marketplaces have sprung up to meet the demand from newly minted cryptocurrency millionaires for private jets, supercars and other luxury goods:
How to Find Stores that Accept Bitcoin Near You🌎
While we have not extensively covered every Bitcoin-accepting merchant, the following websites will be useful to see where in your local area you can spend your coins:
Are there any cool places near you that accepts cryptocurrency? Let us know about them via Discord or on Twitter!
---
-The Rollbit Team