Introducing NFT Loans: Get Short Term Liquidity using NFTs as Collateral
Borrow against your Non-Fungible Tokens to get short term loans on Rollbit!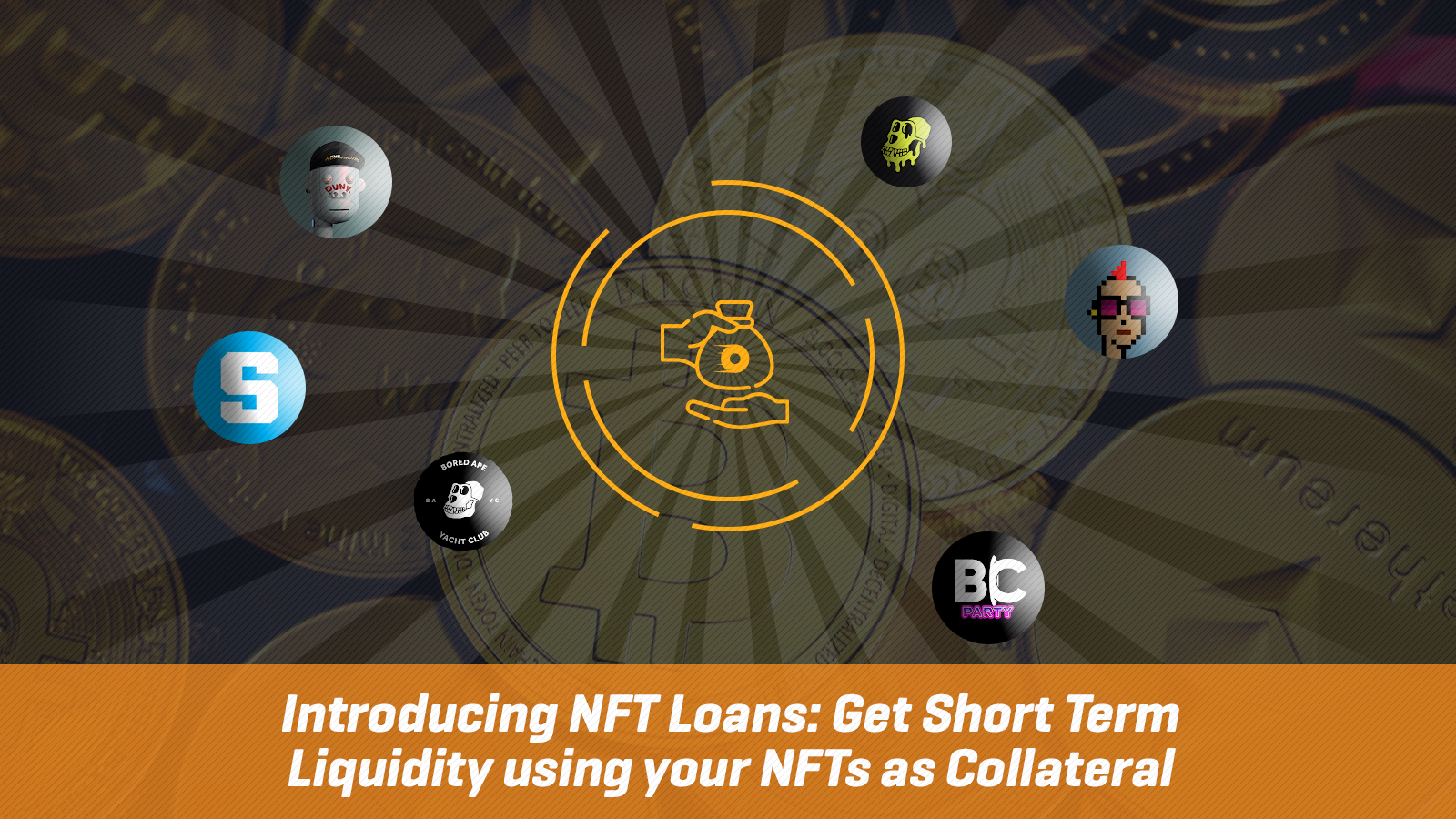 Borrow against your Non-Fungible Tokens to get short-term loans on Rollbit!
With our newest feature, you can borrow against your JPEGs to get short-term loans from Rollbit!
🆕
There's a new version of this blogpost
here
!
How Do NFT Loans Work?
Use your Non-Fungible Tokens (NFTs) as collateral for 7-day loans with no fees or interest charged!
The NFT collections currently supported for loans:
If you own any of these NFTs, you can now take out loans of up to $10,000 per item instantly on our platform! To borrow any amount larger than $10,000 using one of your NFTs as collateral, contact our support team via our website and they can approve the loan quickly.
How to Borrow Against Your NFTs
To borrow against your NFTs, you'll need to have some items in your portfolio.
Check out this guide to learn how to deposit NFTs to your portfolio on Rollbit.
Once you have a NFT in your portfolio, navigate to the NFT landing page, go to NFT Loans and click on 'Get a Loan'.
The value of the short-term loan you'll be able to get from your NFTs will be shown. For example, the loan amount offered for Goon #9219 is roughly $84. To proceed with borrowing, click on 'Get $84 Loan'.
A confirmation pop-up will appear along with details about the loan. Currently, loans are offered for a duration of 7 days, there are no fees or interest charges and you can re-borrow as many times as you want. Note that if the loan is not repaid within 7 days, the NFT used as collateral will be automatically put up for sale in our marketplace.
Once you've confirmed the loan details, the amount will be added to your Rollbit balance. For each loan, the Loans page will show you the collection/ID, date of creation, a countdown timer for the default date, loan value and status (active, closed or busted).
The loaned amount can be withdrawn to your own wallet or can be used on Rollbit to:
fund another NFT purchase (either by buying it outright or winning it through the betting feature on our marketplace),
invest in the top cryptocurrencies via our Crypto Portfolio,
and leverage trade BTC, ETH, SOL, and other cryptocurrencies.
To repay the loan, go to the Loans page and click on 'Buy Back'. There must be enough funds in your account to repay the loan. Since there are no interest repayments, you'll pay back the exact same amount that was borrowed.
Once the loan is repaid, the status will change to 'Closed' and the NFT used as collateral is returned to your portfolio.
You can then borrow against the same NFT again, as many times as you want!
In the future, we will include more NFT collections as part of the loans feature and we'll consider adding longer-term loans too.
---
-The Rollbit team