NFTs in Focus: Lazy Lions
An overview of one of the most popular NFT projects: Lazy Lions🦁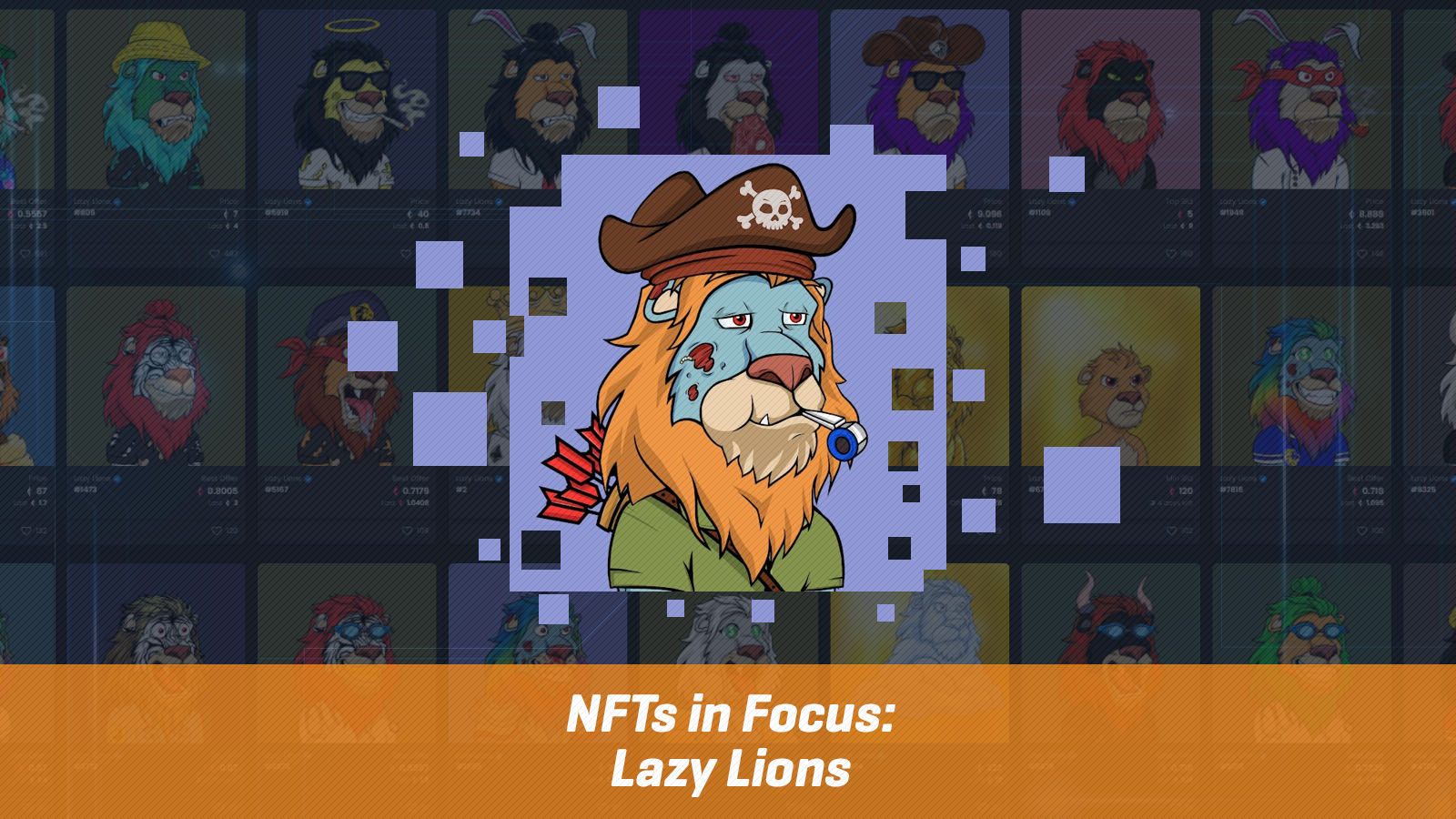 An overview of one of the most popular NFT projects: Lazy Lions🦁
Key Stats
Total supply: 10,000,
Floor price: 1.198 ETH (as of December 8th, 2021),
Mint price: 0.05 ETH (August 7th, 2021),
Number of owners: 4,841 (as of December 8th, 2021),
Highest sale: 99 ETH ($298,076.67) for Lazy Lion #678 (October 1st, 2021).
Overview
Lazy Lions burst onto the scene on August 7th, 2021, resulting from the hard work and the passion shared by four Australian friends from Sydney who turned their hand to the NFT market while under lockdown. With the art itself created by the rizzio.eth, there are four other members of the team; Ashur, Anlion, Nine and Nin.
The project was inspired by the founders' cultural roots, with the lion being a symbol of royal power in the ancient Assyrian society. However, lions have a wide cultural appeal since this animal is widely recognised as the 'King of the Jungle' and has been an important symbol to humans for tens of thousands of years.
Hosted on the Ethereum blockchain and generated algorithmically over 160 different traits, Lazy Lions are increasingly becoming seen as a 'blue chip NFT' (NFTs with a longevity and expected to still be around in 5-10 years), joining the ranks of leading NFT collections such as CryptoPunks and the Bored Ape Yacht Club.
Lazy Lions sold out in just 5 hours with between 3,000-4,000 participants in the sale. The primary mission of the project is to empower people to enter and thrive in the NFT space, with ambitions to become the world's largest NFT community.
There are nine 1-of-1 Lazy Lion NFTs, all of which are shown below. Lazy Lion #678 sold for 99 ETH on October 1st, 2021, which is the largest sale to date!
Despite launching just a few months ago, Lazy Lions is currently ranked 36th by all-time sales volume for NFTs projects across all blockchain platforms, according to data from CryptoSlam. In total, Lazy Lions has seen over 19,200 ETH ($66.8 million) in sales volume and more than 4,800 owners.
Price History
The history of the average price for a Lazy Lion NFT is shown below:

Lazy Lions floor price history. Source: OpenSea.
Not long after launch, the average price rose rapidly boosted by organic growth with several high-profile names joining the pride, such as entertainer Ja Rule during early September, followed by Jake Paul and NBA player Tyrese Haliburton (amongst others). Even the brand behind Arizona Ice Tea joined the pride back in September. These cosigns have helped to push the floor price of Lazy Lions higher, eventually reaching an all-time high around 3.67 ETH on October 1st, 2021.
Since October 2021, the average price declined as the NFT sector entered a bear market and eventually reached an all-time low below 1 ETH on December 5th. But since then, the value has increased once more. With rising volume recently, the current price could be a good entry point given the utility offered to holders, which we'll explore more in the next section.
Why Own a Lazy Lion?
The ascent of Lazy Lions shows how much can be achieved by building a strong community and by giving back. Referring to each holder as King or Queen, there's an emphasis on inclusivity where no single lion owner is better than the other. A community fund is also used to further the goals and adoption of Lazy Lions.
Some of the benefits for holders are listed below:
1. ROARwards
One catalyst for the success of the project in its early stages was the ROARwards program, where Lazy Lion holders can earn ETH for community engagement. Different tasks are set each month to become eligible for rewards and you can learn more by joining their Discord.
Instead of giving a large amount of funds to a celebrity or an influencer, they decided to spread it out to members of the pride to reward community-driven marketing.
2. Bungalows
In November, the project launched the Bungalows dApp, which give each Lazy Lions holders a unique, randomly generated private bungalow to display their NFTs.

Bungalow #4270. Source: OpenSea.
In line with the project's value of inclusivity, Bungalows can be used as a banner image for Twitter to show off not just your Lions and any other items from your NFT collection. According to their blog post, it paves the way for future developments, especially around the metaverse, and shows the teams focus on innovation and implementing new ideas.
3. Lazy Lion Collectibles
Following the success of Lazy Lions, the team launched collectibles are a way for people new to NFTs to get involved in the community and get a chance to become part of the pride, without having to fork out funds to purchase one at the floor.
4. Private Island in the Sandbox Metaverse
Lazy Lion holders also get exclusive access to a private island in the Sandbox after the team purchased land in the metaverse using the developer funds. The private island provides a virtual experience for holders and will be used to explore possibilities for web3.
The Future of Lazy Lions
The future of Lazy Lions is bright with an ERC-20 token on the horizon, although the team has previously stated that they will not launch a token until the utility is sound. A play-to-earn game is also on the roadmap, which should cement the project's place as a 'blue chip NFT'.
Buying/Selling Lazy Lions
While most sales of Lazy Lions are done through OpenSea, you can save yourself hundreds of dollars (or even more) in gas fees by trading Lazy Lions on Rollbit's NFT Marketplace!
Lazy Lions are one of the many whitelisted collections on Rollbit's NFT marketplace (learn more about it here), allowing investors to buy and sell NFTs without having to put up with expensive gas fees.
You can buy Lazy Lions that are on offer by depositing BTC, ETH, SOL or LTC. Alternatively, you can put up your Lazy Lion for sale (denominated in USD) and then withdraw your funds via BTC, ETH, SOL or LTC.
Back in September, Rollbit launched an innovative NFT betting game known as Rollboxes, where you can win high-value NFTs (such as Lazy Lions). For example, this Rollbox contains two Lazy Lions NFTs as prizes. Also, Rollbot holders can create their own Rollboxes and put up NFTs they own as prizes, earning passive income from this mini casino game!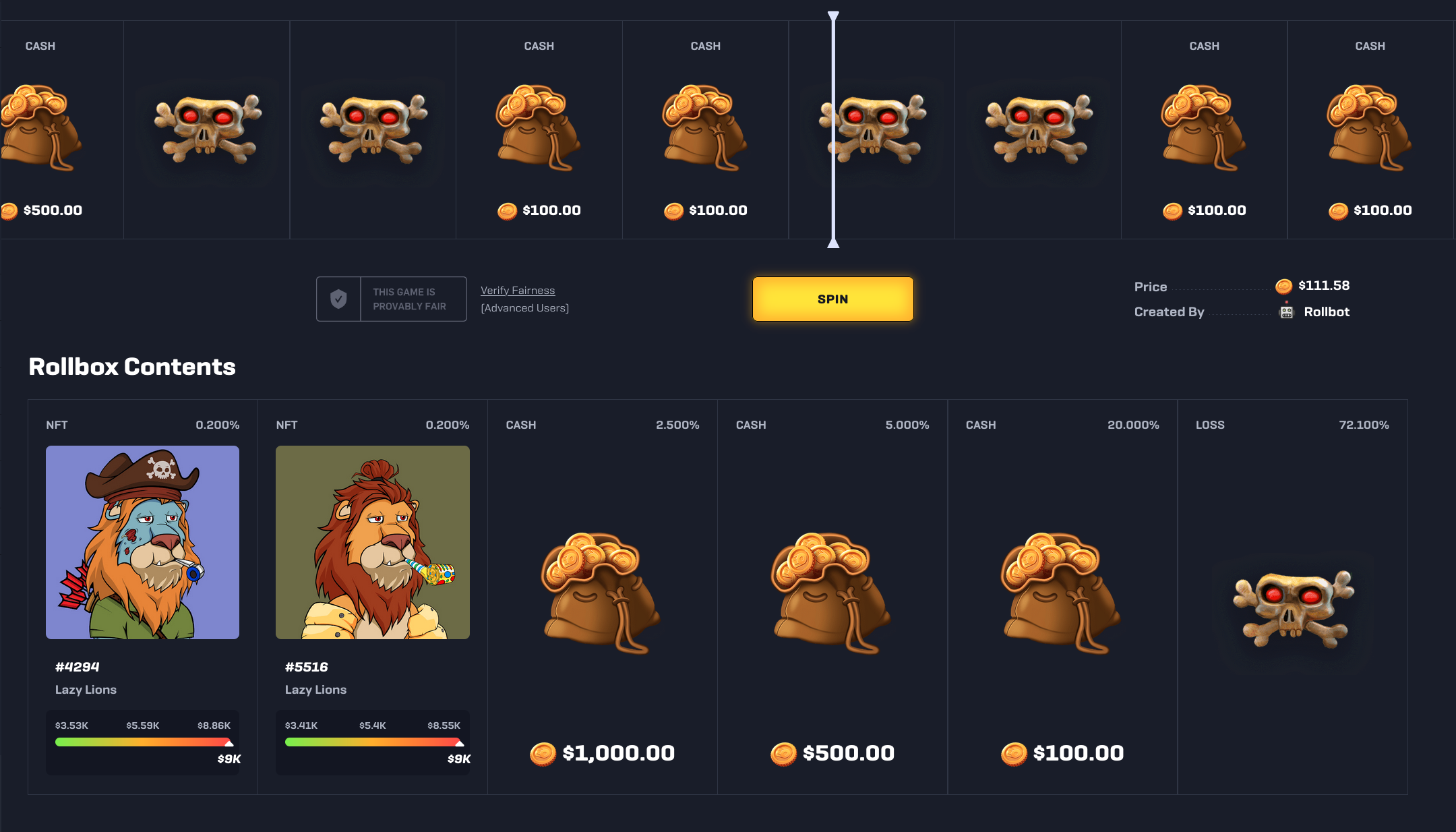 We welcome Kings and Queens to our community! Find out more about our NFT marketplace and the Rollbot NFT collection by joining us on Discord or by giving us a follow on Twitter!
---
-The Rollbit team