Rollbit Discord Events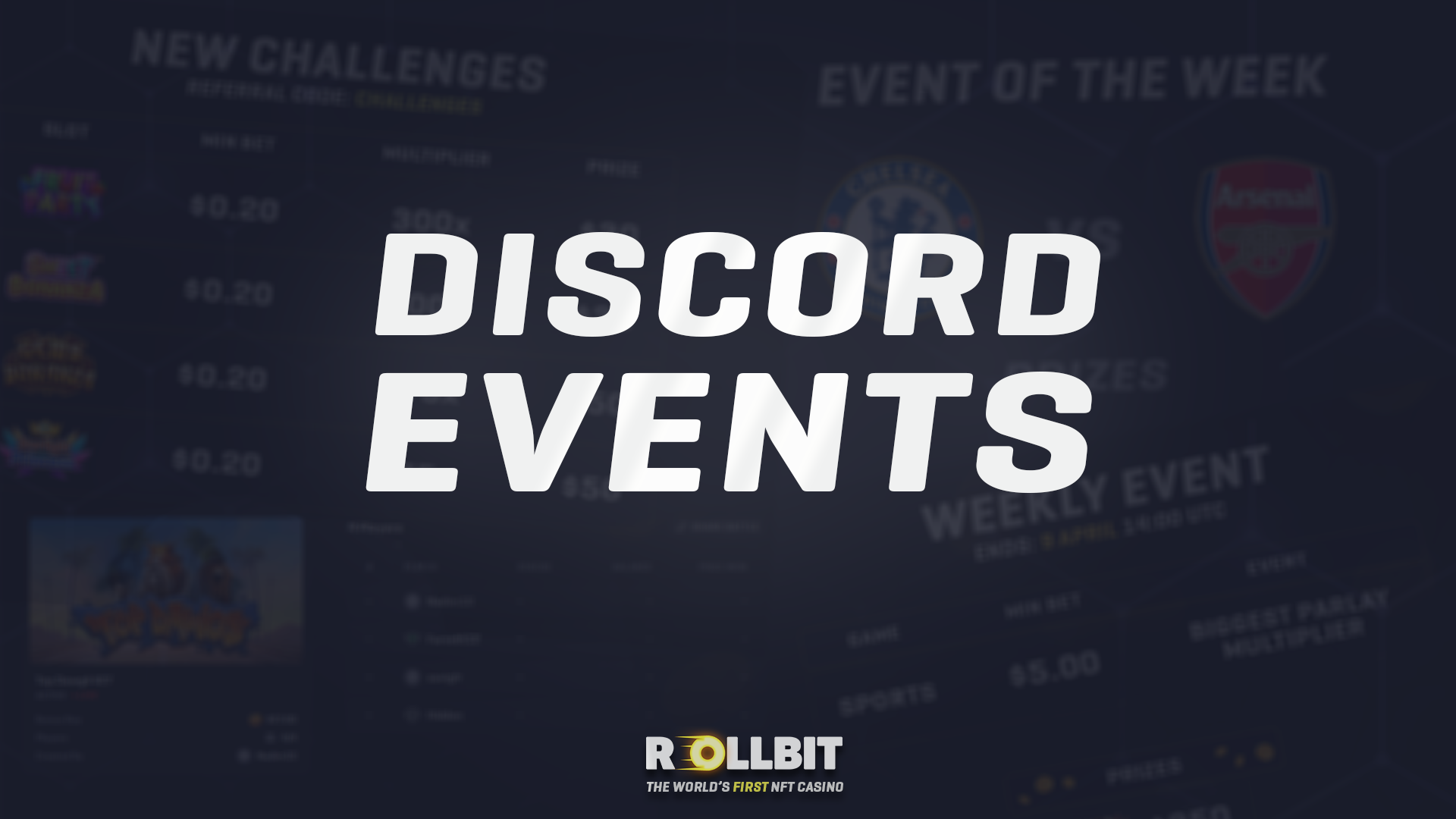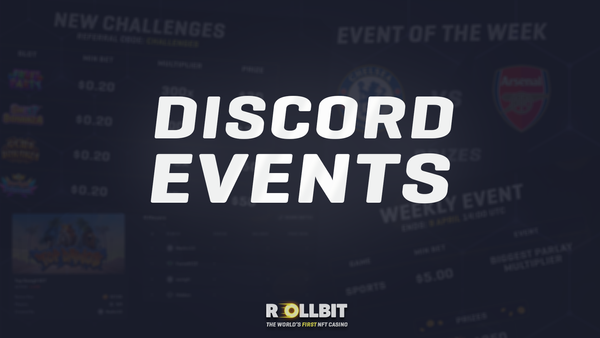 Welcome to Rollbit's Discord Events. If you haven't already you can join our Discord here!
🚨
An updated version of this blogpost is available
here
!
In our Discord we host frequent events, these include daily and weekly events. These are aimed at both Casino games and Sports betting, along with other unique events!
This blog post will break down the different events we have and how to get involved in them!
Casino
These challenges cover all of our casino games, these are mostly played out on slots but can also involve some of our other games!
Daily Challenges
This is a daily event where we select a group of slots with a set of parameters for the challenge.
When entering the daily challenge you must create a referral balance using the code "CHALLENGES". You can then spin the slot and attempt to hit the multiplier required! Bonus buys do not count!
If you hit the multiplier and complete the challenge, the prize will be automatically credited to your account!
You can find out what today's challenges are by checking out the #🎯daily-challenges channel within Rollbit's Discord! Here you will find an image like the example one below, you will have to be quick to the challenge as each prize can only be won once!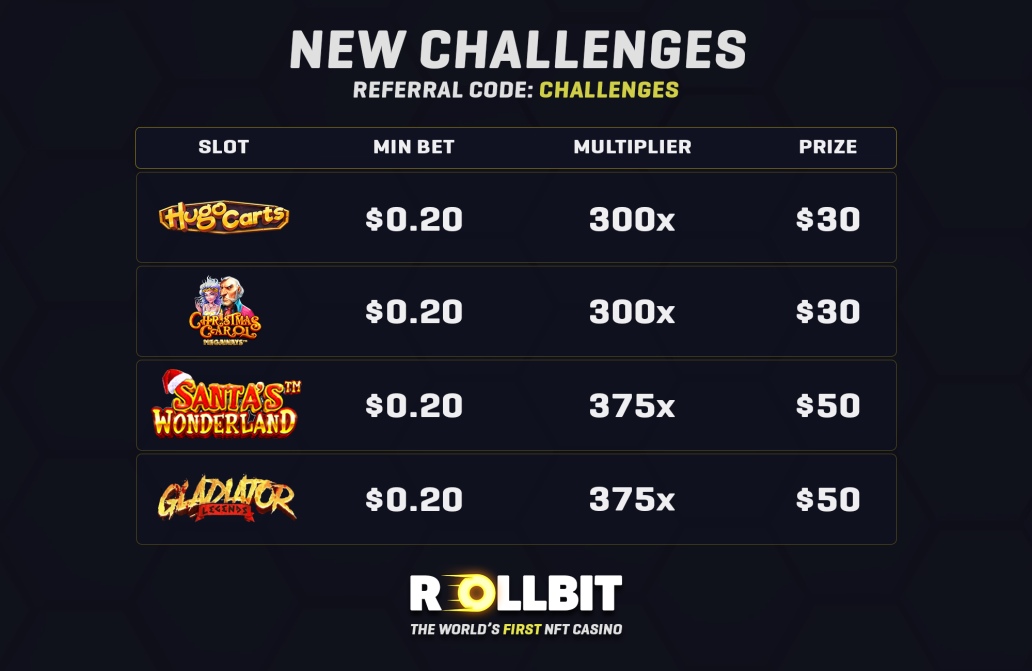 Weekly Challenge
Weekly events can be based on any game in the casino, the way it works is each week our team will post a new event in the #🏅weekly-event channel on Discord. In this post, the requirements for the challenge will be announced.
You will see an image like the one below, giving all of the information required to take part in the challenge!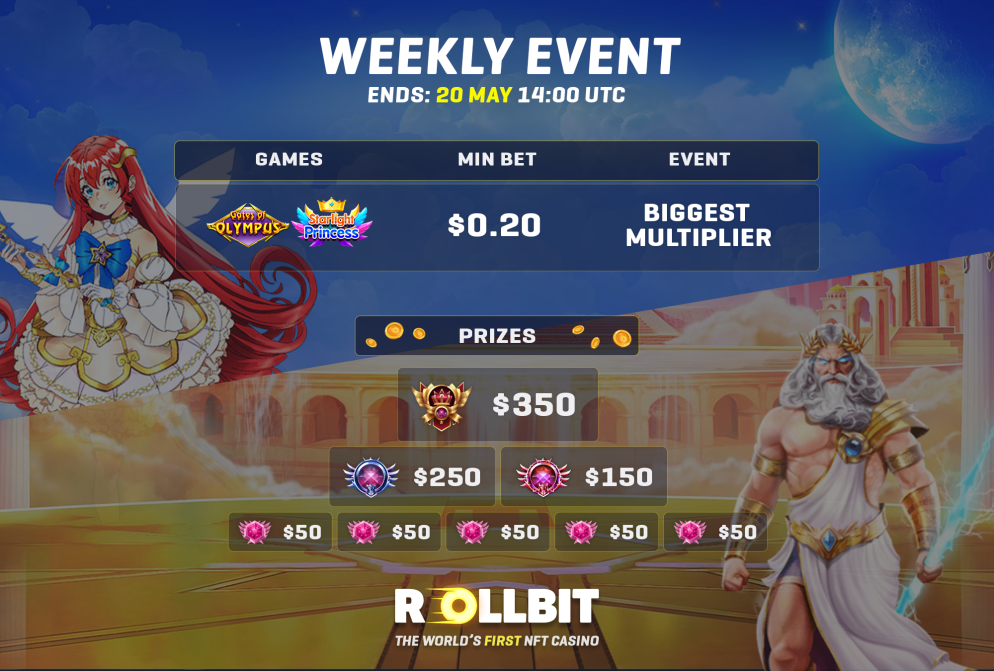 Once you have played the game and you feel you have hit a multiplier worth submitting, you can enter this by posting a screenshot of your winning bet in the discord channel #🏅weekly-entries. Be sure to provide your Rollbit display name!
Terms & Conditions
You must have a verified email - verify via account settings.
You can edit your post if you get a higher multiplier during the week.
1 entry per household, unless KYC has been submitted.
We reserve the right to request KYC verification from the winners before paying out prizes.
In the event of a draw (max win), prizes will be shared.
The prizes will be paid to accounts, where display names were provided, as Bonus Balance.
Entries must be in before the stated date on the event!
Entries will be checked before winners are announced.
Rollbit employees can not participate in weekly events. This does not apply to Discord Community Moderators.
Daily Battles
Every day we host a group of large-scale Bonus Battles where up to 50 contenders battle it out in a winner takes all bonus buy. Each day one of our team will create Battles on a variation of slots and they will be posted in the #🪓Battles channel on Discord.
There will usually be a heads up prior to the Bonus Battles starting, along with an image with the information about the upcoming Bonus Battles!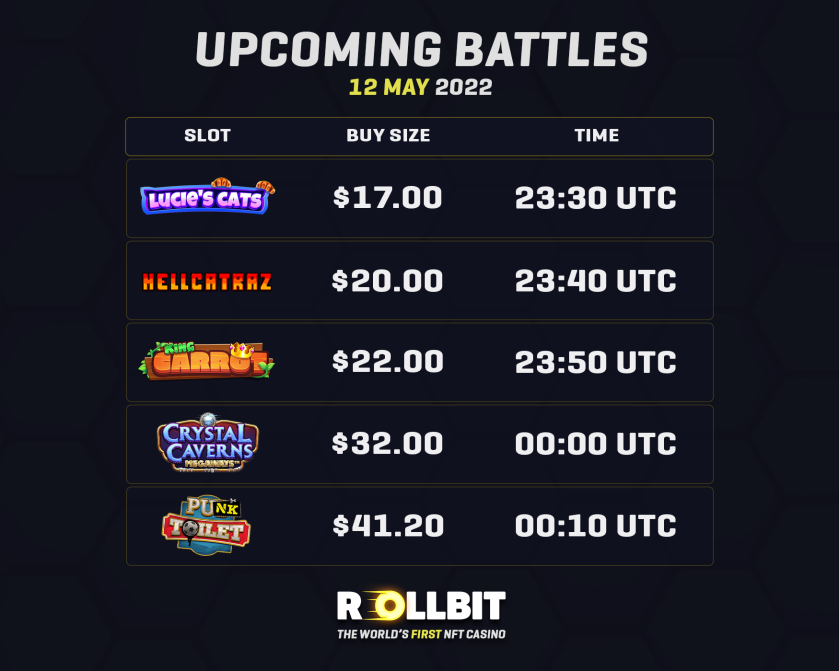 Sportsbook
These challenges are based on bets on Rollbit's Sportsbook, these are new and any feedback for them would be greatly appreciated.
Weekly Challenges
We will be starting a "Event of the Week" competition, this will be where we have a competition surrounding the most anticipated sporting event of the week. We will be announcing these challenges every week on Discord.
An example of a challenge that might surround the Event of the Week would be Manchester United vs Manchester City as the featured match, we would then set a competition that would have requirements such as:
Minimum bet is $10
Minimum combinations is 2
Minimum odds are EU:1.2 /US(Moneyline)-500
This would mean that you have to select more than 2 events, one of them being the Manchester United vs Manchester City game, the other selections can be anything as long as the events finish by the time the challenge concludes.
The winner is determined by whoever has the highest odds, so the more ballsy the winning bet, the more chance you have at winning!
To enter the challenge you just need to screenshot your winning bet slip and post it on the Discord along with the ticket ID.
---
-The Rollbit Team