Sports: Event Of The Week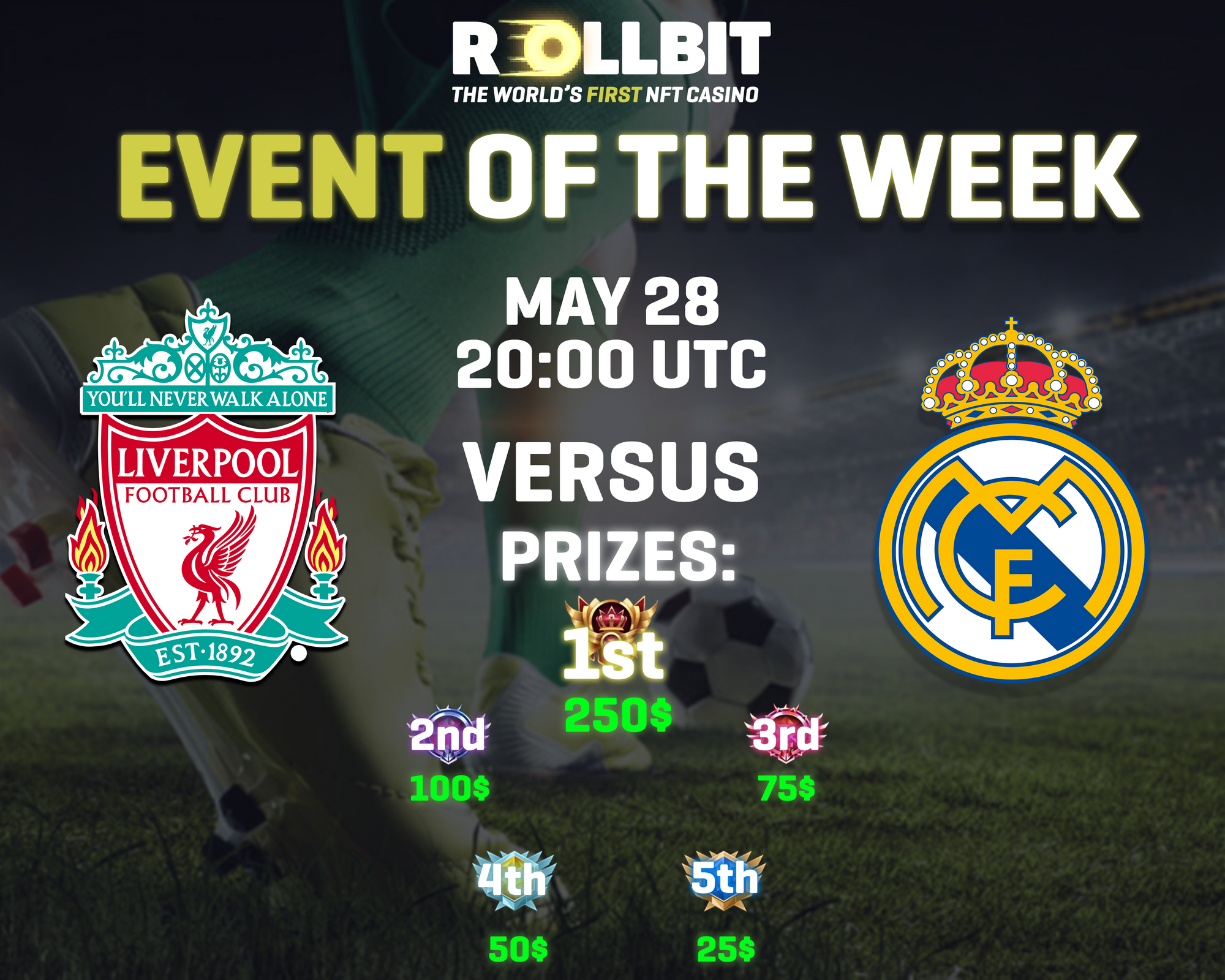 Event Of The Week Challenge
Today's Event of the Week is Liverpool vs. Real Madrid! We are going to be hosting a Sports betting competition for this event!
If you haven't already familiarised yourself with our Discord Events you can check them out in our recent blog post!
Winners are determined by hitting the highest odds in a combo or system bet!
Requirements:
Minimum bet is $5
Minimum combination is 2
Minimum odds are EU:1.2 /US(Moneyline)-500
How to enter:
Provide your Rollbit display name & ticket ID
Provide a screenshot of your bet slip (The whole bet slip has to be visible)
Post it in #⚽sports-weekly-submissions
Entries close May 31st
Prizes:
1st: $250 Free bet
2nd: $150 Free bet
3rd: $75 Free bet
4th: $50 Free bet
5th: $25 Free bet
Terms & Conditions:
You must have a verified email - verify via account settings.
You can edit your post if you hit better Odds during the week.
The Event of the Week has to be included in your submitted bet slip
If you submit a combo, all games have to be won
In case of cancelled games, the bet slip is still valid as an entry
1 entry per household, unless KYC has been submitted.
We reserve the right to request KYC verification from the winners before paying out prizes.
In the event of a draw, prizes will be shared.
The prizes will be paid to accounts, where display names were provided, as free bets for Rollbit's Sportsbook.
Entries must be in before May 31st 11:59PM
Entries will be checked before being announced.
Rollbit employees can not participate in weekly events. This does not apply to Discord Community Moderators.
Event Overview
Our first Event of the Week is going to be the UEFA Champions League Cup Final. This cup tie is between two powerhouses of Europe, Liverpool F.C. and Real Madrid C.F. will be an incredible way to start off our new weekly challenge! With Real Madrid being the most successful team in the tournament's history and Liverpool the third, this is bound to be a fierce match-up between the two.
Real Madrid is coming into this in great form, after dominating the La Liga by a whopping 13 points to clinch the title for the 35th time and also taking home the Supercopa de España for the 12th time, they will be determined to complete the rare treble!
Liverpool is coming into the Champions League Final fresh off their eighth F.A Cup win, so they have recently felt the pressure of a cup final, but this time it's on the European stage. Liverpool will be coming into this match determined to claim the trophy after the Premier League slipped their grasp by just one point!
Event Details
The Champions League Final will be played out on May 28th at 8 PM CET. You can place your bets on this event on Rollbit's Sportsbook. We have a wide range of markets available for this event with competitive odds!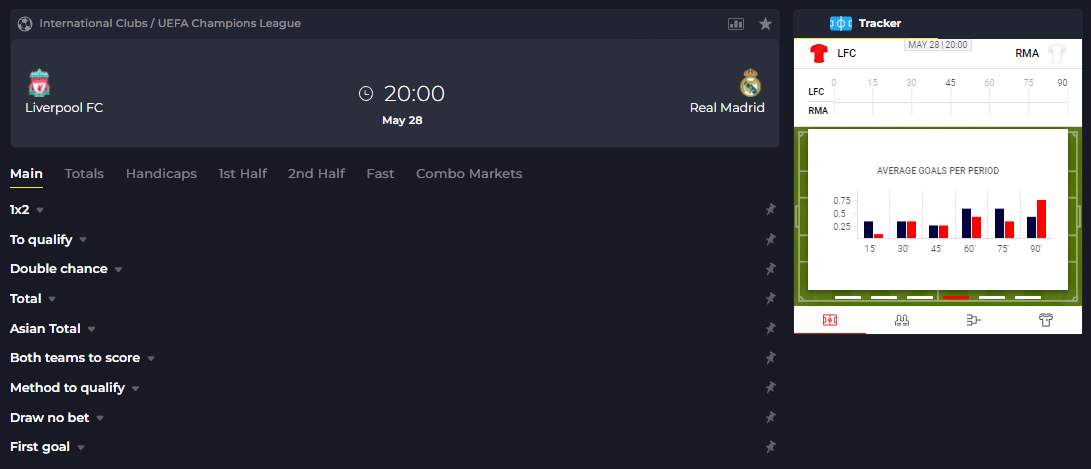 Our Odds for the 1x2 market are currently at Liverpool(2.11/+111) vs Real Madrid(3.35/+235). You can deposit and place your bets on Rollbit with the leading cryptocurrencies, such as Bitcoin (BTC), Ethereum (ETH), Litecoin (LTC), or Solana (SOL)!
Recent Clashes
In their previous clashes, Real Madrid has come out victorious on 4 of the 8 occasions, with Liverpool securing 3 wins, and one ending as a draw. Real Madrid will be going into this confident with their 2 recent wins of 3-1 in 2018 and 3-1 on Aggregate in 2021!
However Liverpool will be back with a vengeance, wanting to claim the title for themselves after the shattering defeat to Real Madrid in the 2018 final.
With Real Madrid's recent 6-0 win along with their 3-1 win over Manchester City and Liverpool's 3-1 win last Sunday as well as their 3-2 win in their last European match up could this be another thriller with over 2.5 goals scored? I think we could be in for a goal-scoring frenzy!
Head over to our #⚽sports channel on Discord to join the discussion!
All in all, I think we are in for an intense Champions League Final for all sides, to say I'm excited is an understatement!
---
- The Rollbit Team