The Crypto Pulse August 6th
Rollbit's weekly analysis and review of the news in Bitcoin, Ethereum and cryptocurrency markets.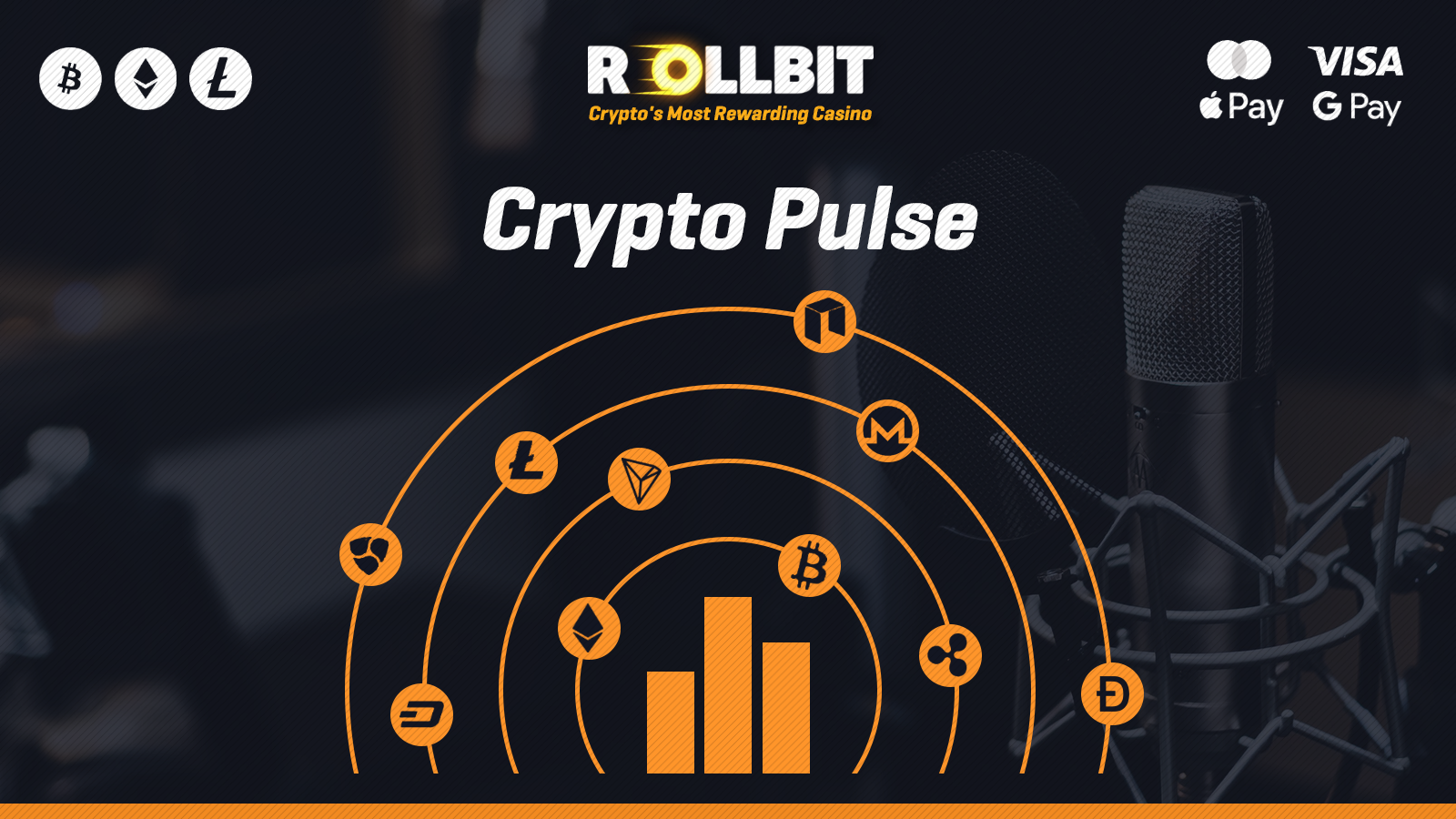 Rollbit's weekly analysis and review of the news in Bitcoin, Ethereum and cryptocurrency markets.
News 📰
The U.S. infrastructure bill was designed to update roads, highways, and digital infrastructure, but included a provision for digital assets to capture more revenue for the state by increasing the surveillance of digital assets and clawing back any unreported gains.
The 2,000+ page bill broadly defined the term "brokers", who would be required to report all actions of users to the IRS. However, Senators Ron Wyden, Pat Toomey, and Cynthia Lummis introduced an amendment that clarifies the definition of a broker so that doesn't apply to open source software developers, peer-to-peer marketplaces, or validators like miners or stakers.
However, it seems the Biden administration has backed an alternative amendment which proposes a tax on staking and DeFi protocols, favouring Proof-of-Work assets like Bitcoin. The vote on the bill is expected to take place this weekend.
In other regulatory news, the CFTC Commissioner said that the SEC does not have any authority over commodities - including crypto-assets like Bitcoin and Ethereum. The comments came after the SEC chairman, Gary Gensler, stated that they want to enact safeguards for the cryptocurrency market to protect investors in the US.
At block number 12,965,000, Ethereum activated the London hard fork, which included changes such as EIP-1559.
In the first 24 hours of the upgrade going live, a total of 4,212 ETH were burned as part of the new base fee mechanism, which removes the ETH used to pay for transaction fees from the circulating supply. This figure is in line with estimates from Ethereum Foundation researcher Justin Drake of a daily burn of somewhere between 3,000-6,000 ETH.

Source: Dune Analytics
August 5th also kicked off the three-day Smart Contract Summit event featuring speakers from the world of DeFi, such as Chainlink's Sergey Nazarov and Aave founder Stani Kulechov. Watch the livestream from the first day below:
This week it was revealed that JPMorgan Chase has started to pitch an in-house Bitcoin fund to its private bank clients. The fund is offered in partnership with NYDIG, a leading technology and financial services firm dedicated to Bitcoin.
The bank is now set to become a real player in the digital asset space after the latest move, the plans for which came to light in May.
JPMorgan boss Jamie Dimon famously said he would fire any employee caught trading bitcoin back in 2017 and has argued that Bitcoin is a 'fraud'. The banker has since taken a less hostile tone on cryptocurrencies, explaining in May "clients are interested [in crypto], and I don't tell clients what to do".
Cash App has seen Bitcoin-related revenue triple year over year to $2.72 billion, up from $875 million. Also, the profit made through Cash Apps Bitcoin offering increased to $55 million according to a financial letter sent to Square's shareholders.
The fintech firm headed by Jack Dorsey will also acquire Australian company Afterpay for $29 billion, whose 16 million customers will be able to buy Bitcoin through Cash App.
NFT trading volume is up +250% on OpenSea over the past 30 days according to data from DappRadar and also reached a record high for a single day of $64.1 million on August 4th.
Data from Dune Analytics also shows that the total number of OpenSea traders who have made at least one transaction is growing rapidly and approaching the 200,000 milestone. In three months, this figure has almost doubled from just over 106,000 during early May to 191,918 as of August 6th.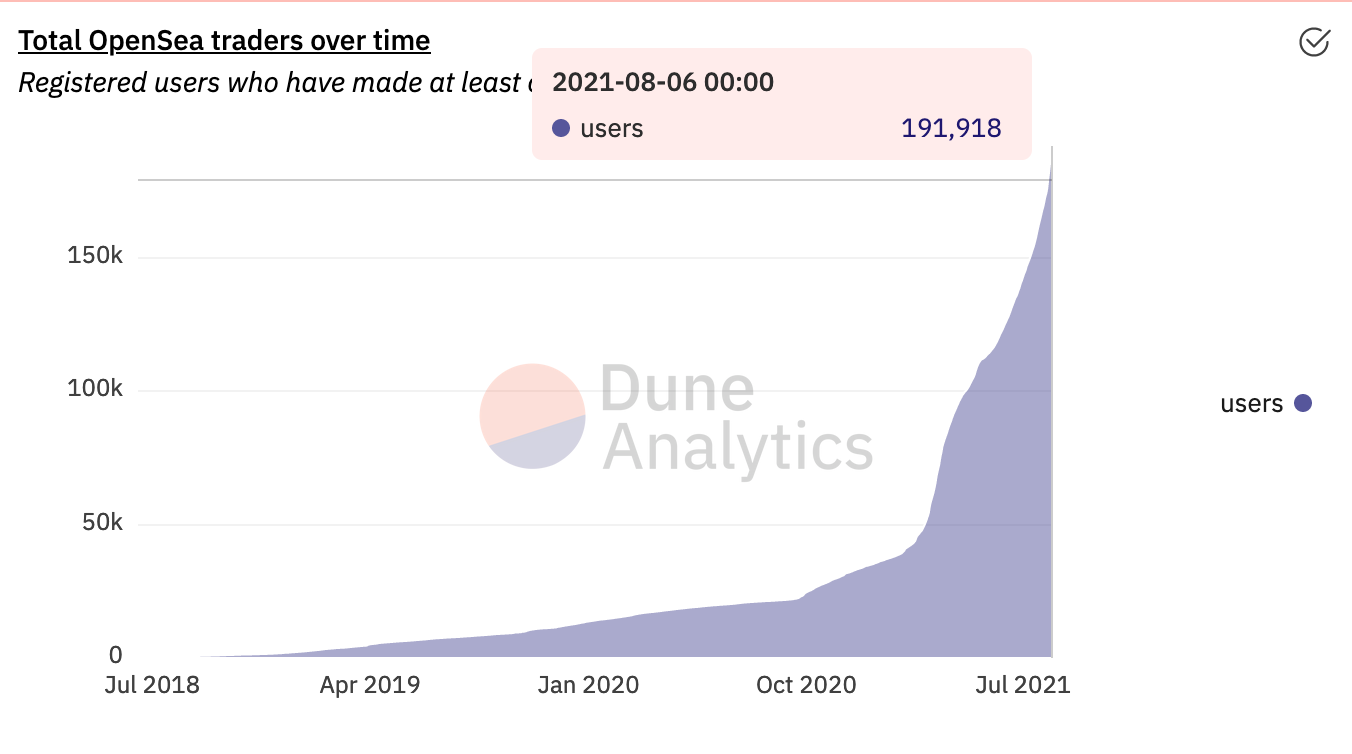 Source: Dune Analytics
Other News
Fortune 500 company NCR is acquiring Bitcoin ATM operator Liberty for an undisclosed amount,
Ethereum-based crypto-art NFT platform Makers Place raised $30 million from investors, including Coinbase Ventures and Eminem,
Switzerland's largest telecommunications provider, Swisscom, is launching a Chainlink oracle node to provide data for Decentralised Finance.
Market Analysis 📈📉
7-day Price Change
Data as of August 6th, 15:00 UTC
Let's look at the Bitcoin chart.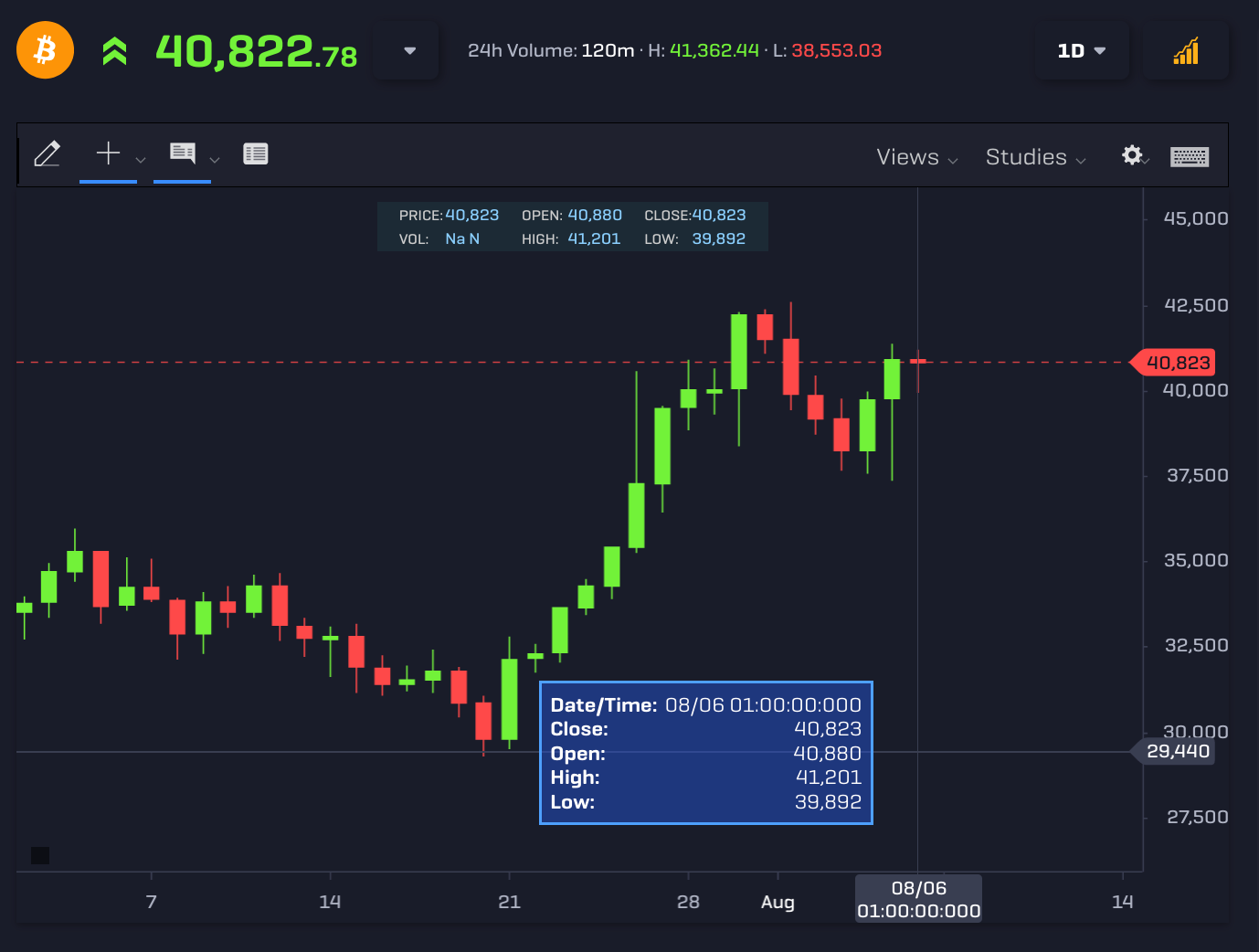 After posting the longest-winning streak on the daily timeframe in more than 4 years, Bitcoin then saw 4 days of back-to-back losses between July 31st and August 3rd. However, the price has since bounced from $37,500 and it looks like buyers have taken the upper hand. We can see from the chart that August 4th's candle close created a Bullish Engulfing pattern, pointing to further gains for Bitcoin.
A break above the recent high of $42,600 is likely to open up an attempt at $45,000. On the other hand, a move below $40,000 could open up another test of $37,500.
Bitcoin is trading above the 50-day moving average and approaching the 200-day moving average, a key technical indicator. The 200-day moving average is currently at $44,807 and a daily close above this level would be a bullish sign.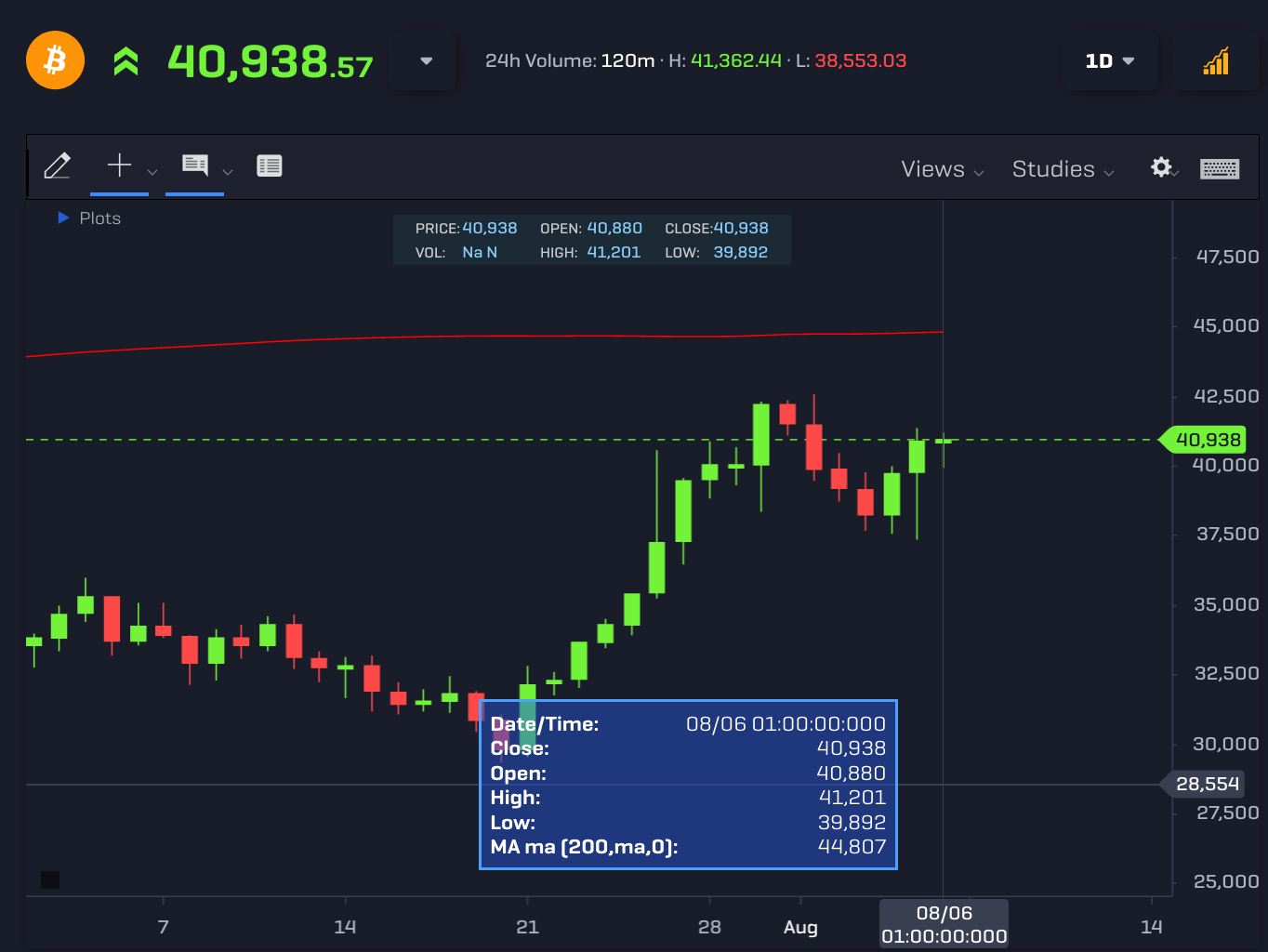 On the 4-hour chart, we see that Bitcoin has been trading between $37,500 and $42,000 for the past week. A break of the range should see a big move for Bitcoin, with a move above $42,000, potentially lifting the price of Bitcoin to the next resistances at $43,000 and $44,000.
Ethereum's London hard fork on August 5th lifted the price of Ether to the highest level in almost 2 months and looks on its way to regaining the $3,000 level.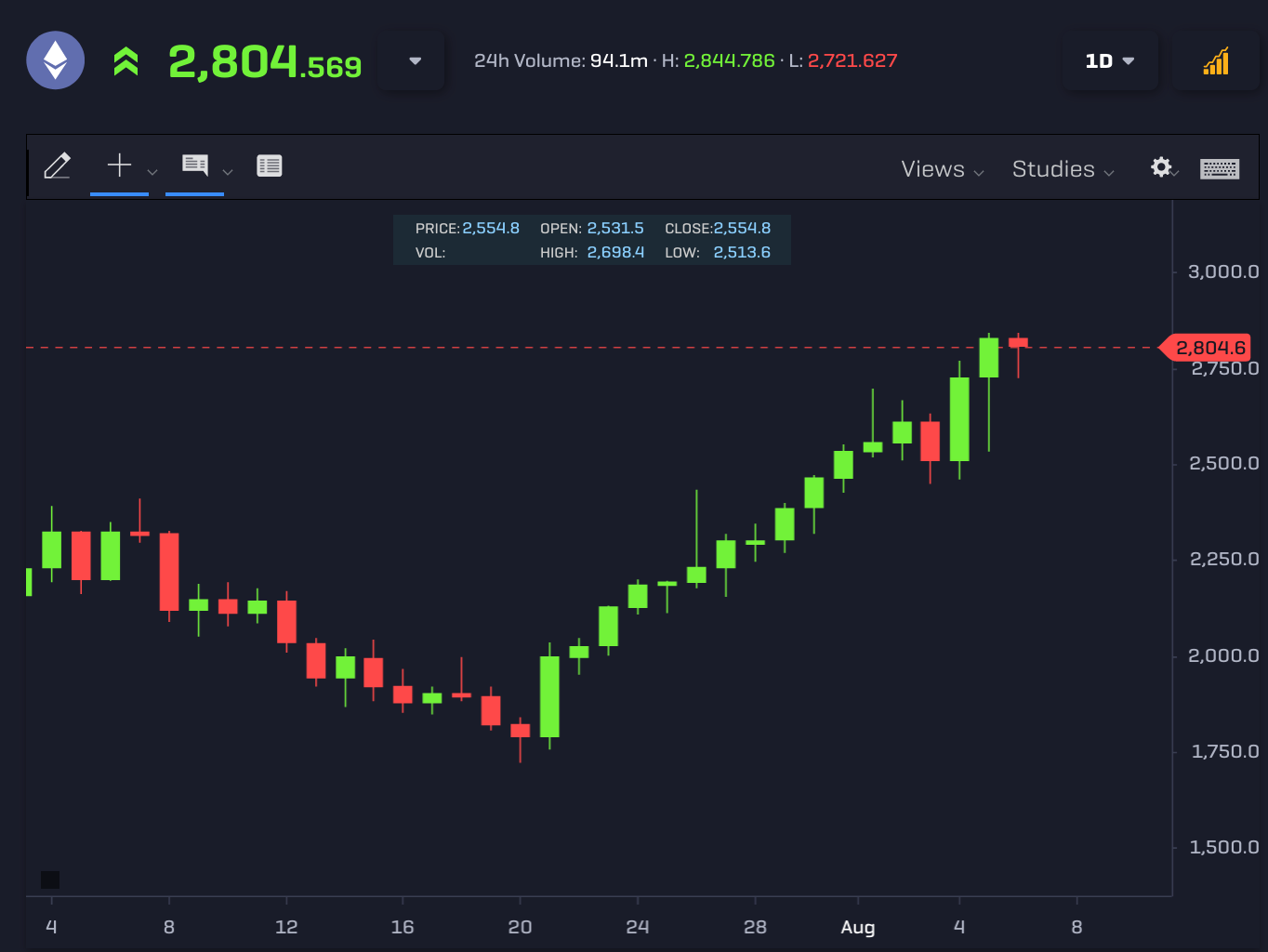 The chart below shows the big green candle for ETH from the strong buying following the successful London fork. The EIP-1559 upgrade is putting downward pressure on the supply as ETH is burned for transaction fees, which should positively affect the price over the long run.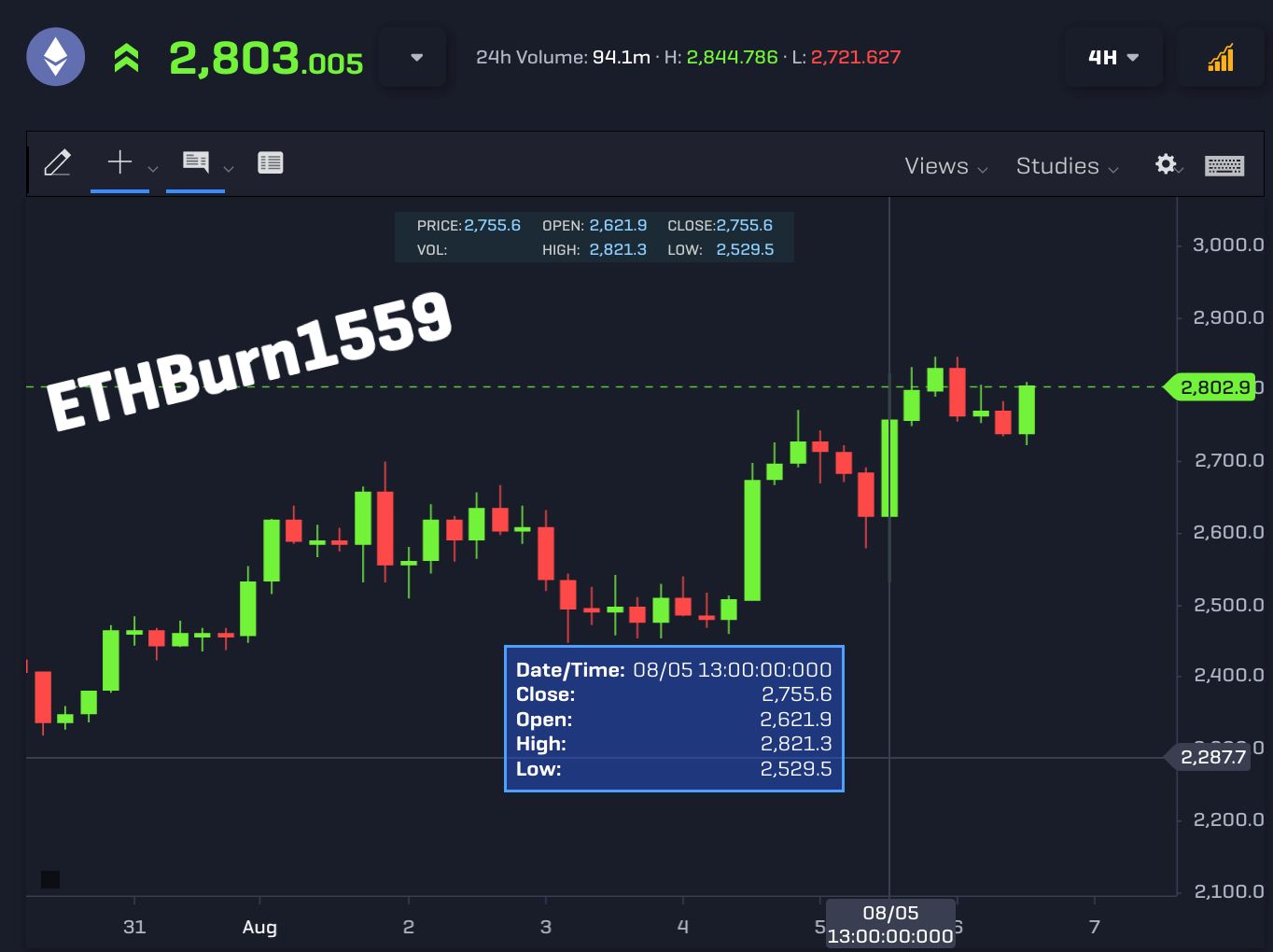 Therefore, sentiment should remain bullish and we could see jumps in the price of ETH if we begin to see greater transaction volume on the Ethereum blockchain and a high number of ETH burned (especially above the upper end of estimates, around 6,000 ETH per day).  
Have a great weekend!
---
-The Rollbit Team