The Crypto Pulse: December 28th
Rollbit's weekly analysis and review of the news in Bitcoin, Ethereum, NFTs and cryptocurrency markets.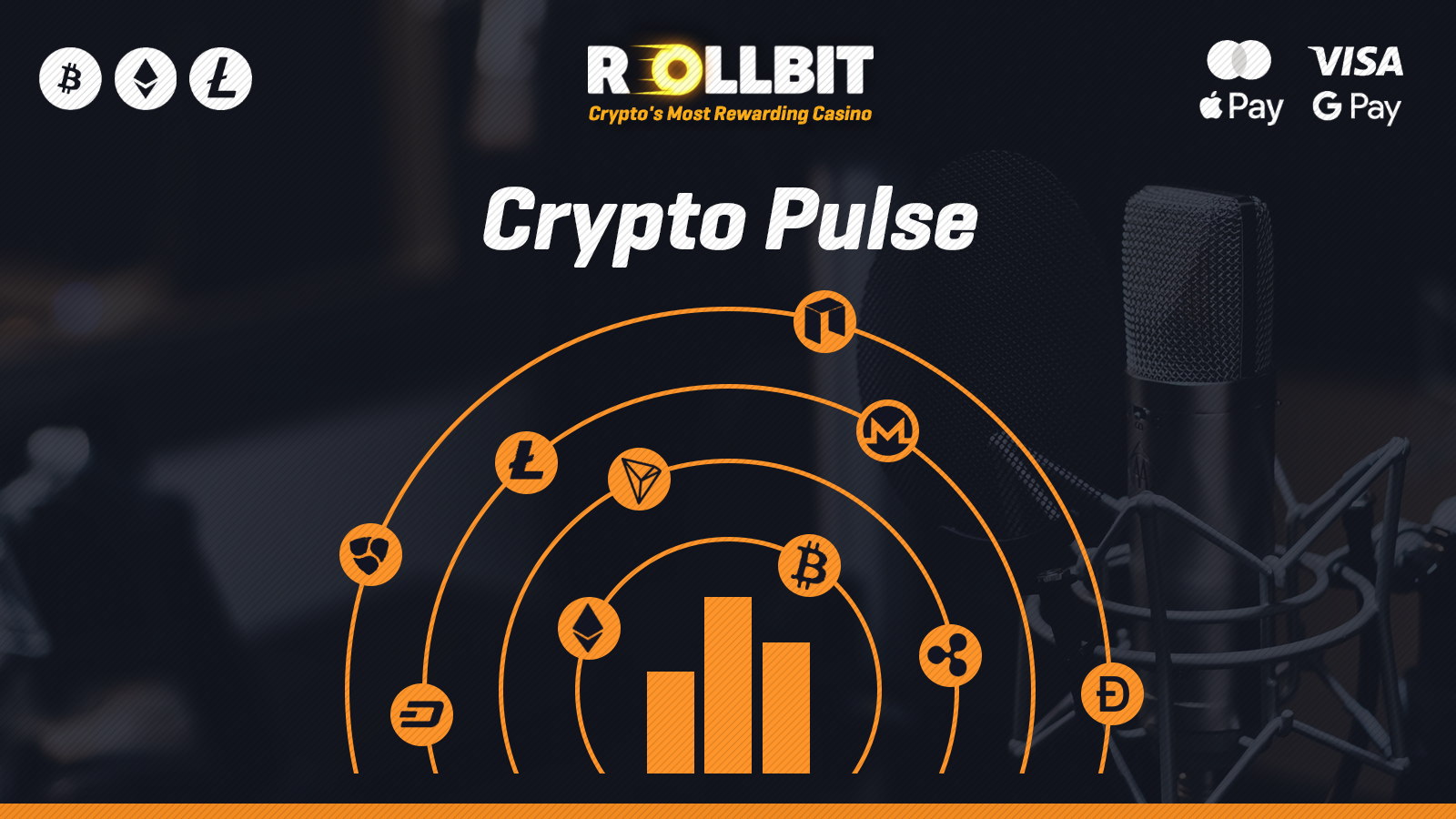 Rollbit's weekly analysis and review of the news in Bitcoin, Ethereum, NFTs and cryptocurrency markets.
News 📰
Last week, a new decentralized autonomous organization (DAO) emerged, called the OpenDAO, to distribute free tokens to users of the largest NFT marketplace OpenSea. Anyone who has transacted on OpenSea before December 23rd is now eligible to claim free SOS tokens by connecting their MetaMask to the OpenDAO website.
It is not clear who's behind this new DAO, but it's apparent that OpenSea has no involvement and the core contributor for OpenDAO is an anonymous user known as @9x9x9eth.
With several airdrops in 2020 netting some investors thousands of dollars or even more, the next projects likely to host an airdrop were included in an article by CryptoBriefing on December 27th.
Join Rollbit's very own RLB airdrop by wagering on our site, completing the Christmas Giveaway challenges or by buying a Rollbot.
On December 20th, Ethereum developer Tim Beiko announced the public launch of the Kintsugi testnet and will be one of the final testnets before the transition to Ethereum 2.0 (a move away from Proof of Work to Proof of Stake).
Kintsugi will allow anyone to experiment with Ethereum as if the network was operating under Proof of Stake envisioned by Ethereum 2.0. Beiko explained, "existing long-lived testnets will run through The Merge. Once these have upgraded and are stable, next up is Ethereum mainnet's transition to proof of stake."
The floor price of Bored Ape Yacht Club (BAYC) NFTs has risen above that of CryptoPunks for the first time ever. The flip is noteworthy since BAYC NFTs are much newer than what are considered the OG of NFTs, CryptoPunks. While BAYC was launched in April 2021, CryptoPunks first hit the market in 2017.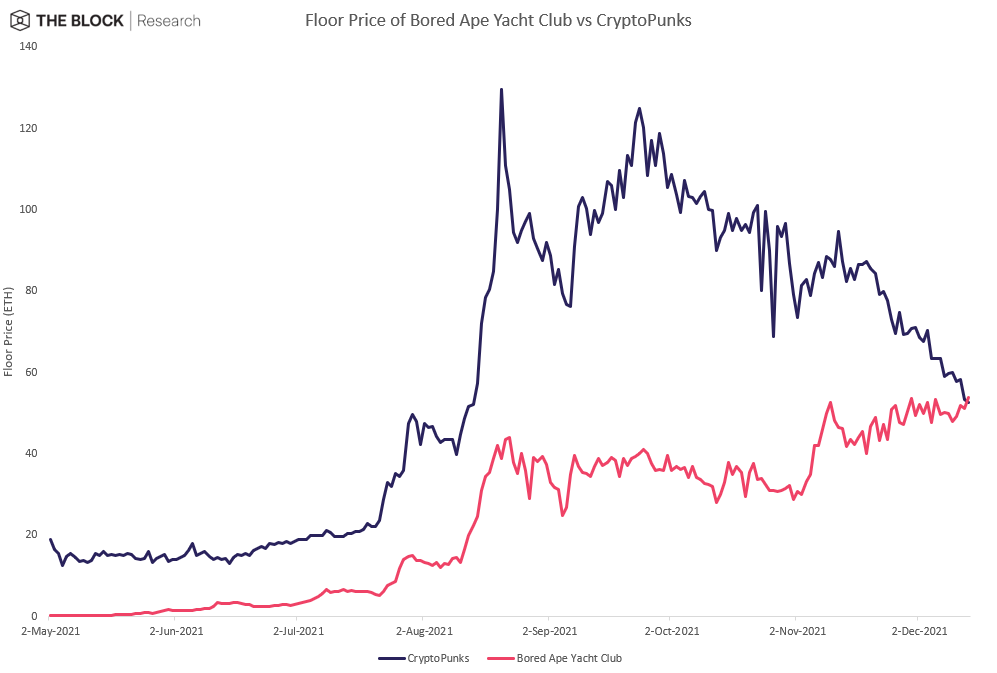 Over the last few months, the floor price of CryptoPunks has fallen steadily, whereas that of BAYC NFTs has increased with multiple factors at play. BAYCs have generous Intellectual Property rights as compared to Punks, allowing Apes holders to use their NFTs for commercial purposes.
Another factor is a string of Ape purchases by celebrities, with one of the latest being Snoop Dogg (who bought a Bored Ape, two Mutant Ape Yacht Club NFTs and a Bored Ape Kennel Cub).
Use the new NFT betting feature for a chance to win Bored Ape Yacht Club #7832 from our marketplace!
The Terra blockchain's fast growing stablecoin UST, which had surpassed its rival DAI to become the largest decentralized stablecoin, has how attained another milestone: a market capitalization of $10 billion. The rapid growth in UST has occurred as the Terra blockchain has emerged as a major player in the DeFi sector.
Terra recently overtook Binance Smart Chain (BSC) for second place in terms of total value locked (TVL), a metric used to compare DeFi activity hosted on different blockchains. At the time of writing, the TVL of Terra is $18.2 billion compared to BSC's $17.24 billion according to DeFiLlama, with the lending protocol Anchor being the most popular DeFi project on Terra.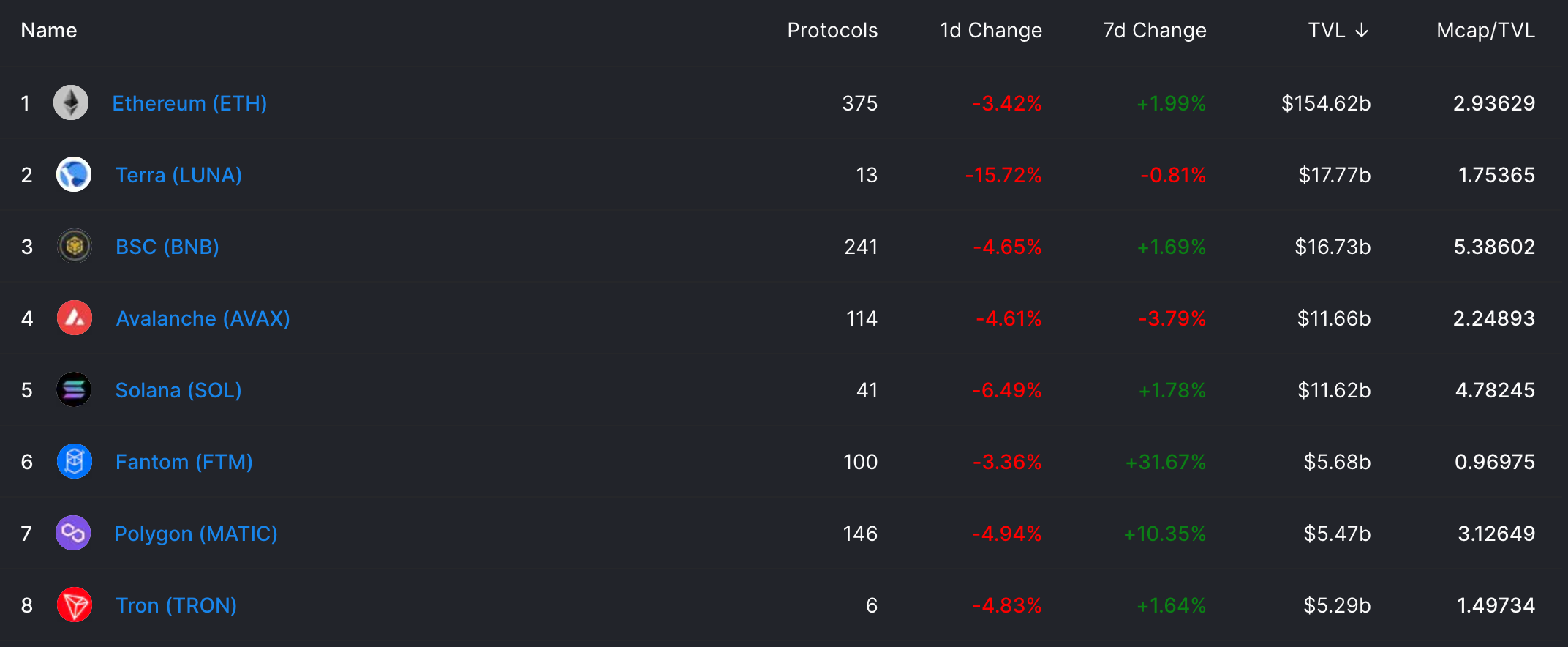 Gain exposure to Terra's native asset LUNA via Rollbit's Crypto Portfolio.
Just over 1,700 venture capital deals focused on the cryptocurrency space occurred in 2021, netting these startups, projects and protocols an estimated $25.1 billion in financing. Compared to 2020, the new figures represent a 126% increase year-over-year in the number of deals and a 719% increase year-over-year in total funding.
Numerous crypto companies have achieved 'unicorn' status, i.e., scoring valuations above $1 billion. According to The Block Research's findings, at least 65 companies achieved this distinction during 2021.
Other News
Market Analysis 📈📉
7-day Price Change
Data as of December 28th, 19:30 UTC
Let's look at the Bitcoin chart.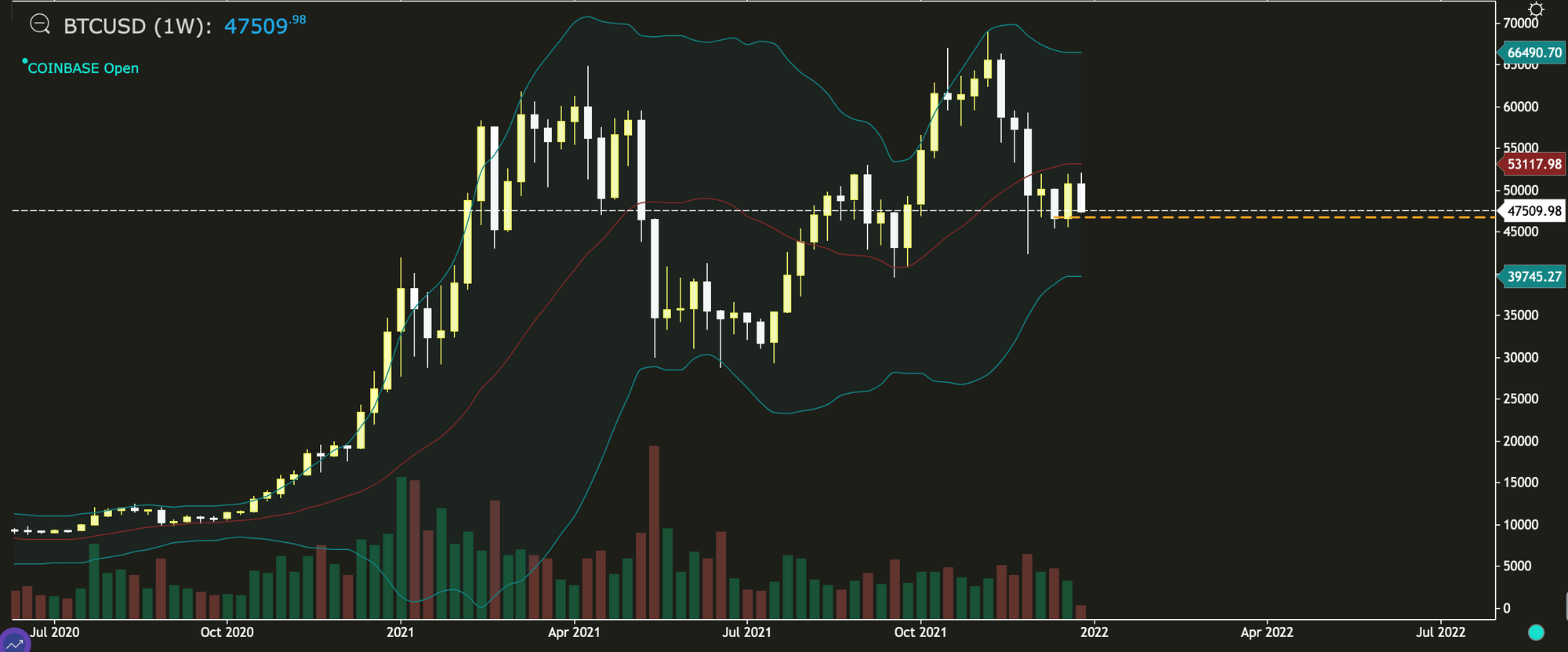 The weekly chart above shows a Bullish Engulfing candlestick pattern was formed last week. However, the price of Bitcoin has fallen since Sunday midnight and is moving towards the previous week's opening price at $46,687. If we get a break below $46,687 this week, then we are likely to see further downside and a possible test of the lower Bollinger band at $39,759.
For a bullish outlook, we'd need to see a weekly close above last week's closing price ($50,801). The bullish outlook is strengthened if there's a weekly close above the middle Bollinger band (currently at $53,123).
The daily chart for Bitcoin is displayed below. After testing the upper Bollinger band on Christmas Eve and December 27th, the market wasn't able to move any higher than $52,100 and encountered resistance around this level before falling drastically on today on December 28th. The lower Bollinger band provides support at $45,325 and could be a good area to enter longs.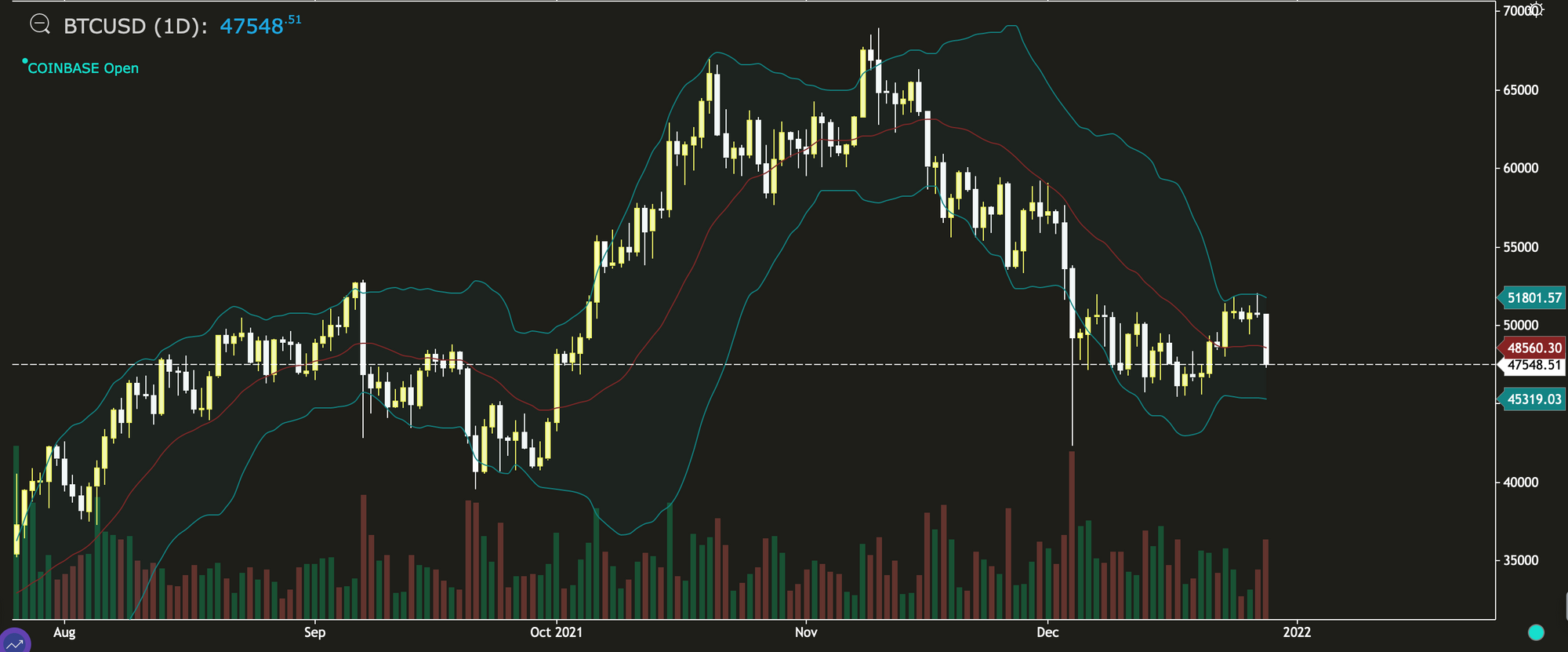 For the price of Ethereum, it is already testing the lower Bollinger Band on the daily timeframe, highlighting a potential opportunity to buy. The lower band currently lies at $3,776 and a daily close above this level should point to a reversal.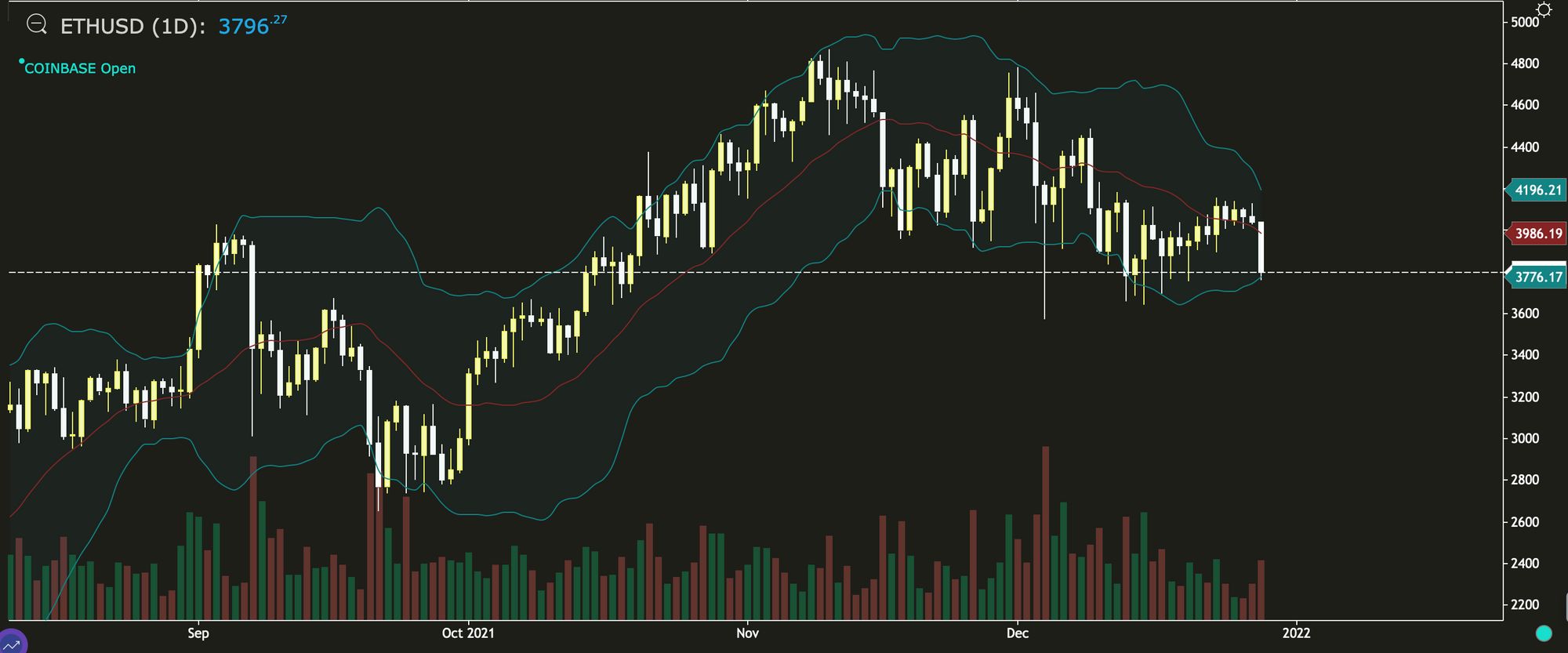 MATIC was the biggest gainer over the past 7 days for cryptocurrencies available for leveraged trading on Rollbit and reached a fresh all-time high of $2.925. However, on December 28th the price has dipped, reaching lows of $2.44. The middle Bollinger band on the daily chart below provides support at $2.293, which could be an important area to watch for a reversal if the price continues lower.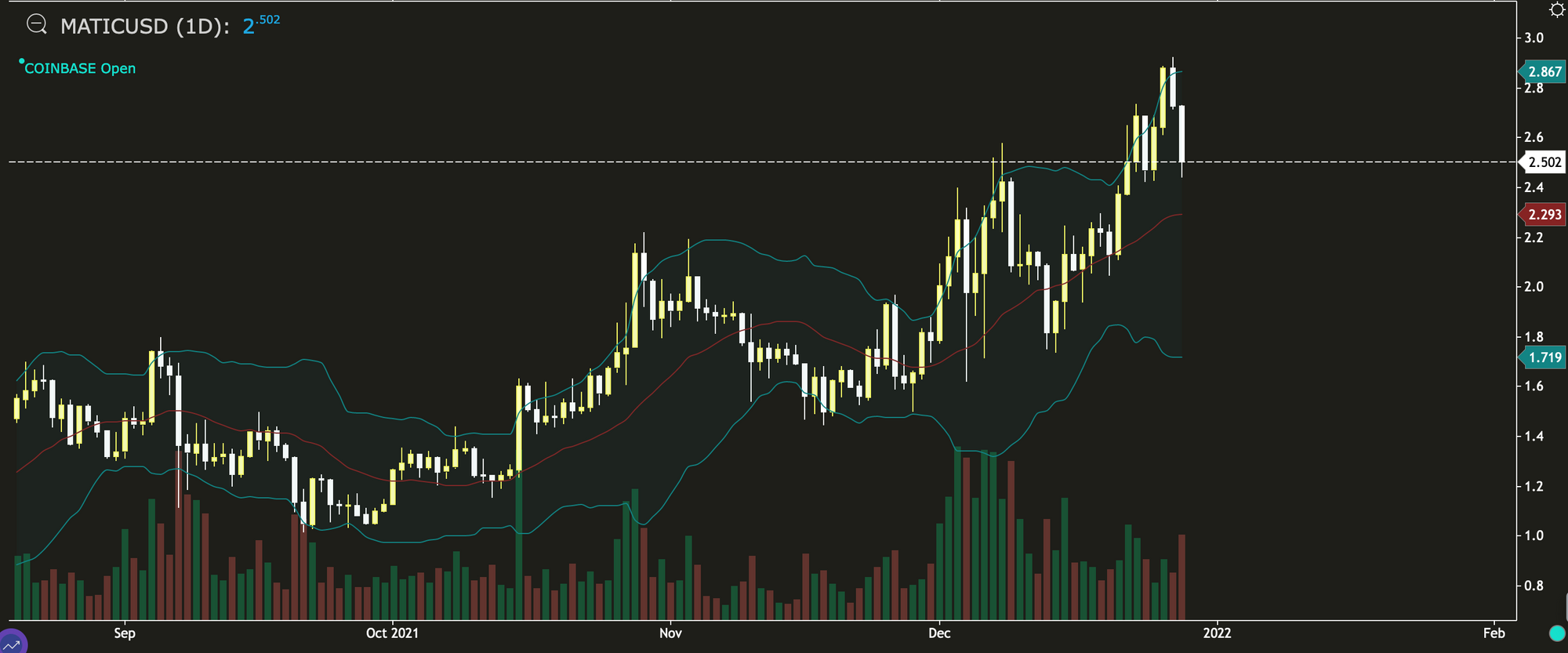 Have a great week!
---
-The Rollbit team