Top Tips for Investing in Non-Fungible Tokens
How to make profitable investments in Non Fungible Tokens (NFTs) and find the next big project.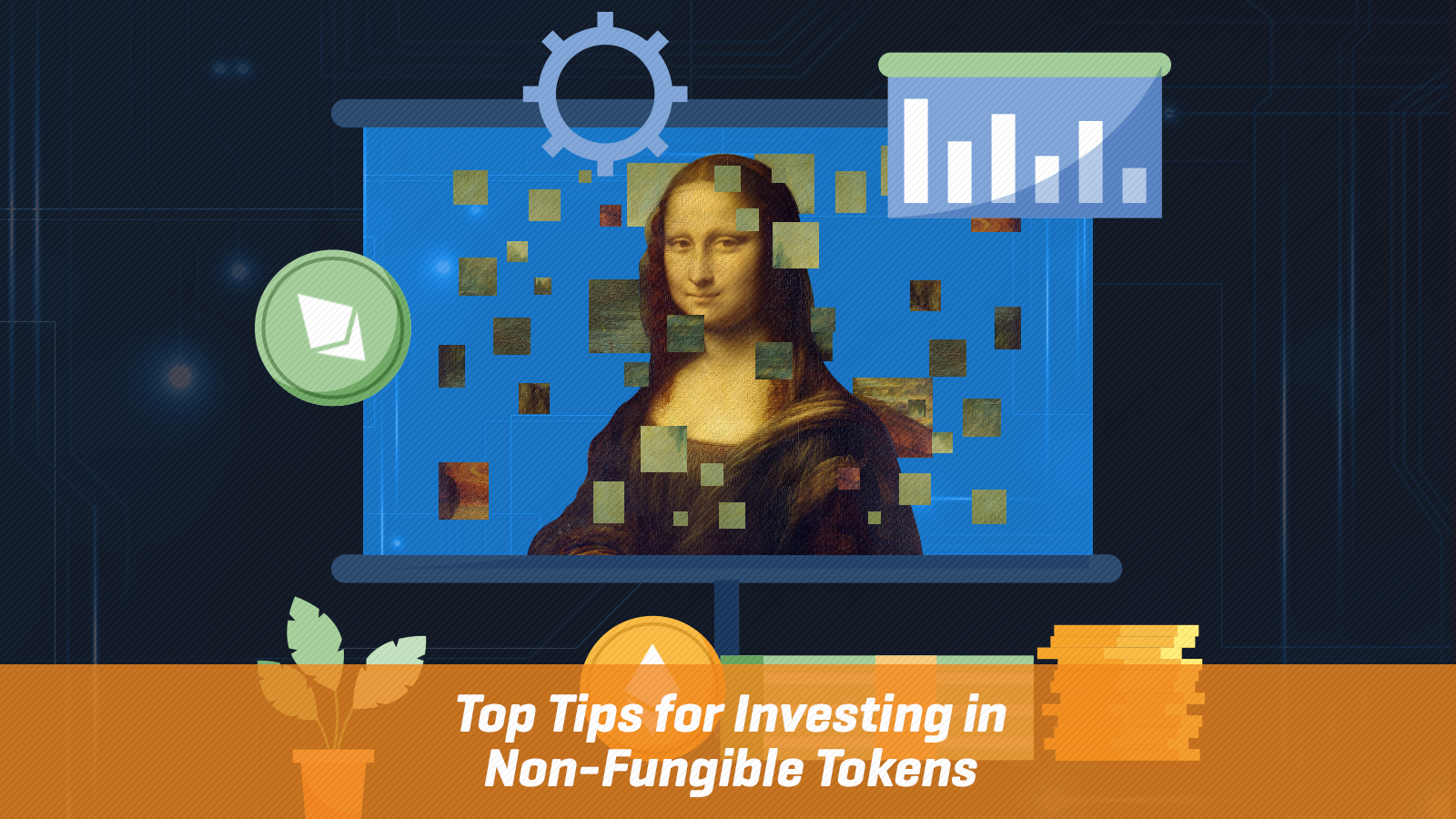 Ahead of the launch of Rollbit's Non-Fungible Token marketplace, we've written this guide to give you some tips to help you make smart investments in NFTs.
Everyone wants to find the next Bored Ape Yacht Club, the next NFT collection to rise massively in value, the next NFT to mint millionaires.
It's easier said than done, but there are some useful tips we can provide to help you find the next big project. Remember, persistence is also key! You cannot catch every new collection that booms and you may end up investing into a few projects before finding the next NFT to take off.
1) Get In Early🐓
The early bird gets the worm!
To maximise your chances of success, get into NFT projects from the beginning. But how do you get in from the start? By purchasing at the mint price when the project first launches.
Most NFT projects are launched with a presale and then are followed by a public sale. Getting in on the ground floor through the presale or public sale is important, as usually the price of NFT will rarely go lower than the mint price (giving you plenty of potential upside while limiting your downside risk).
Use the following list of websites to find upcoming NFT drops where you'll try to buy in at launch:
Gaining access to a presale usually means you have to meet some requirements, such as inviting a certain number of people to their Discord server or by simply engaging with a tweet. The example below shows how easy it can be to get whitelisted, join a project before the mint date and enter at the lowest price:
Buying in at the mint price may not always be possible, but there are still potential opportunities for older projects. For projects that have already launched, always buy near the floor price! One major difference between investing in cryptocurrencies as compared to NFTs is that it is much easier to exit. But for NFTs, you have to find a buyer before you can sell it.
If you're always buying near the floor price, that means you'll have an easier time selling if you need to exit. If you buy a mid-range or rare item from a collection, it could become a lot more difficult to sell in the future depending on the trajectory of the project. In the worst-case scenario where no one is buying at the floor, then the more expensive and rarer items are going to be a lot harder to sell.
On the flip side, if you have a deep understanding of a new project, buying up rare items as a collection experiences increased volume and as it takes off is a good strategy. Each NFT has certain traits that are rarer than others and buying up rarer pieces can net you a big return, especially if you're early enough or have an opportunity to buy during a presale or public sale.
2) Select Your Niche🔎
Select your niche and become a specialist in a few NFT projects.
Now you know how to find upcoming NFT projects and get on whitelists to realise the best entry point, you can start focusing on a few upcoming projects that you're interested in.
Selecting a niche is important since you may have to spend a lot of time on each project to fully understand it and become a part of the community. There are many different subsectors, such as art, collectibles, gaming, metaverses, music, sports and utility.
Seek projects you believe in. Commit to understanding a handful of particular NFT projects really well to give yourself a greater chance of successfully profiting from your investments. Some people may only focus on NBA Top Shot or perhaps 1-2 others, but because they have acquired a specialised knowledge of the market, they have set themselves up for success.
Once you've found your niche, narrow down the upcoming drops so that you only focus on those that resonate with your expertise and interests.
3) Use Discord & Twitter to Your Advantage📱
You've chosen your niche and found a handful of upcoming projects to invest in. The next step is to research and engage with the community.
With the first two steps, you've been able to narrow down which NFT projects appeal to you as potential candidates. The next step is to DYOR! (Do Your Own Research!). The research phase involves absorbing all the information from the project's website, joining their Discord, and thinking about whether or not you think the project can become successful.
One of the main areas of focus should be the roadmap. See if the project is doing something that's never been done before, see what kind of utility is on offer and think about whether it could have an important cultural, historical or social significance.
Another factor to concentrate on should be the community itself. Are there lots of active members? Does the project team frequently communicate with the community? Are the community members helpful?
Discord servers solely dedicated to NFTs are also good places for doing research, with some examples being r/NFT community, Rarity Sniper, and NFT Catcher. As well as Discord, Twitter is another useful resource for NFT research. Follow influencers to find new or emerging projects and track the latest news related to NFTs. Check out our Twitter list of NFT-related accounts to follow.
4) Monitor the NFT Market📊
Keep your finger on the pulse of the NFT market.
Another way to find NFT opportunities: look at the data on open marketplaces like OpenSea and Rarible. For example, use the Stats page on OpenSea to see which NFT projects are trending. Look for NFTs that have experienced a rise in volume (indicating more interest in the collection).
For example, the video below illustrates how to filter projects by the 24-hour and one week change in volume. Once sorting by change in volume, look at the absolute volume to ensure its high enough as well as the number of owners and total items:
Working your way down this list, find the NFTs that have seen a decent rise in volume. If you want to go beyond NFTs based on Ethereum, you can also check the sales volume, number of buyers and number of transaction for projects living on other blockchains using CryptoSlam.
You'd also want to check things like the number of owners and the ownership percentage, which can be done through rarity.tools. Avoid buying into a project where the supply is controlled by a handful of whales. Look for projects with an ownership percentage of 50% or more. Remember, the more that the supply is concentrated in the hands of a few owners, the higher the risk.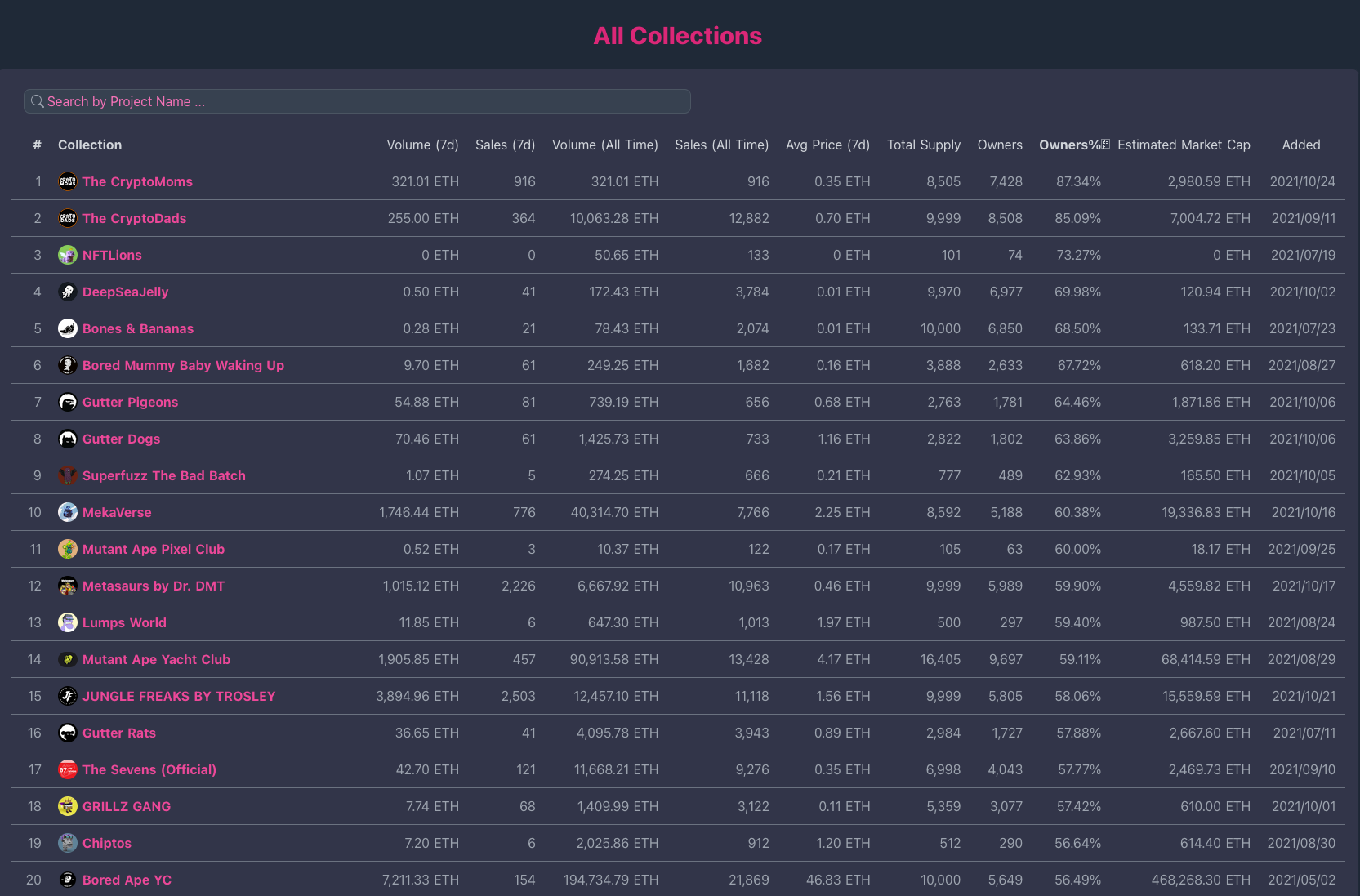 Another excellent source of data is Nansen.ai (but requires a paid subscription). One interesting metric is the percentage of addresses holding 1 NFT, which is another way to assess the distribution of ownership. As this percentage increases, the supply is distributed across a larger number of addresses and there's more of a chance that a network effect will develop and increase the value of the collection.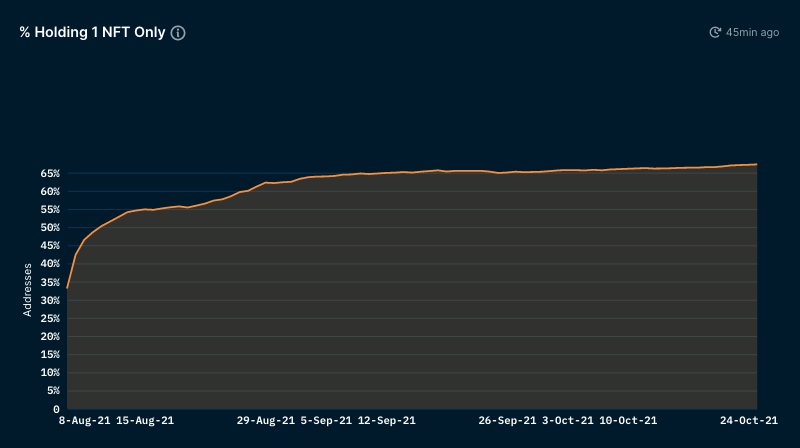 An example of what you should look for is shown above, with the percentage of addresses holding just 1 Lazy Lions NFT rising over time as the community experienced healthy growth.
5) Whale Watching🐋
Using Ethereum's blockchain to shadow the most profitable NFT investors.
Another technique you can use to find NFTs with potential is whale watching.
The term whale refers to individuals with large buying power sitting on huge amounts of crypto. Crypto data platform Nansen.ai shows the most profitable NFT collectors and we can retrieve their Ethereum addresses to track their purchases.

To track what the most profitable NFT traders are buying, we can click on their name and retrieve their Ethereum addresses. For 'Epic NFT Collector', their Ethereum address is 0xef6d69922bc2d038cb508086846524f8011c4a74. Now input that address into OpenSea to see all the NFTs that they hold.
Some other notable NFT collector addresses are listed below (all of which have made over 1,000 ETH in profit from flipping NFTs):
Some NFTs in these wallets were not purchased by the owner. Anyone can transfer NFTs to these whale wallets as a form of advertising, since many other market participants are also watching these addresses. To identify which NFTs whales have actually purchased, go to their Activity tab on OpenSea and focus solely on items that were bought or minted.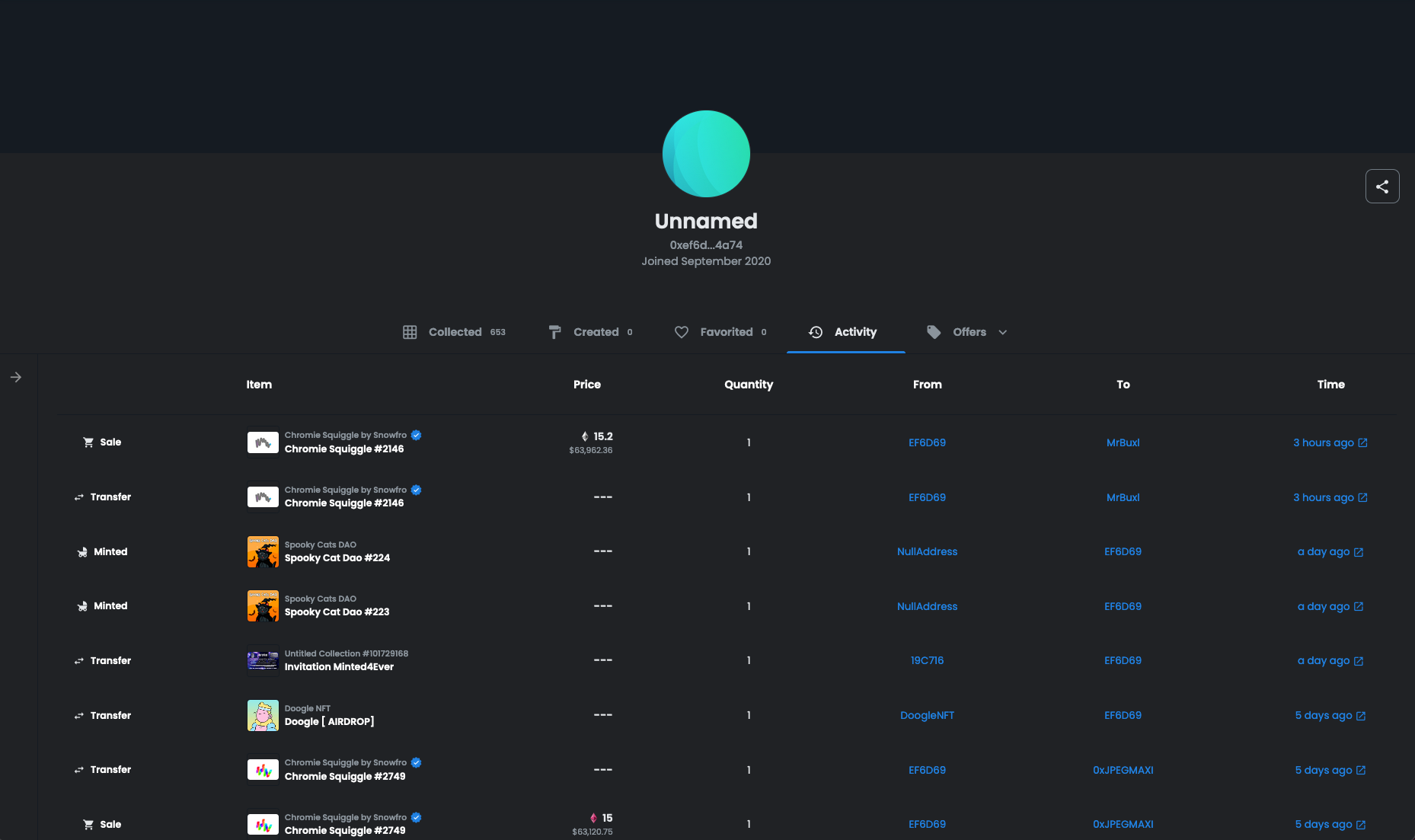 You can see in the screenshot above that 'Epic NFT Collector' minted two Spooky Cat DAO NFTs on October 25th. Use that as a prompt to look more closely at this project, find out more by joining their Discord and then consider whether you're going to invest using the tips mentioned in this article.
If you can catch onto a whale picking up an item from a collection quick enough, then you may have a good chance at finding a winner that has the potential to rise in value. Given these whales are sophisticated investors and have lots of experience in flipping NFTs, watching them on the blockchain in real-time, following their trades and copying them is likely to pay off.
If you found this article useful, please share it on social media.
Are there any other NFT related topics you'd like us to write about? Let us know via Discord or on Twitter!
---
-The Rollbit team