UFC 276 Adesanya vs. Cannonier: Sports Event Of the Week 🥊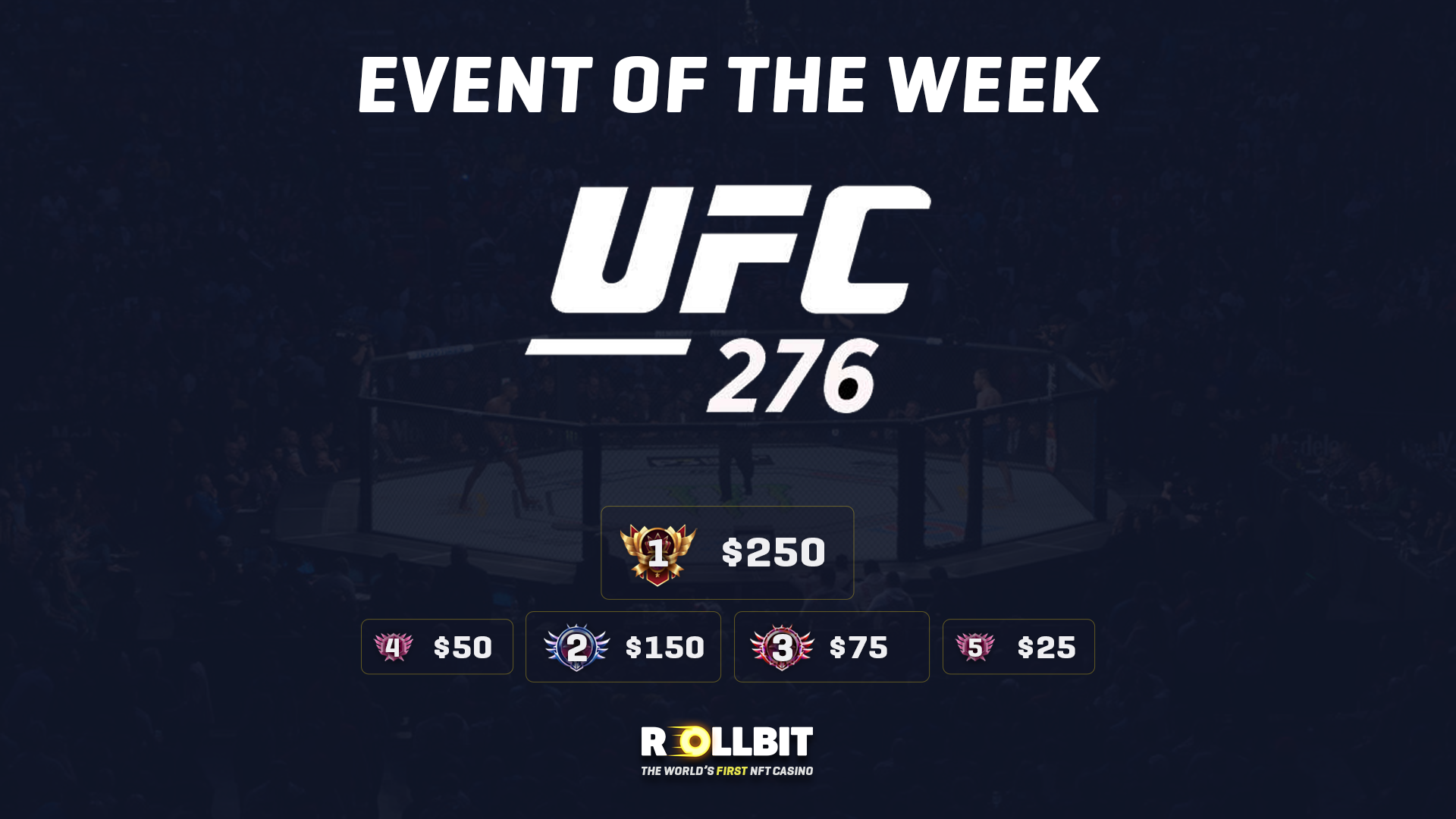 Event of the Week Challenge
This week's Event of the Week is UFC 256, with the UFC Middleweight Championship bout between Israel Adesanya and Jared Cannonier headlining the event. The co-main event is the UFC Featherweight Championship trilogy bout between current champion Alexander Volkanovski and former champion Max Holloway, it is going to be a fierce night of fights!
ℹ️
All events in UFC 276 are eligible for this week's event!
If you haven't already familiarised yourself with our Discord Events you can check them out in our blog post!
Winners are determined by hitting the highest odds win in a bet!
Requirements:
Minimum bet is $5
Minimum combination is 1 (This means singles are valid!)
Minimum odds are EU:1.5 /US(Moneyline)-200
How to enter:
Provide your Rollbit display name & ticket ID
Provide a screenshot of your bet slip (The whole bet slip has to be visible)
Post it in #⚽sports-weekly-submissions
Entries close July 6th
🥊
Place your bets directly on UFC 276
here
!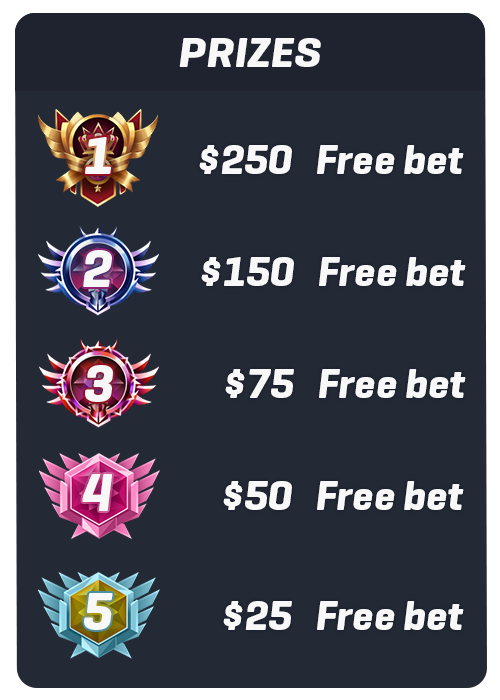 Terms & Conditions:
You must have a verified email - verify via account settings.
You can edit your post if you hit better Odds during the week.
The Event of the Week has to be included in your submitted bet slip
Parlays/combos are permitted, but it must be a win
In case of cancelled games within a combo, the bet slip is still valid as an entry
1 entry per household, unless KYC has been submitted.
We reserve the right to request KYC verification from the winners before paying out prizes.
In the event of a draw, prizes will be shared.
The prizes will be paid to accounts, where display names were provided, as free bets for Rollbit's Sportsbook.
Entries must be in before July 6th 11:59PM
Entries will be checked before being announced.
Rollbit employees can not participate in weekly events. This does not apply to Discord Community Moderators.
Event Overview
UFC 276 is lining up to be a huge show, with two title bouts and ten other fights there is going to be a boat load of action for everyone watching!
The main card is headed by Israel Adesanya vs Jared Cannonier in their middleweight title fight. Both of these fighters are heading into this bout looking to secure their legacy. With Adesanya currently 22-1-0 and Cannonier 15-5-0. The winner of this match-up will be the Middleweight Champion.
Both fighters have 68% and 67% KO/TKO win ratios, so you know they will both be looking to end this fight before it gets to a decision. Adesanya will be fighting to retain his title vs Cannonier in a bout he is widely expected to win. Cannonier might have 5 defeats to his name but only one of these is since he dropped down to middleweight. Even with the reduced weight, he seems to of maintained his heavyweight power!
The other title fight of the night is Alexander Volkanovski vs Max Holloway for the featherweight title. Holloway will be hoping to come off victorious for the first time in this trilogy bout, having faced Volkanovski twice before he will be looking to win this one and walk away with the belt!
With their previous clash being so tightly fought out the match-up this weekend could go either way, as both of them are in good form coming off the back of multiple wins, we know this is going to be a fierce head-to-head.
Watch some highlights from their last fight down below!
Also on the main card is Sean Strickland vs Alex Pereira, with Pereira making the change over from kickboxing where he is a former 2 division champion, to now being 2-0 in the UFC since he joined last year. He will be looking to continue proving himself within the UFC and working his way towards a title bout! However, Strickland is going to be no walk in the park, being ranked No. 4 and having much more experience in the octogen with 28 fights in the UFC.
The rest of the main card is made up of Pedro Munhoz vs Sean O'Malley in a bantamweight bout and Robbie Lawler vs Bryan Barberena going head to head as welterweights.
Overall the card is jam-packed with fights and there are certainly going to be some entertaining bouts, and an upset or two. Head on over to our Discord and join the conversation in the #sports channel!
---
-The Rollbit Team