Welcome Back!
Where have we been? What's Rollbit V2? In this post, we'll answer these questions and more.

If there's anything else you'd like to know, please Tweet us here and we'll do our best to respond!
Where Have You Been?
We didn't go anywhere!
In fact, we've been hard at work trying to bring Rollbit back to it's former glory. We'd like to use this blog post to explain what we've been up to over the past several months and where we envisage Rollbit going in the future.
What Happened to Development?
Rollbit quickly rose to prominence after launch but what we didn't anticipate were the development setbacks that followed.
We put a lot of time and effort into trying to make things work with the previous team, but there were just some things we couldn't change for the better. We take ultimate responsibility for letting these setbacks affect our loyal users and apologise for not being able to deliver anything sooner.
The launch of Rollbit V2, and the features that will follow, allow us to continue our commitment to creating the best experiences for our users.
V2 Launch Bonus! 🤑
We want to start off with a bang!
As a token of appreciation for our loyal users, we have credited each account that wagered $1,000 or more on Rollbit V1 with $10. The total amount given away is well over $100,000, so be sure to check if you have $10 waiting for you!

If you're eligible, this amount will be available for you after signing into Rollbit V2 with the Steam account that you used on Rollbit V1. Please note that the $10 will not be instantly withdrawable, you will have to meet the new wagering requirements which we expand on later.
What's New in Rollbit V2?
Rollbit V2 is a rewrite of our old site, building it again from the ground up. At every stage, we've considered the feedback provided by users about what they liked and disliked about Rollbit V1.
New features have been introduced in Rollbit V2, many of which have been highly requested since our initial launch. If you've checked out Rollbit V2 already, you may have spotted some. We thought it would be helpful to include a full list below.
Check out Rollbit V2 here!
🆕 Refreshingly Modern Design
We went back to the drawing board with our designers and thought deeply about what a modern casino should look like.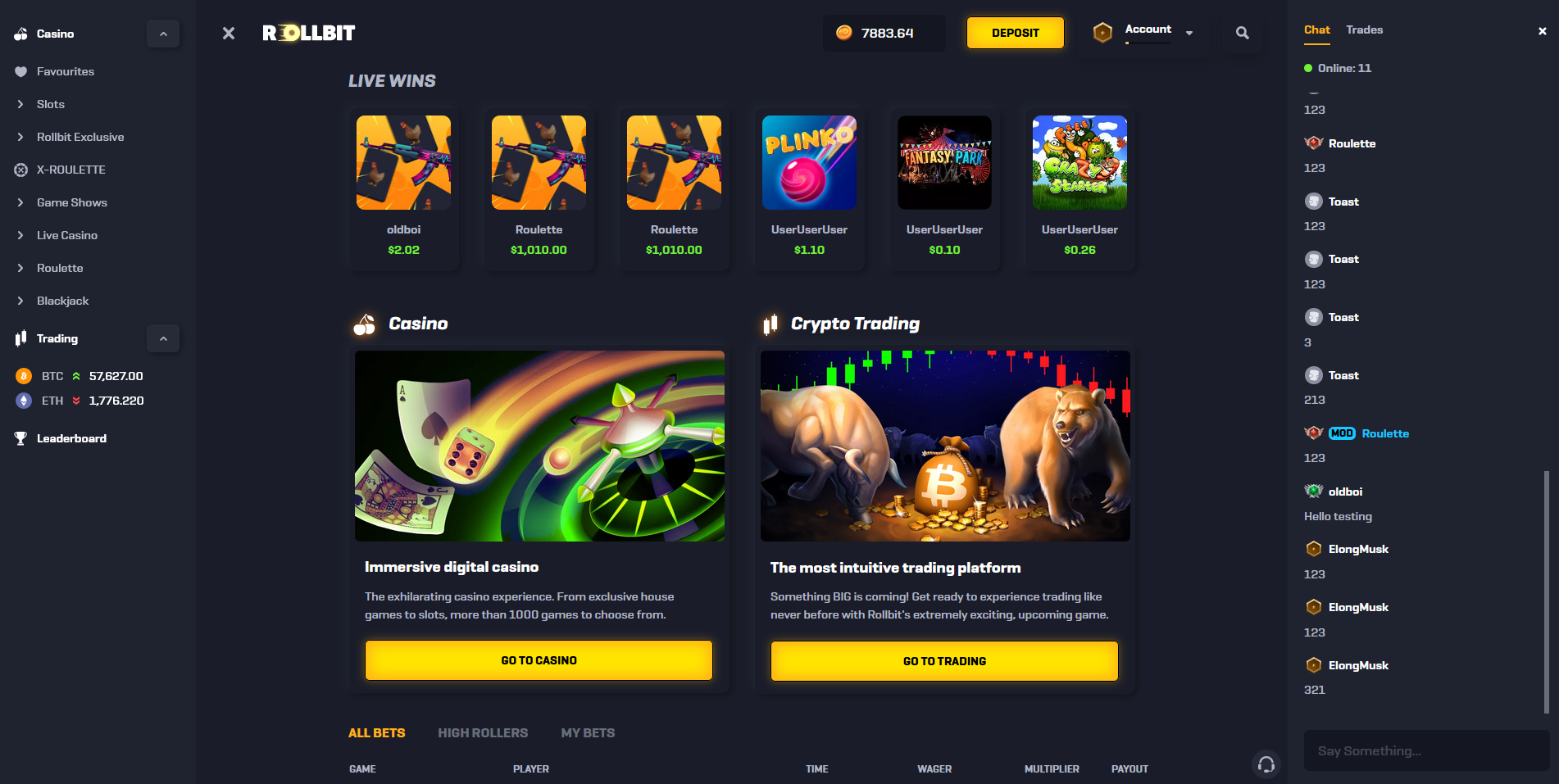 We may be a little biased, but we think we've achieved that. In comparison to our old site, V2 is far more intuitive and more in line with what we believe a leading casino should look like.
🆕 Levels System
We're very excited to announce the launch of our new levels system! It's never been more rewarding to play on Rollbit. Our new levels system includes rakeback, level up bonuses and a very unique twist for our #1 player.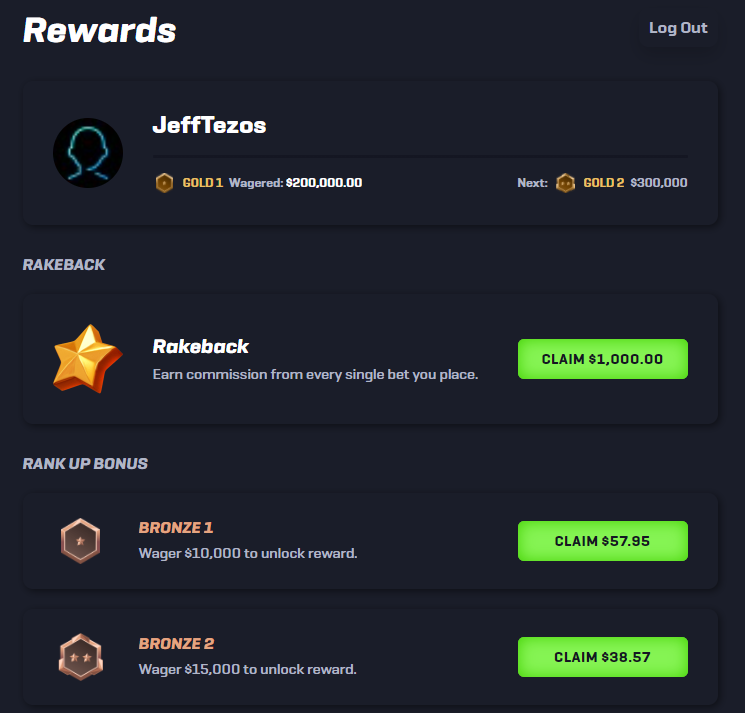 Want to learn more? Check out our dedicated post here.
🆕 Improved Game Navigation
With more than 1,000 games to choose from, the process of selecting a game should be as easy as possible. We're proud to say that finding a game on Rollbit has never been easier. We're pleased to announce the introduction of categories, our navigation sidebar and search!

Play certain games way more than others? You can now add them to your favourites! Navigate with ease to your favourite games from a single page.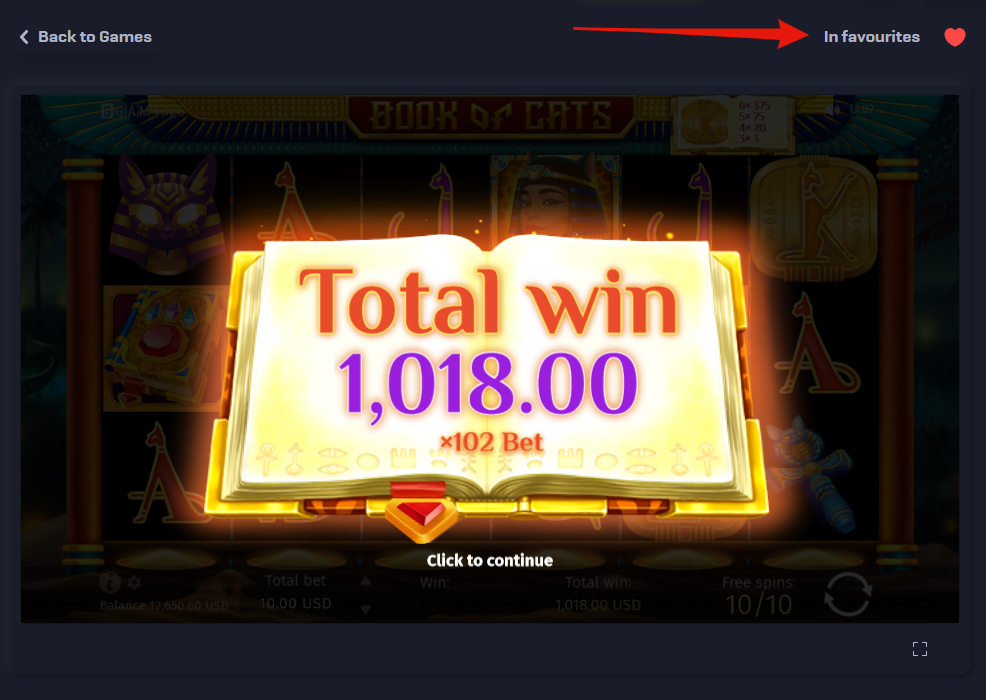 Know what game you're looking for? Utilise the search feature to find the game quicker than ever. Best of all, the search feature is available on every page on Rollbit, so you're always only a few seconds away from your next game!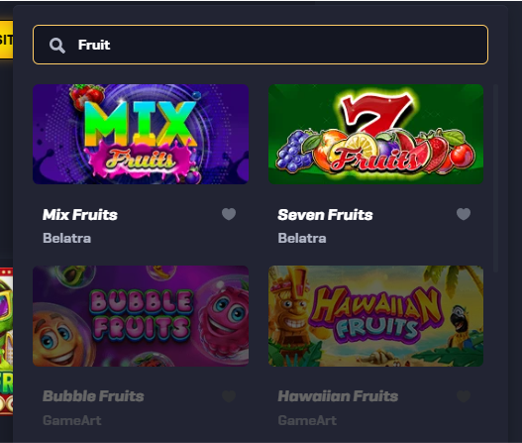 🆕 Improved Live Bets Feed
Rollbit is committed to creating fun and social experiences. Our new and improved live betting feed delivers on these aspects.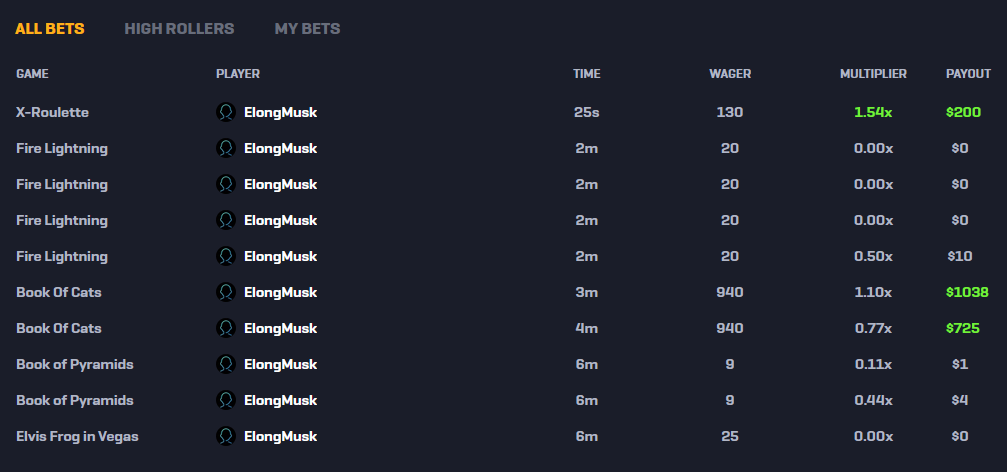 Enjoy a detailed overview of the bets happening on Rollbit in real time while also being able to view your previous bets.
🆕 Bitcoin Deposits and Withdrawals
HODLing bitcoin and benefited from the meteoric gains during the past few months? You'll be excited to know that we now support bitcoin (BTC) deposits and withdrawals. Deposit and withdraw the #1 cryptocurrency with zero fees!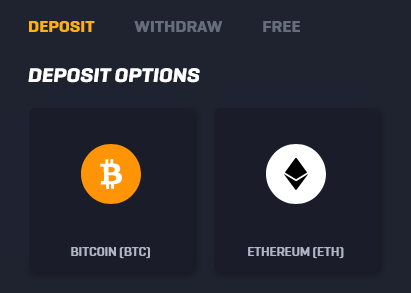 🆕 Deposit and Withdrawal History
In addition to BTC deposits, you can now view your ETH and BTC deposit/withdrawal histories. No more contacting support to get these! 🎉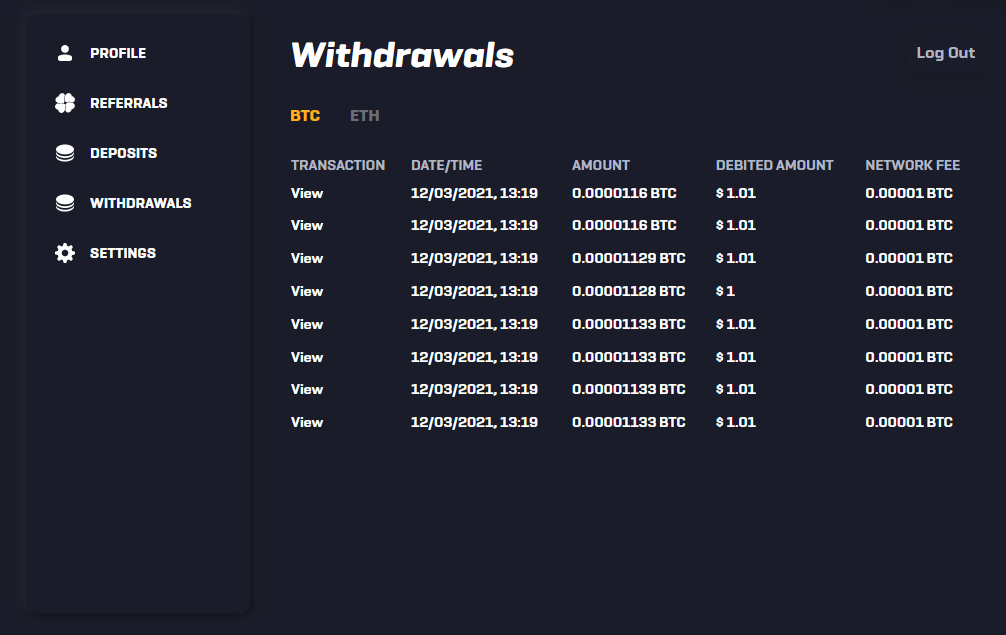 🆕 User Profiles
Curious what your friend's favourite game is and how many bets they've placed?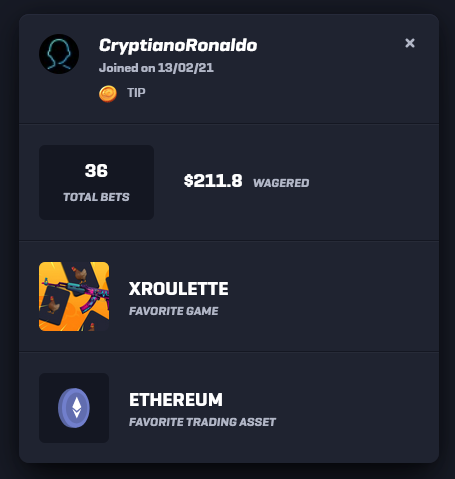 We've added a cool feature that will be displayed when clicking on another user's name. It's now easy to see and compare statistics with a friend.
🆕 Create up to 10 Affiliate Codes
We're excited to announce that we've expanded our existing affiliate system to allow you to create up to 10 affiliate codes.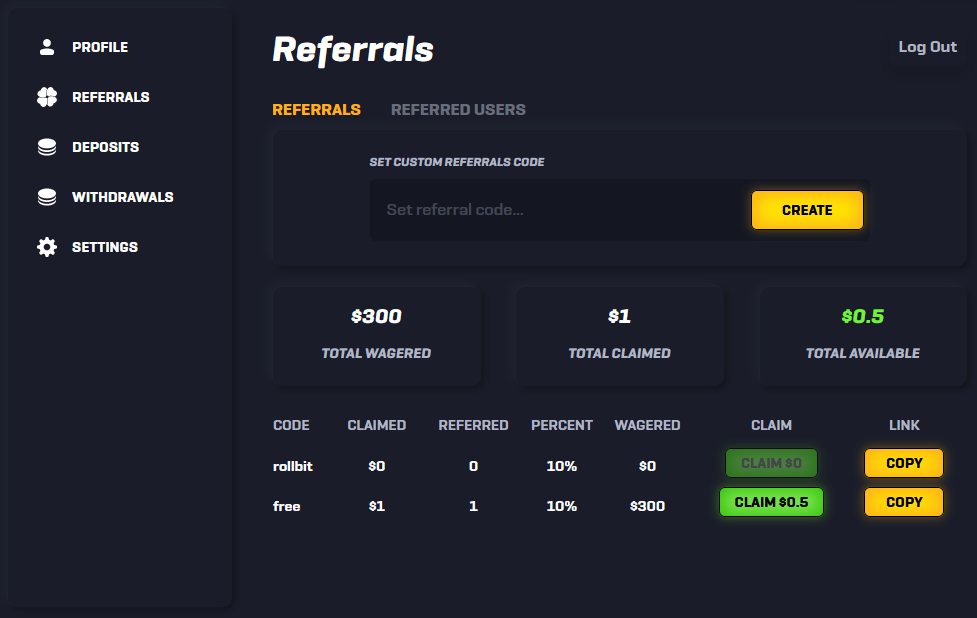 Once you have created 10 codes you cannot create any more.
🆕 Coupons
Who doesn't like free money?
We've launched V2 with a coupon feature that will allow you to redeem codes we drop. Maybe we dropped some within this blog post?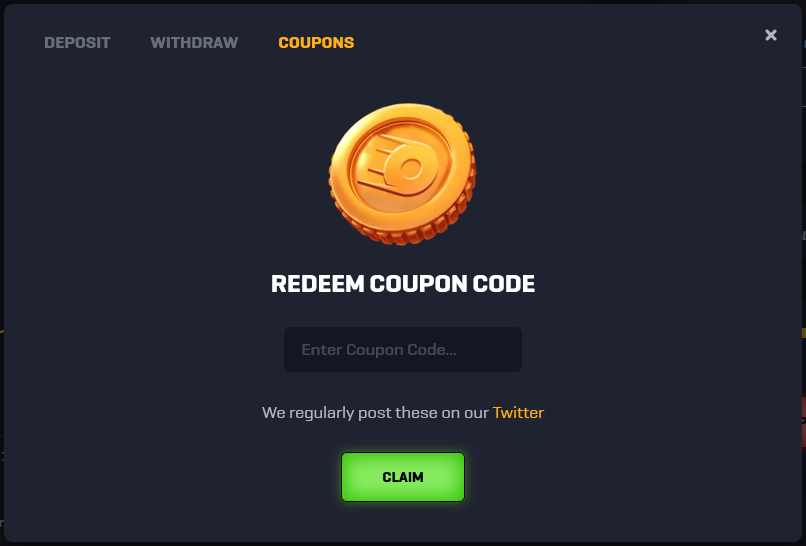 Follow us on Twitter, as we'll drop lots of codes there!
🆕 This Blog!
We've launched this blog and intend for it to be very active!
Our blog will be a great tool to keep you updated about what's happening behind the scenes at Rollbit. Some things don't quite fit into a Tweet, so this is the perfect place to go into more detail about existing and upcoming features.
We believe we can deliver far more value than just updates about Rollbit. We've devised a strategy that will include posts about more general topics. These topics will be related to Rollbit, and will include exciting subjects such as cryptocurrency.
🆕 Live Support
You've said that email support is slow and boring, we completely agree!
We therefore found it imperative to launch Rollbit V2 with live support. There's tons of benefits to live support and we're eager to see it in action. If you're a frequent player on Rollbit, you should recognise some of the new support team!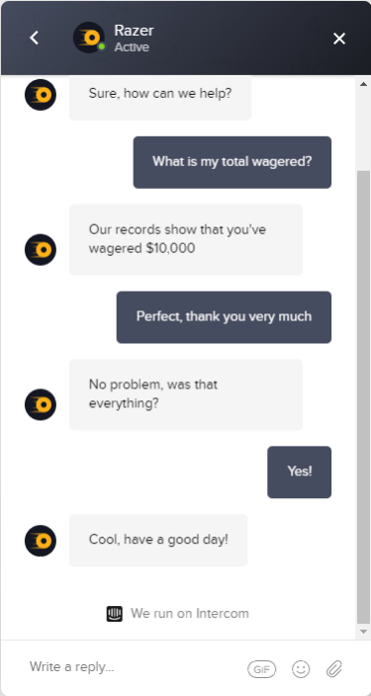 We're committed to making our support experience the best within the industry. We'll be expanding our team over the coming months, so look out for an opportunity to send us an application if you have relevant experience!
Why Were Wagered Amounts Reset?
With the introduction of our levelling system, everyone's wagering statistics will be reset. We decided to do this as we wanted our levelling system to be as fair as possible from the beginning.
Historically, sponsors have wagered using house money, so it wouldn't be fair if they had extra benefits as a result of this activity. We want our levelling system to represent wagering from real money, giving everyone a fair shot at being placed accurately on our leaderboards.
While the majority of ranks within our levelling system will be static, the #1 rank is dynamic. We anticipate users will compete over the #1 rank, so we wanted to keep that competition as fair as possible.
Learn more about the unique benefits of being #1 here.
What is the Trading Feature?
Over the coming weeks, we'll be sharing more about this feature. Excited? You should be, something BIG is coming!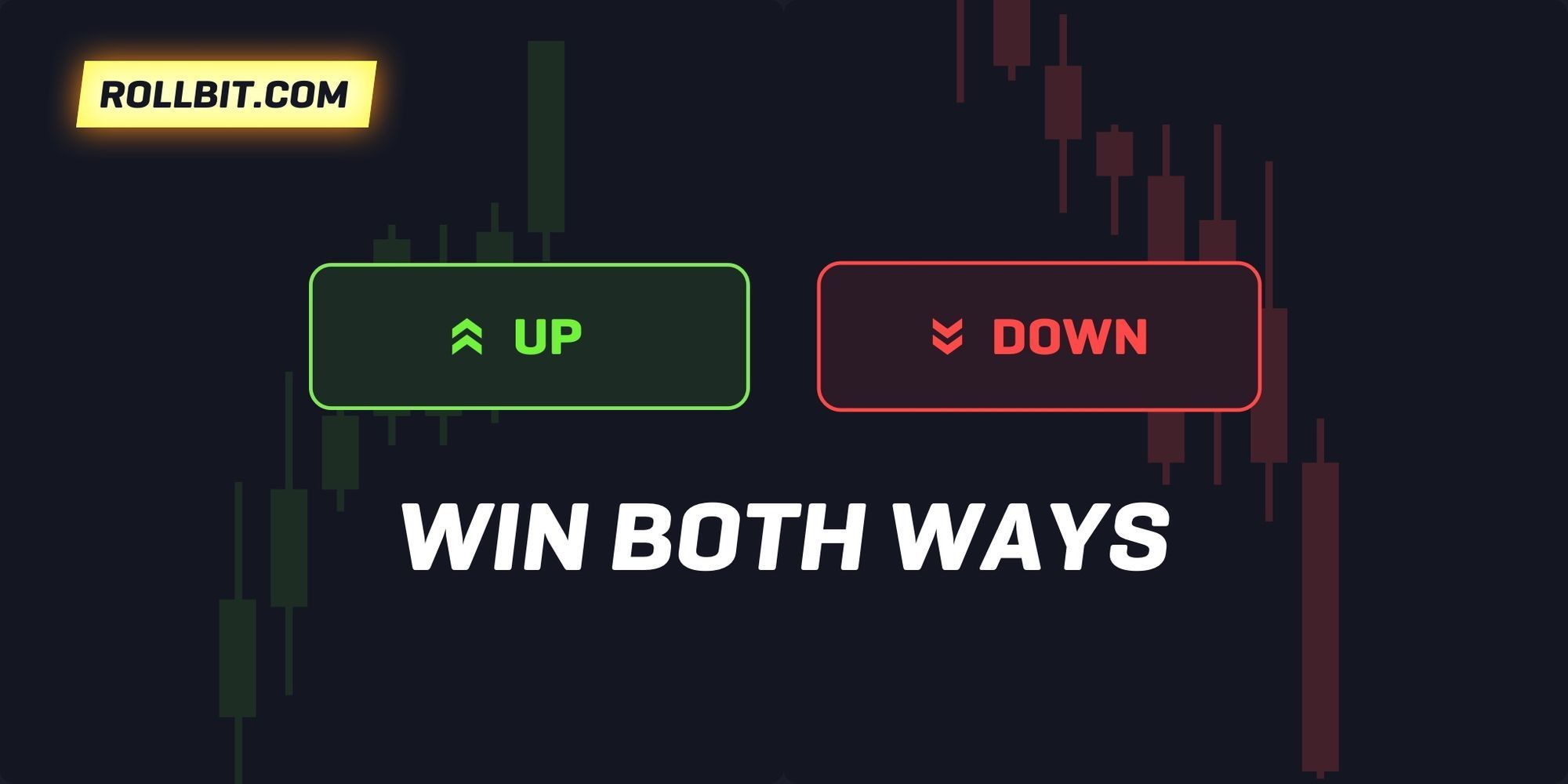 We're just putting the finishing touches on it and will invite some of you for an early peek!
I'm a CS:GO Trader, Why Do I Have to Wager to Withdraw?
We checked the top balances on Rollbit V1 and removed any withdrawal requirements for accounts whose primary purpose was CS:GO trading. However, we understand this may have not included all CS:GO trader accounts and we certainly do not expect you to wager in order to withdraw your funds.
If you think your account was missed and would like to withdraw your balance, please contact our support and they will be glad to assist you.
What About The New Team?
The last year was a tremendous learning experience for us. For V2, we've assembled a team with a proven track record of delivering features enjoyed by thousands. We're confident that we can achieve great things with the new team.
What Happened to X-Crash?
Believe it or not, X-Crash was in active development. Our initial developer gave us an optimistic delivery date but failed to deliver anything tangible. We may consider developing X-Crash again, but it's not something we're planning to add soon.
What Happened to the Card Deposit Method?
Our previous payment provider could no longer offer card deposit services. This affected other sites using the same provider. We're actively working on securing a new provider and will implement them as soon as possible. Onboarding with a new payment service provider involves a lot of due diligence, but we're working as fast as we can.
What Lies Ahead for the Future of Rollbit?
We're very excited to be in a position where we can offer new and fun experiences for our users again! We have LOTS planned and we can't wait for you to see our ideas come to life. The trading feature will be just the start of delivering truly unique experiences to our users.
Found a Bug or Something Else is Wrong?
Please reach out to our support team and they'll gladly look into your issue.
Contact our support team via email here.
---
- The Rollbit Team