Win High-Value NFTs with Our Newest Feature: NFT Lootboxes!
Introducing an exciting, new feature where you can potentially win high-value NFTs in a provably fair manner.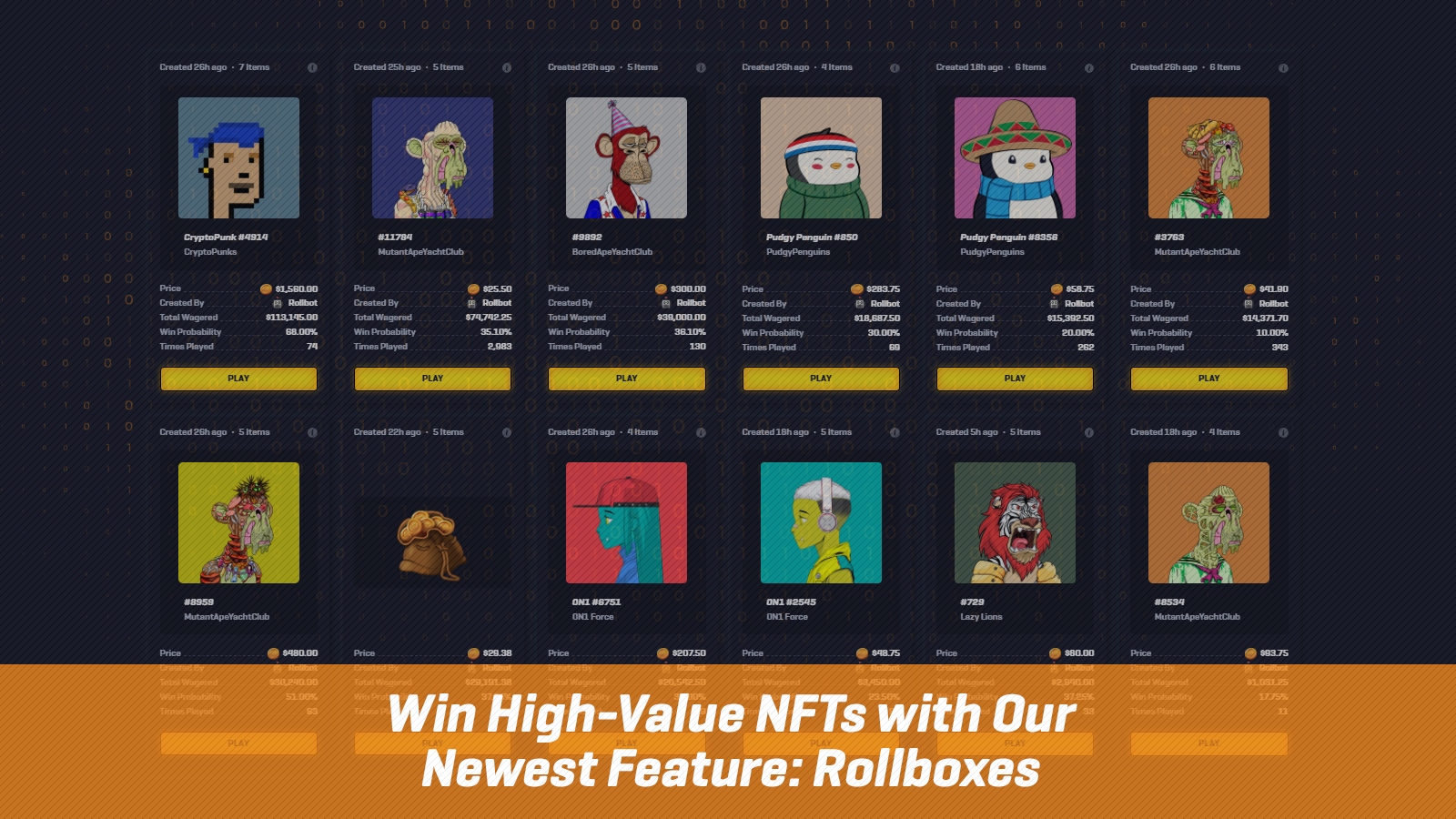 We're pleased to launch NFT Lootboxes, an exciting new feature where you can potentially win high-value NFTs for a fraction of the price in a provably fair fashion!
At Rollbit, we're avid NFT collectors and investors. But not everyone had the chance to get in on CryptoPunks or the Bored Ape Yacht Club early enough to own any pieces and the skyrocketing prices of these valuable NFTs means many people have been priced out.
By introducing NFT Lootboxes, we're giving our players the chance to win valuable NFTs from verified collections for a fraction of the price while utilising provable fairness techniques that underlie other in-house games such as Rollercoaster and X-Roulette.
What are NFT Lootboxes?
Each NFT Lootbox contains prizes such as cash or popular Ethereum-based NFTs. There's a fixed price to open the NFT Lootbox and a certain probability of winning.  
You can view the available NFT Lootboxes by going to the NFT section of the sidebar menu. The available NFT Lootboxes page shows all the NFT Lootboxes along with the number of items in each box, the price to open it, the total wagered, the win probability and the number of times it has been played.
How to Play
To open a NFT Lootbox, find an NFT you'd like to win and click 'Play'. Once you click 'Play', you can see all the contents within that NFT Lootbox, along with the probability of winning each of the prizes and the price to open it.
For example, if we want to have a shot at winning the Mutant Ape Yacht Club NFT, we'll have to pay the $25.00 required to open the NFT Lootbox. For this NFT Lootbox, the probability of winning is 35.10%.
Click on 'Play' to see the breakdown of the probability of winning. For this example:
there's a 20% chance of winning $10,
a 10% chance of winning $50,
a 5% chance of winning $100,
a 0.05% chance of winning a Mutant Ape Yacht Club NFT, and
a 0.05% chance of winning a different Mutant Ape Yacht Club NFT.
The expected loss is also shown, which is 64.90% for this particular NFT Lootbox. So, on average, it's expected that you'll win something when opening this NFT Lootbox approximately one third of the time (over a sufficiently large number of plays).
If you want to take a chance and win one of the prizes, click on 'Spin'. You'll either land on a skull (in which case you lose and $25 is deducted from your Rollbit account) or you'll land on one of the NFT Lootboxes prizes.
You can check the results for each spin are provably fair.
Click on 'Verify Fairness' before spinning to show the current server seed hash. Once you've got the result, you'll see the round seed. By using both of the seeds along with the code example on our website, you can confirm that the result of each spin is not pre-calculated by Rollbit:
Withdrawing an NFT Prize
If you win a cash prize, it will be added to your Rollbit balance and the cash prize for that NFT Lootbox will be automatically replenished. If you win an NFT, it can be withdrawn instantly from your portfolio (accessible from the sidebar). We'll be alerted once an NFT has been won and then an admin will promptly replace it with a cash prize of the same value as the NFT.
You'll soon be able to sell any NFTs you've won via our own NFT marketplace!
By clicking on the NFT, you can see more details (such as the ID which can be used to check the rarity/estimated value on rarity.tools and more details about the collection):
After winning an NFT, you can then withdraw it via MetaMask by going to the withdrawals page.
Paste your Ethereum address and click on 'Request Withdrawal' to have your NFT instantly transferred to your wallet!
We will add more NFT collections to NFT Lootboxes in the near future. Take a sneak peek of the NFT Lootbox prizes that will be available soon via our Ethereum address on OpenSea!
Subscribe to our blog, join our Discord and follow us on Twitter as we'll have more NFT-related content and updates to share soon!
---
-The Rollbit team