Buy, HODL and Sell the Top 35 Cryptocurrencies on Rollbit!
Introducing Crypto Portfolio, which gives Rollbit users exposure to the top 35 cryptocurrencies!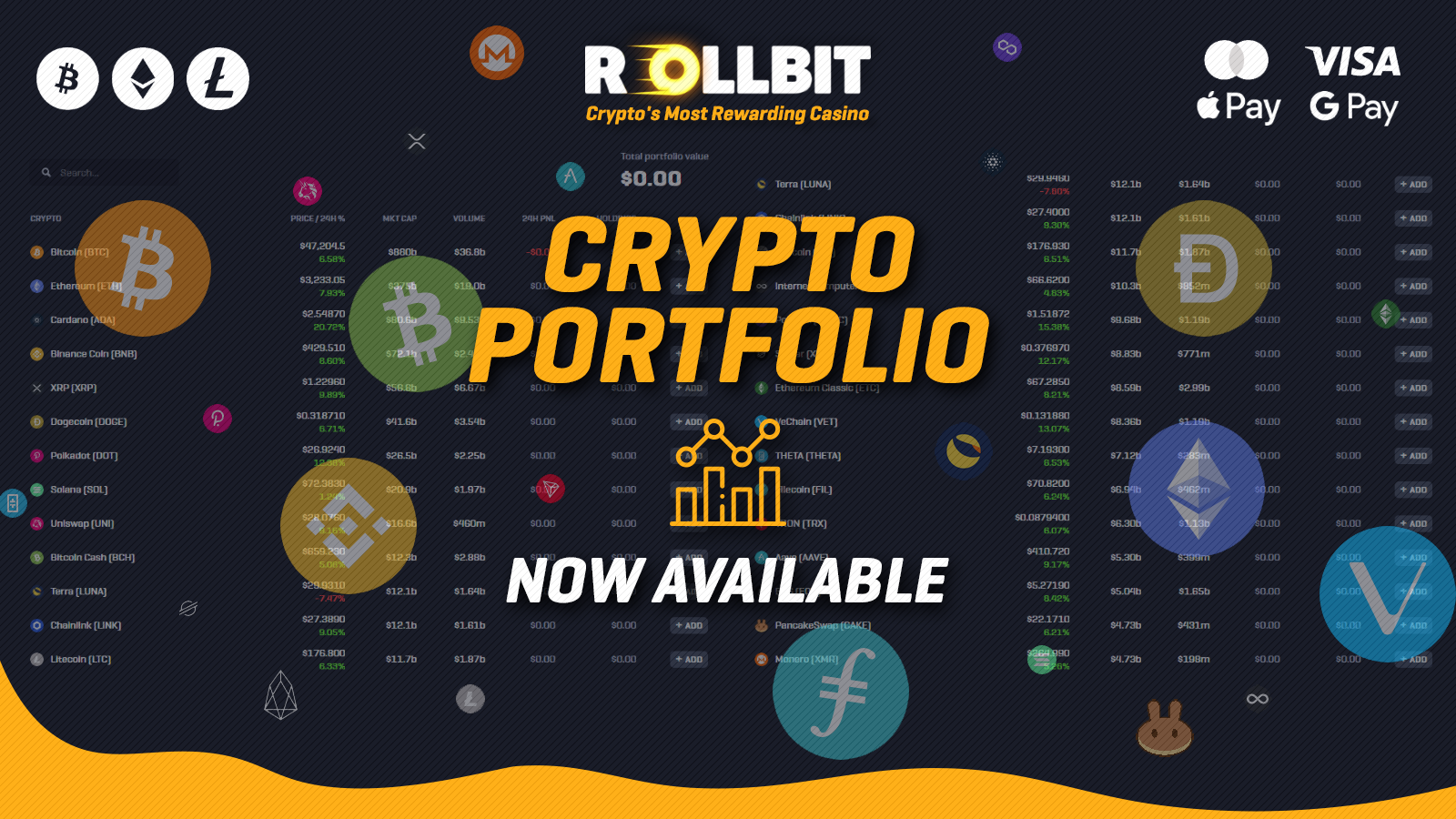 Invest in the top 35 cryptocurrencies and build your own cryptocurrency portfolio!
We are pleased to introduce Crypto Portfolio, a new feature exclusive to Rollbit where you can invest in the top 35 cryptocurrencies by market capitalisation (excluding stablecoins).
Our newest addition is a straightforward way to gain exposure to the price movements of the top cryptocurrencies and acts like a cryptocurrency wallet to provide easy way for our users to convert their Rollbit balance into any of the large-cap cryptocurrencies without having to transfer funds off the platform.
You can buy, HODL and sell all 8 of the cryptocurrencies that are available for leveraged trading such as Bitcoin (BTC) and Ethereum (ETH) to your portfolio on Rollbit. Other than the cryptocurrencies available via leveraged trading, the Crypto Portfolio also allows you to buy and sell:
Cardano (ADA): a layered blockchain for smart contract and dapp development,
Polkadot (DOT): the native token of the Web 3.0 multi-chain network Polkadot,
Uniswap (UNI): the governance token of Uniswap,
Bitcoin Cash (BCH): a clone of Bitcoin without Segregated Witness,
Terra (LUNA): the native token of the Terra decentralised financial payments network,
Internet Computer (ICP): the native token of the decentralised computing platform for software services,
Polygon (MATIC): an all-in-one Ethereum scaling solution,
Stellar (XLM): A federated blockchain for global financial transactions,
Ethereum Classic (ETC): a capped supply version of Ethereum that didn't roll back TheDAO hack,
VeChain (VET): native token of the VeChain enterprise supply chain network,
THETA: a cryptocurrency for decentralised video streaming and delivery,
Filecoin (FIL): a cryptocurrency used in Filecoin's decentralised file storage network,
Tron (TRX): the native token of Tron's multi-purpose blockchain platform,
Aave (AAVE): Aave's native token that provides discounts on borrowing or lending,
EOS: the native token of EOS, a platform for decentralised applications on WebAssembly,
PancakeSwap (CAKE): the governance token of PancakeSwap,
Monero (XMR): a privacy preserving electronic cash system,
FTX Token (FTX): the exchange token of FTX,
Axie Infinity Shards (AXS): the governance token of the Axie Infinity NFT game/metaverse,
The Graph (GRT): an indexing protocol for querying networks like Ethereum and IPFS,
Cosmos (ATOM): the token for Cosmos, the internet of blockchains,
Klaytn (KLAY): Kakao's public blockchain that's similar to a centralised version of Ethereum,
Tezos (XTZ): a self-amending smart contract blockchain with on-chain governance,
Neo (NEO): a distributed platform for smart contract development,
Algorand (ALGO): a scalable, secure and decentralised digital currency and transactions platform, and
IOTA: a cryptocurrency for Internet-of-Things payments.
A long list we know! But we plan to add even more cryptocurrencies and enhancements to the Crypto Portfolio feature in the future.
Subscribe to our blog to get Rollbit updates and tips on how to build an optimal crypto portfolio!
How to Create Your Own Cryptocurrency Portfolio
To get started with investing in the large-cap cryptocurrencies, head to the Crypto Portfolio section on Rollbit's sidebar menu.
Buying Coins to Add to Your Portfolio
Find a coin you want to invest in from the list of the top 35 cryptocurrencies and click on the '+ Add' button. Then enter a dollar amount you want to invest or click on 'Max' to invest all of your funds. Note there's no buying fee to start investing or building your crypto portfolio.
The prices for these cryptocurrencies are sourced from several exchanges to ensure accuracy and stability. Once you've made some profit, you can cash out the position and re-invest it into a different coin (or withdraw it).
Hover over the information icon to see the total change in your portfolio before confirming and an estimate of the selling fee. Our fees are competitive and are in line with the leading cryptocurrency exchanges.
Selling Coins in Your Portfolio
Once you've invested into a particular coin, a green 'Cash Out' button will be shown in that coin's row. Your portfolio value will be displayed at the top right-hand side along with the daily percentage change. You can also track the 24-hour Profit & Loss (PnL) and the amount of coins you have exposure to for individual holdings.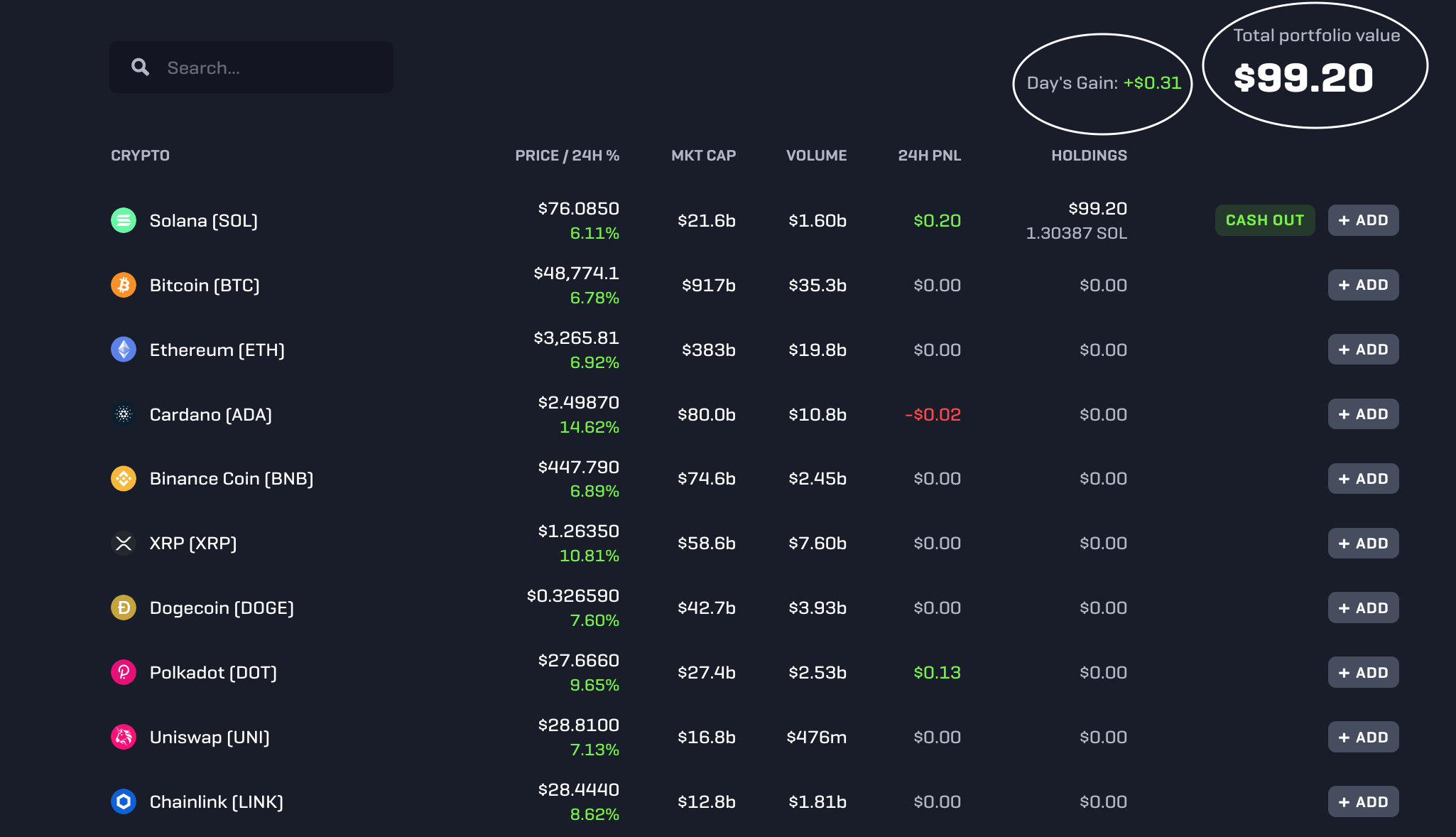 Remember, while there's no fees for buying, there is a small fee that will be deducted when you sell crypto from your portfolio. When entering the amount you want to cash out the fee to sell will be shown. Click on 'Cash Out' and a notification will appear on the bottom left-hand side of the screen.
While the Crypto Portfolio gives you exposure to the prices of the top 35 cryptocurrencies, any profits made can only be withdrawn with Bitcoin, Ethereum or Litecoin.
Our Crypto Portfolio feature also allows you to track your trading history, share your portfolio with others and see the asset allocation of other traders on Rollbit:
Tracking Your Trades
The 'My Trades' section shows the entire history of your portfolio, showing the number of coins bought/sold, the USD balance, the price at which the coins were bought/sold and the date of the purchase/sale.
Share Your Portfolio
Click on the 'Share' button to copy the URL link to your cryptocurrency portfolio.
By following this link, other people can see the coins in your portfolio, the price, market cap and volume of these coins, as well as the percentage breakdown of your holdings (as shown below).

View the Asset Allocation of Other Traders
By clicking on someone's profile, you can see the asset allocation of their portfolio: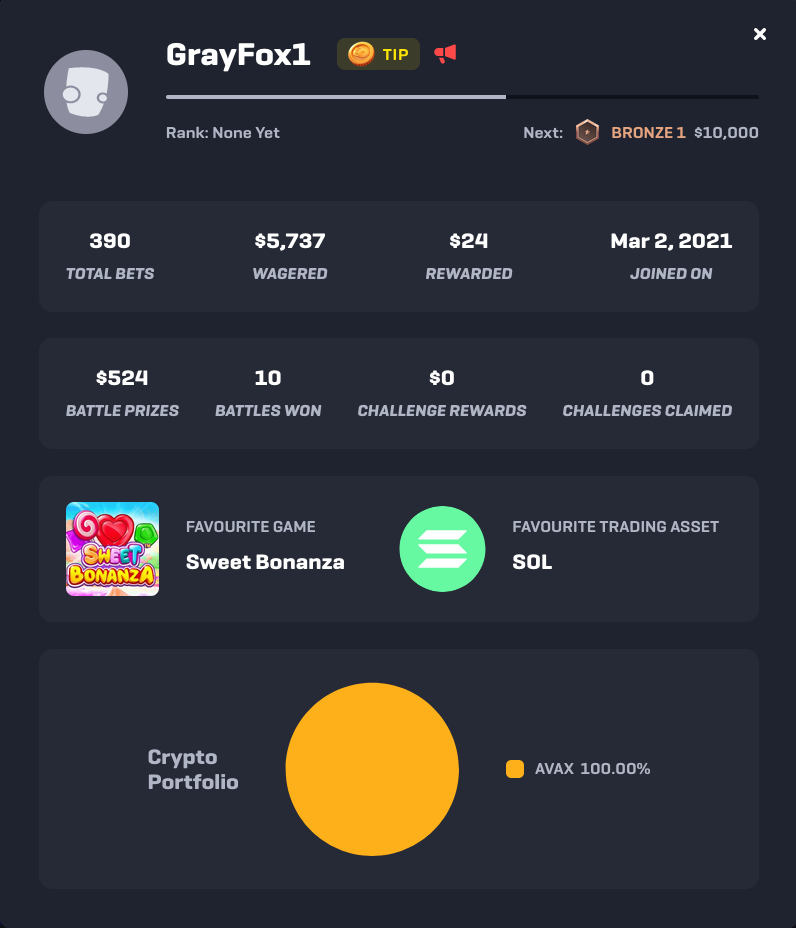 We have many more improvements that will be added to our Crypto Portfolio to make it even better, such as analytics, charts and insights to help you to refine your investment decisions. If you have any feedback about our newest addition, please let us know via Discord!
Start building your cryptocurrency portfolio today on Rollbit!
---
-The Rollbit team