Claim Exclusive Deposit Bonuses with our VIP Rollbit Passes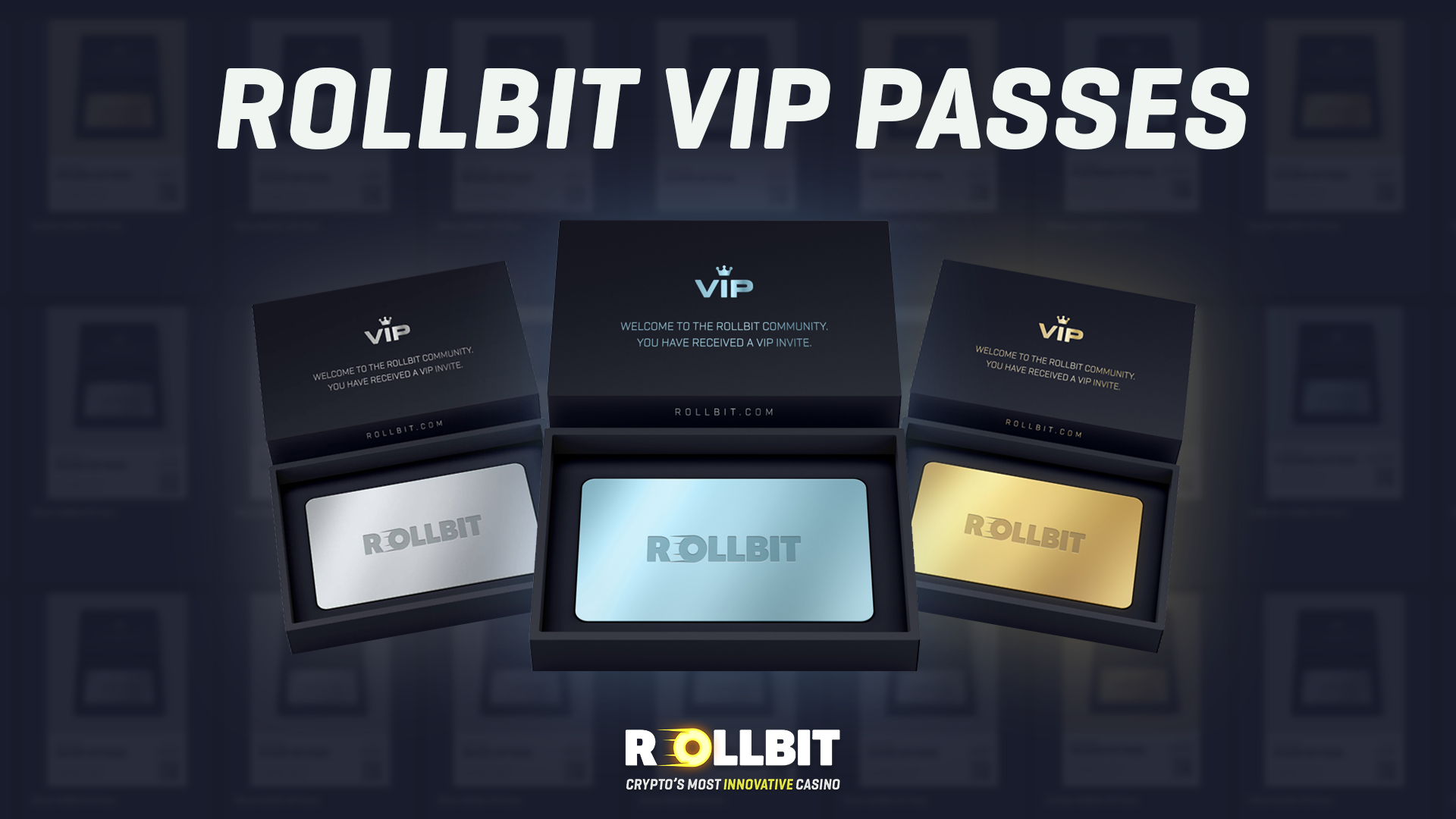 ⚠️
NFT VIP Passes are discontinued, be wary of fake airdrops!
In this article, we'll explain how the Rollbit VIP passes work and how you can best utilize the benefits if you were lucky enough to receive an exclusive welcoming pass!
Have you received a Rollbit NFT pass in your wallet or seen them around and want to know just what they are or how you can use your benefits?
We'll help you out with a simple explanation to what they are and what free bonuses you might just have sitting around in your wallet!
ROLLBIT VIP PASS
What are they?
In December of 2021, Rollbit announced some extremely exciting and innovative NFT feature releases including the built in NFT marketplace including NFT betting, collateralised loans, support for 100's of the top NFT collections and deposit bonuses for each unique NFT you deposit to Rollbit.
With that, Rollbit launched VIP NFT passes, whereby we began airdropping these to thousands of NFT holders associated with some of the largest communities offering them crypto rewards for depositing the pass to a Rollbit account.
💡
A cryptocurrency airdrop is the distribution of a token or coin, usually for free, to numerous wallet addresses.
How did the airdrop work?
Cryptocurrency airdrops can occur in several different ways by the creators of the project. Here are some of the most common types of airdrops:
Standard airdrop: the crypto project distributes their digital assets to wallets associated or involved in their community
Holder airdrop: the crypto project takes a snapshot or list of the community members crypto wallets at a certain point in time and lets them claim it based on their previous ownership
Bounty airdrop: recipients of the airdrop engage in a form of promotional activity where the tasks are rewarding, such as signing up for a newsletter
Exclusive airdrop: a unique airdrop to certain individual holders in the crypto project or in different crypto communities
Airdrops happen in many cryptocurrency projects for many different reasons, and some of the most known NFT collections you might know of have also initiated these to establish the tokens value whilst building their communities.
Including one of the largest NFT collections to date, Bored Ape Yacht Club have distributed many airdrops to their holders, including a mutant serum airdrop which allowed their Apes transform into an entirely new NFT, the Mutant Apes.
Through Rollbit's airdrop, the exclusive airdrop approach was used in sending the VIP passes to thousands of large holders or "whales" in large NFT communities as an invitation to check out Rollbit and the innovative features we are providing to the NFT scene.
💡
A cryptocurrency whale is a term used to describe individuals or entities that hold a large amount of the cryptocurrency or NFT's.
Below you can see just a few of the transfers from the Rollbit wallet used to mint the passes and gift them to the lucky individuals to welcome them to Rollbit.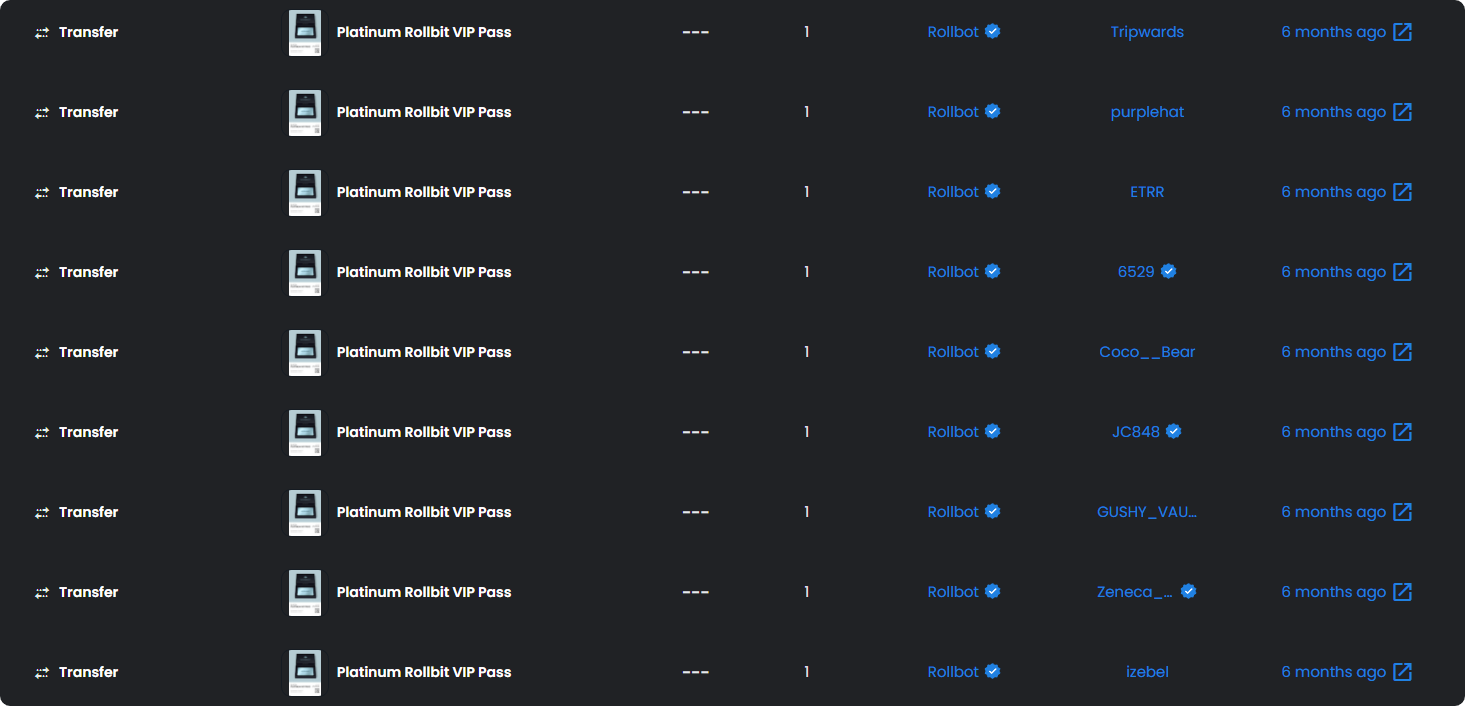 Deposit bonuses
The VIP Passes have three different Pass tiers for varying bonuses, including Silver, Gold and Platinum as seen below: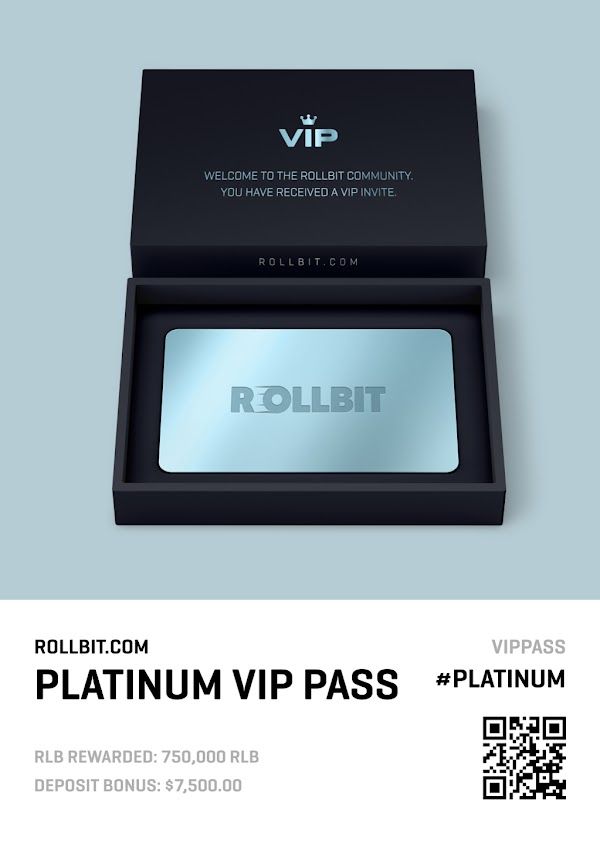 With the different tiers there are different bonuses available to claim in the form of RLB and USD equivalent credit to your Rollbit account as a bonus balance.
Depending on the value tier of the VIP pass will different values of bonus balances and RLB rewards. The rewards for each pass are as follows:
Silver:
 - 50,000 RLB rewarded
 - $500 Deposit Bonus
Gold:
 - 200,000 RLB rewarded
 - $2,000 Deposit Bonus
Platinum:
 - 750,000 RLB rewarded
 - $7,500 Deposit Bonus
Credited directly to your account after depositing the VIP pass, you will find the bonus balance available to claim at the bonus balance page here.
Having trouble depositing? Our step-by-step guide to Rollbit's marketplace blog post details exactly how to deposit any NFT onto your Rollbit account
Bonus balance reward
At the bonus balance page you can activate the desired amount you would like to meet the wager requirement of 5 times the deposited amount.
Once this is met, you will be able to move the funds from the bonus balance to your main balance where you can then do what you wish with the funds.
RLB reward
Don't know what RLB is? We have a lot of information breaking down exactly what it is and how you can best use it in our RLB blog post here
You will also find the RLB credits in the left sidebar at the top of the page under the RLB balance once the VIP has been deposited to your account.
In order to be able to use the RLB in our RLB lottery or withdraw it from the deposit bonus claim, you will have to wager from your bonus balance funds at a 1:1 ratio from wager amount to RLB you can claim.
For example:
You deposit the Silver VIP pass to your Rollbit account and are credited 50,000 RLB tokens and $500 in bonus balance
You then wager $100 of your bonus balance
This will then allow you to use or withdraw 100 RLB from your RLB balance
You can also check out our dedicated blog post to find more information about depositing, withdrawing and selling RLB here
How many were airdropped?
Let's speak about some of the mind-blowing figures with our VIP pass airdrop!
1,100 VIP passes have been sent so far to whales in other NFT communities, totalling of 200 Platinum passes, 200 Gold passes and 700 Silver passes
With that amount distributed so far, it means Rollbit has given out the potential claimable amount of $2,250,000 in bonus balances so far!
That also means 225,000,000 RLB could have also potentially been claimed, totalling over $280,000+ at current market value!
Can I buy a pass?
But how do you get your hands on one of these VIP passes from the Rollbit team?
As the VIP passes are exclusive bonuses to large holders of NFT's from other communities, unfortunately these are exclusive to those who are chosen by the team. Although keep an eye out! You might just see one pop up in your wallet in the future 👀
Although, the VIP passes cannot be re-sold and must be deposited to Rollbit from the recipient's ETH address to claim the rewards.
That means any passes listed on any exchanges will not be eligible for the bonuses if you were to deposit them to your account after purchasing one.
⚠️
The original wallet is the only wallet eligible for the bonus claim. Transferring the pass to another wallet or selling it will make it ineligible for the bonus claim
Be sure to check your Ethereum wallet in case Rollbit has previously sent you a pass as the only cost to claiming the pass is the fee on the transfer it to your Rollbit account!
---
Have any questions about the passes or would like to know more about Rollbit? Be sure to use the headset icon in the bottom right on Rollbit to contact our 24/7 live support!