NFT Deposit Bonuses: INSTANT rewards when depositing your NFTs on Rollbit 💸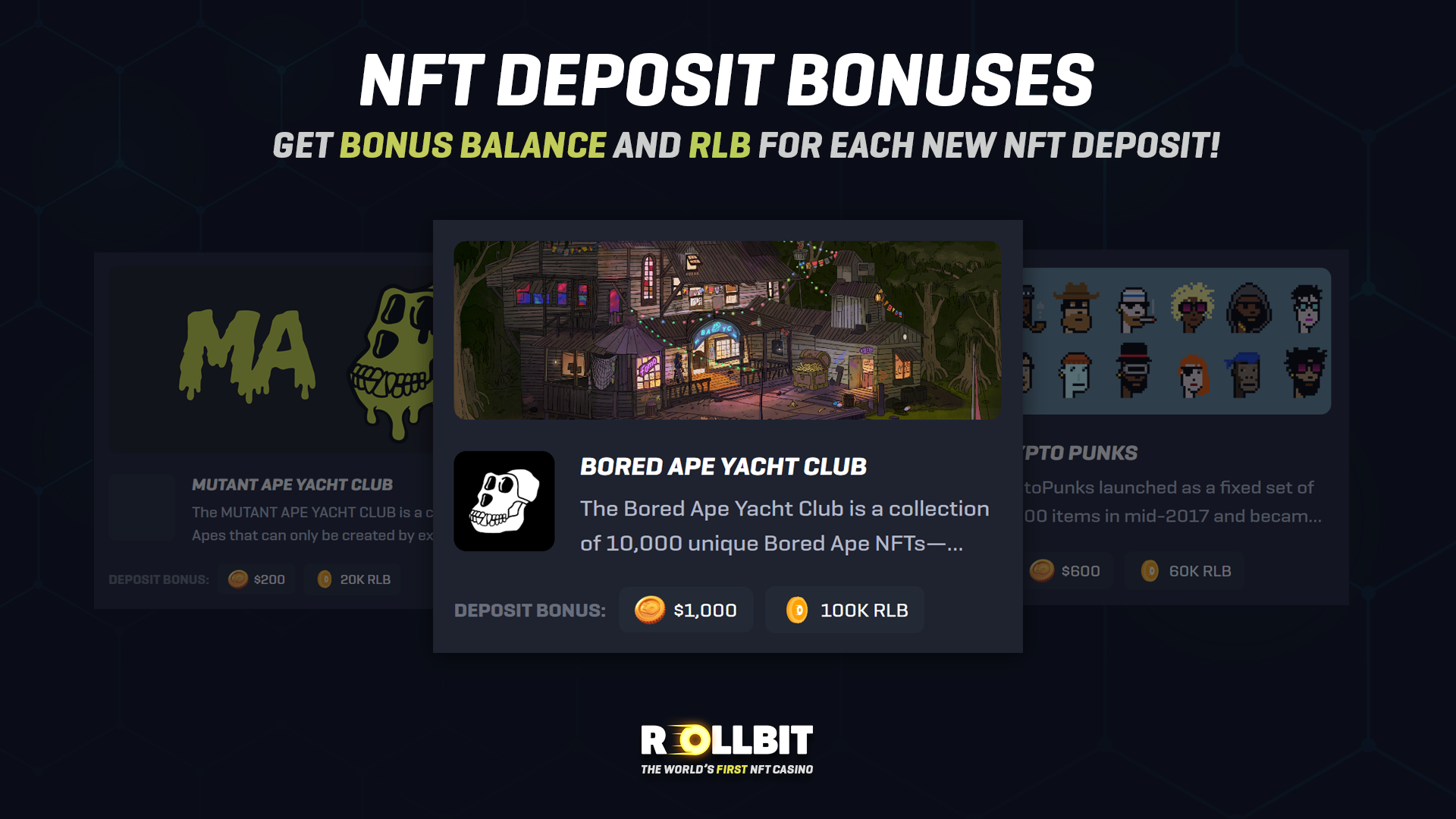 Do you want to earn some free Bonus Balance and RLB? The easiest way to do this is by depositing your NFT!
What do you get for depositing your NFT to Rollbit?
Initially, on depositing an NFT you can receive a deposit bonus if it is an eligible collection, this is where you receive some bonus balance to wager with as well as some RLB, depending on the project this can be up to a $1000 Bonus balance + 100k RLB! You can receive the deposit bonus once per unique NFT!
Rollbit has a gasless NFT marketplace where you can list your NFTs for sale, when your NFT is listed users can then either purchase your NFT for the full price or they can place bets on it using our NFT Betting feature. With this feature, the user has a chance of winning your NFT for a fraction of the price however you will still receive the full value you have it listed for if someone wins it!
If you are the gambling type you can also Participate in our unique game mode, NFT jackpot where you can go head to head with other users for a chance to win all the NFTs and cash in the prize pool!
If you are after short-term liquidity, we also offer NFT Loans where your NFT is held as collateral and you have 7 days to repay the value.  The value of the loans varies depending on the collection!
If you have any collections you would like to see supported on Rollbit then you can request they be added to our supported collections via our live support!
What collections are eligible for deposit bonuses
NFT deposit bonuses are given to users who deposit a unique NFT for the first time, these are available for a ton of popular collections such as:
💡
Above values are correct as of 25/10/2022. Please check the NFT Lobby on-site before depositing to make sure they're accurate!
This is not an exhaustive list, you can see all collections we support and the bonuses you get on this page here. If there are other collections you would like to see added that aren't supported here, you can contact our support who will see if this is possible!  
The Bonus Balance you are credited requires only a 5x wager and can be used on any of our casino games including our house games! Once you reach the required wager amount, you can transfer the remaining balance to your main balance as cash, which is then withdrawable!
The RLB is unlocked at a 1:1 wagering ratio, meaning if you get 10k RLB you would need to wager 10k on the site to be able to withdraw it, however, you can still use it on-site to stake in the RLB Lottery.
How to deposit your NFTs
To deposit an NFT you click the "Cashier" button.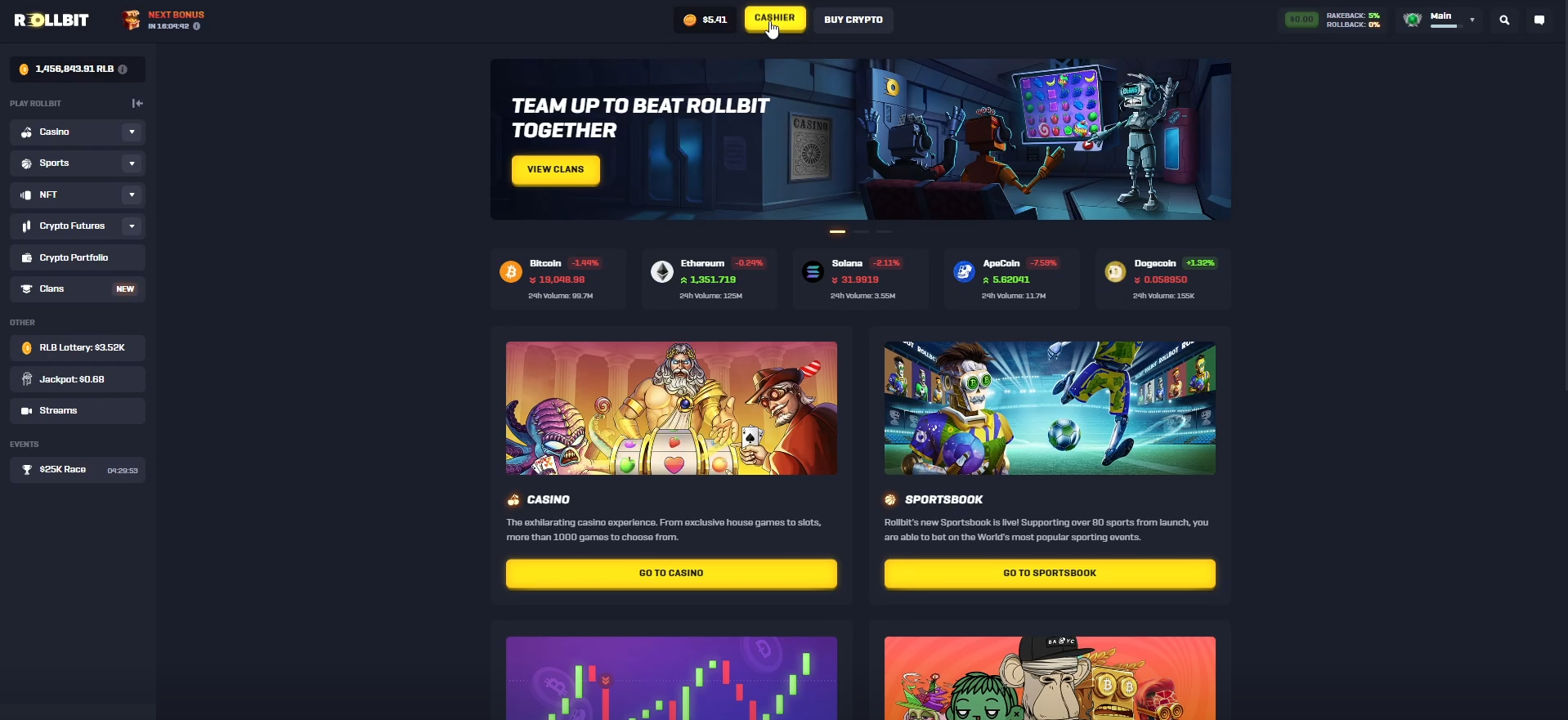 You then click "NFT" which will prompt you to associate your MetaMask to your account. You will then need to sign the request.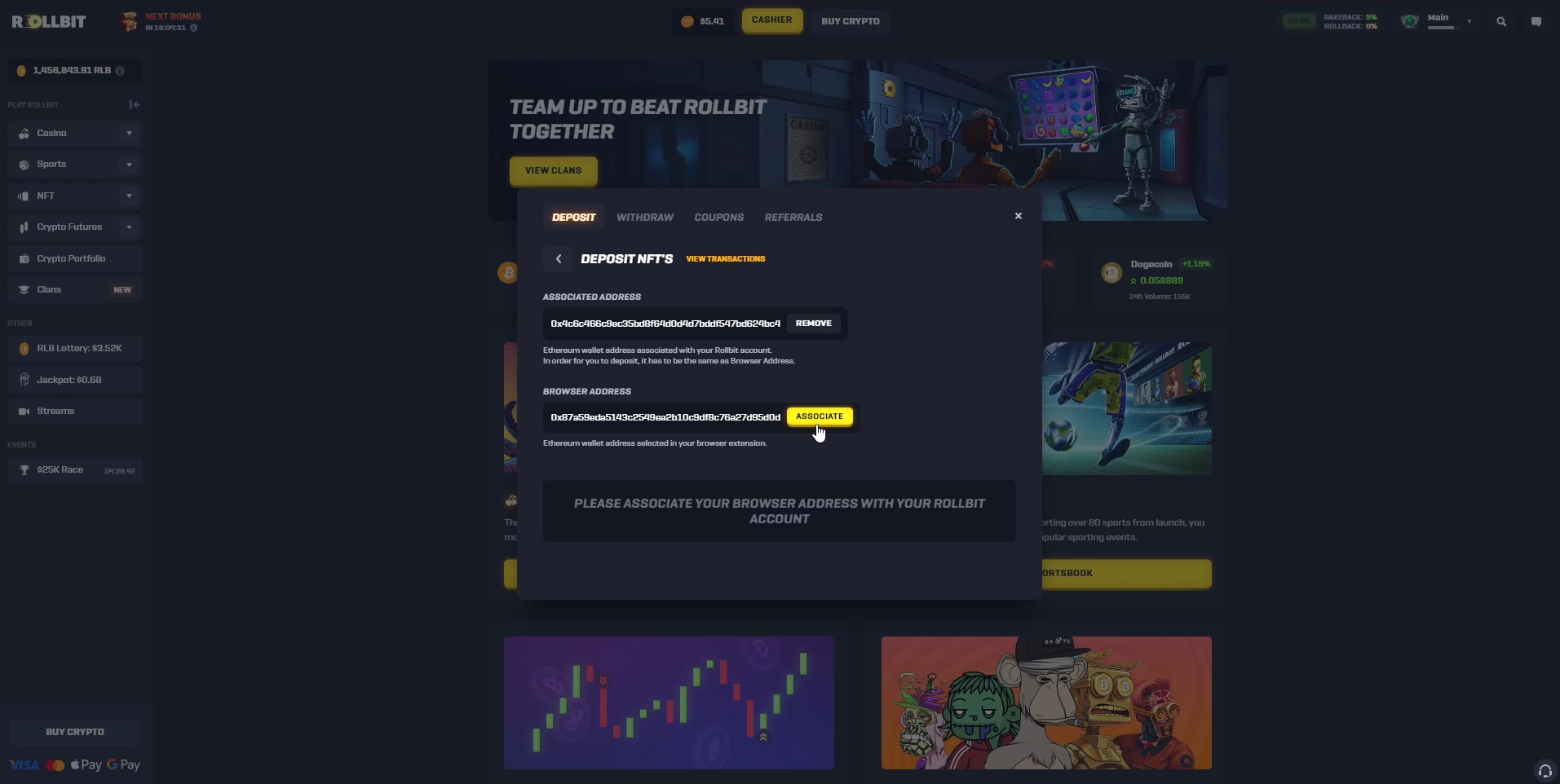 This will then show all of your NFTs that are in your associated account. You can then see what NFTs are eligible for deposit bonuses, in this example I deposit an Adidas Capsule. You can see that I will get 1000 RLB and $10 as a deposit bonus. I Simply select Deposit on the desired NFT which will prompt me to approve a transaction on MetaMask.
After approving my deposit you see that the NFT is now in my NFT portfolio, and I have been credited $10 in bonus balance and 1000 RLB!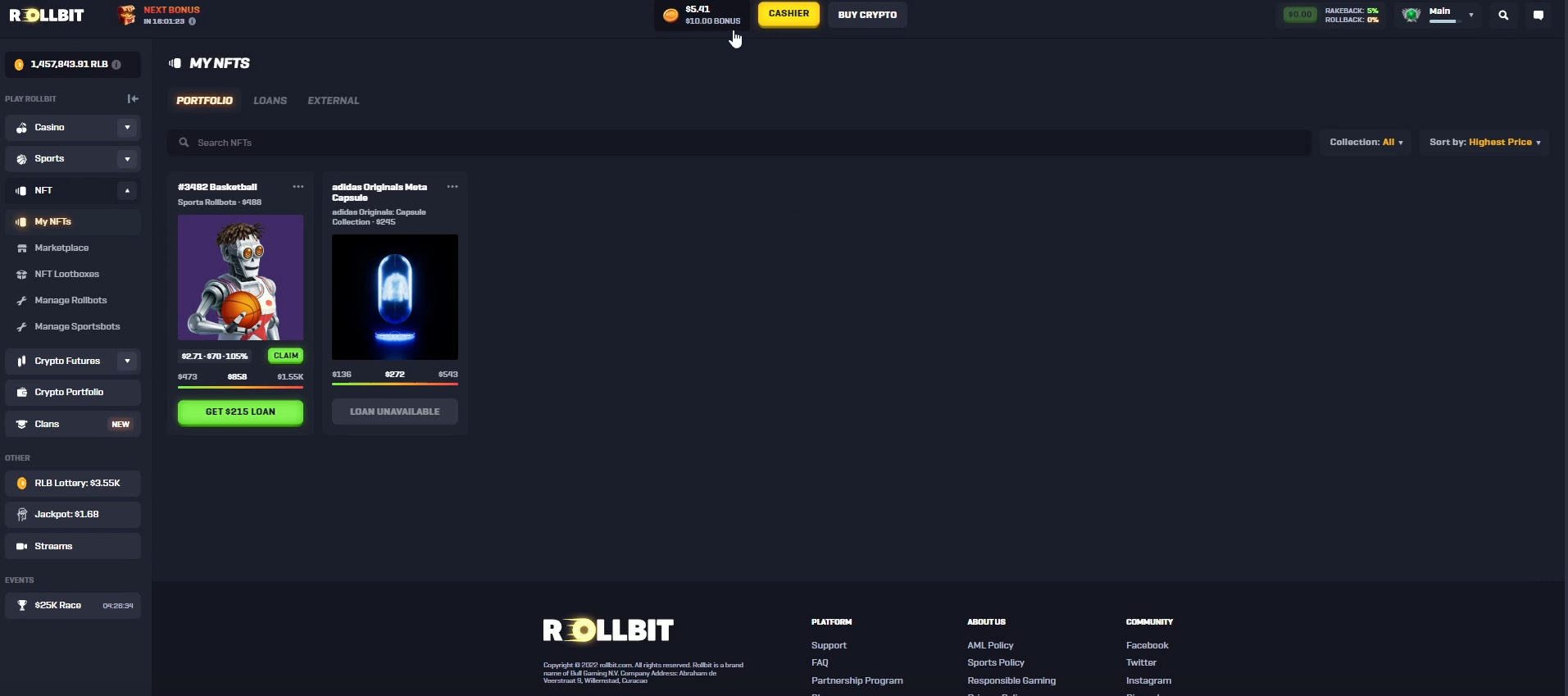 To release the bonus balance to my main balance I simply have to wager it 5x the value, which is extremely low in comparison to most bonus balances given by other sites.
If you have any further questions regarding the deposit bonuses you can head to our Discord, Site chat or 24/7 Support who can help you out!
---
-The Rollbit Team