Unlock Exclusive Rewards with Rollbit's Sports Rollbots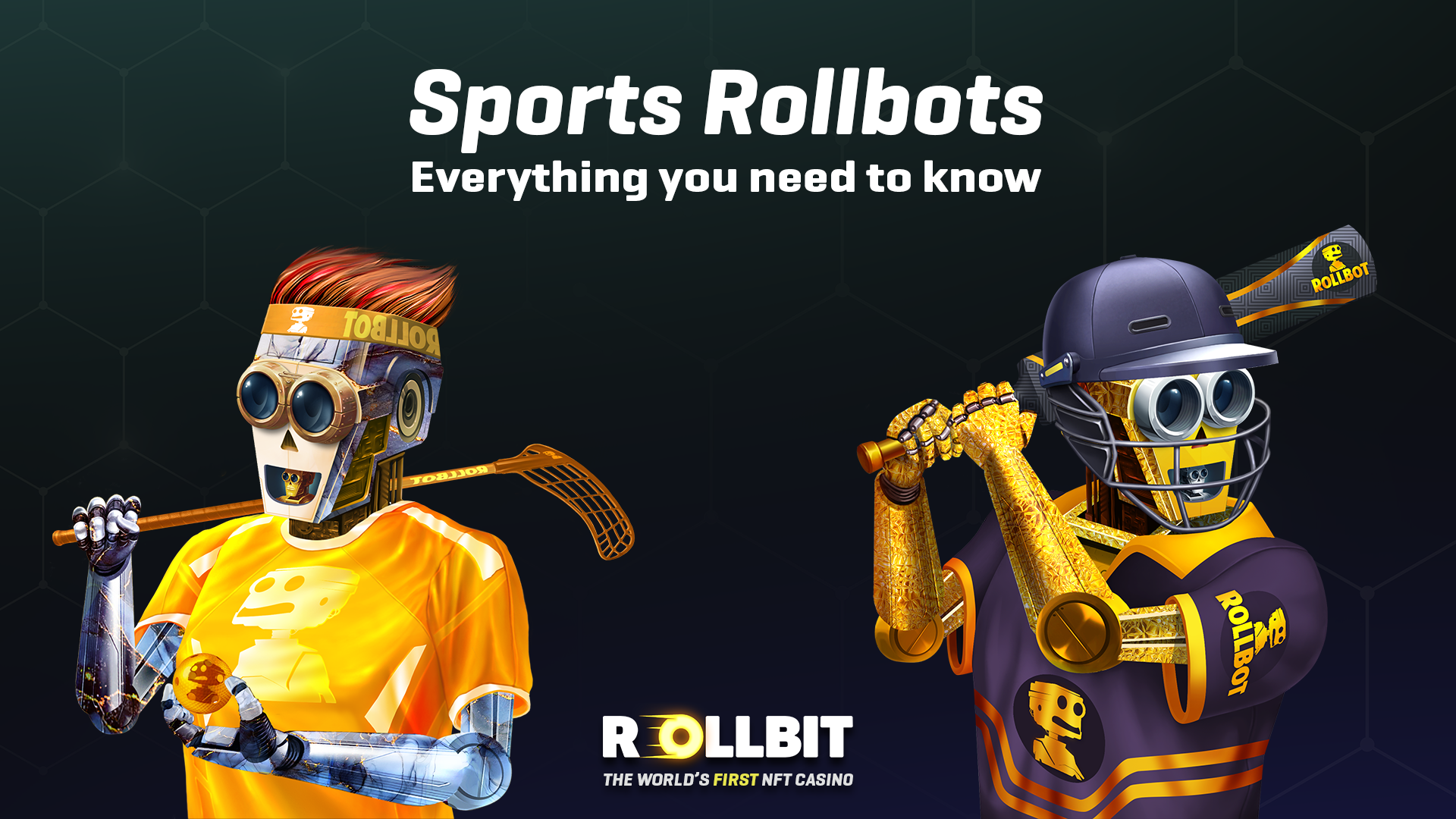 In this guide, we'll teach you how to best utilize your Sportsbook and Profit Sharing rewards with Rollbit's Sports Rollbot utilities!
With our majorly successful initial Rollbot sale in late 2021 making history as the first casino to launch an NFT collection, and providing millions back to holders (at the time of writing over $31,500,000+), we thought the implementation of a Sportsbook couldn't come without raising eyebrows once again with our Sports Rollbots NFT launch!
With the aim of the utilities providing rewards directly to holders wagering on the newly implemented Sportsbook and even rewarding those that don't, we set out with the goal to give as much back to the holders!
In this article, we'll walk you through how to best utilize the perks of being a Sports Rollbot holder with utilities just released, and more to come!
What are Sports Rollbots?
As with the initial Rollbots, the Sports Rollbots were generated with traits, but this time with over 600 different traits and 100 different properties all having different levels of rarity!
You can see just some of the 10,000 Sportsbots that were algorithmically generated listed in our marketplace below:
Interested in picking up your own Rollbot? You can check out our newly released collection of Sports Rollbot NFTs in our marketplace.
We focused on the main traits of the Background, Sport, Teeth, Eyes and Body for the utilities. We've recently introduced the utility for all of these traits!
You can check out the exact trait rarity breakdown for these core traits inside the Sports Rollbot whitepaper.
Rollbot Reveal
We changed it up with the revealing process on the Sports Rollbots launch, making the reveal of the Sport and traits of your Rollbot completely up to you!
After purchasing a unrevealed Sports Rollbot or minting one through our NFT sale, inside your NFT portfolio you can click 'Reveal' to show you exactly what your Rollbot looks like if it hasn't been revealed yet!
Revealing is completely optional, but necessary to unlock the utility perks of the Sports Rollbot.
This leads us to our first utility for them being the RLB airdrop.
RLB Airdrop
The RLB airdrop is included in the revealing process of the Sports Rollbots. This means that as soon as you reveal a Sports Rollbot you are automatically credited a quantity of RLB to your RLB balance.
This is a one time credit, so any revealed Rollbots won't receive this airdrop in the future. Although unrevealed Sports Rollbots will still be able to claim RLB!
How much RLB you receive is based on the background trait of your Sports Rollbots:
Special:  1,000,000
Purple:  75,000
Red:  65,000
Orange:  55,000
Green:  45,000
Blue:  35,000
Grey:  25,000
Unsure on what our RLB token is and what you can use it for? You can check out our breakdown of the RLB lottery, how to deposit and withdraw RLB, our most recent RLB burn and schedule or our detailed breakdown on our whitepaper.
Profit Sharing
Rollbit's Sportsbook was launched on the 20th of March, giving everyone access to over 80 of the most popular sports around the world to wager on. Through this, we are giving back 20% of our total profits to holders of Sports Rollbots.
Profit share can be claimed on every Sports Rollbot with a rolling interval of 30 days. This means that the previous 30 days of profit that can be claimed for your Sports Rollbot may go up or down depending on Rollbit's profits for the month.
The body trait rarity of a Sports Rollbot determines the Sportshare for each Sports Rollbot as shown below and in the trait rarity breakdown in our whitepaper.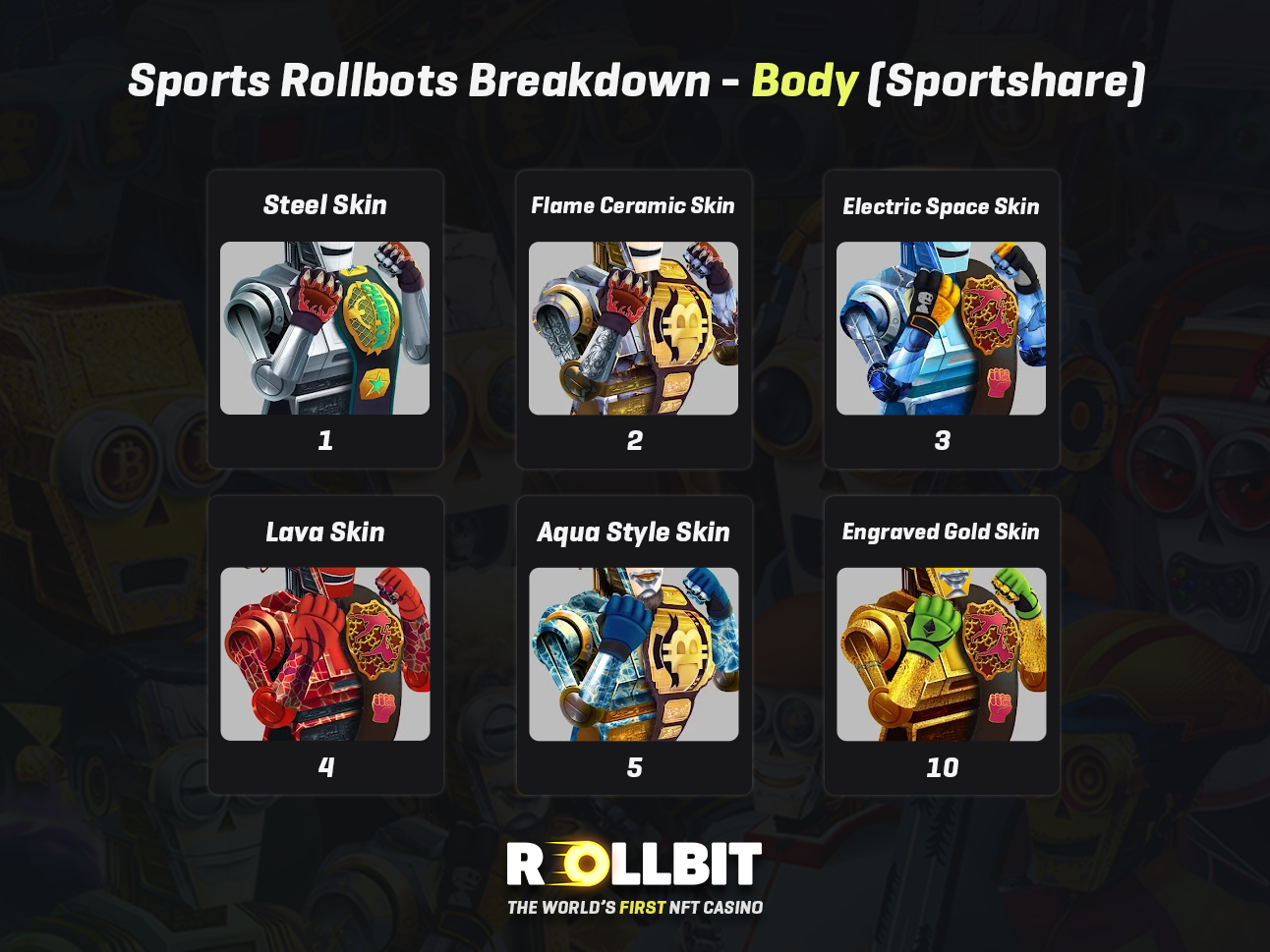 Sportshare is what decides how much profit share each Sports Rollbot will earn across all sports and the matching sport.
All Sports Rollbots are entitled to earn a general 10% profit share of all sports and up to an additional 30% profit share for their specific sport.
Claiming Profit Share
In your Sportsbot portfolio, the profit share distribution for your Sports Rollbot will be shown as the first dollar amount under the NFT picture.
To claim the profit shared amount for your Sportsbot over the previous 30 days, you can go to 'Claim' which will prompt you to choose to 'Only claim profit share' or you can leave it not ticked and claim all of the bonuses for the Sportsbot.
When claiming pending profits, the Sports Rollbot will be locked for 30 days. Once claimed, the profit share value will be credited directly to your USD balance at the top of the site.
You can then do whatever you would like with this, with no restrictions! You can find all of your claimed Sports Rollbots here.
Free Bets
For each Sports Rollbot there is a free bet ranging from $20 all the way up to $1000 based on the rarity of the eye trait. You can use the free bet once per Sportsbot per month, meaning you can utilize up to 30 free bets a month!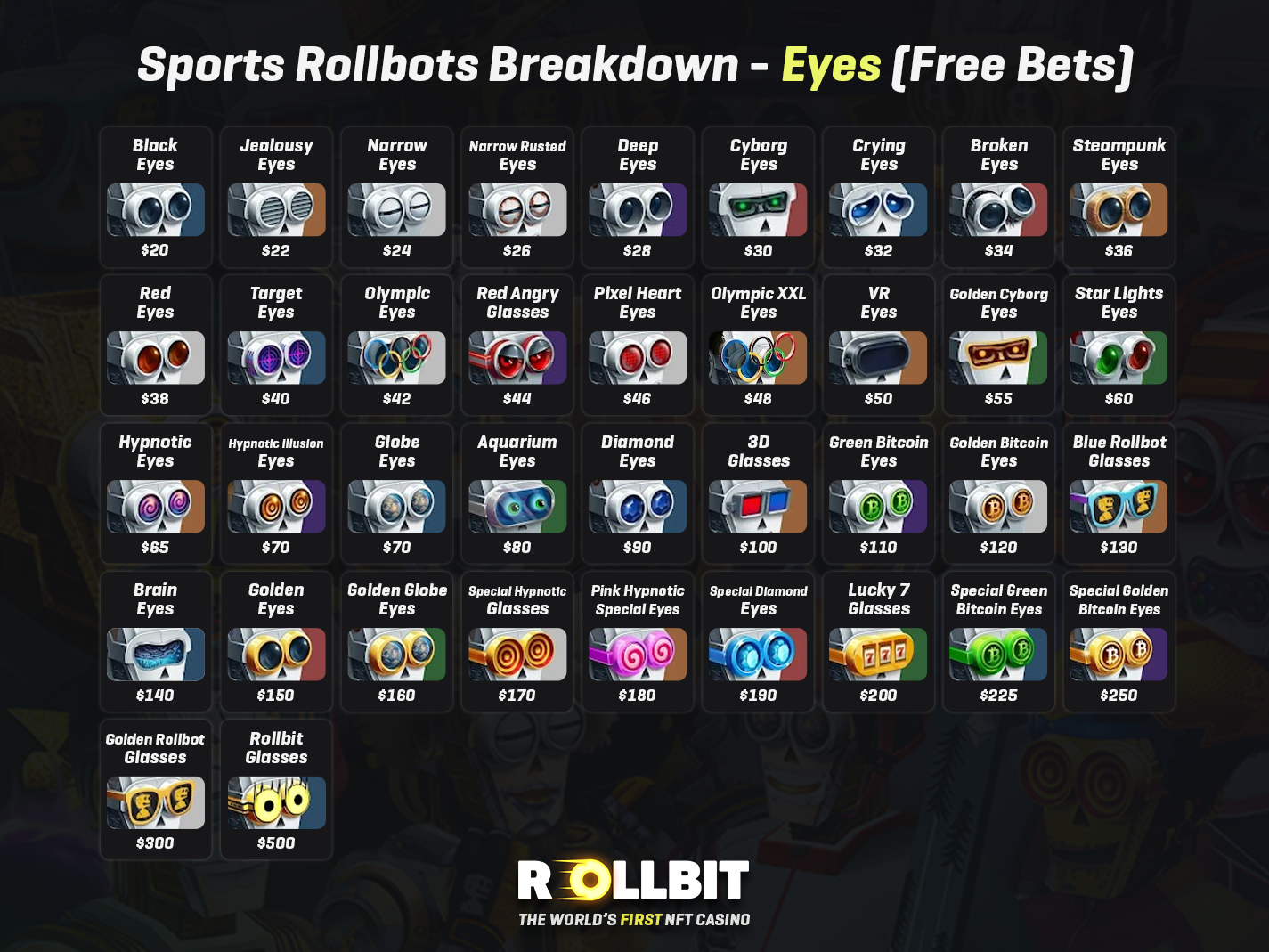 Claiming Free bets
Whilst also clicking 'Claim' on your Rollbot as we showed with the profit sharing video, you will see a dropdown prompt where you can decide to get the full free bet and place it on the matching sport for your bot or unlock the free bet for all sports but with a 50% bet reduction.
Once selected and bonuses claimed, you will see a notification in the bottom left-hand side. You can find your free bet bonus inside the 'Bonuses' section in the 'My bets' section of Rollbit's Sportsbook.
After clicking on the Sport name that the bet is dedicated to in your Bonuses section, it will direct you to the betting options for that sport. You can see how to place a free bet below.
Choose the bet you would like to make and you will then see a green gift box in your bet slip in the bottom right. By clicking this, it sets the bet as the free bet and will show you the total value you could win if the bet is won.
After placing the bet, you can check how it is going and if you have won the bet after it has been decided in 'My bets'.
Remember, only one Sports Rollbot can be used for the free bet every 24 hours, so pick the one that you prefer to use for the free bet and the combo boost for that period.
The free bet must be used before claiming a new bonus on another Sports Rollbot. You will have 7 days of the free bet being available before it expires.
Also as it is a free bet, you will only be credited the amount won on the bet, so make sure the bet you choose is the one you desire!
Combo Boosts (Parlay Multipliers)
As with the free bets and profit sharing, the combo boosts for each Rollbot are different depending on a trait rarity, with the combo boosts' being influenced by the teeth trait rarity.
A parlay allows sports bettors to include multiple wagers into a single bet. If all bets come in, the win will be much greater than if the bets were placed individually!
Sports Rollbots holders will enjoy over 100% Combo Boosts! The total boost you can gain is shown below and also in our whitepaper.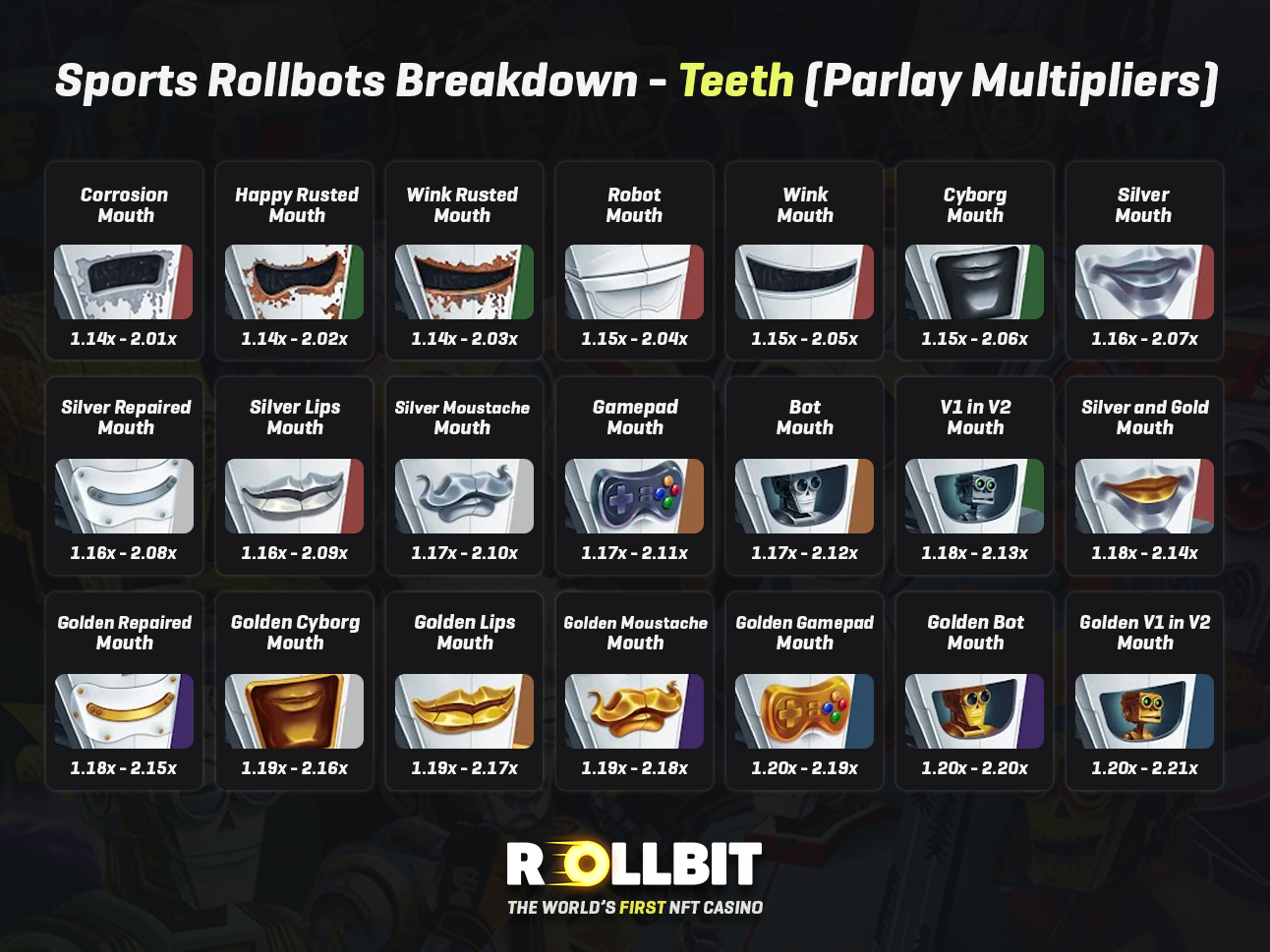 You can use a combo boost on any Sportsbook bets you would like, although for each combo boost there are different requirements to meet before you can reach the full potential of the boost.
In our video walkthrough below, you can see it will need to meet the following total selections under a minimum odd of 1.47 to get the increased boosts. This is in place to avoid abuse of boosts on low parlay selections.
Remember, only one Sports Rollbot can be used for the Combo Boost bonus every 24 hours, so pick the one that you prefer to use for the free bet and the combo boost for that period.
Also - the combo boost must be used before claiming a new bonus on another Sports Rollbot. You will have 7 days of the combo boost being available before it expires.
Claiming Combo Boosts
As with the claiming a free bet and profit share for a Sportsbot, you will also claim the Combo boost at the same time whilst using the 'Claim' option on your Sportsbot in your portfolio.
To place a combo boost bet, you can find the boost under 'Bonuses' inside 'My bets' of your Sportsbook. Using the 'All events' under boost you can go to the home page of the Sportsbook to choose your betting options for the combo boost.
Selecting multiple bets for this bet slip is required, as shown below, choose 4 or more bets and the green gift box will show in your bet slip. Selecting this will apply your combo boost to your combo!
Choose as many bets as you would like to fulfil the different combo boost level requirements. You can see the multiplier increasing as more bets are added to the combo.
Once your bets have been chosen, enter your total bet amount and use 'Place bet'. By heading back over to 'My bets' you will be able to see that combo boost applied.
Have any questions about your Sports Rollbot's utilities? Be sure to contact our 24/7 live support using the headphone icon in the bottom right on Rollbit!
- The Rollbit Team