How to Create and Sell Your Own Non-Fungible Tokens
A guide to creating and selling Non-Fungible Tokens on Ethereum, Avalanche, Flow and Solana.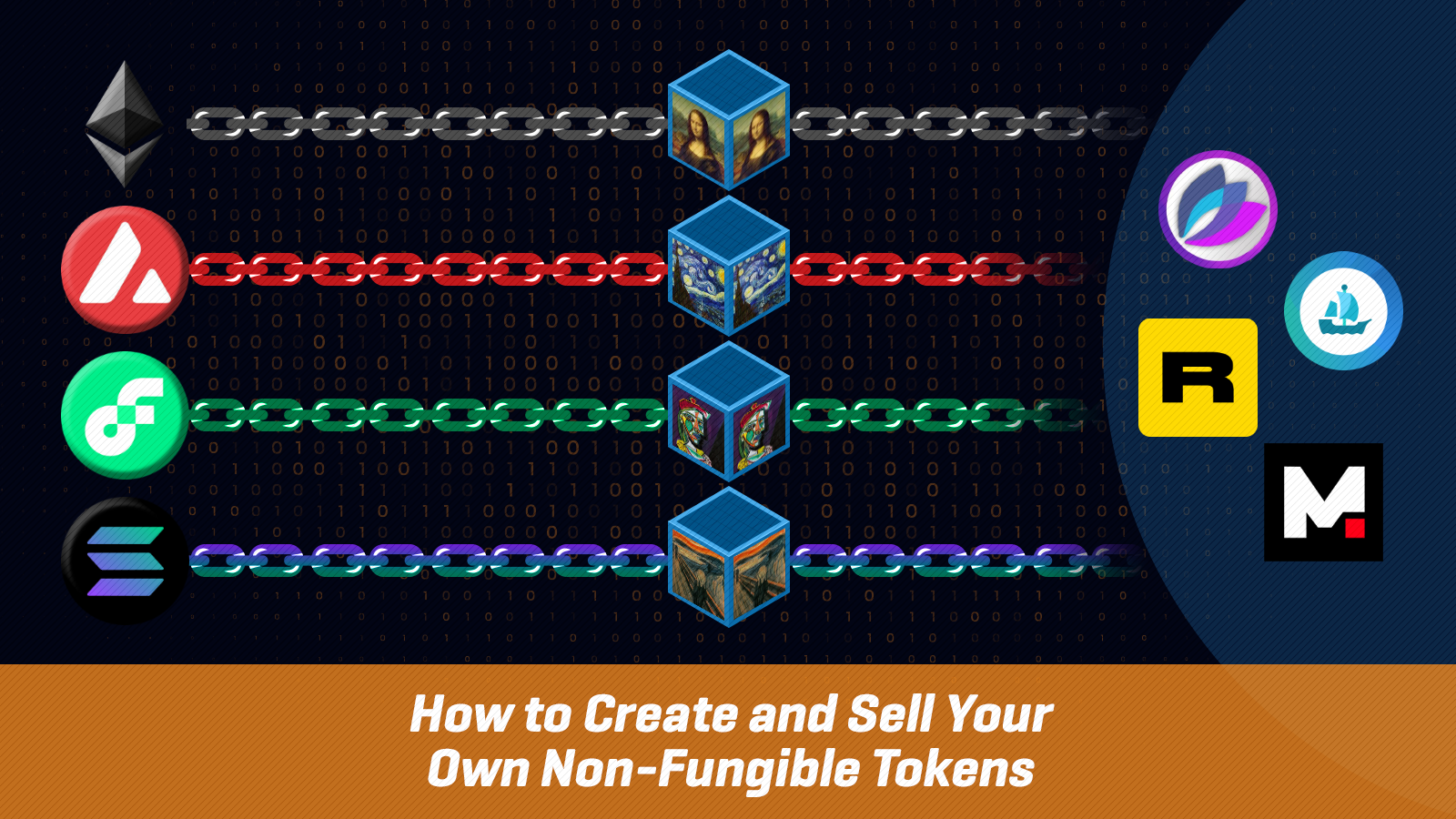 A guide to creating and selling Non-Fungible Tokens on Ethereum, Avalanche, Flow and Solana.
What are NFTs?
NFTs (Non-Fungible Tokens) are rare or unique cryptographic tokens that are not interchangeable providing a certificate of authenticity on a public blockchain. These intangible digital items can represent works of art, in-game assets, collectibles, music, videos and much more. For example, there is Sorare which is a digital football card game where players are represented by NFTs that are limited in number.
This sub-sector of the cryptocurrency market has enjoyed a meteoric rise in 2021 with the volume reaching $4.65 billion according to The Block's data dashboard. In particular, NFTs have taken the art world by storm with the world-famous auction house Sotheby's auctioning several multi-million dollar NFTs in the past few months.
Going hand-in-hand with the increased interest in these cryptographic tokens, the number of unique buyers and sellers have also risen dramatically over the past year. According to data from NonFungible.com, the number of unique buyers for NFTs on Ethereum was recorded to be just 1,361 at the start of 2021 and currently stands near 3,738, a 475% increase over the past 12 months!
Similarly, artists and other creatives have started to cash in on the rising popularity of NFTs, with the number of unique sellers currently standing at 3,774, up from 731 at the start of 2021 and increasing 1,166% over the past year. In this article, we'll show you how you can become a seller and create your own NFTs.
Get a basic introduction to Non-Fungible Tokens (or NFTs) with our starter guide here.
How to Create Your Own NFTs
To get started creating your own NFTs, you'll need an idea for your NFT, a crypto wallet and some cryptocurrency. Your idea can be some sort of artwork, digital graphic, a piece of music or even a video.

In this guide, we'll show you several ways you can mint your own NFTs.
Minting NFTs on Rarible
Rarible is one the leading NFT marketplaces built on the Ethereum blockchain. To get started with minting NFTs on Rarible, you'll first have to connect your wallet and accepts the terms of service (MetaMask is the most popular compatible wallet).
Once your wallet has been connected, click on the 'Create' button on the top right-hand side of Rarible's homepage: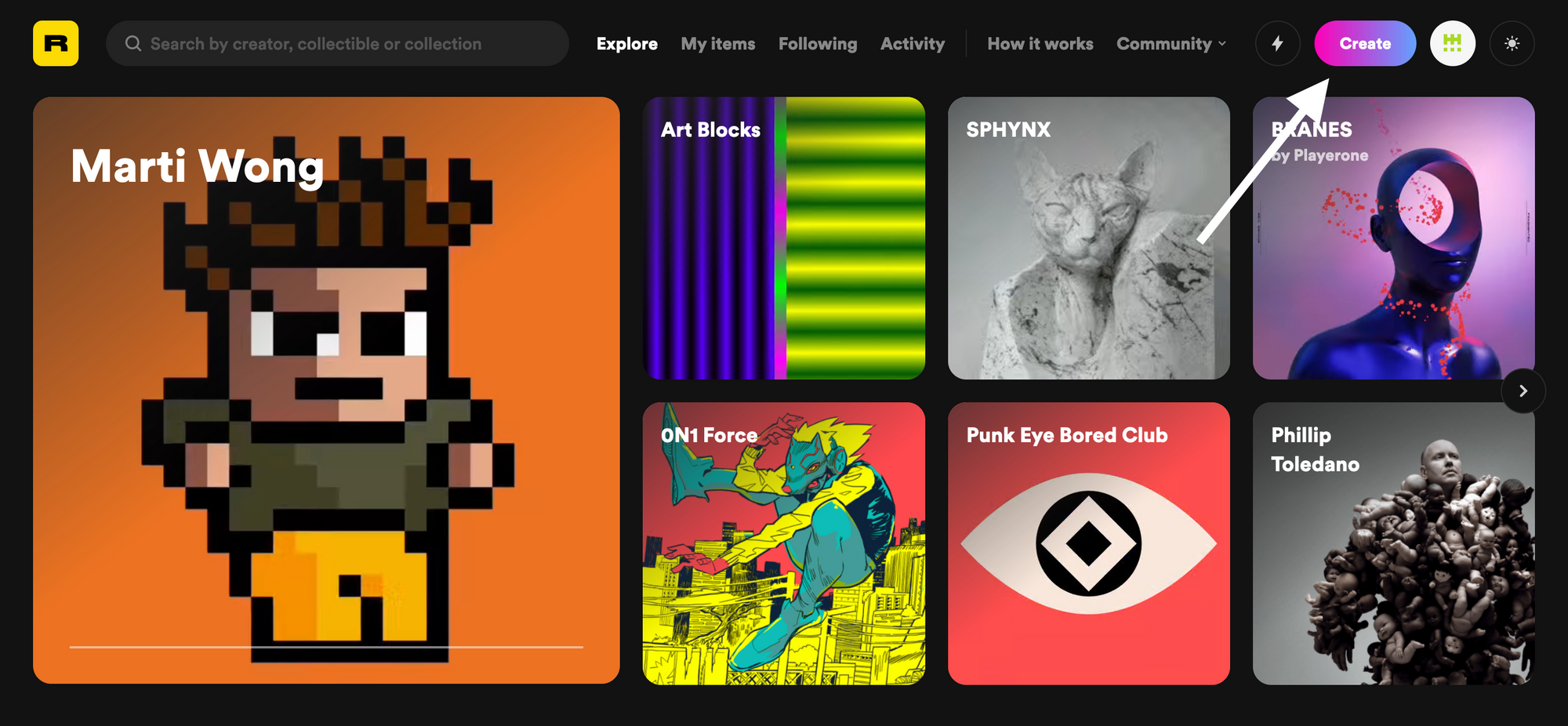 Then you can specify whether the NFT you are creating is a standalone token or if you want to create more than one, choose 'Multiple'.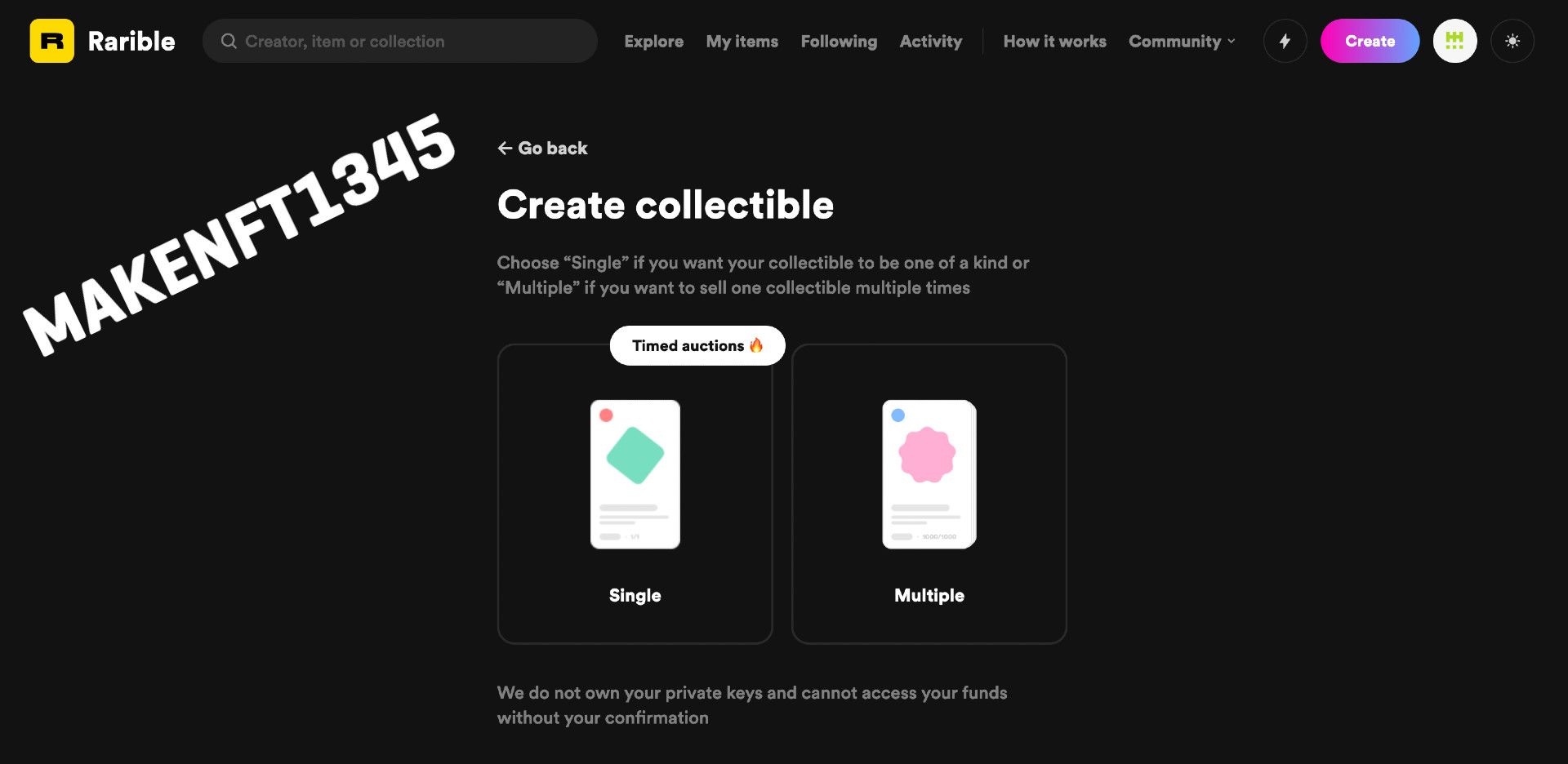 Once you've selected 'Single' or 'Multiple', you can then upload your file, as shown below: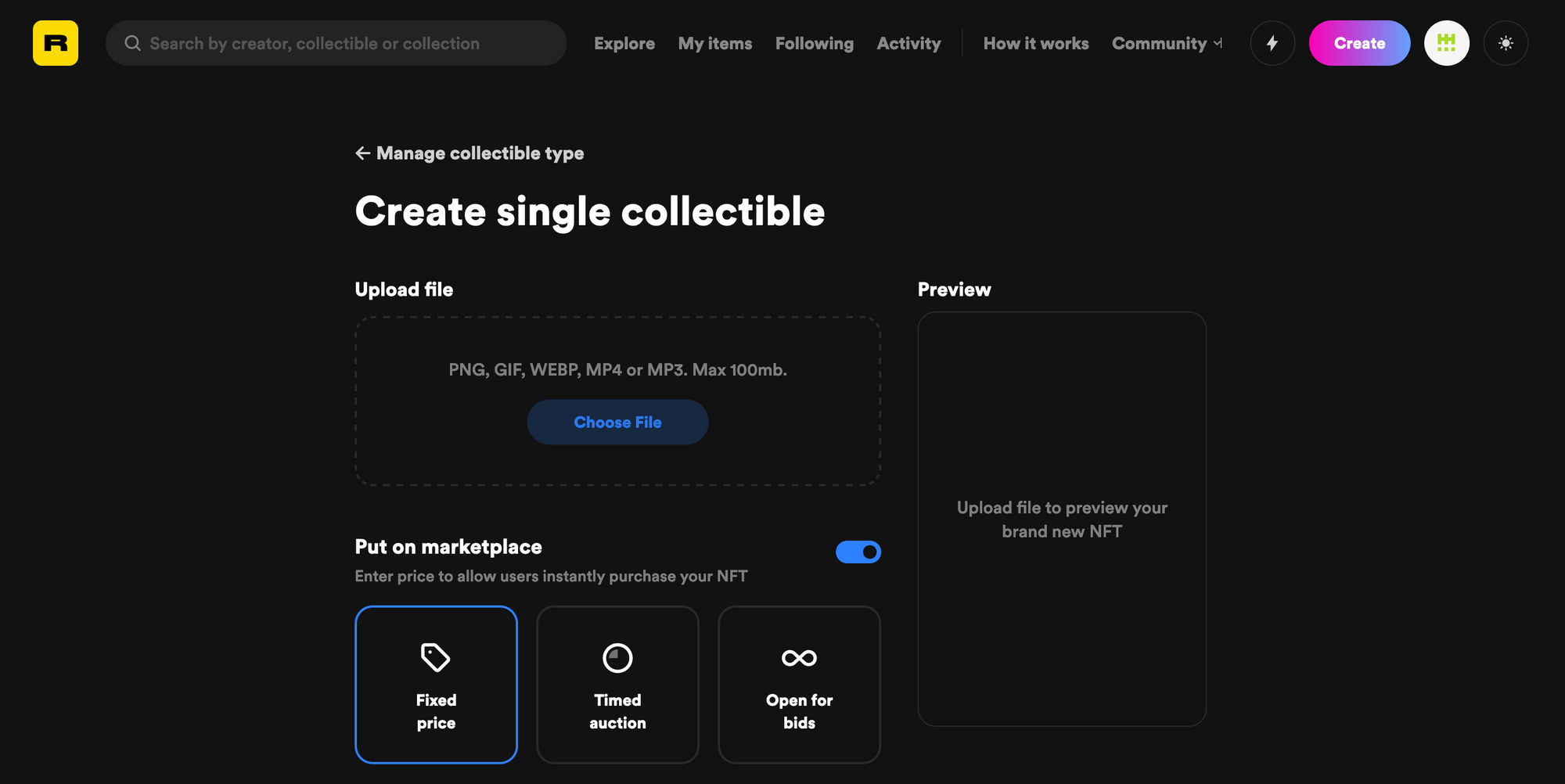 Once your file has uploaded, a preview will be shown on the right-hand side. Then you can decide on the way someone will purchase the NFT: for a fixed price, through a timed auction, or just leave it open for bids. On Rarible, you can price your NFT in terms of ETH, DAI, USDC, RARI and many other tokens. Note that once your NFT is sold, the Rarible marketplace charges a 2.5% service fee.
After setting the price, you can give your NFT a title, a description and set the royalty percentage anywhere between 0%-50%. The royalty fee is how much the creator of the NFT will earn each time it is sold in the secondary market (meaning after you have initially sold it).
It's important to set the right price/royalty fee and have a strong understanding of the trends in the NFT market because you'd want someone to purchase it and trade it in the future so you can earn royalties, otherwise you'd be burning money by minting it.
Once you've entered all the details, you can check the preview of your collectible and then, when you're ready, click on 'Create Item' button.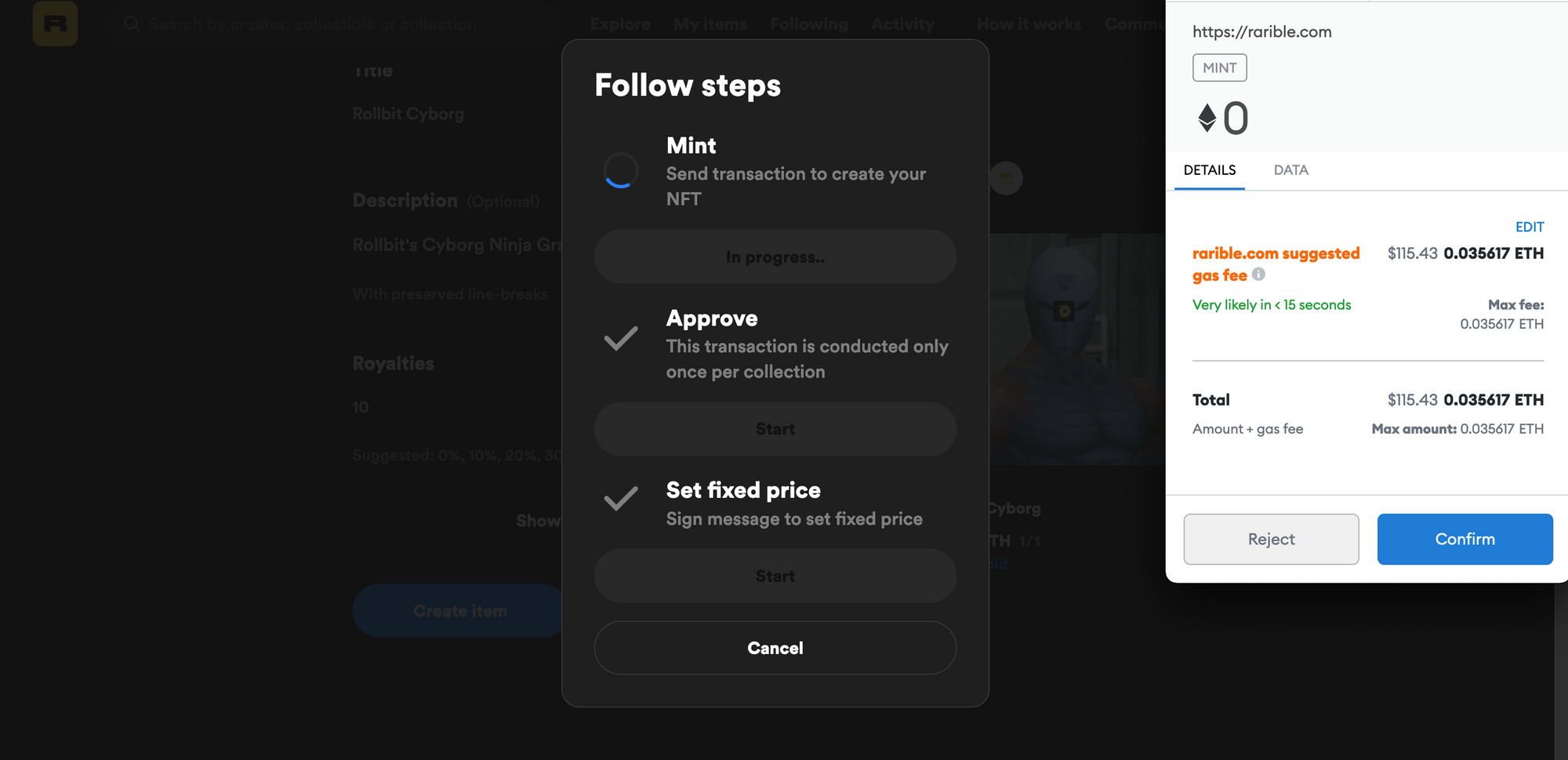 You'll have to pay a fee to interact with Rarible's Ethereum smart contract to mint the NFT, which is shown in your wallet. If the fee is too high, you can wait until the network fees start to fall or you can try again when congestion is lower (typically on the weekends).
Since marketplaces like Mintable, OpenSea and Rarible are based on the Ethereum blockchain, the process to mint an NFT is similar across these platforms. However, the gas fees for minting can often be very expensive (even more so if you want to create a series of NFTs). As shown above, creating an NFT using Rarible cost 0.0356 ETH (~$115) at the time of writing, so you'd have to create a piece and price it at least 0.04 ETH, even then only making a tiny amount of profit.
Minting NFTs on Other Blockchains
Since the cost of minting NFT on the Ethereum chain can be excessive, you may want to consider using other blockchains, such as Avalanche, Flow, or Solana. But because Ethereum is much more established than these projects, it's often not as easy to mint NFTs as it is for the walkthrough above for Rarible.
Create an NFT on Avalanche
Nevertheless, the Avalanche wallet offers an in-built NFT studio providing a user-friendly way to mint NFTs in a cost-effective way.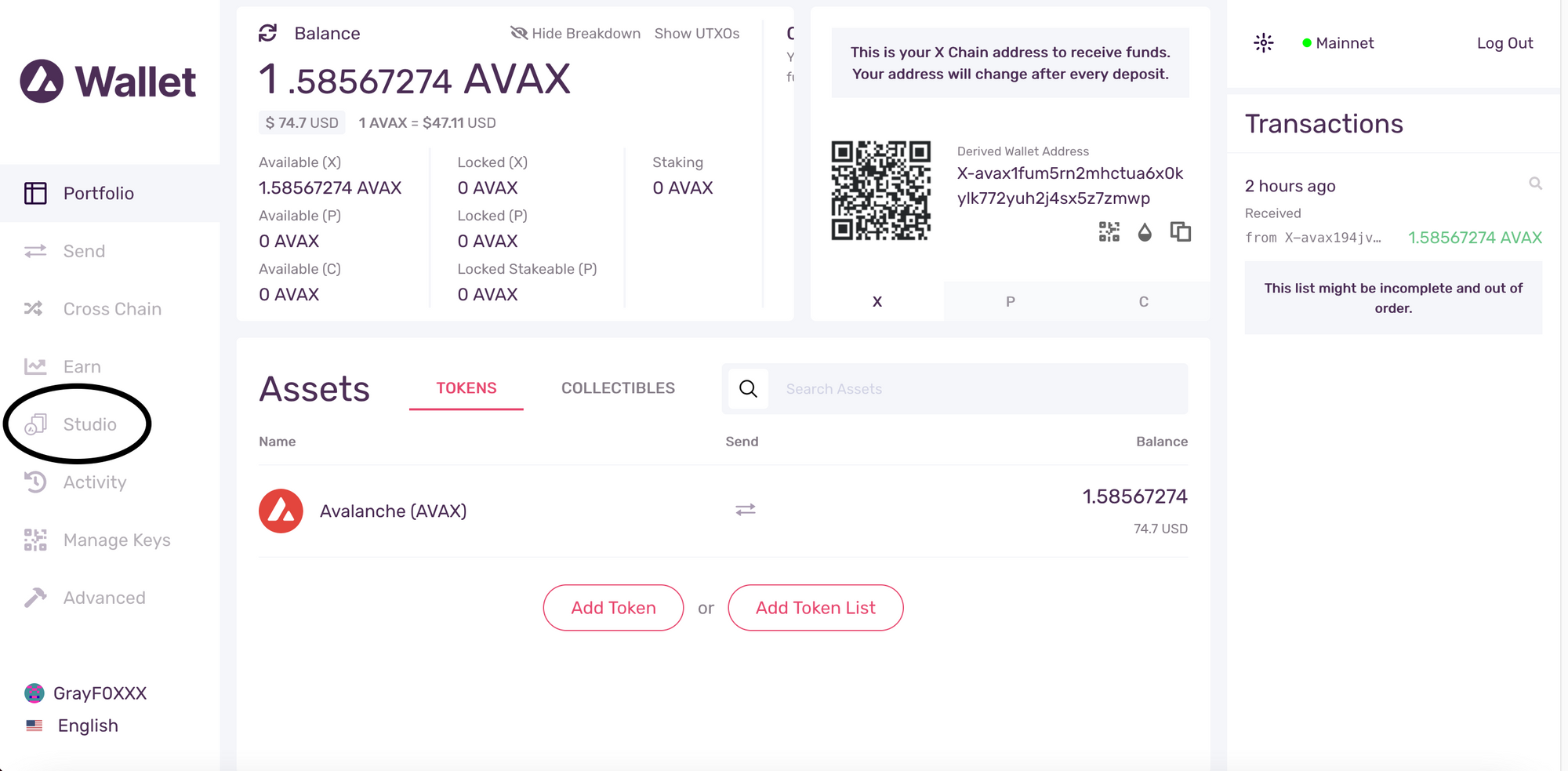 Once you go to 'Studio', create a new family and pay the 0.01 AVAX fee. Give the family a new name, symbol and select a number of groups. Once this is done, you can go back to the studio and mint your NFT.
To mint an individual NFT on Avalanche, there's a fee of just 0.001 AVAX (less than 5 cents).
The NFT will then appear in the collectibles section of the Avalanche wallet.
Snowflake.market allows you to buy, sell and trade NFTs on the Avalanche network, which is compatible with the MetaMask browser wallet. So if you create an NFT using teh Avalanche wallet, you'll have to transfer it to your MetaMask wallet by switching the network from Ethereum to Avalanche.
Create an NFT on Flow
On the Flow blockchain, there is the VIV3 marketplace but you have to submit an artist profile, so it may not be the best bet if you want to just try things out. For now, you'd have to be comfortable with smart contracts and the Cadence programming language to create your own NFT on Flow.
However, CryptoDappy provides a full crash course to give you the knowledge needed to create an NFT collectibles game on the Flow blockchain.
In the near future, you'll be able to trade Flow NFTs on Rarible, as revealed in June 2021 after the team raised $14.2 million to build the marketplace on the Flow blockchain.
Create an NFT on Solana
Similarly, NFTs can be minted on Solana at a much cheaper price than Ethereum, but to get started you'll first need some SOL tokens and a wallet such as Phantom. There are currently several convenient ways to mint an NFT on the Solana chain with no coding knowledge:
Sonar: a yield-farming tracker and NFT creator tool (still in beta),
Holaplex: allows you to design, create and host a NFT marketplace using MetaPlex with no coding knowledge,
NFT Solar: a platform to mint NFTs (still in beta).
To create your own collectible using Sonar, connect your wallet and upload your file. Enter the name, description and alter the advanced settings if you want to change the royalty (default is 5%).
There are two fees displayed (as well as the total) since there are two steps: creating a token and then creating an account that can receive this token. You have to deposit a minimum amount of SOL on these two accounts, which is where the biggest part of the network fees come from when creating an NFT.
As compared to our earlier example with Ethereum, it's more than 100x cheaper, amounting to just $1.40 in total to create a single NFT.
After checking the fees, you can go to the 'Create' button and you'll have to approve both transactions using your Phantom wallet. After waiting for confirmation, you can view the NFT via Sonar or your Phantom wallet by navigating to the Collectibles section.
Any NFTs you hold in your Phantom wallet can be traded for SOL via Solana's version of OpenSea or Rarible, Solanart. The platform takes a 3% fee on any sale you may make and a 0.02% listing fee.
The NFT craze still has some serious momentum behind it and it doesn't seem like this trend will slow down anytime soon, with artists and big brands jumping on board. You too can also mint your own NFTs using the steps we've outlined above and potentially make a profit from your artwork, video or music!
If you've found this article useful, please share it with others on social media. If you've created your own NFT using our guide, share it with us via Discord on on Twitter!
---
-The Rollbit Team