The Crypto Pulse October 12th
Rollbit's weekly analysis and review of the news in Bitcoin, Ethereum, NFTs and cryptocurrency markets.
Rollbit's weekly analysis and review of the news in Bitcoin, Ethereum, NFTs and cryptocurrency markets.
News 📰
Soros Fund CEO Dawn Fitzpatrick has revealed that the family office owns "some bitcoins", confirming previous reports that the Soros Fund had started trading Bitcoin.
Fitzpatrick told Bloomberg in an interview, "From our perspective again, we own some coins, not a lot, and the coins themselves are less interesting than the use cases of DeFi and things like that."
With the total cryptocurrency market cap above $2 trillion and over 200 million users worldwide, Fitzpatrick also stated that cryptocurrencies had 'crossed the chasm to mainstream'.
The Altair beacon chain upgrade will be activated on Ethereum's mainnet at epoch 74240, estimated to be in the morning of Wednesday, October 27th. The beacon chain was launched in December 2020 and marked the beginning of Ethereum 2.0.
Ethereum 2.0 is an ambitious transition away from Proof-of-Work mining towards a Proof-of-Stake system that replaces miners with validators who stake ETH for a chance to submit blocks to the chain.
Get exposure to ETH via Rollbit's Crypto Portfolio or trade the second largest crypto with up to x1000 leverage.
Popular NFT collection Bored Ape Yacht Club (BAYC) plans to release its own token in early 2022. Not a lot of details have been released yet, but BAYC are going to be collaborating with Horizen Labs (the team behind the ZEN cryptocurrency) and tech-focused legal team Fenwick West.
Take a spin on one of Rollbit's Rollboxes for a chance to win Bored Ape Yacht Club NFT!
Stacks, a protocol built on top of Bitcoin for DeFi and NFTs, is seeing increased activity and boosting the price of STX, the protocol's native token. NFT projects such as Bitcoin Birds and StacksPunks saw successful launches. Satoshibles, a project commemorating Bitcoin creator Satoshi Nakamoto, is also due to release an Ethereum-Stacks bridge to transfer these NFTs to Stacks (and in turn the Bitcoin blockchain).
The way the Stacks protocol works is by rolling up a large number of transactions and submitting them to the Bitcoin chain as if they were one transaction, allowing for greater functionality and scale. Stacks (STX) is up nearly +53% in the past week.
Get exposure to Stacks' STX via Rollbit's Crypto Portfolio.
Bloomberg's Senior ETF analyst Eric Balchunas believes there's a ~75% chance the SEC will approve a BTC futures ETF in October.
In related, the SEC approved the Volt Bitcoin Revolution ETF from Volt Equity that gives investors exposure to companies with significant holdings of Bitcoin on their balance sheet, including Coinbase, MicroStrategy, PayPal, Square and Tesla.  
Other News
Market Analysis 📈📉
7-day Price Change
Data as of October 12th, 20:30 UTC
Let's look at the Bitcoin chart.
BTC-USD saw the largest weekly percentage gain since late April last week and closed firmly above the high from the week beginning September 6th, suggesting the upward trend is likely to continue. Given that the Bollinger Band width is pretty low at the moment, the price looks like it may continue to run up along the upper band and drive higher towards $60,000 over the next couple of weeks.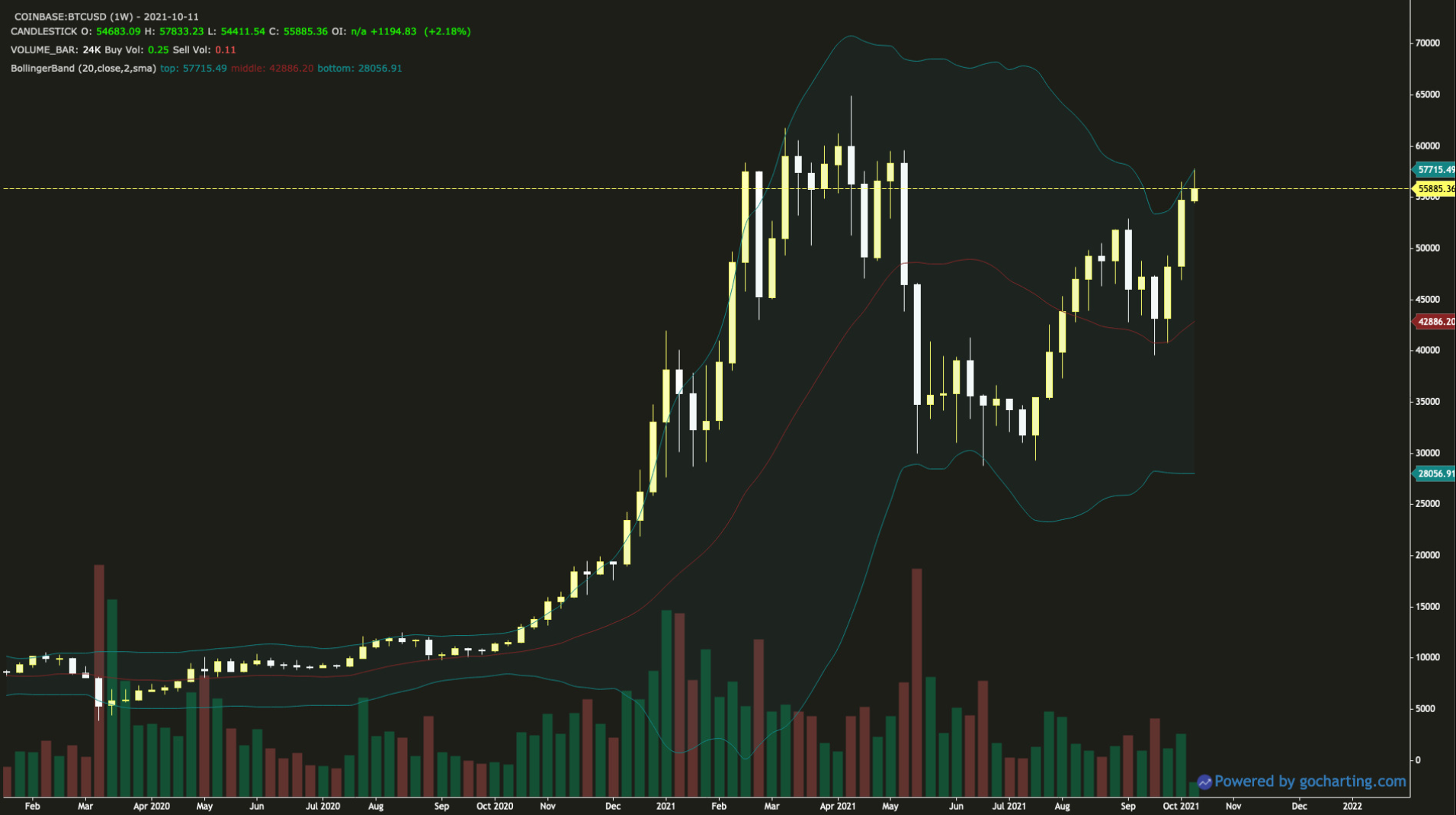 However, the daily chart below shows that a cool-off may be underway with the price making a high above the upper Bollinger Band on October 6th however, then posting a higher high below the upper Band from October 11th, which is typical of a topping pattern.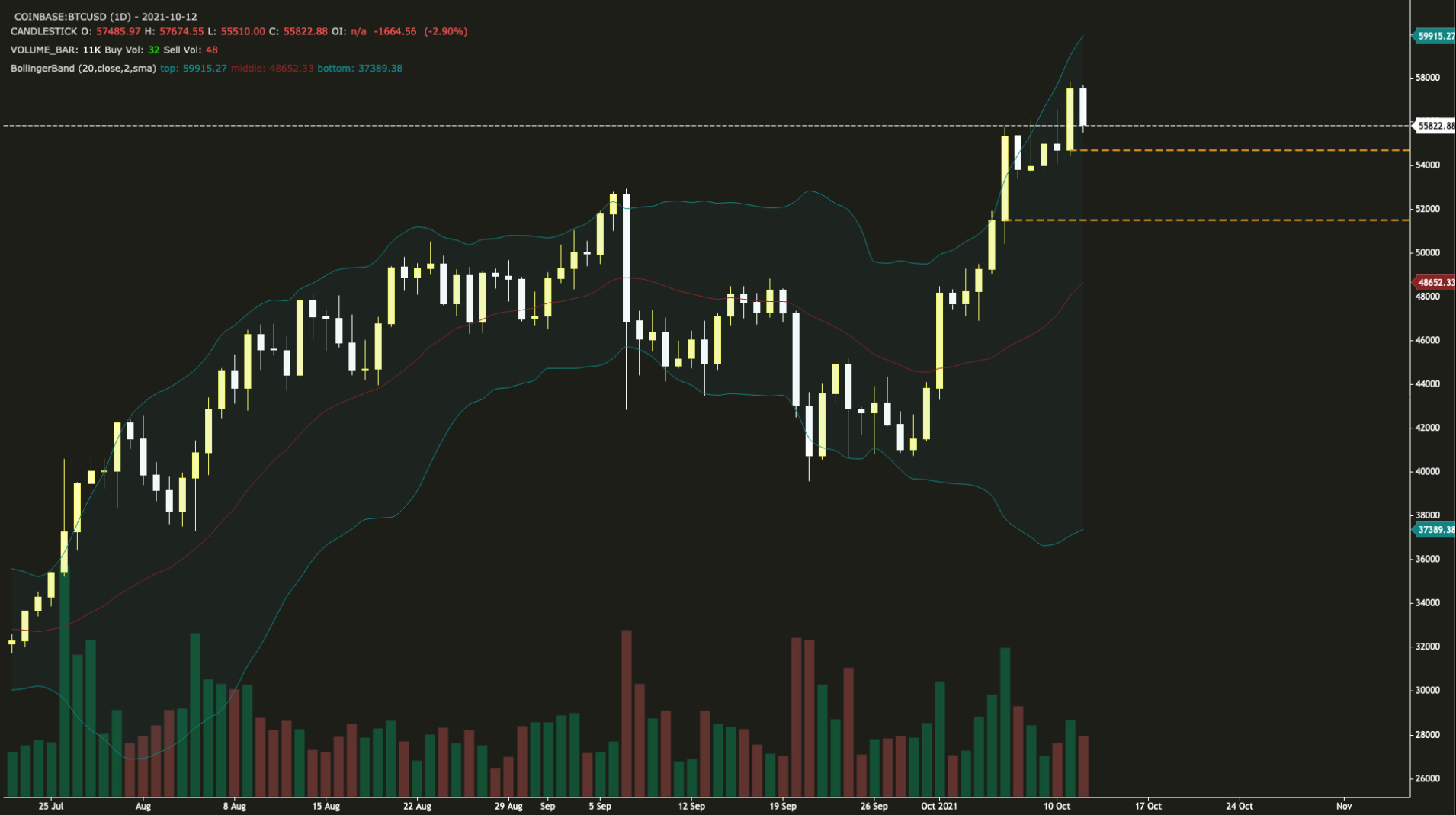 There's an important support level at $54,683, which is the open of October 11th's bullish candle. A failure to hold this level would point to a move towards the zone between $53,000 (the September high) and $51,500 (October 6th's opening price). Finally, a deeper support level is found at the middle Bollinger Band, currently at $48,651.
The 4-hour chart below for Bitcoin shows that $54,050 is a key level, aligning with the lower Bollinger Band and should present a buying opportunity if the market reaches this level.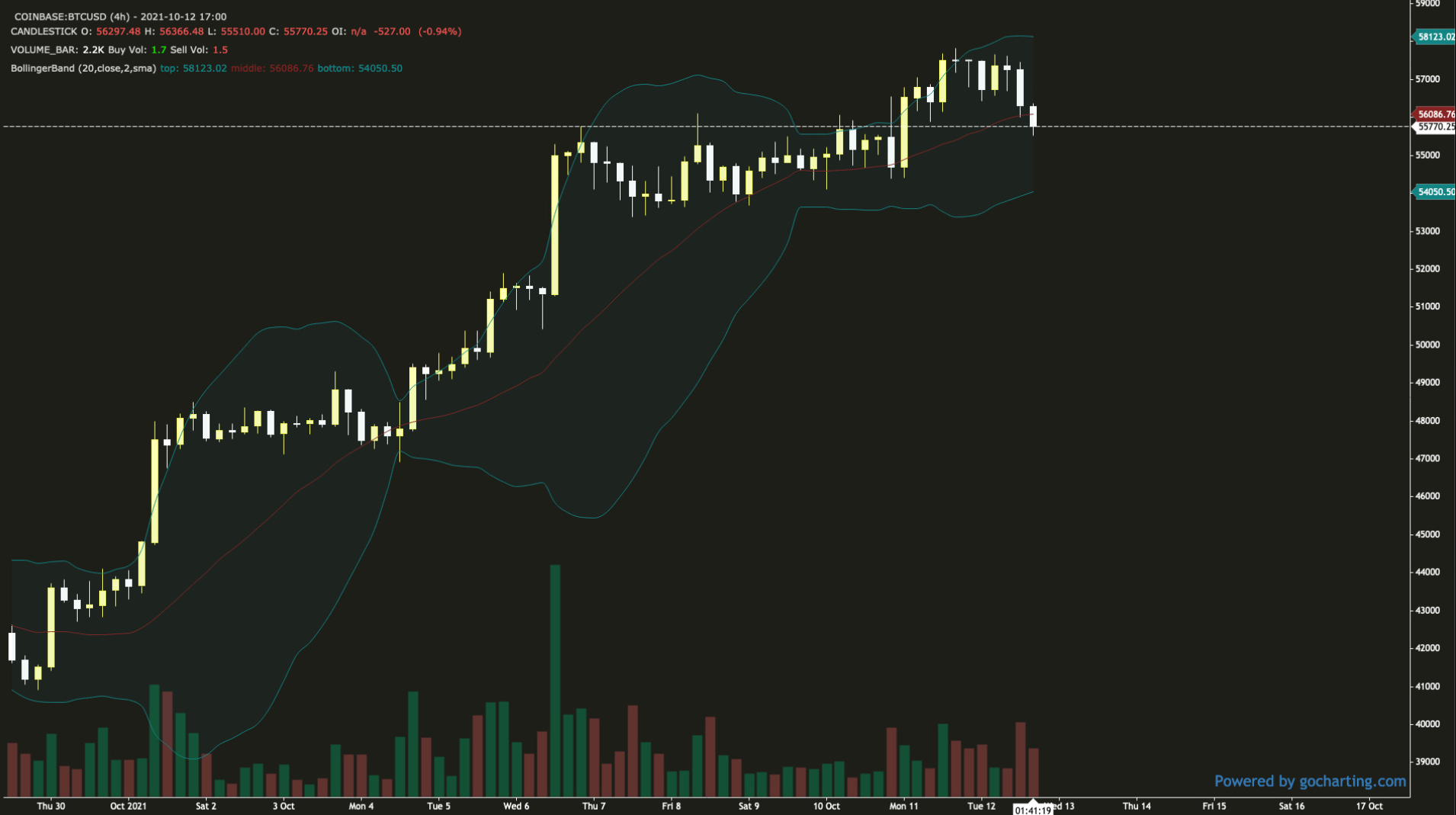 The weekly chart suggests there's more room for upside on ETH-USD as compared to Bitcoin if you're bullish on Ethereum, as the price is not near the upper Bollinger Band as things currently stand. The upper Bollinger Band is just above $4,000, while the current price stands near $3,500.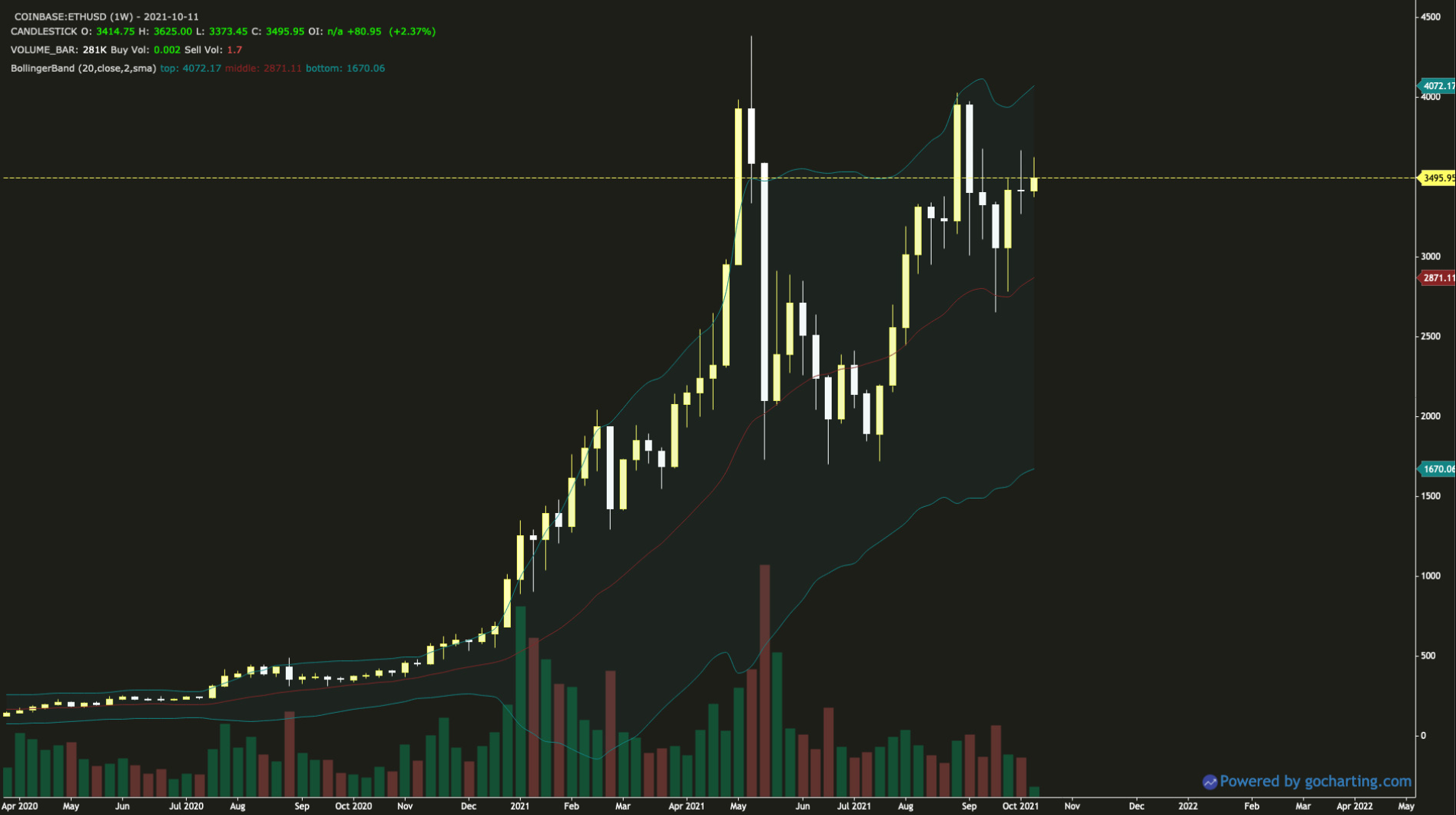 The daily chart for Ethereum also looks a lot different to Bitcoin's. We haven't yet seen a clean break of September's high for ETH and potential support is found at the middle Bollinger band, near $3,271. The upper Bollinger Band currently lies at $3,821, providing resistance.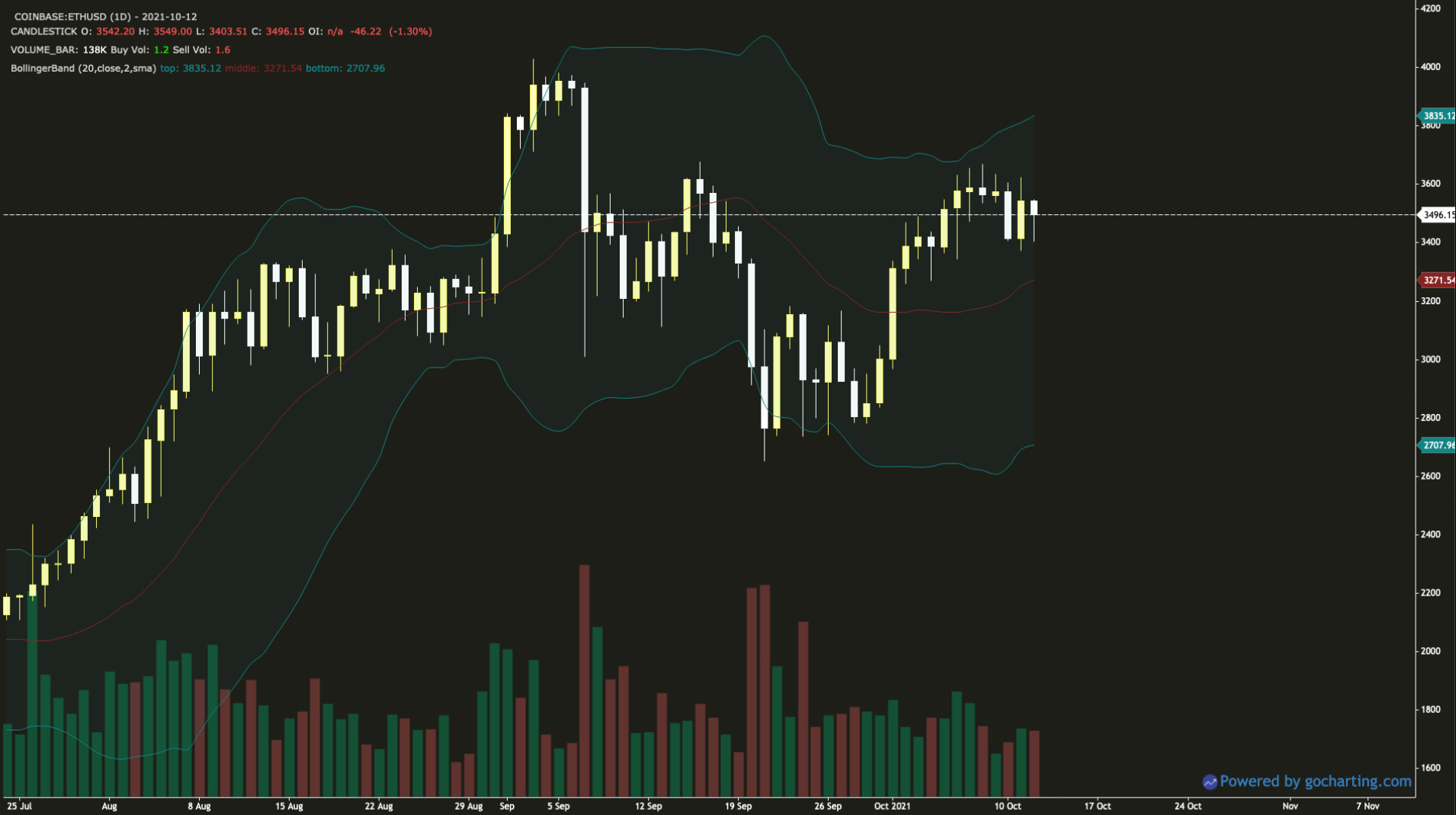 The 4-hour chart for ETH-USD shows that there could be some bullish price action in the short-term. We've just seen a Bullish Engulfing candlestick pattern after the price tested the lower Bollinger Band, suggesting the next move will be to the upside with an initial target of $3,633 (the upper Bollinger Band).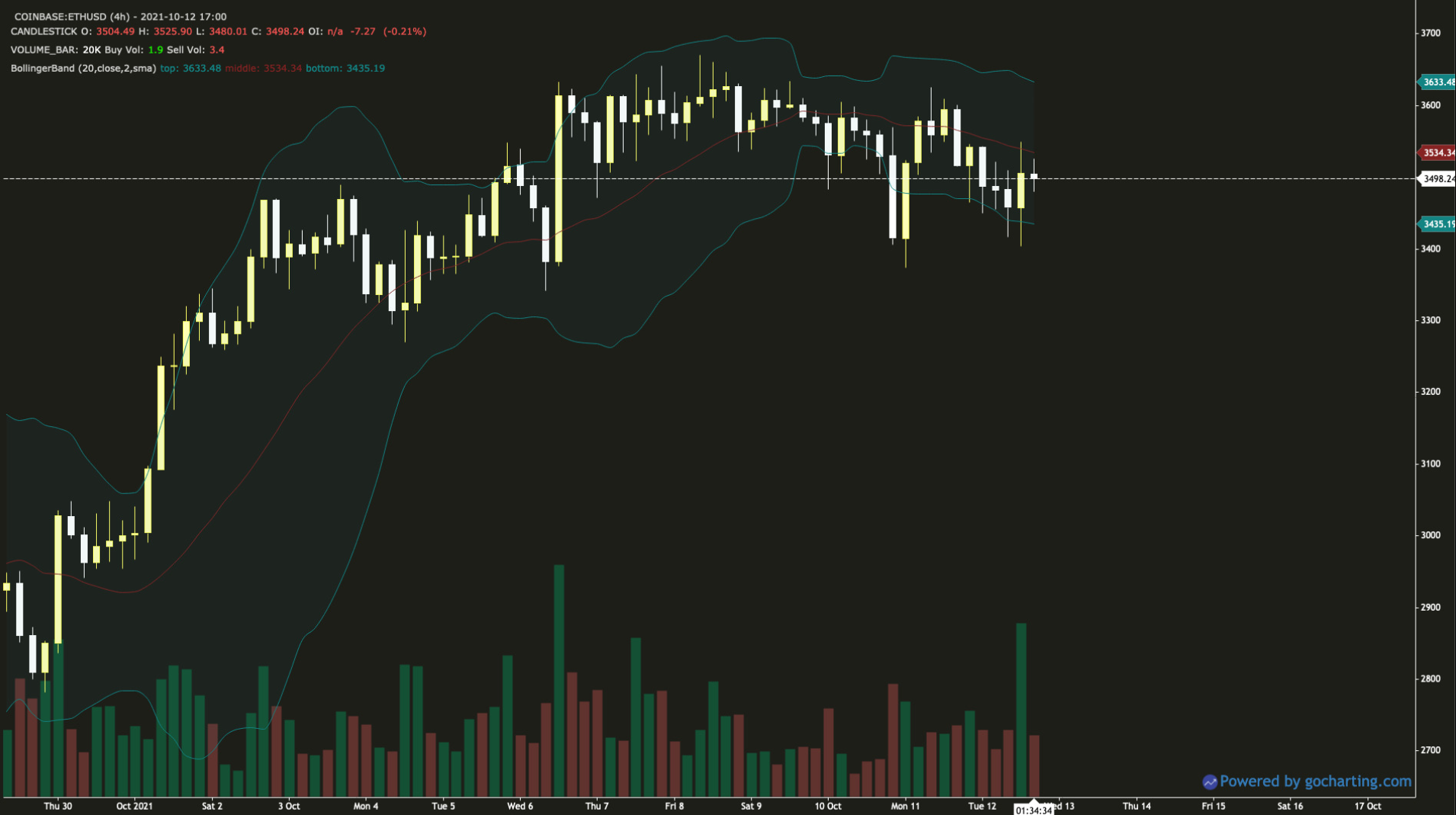 Don't forget about our Rollbot NFT presale, which is happening on October 14th. There's still time for a chance to take part in the presale by joining our Discord, reaching level 3 rank by being an active community member and inviting at least 3 friends.
Have a great week!
---
-The Rollbit team