NFT Lootboxes: Win ANY NFT listed for sale on OpenSea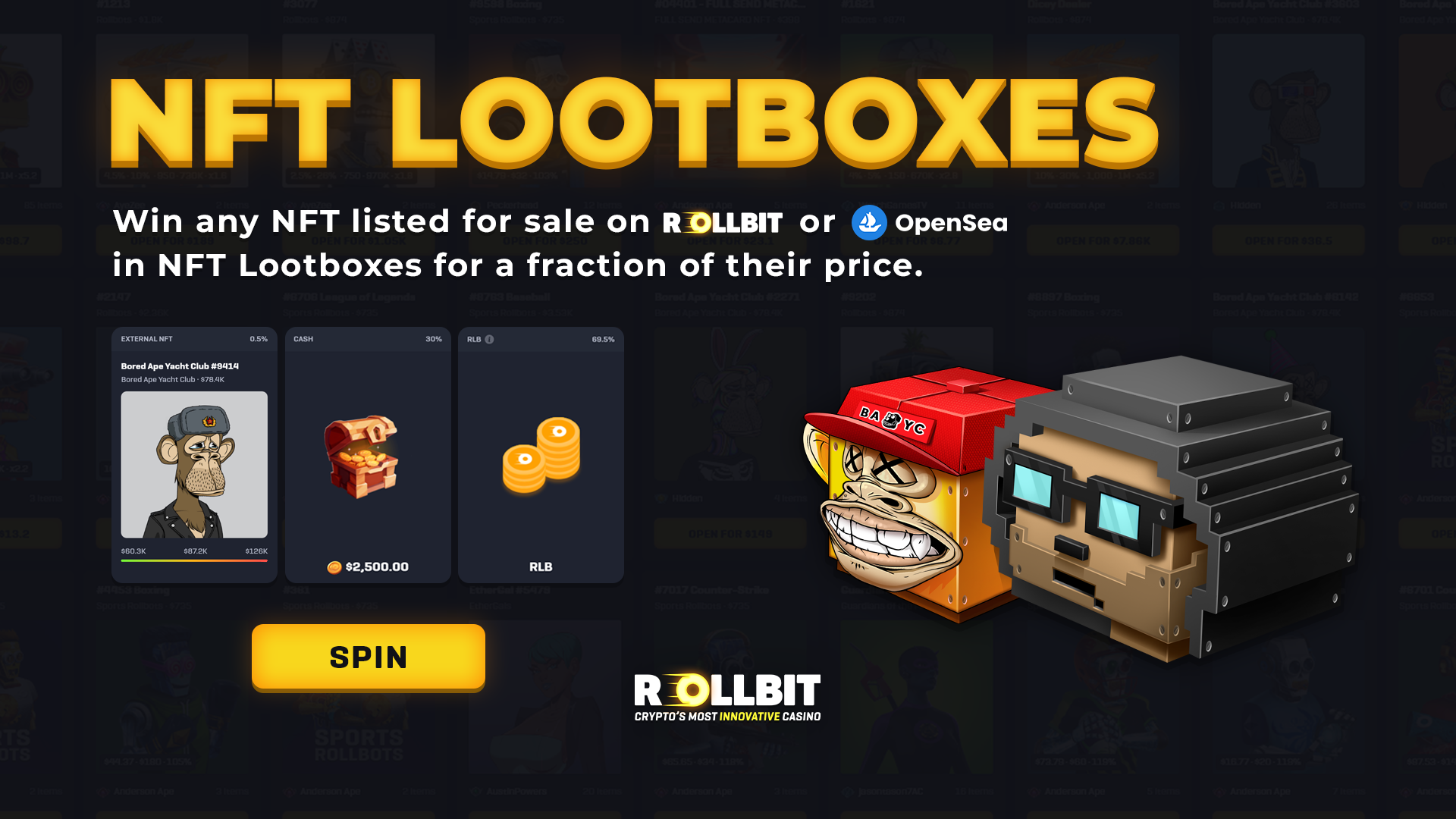 Ever dreamt about owning a top tier NFT, but feel priced out? Read on, this is a feature for you!
NFT Lootboxes
Back in September, we launched 'NFT Lootboxes', a revolutionary new gambling game that involves NFTs. We took the popular lootbox concept and added NFTs!
In the first iteration of NFT Lootboxes, it was only possible to win NFTs that were listed on Rollbit's own NFT Marketplace. While this started off great, we couldn't help but feel there was much more potential if we could include other marketplaces such as OpenSea & Larva Labs.
Our developers agreed and went hard to work at pioneering a solution! It's now possible to list any NFT listed for sale on OpenSea and Larva Labs (CryptoPunks) that's from a supported collection.
NFT Lootboxes are entirely provably fair, which means the outcomes of every single spin can be verified as legitimate and based on the provided information.
⚖️
Every house game on Rollbit is provably fair! We're strong advocates of fair and transparent gambling experiences.
A recent Tweet from the community highlighted us as the buyer of 12 Bored Ape Yacht Club NFTs from OpenSea:
While it was indeed our NFT bot (known as "Rollbot") that bought the BAYCs, the buys were completed as part of fulfilment for a lucky higher roller's recent winnings on NFT Lootboxes!
When a NFT is won that's listed on a third-party marketplace, Rollbit will immediately attempt to purchase the NFT. Once purchased, the NFT is swiftly (within minutes) made available within the lucky winner's NFT Portfolio on Rollbit.
💡
There's no additional fees for winning an NFT listed on a third-party marketplace. You will only need to cover the Ethereum (ETH) network fee when withdrawing to your own ETH wallet.
In the rare instance that Rollbit is unable to purchase the NFT you will receive the cash value equivalent of the NFT!
How to play NFT Lootboxes
To play NFT Lootboxes, click the 'NFT' tab on the navigation menu and select the 'NFT Lootboxes' drop-down item.
From here you will be able to find a NFT Lootbox you want to open. We have some helpful filtering options available such as the ability to sort by popularity (how much other players have wagered on them), price low to high or price high to low!
💡
There's also an option to show only NFT Lootboxes that include a specified NFT collection!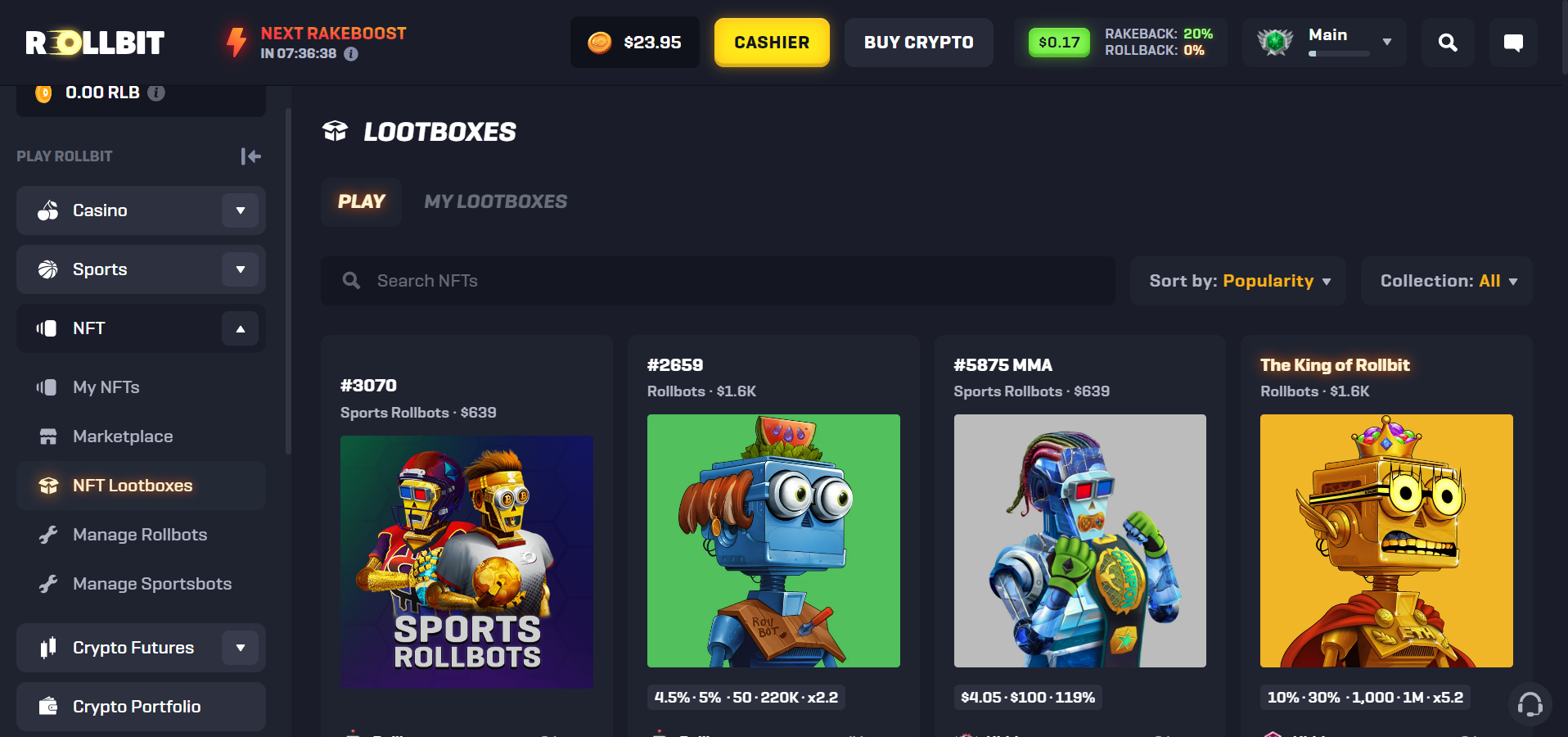 Once you filter it down to the NFT Lootbox you want to open, you can then select it by clicking "OPEN FOR $1.23". If the NFT Lootbox includes a NFT from an external marketplace, our system will quickly check if the listing still exists and you'll be ready to go!
At the time of writing, you can win a Bored Ape Yacht Club NFT for as little as $5.73. Check out the BAYC NFT Lootboxes below, sorted by lowest price!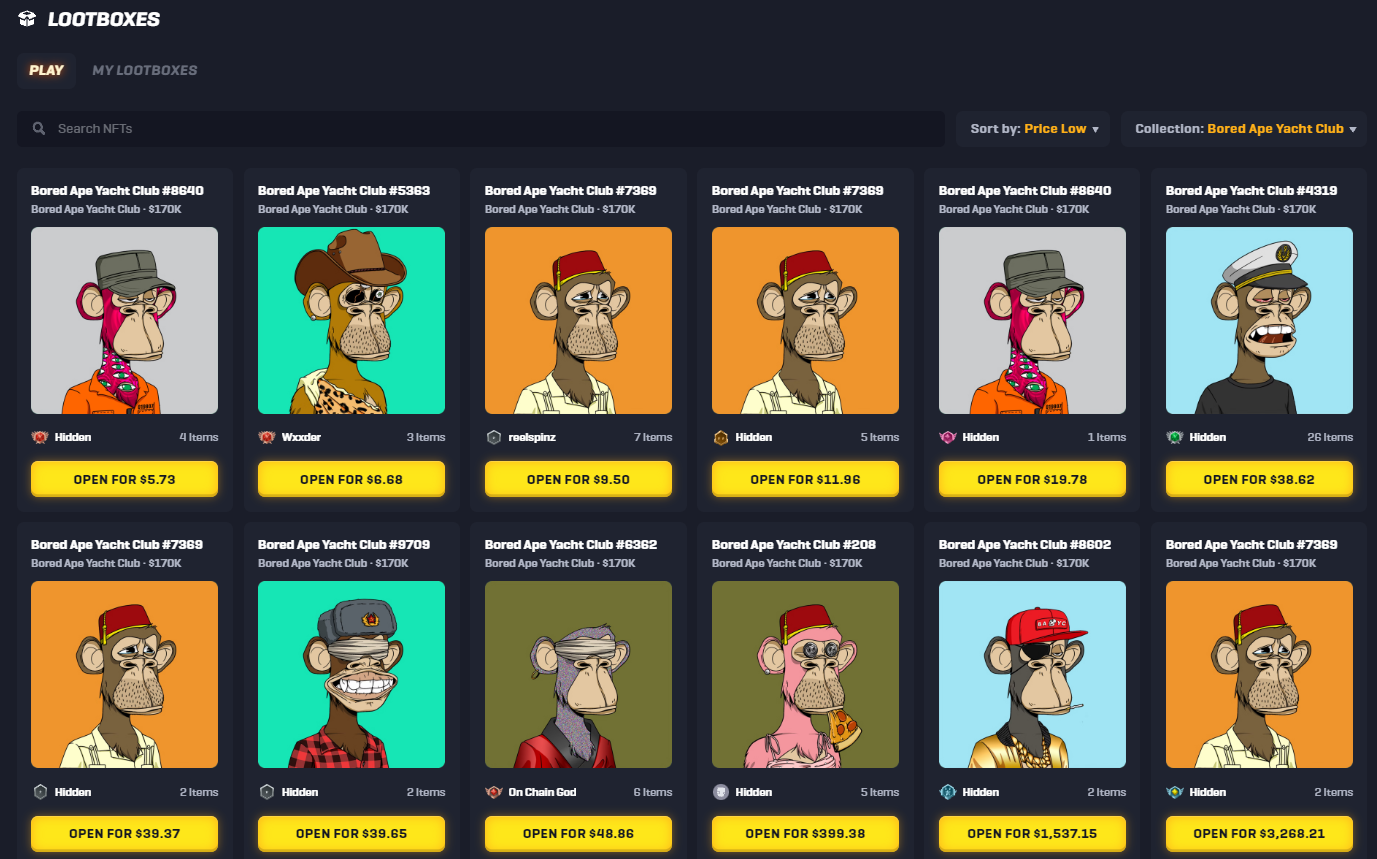 Once you click on a NFT Lootbox, it will show you all the available prizes included within the NFT Lootbox. Alongside each prize, you can check the percentage chance that each prize will be hit.
In the example below, I chose an extremely low-cost box where I only have a 0.001% chance of winning the Bored Ape Yacht Club NFT. However, there is also a chance to win a Sports Rollbot (0.49%), a large cash prize of $12,500 (0.001%), a small cash prize of $18 (49.508%) or a random amount of $RLB with (49.508%).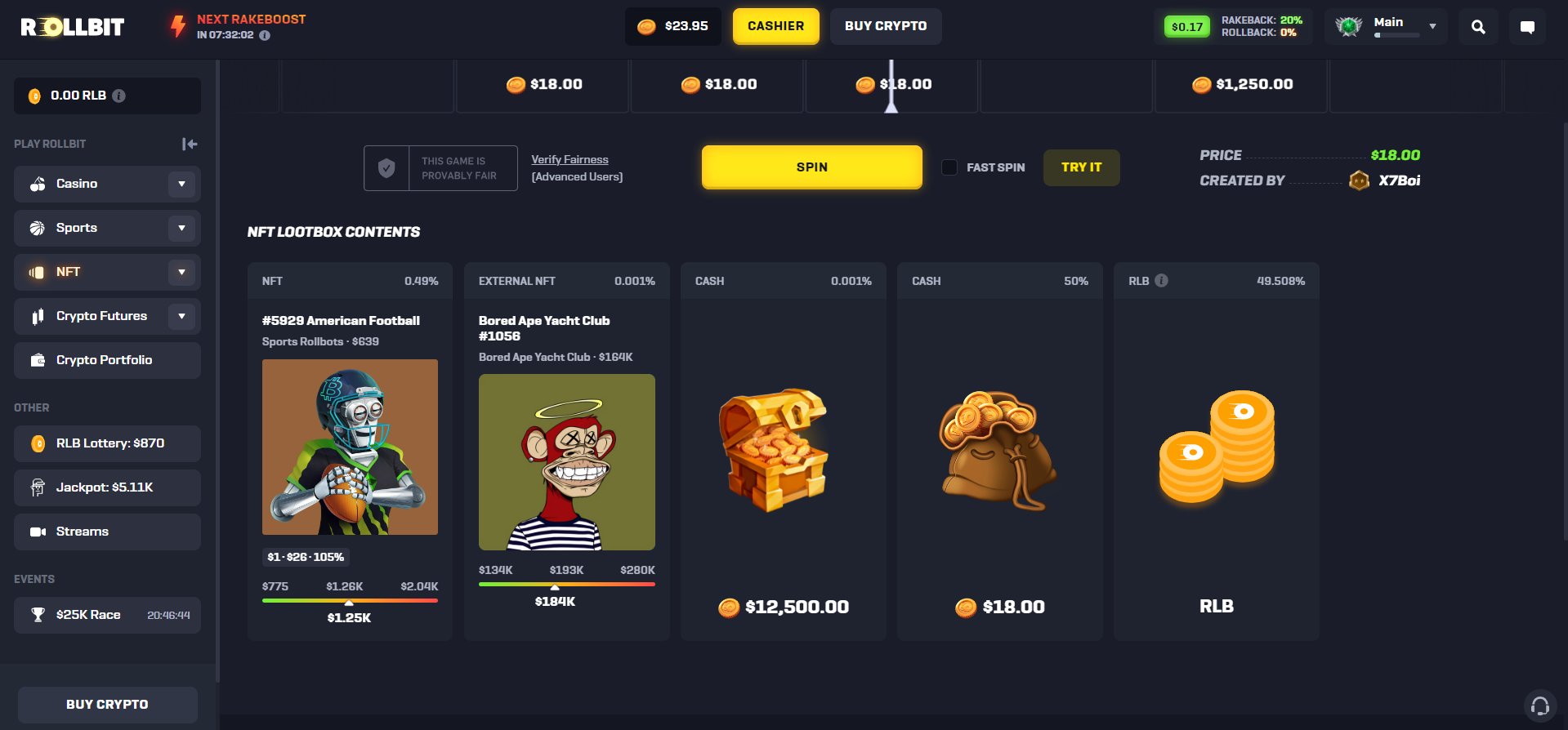 After verifying the contents of the NFT Lootbox includes items I want to win, I then scroll back up and hit the "SPIN" button, this will spin the NFT Lootbox and reveal your prize! As you can see in the example below, I won some $RLB, I would have been incredibly lucky to win the BAYC on a 0.001% chance!
There are tons of NFTs you can spin for across all the NFT Lootboxes on Rollbit, other players update these frequently to keep their NFT Lootboxes interesting!
How do I create a NFT Lootbox
It's possible to become the house on Rollbit and create your own NFT Lootboxes. At the time of writing, Rollbit has only 2 NFT Lootboxes that they created themselves. The rest are created by our awesome players!
Here's a brief overview for some of the main benefits for creating your own NFT Lootboxes on Rollbit:
Zero risk: You can list any NFT from OpenSea, from a supported collection such as Bored Ape Yacht Club and Cool Cats, without risking your own NFTs.
Passive income: Earn revenue every time your NFT Lootbox is opened.
Sell NFTs faster: You can list your own NFTs that you have listed on third-party marketplaces on Rollbit to give other players the opportunity to win the NFTs for a fraction of the list price. Upon win, Rollbit will buy the NFT for the listed price!
We've included an example below of the revenue potential you can expect when creating and managing your own NFT Lootbox: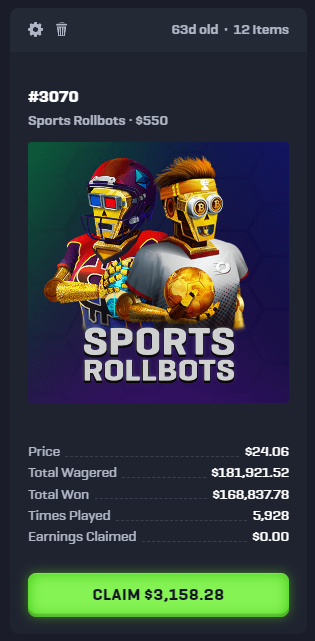 The first step of creating a NFT Lootbox is acquiring a Rollbot! A Rollbot is part of Rollbit's first NFT collection. The ability to create NFT Lootboxes is a utility benefit of our Rollbots NFT collection. We break down the utility benefit more within our easily digestible whitepaper.
You can purchase a Rollbot via the following links:
You can learn everything you need to know about Rollbots within our dedicated blog post and whitepaper. Rollbots are Rollbit's first NFT project, which have delivered more than $34m back to holders.
Now that you have acquired your Rollbot, let's look at creating your first NFT Lootbox. The following steps will take you to the creation page:
Click 'NFT' on the left-hand side navigation menu
Click the 'NFT Lootboxes' drop-down menu item
Click the 'My Lootboxes' tab
Click the orange 'Create Lootbox' button
🏎️
You can skip to step 4 by clicking
here
!
You will now need to associate one of your Rollbots to the NFT Lootbox, this is a form of locked staking where your Rollbot is unavailable to be used for anything else while your NFT Lootbox remains open.
💡
You cannot lose a Rollbot by using it to create NFT Lootboxes. When you close a NFT Lootbox you created, the Rollbot is instantly added back to your
NFT Portfolio
.
Your next step is to add prizes, in this example I show you how to add an external Bored Ape Yacht Club NFT. You click "ADD ITEM" then select "External NFT". You then get the OpenSea link for the NFT and put it in the box, enter the win probability (this is how the price of the NFT Lootbox is set) and then click 'ADD ITEM'.
Our Co-Founder, Lucky shown on Twitter how players can also drag & drop any NFT from OpenSea to be added to their NFT Lootbox. Check out the Tweet below:
Your NFT Lootbox will then be available to play with its own unique URL which you can send to folks to spin your NFT Lootbox! You can add multiple NFTs or prizes to each box you create.
The following collections are currently supported for external NFT Lootboxes:
📦
If you'd like to suggest other NFT collections, please reach out to our 24/7 live support and they'll be review the request ASAP :)
One of the great things about NFT Lootboxes is you can create your own NFT Lootbox with an NFT you want to win, and then play it yourself to try and win!
This brings a unique twist to being able to give yourself a chance to win high-end NFTs for a low entry cost!
---
-The Rollbit Team